Slow Cooker Barbecue Beef Sandwiches
I am so excited to introduce to you an old friend of mine Kim.  Kim and I go way back!  I just love her heart and her blog Just for Clicks, you must check it out!  Kim is here today to help us all out with the dreaded dinner dilemma!  Who cannot relate?  It's 4 o'clock, you have had a busy day, the kids are walking through the door, your evening is full of activities, everyone is hungry, and then comes the dreaded question "What's for dinner?"  Aaaaahhhh calgon take me away!  Tired of the same old dinners, need some fresh ideas, some new tricks for planning ahead, and making family meal time happen?!  What's for dinner Wednesdays to the rescue!!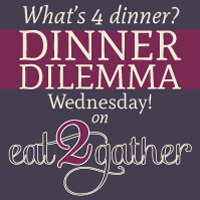 Kim has so graciously taken of her time to come visit us and help us out, but first I'd like to help you get to know Kim so I asked her a few questions.
Kim tell me a little bit about yourself:  Do you work outside of the home? How long have you been blogging? What is the main focus of your blog?
Hey everyone! I'm Kim.  24 years ago I started dating this super cute boy in high school and 19 years ago I married him.  We have two amazing children who are both in middle school (the time goes WAY too fast).  And our family is rounded out by two goofy Labs who came to our family from animal shelters.  I am blessed to be at home full time (never know the term nowadays…  Stay-at-home mom? Family Manager?).
I started my blog, Just For Clicks, last month.  It's a place for me to share as I push myself to grow in my interests:  My Faith Walk, Cooking & Baking, and Photography.  Another aspect of my blog is Weigh-In Wednesday:  After a battle with weight gain, I formed a Facebook group (come join us) that's now grown to 85 women.  We hold one another accountable and encourage one another toward healthy eating & exercise throughout the week….  then on Wednesdays, I host WIW on my blog.  It's a chance for everyone to weigh-in on how they did that week and for bloggers to Link Up their favorite recipes, tips & tricks, struggles & successes.
Would you say that having family meal time is a priority or is it something that is just too hard to fit in to your lifestyle?  How often are you able to get your family around the table each week?Family meal time is definitely a priority to me and to my family.  During the week, my kiddos eat breakfast at the counter while I pack lunches.  I love that time with them.  I'll usually light candles, play K-Love online, and read our devotional.  Then for dinner, we always eat together.  I'll be honest, when busyness strikes we had started to slip into a habit of dinner in front of the tv a few nights a week.  A few weeks ago, I ended that and we got back to eating dinner every night at the table with no distractions.  It is awesome.  We all connect and get to share about our day.  My husband always asks what our best part of the day and worst part of the day was.
Does anyone in your household help out in the kitchen…ever or frequently? 
Help in the kitchen just depends on what's going on.  Usually my kiddos are doing homework while I prep dinner.  And honestly, if they have extra time right now…  I'd rather them have a moment of free time than help me.  But on the weekends or when things aren't so busy, my family definitely is a big help in the kitchen.  We love to cook together.  And I'm often blessed with extra hands for clean up time too.
Is there one day that's worse than any other, or a season that is harder for you to get dinner on the table?
During summer, I find myself very lazy with meal planning.  And our eating suffers.  So when back-to-school time hit, I knew life was about to get C R A Z Y…..  so I prioritized meal planning.  It makes ALL the difference because most nights we have activities.  If I didn't have a plan or something prepared in advance, we'd be ordering pizza or eating cereal.
What is your family's favorite meal?
I can't say that there is one meal that is everyone's favorite.  Each person in my family would tell you something different.  What I would say though is that our family all loves a weekend night of hanging outside together…  with the smell of something delicious cooking on my man's grill.
So here's my Dinner Dilemma recipe for you all…..
I literally use my Slow Cooker about 3 nights a week.  With after school activities there just isn't time to prepare a meal without it.  So on my weekly meal plans, I mark the days I know I need to use my Slow Cooker and go in search of new recipes to try.
One source I've used in my Southern Living Slow Cooker cookbook, which is where today's recipe originated:
[print_this]
Barbecue Beef Sandwiches
Source: Southern Living
1 (3.5 pound) eye of round roast
2 teaspoon Salt, divided
2 Garlic Cloves, pressed
1 (10.5 oz) can Beef Broth
1 cup Ketchup
1/2 cup firmly packed Brown Sugar
1/2 cup fresh Lemon Juice
3 tablespoon Steak Sauce
1 teaspoon coarse ground Pepper
1 teaspoon Worcestershire Sauce
12 buns
Sprinkle roast with 1 teaspoon salt.  Stir together remaining salt and next 8 ingredients.  Add beef to slow cooker and then pour sauce over beef.  Cover and cook on HIGH for 7 hours.  Shred beef and serve on buns.
Recipe shared by Kim Kopp her blog is Just for Clicks.
[/print_this]
I also made a broccoli slaw mix I picked up at Trader Joe's to top the sandwiches…  and served corn on the cob with sweet potato fries.
Sheila, thanks again so much for having me here!  And to those reading…  I'd love to meet you and connect.  You can find me on my blog, FaceBook page, Twitter, and Pinterest.
Thank you Kim for taking the time to share on What's 4 Dinner Wednesday!  I If you have a blog and would like to share a recipe or you tips and tricks to solving the dinner dilemma contact me.   I would love to have you!