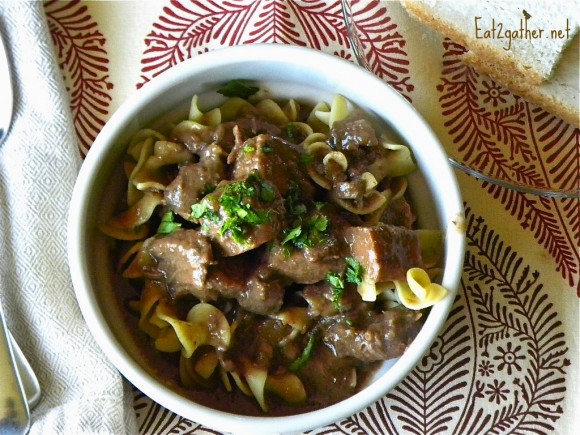 Howdy People!  Are you as glad it's Friday as I am?  Phew!  This has been a crazy week.  We have three basketball players in our home right now….I'm hearing balls bouncing, and whistles blowing in my sleep.  I'm super happy it's the weekend and I'm back here with you all, in the land of tranquility and peacefulness.
Today I'm going to share with you two things.  1. The recipe for No Peek Beef Tips which is crazy easy!   2. The luverly Lady that inspired me to start Meals 4 Sharing Fridays!  Since I'm quite often backwards about most things, I'll start with numero twoO.

Several months ago, Julie from Another Chance Ranch, a blog I follow was diagnosed with breast cancer.  I have never met Julie, but feel as though I know her from reading her blog, Twitter, and we have emailed a few times.  Julie'a blog is full of interesting stories, great tips and ideas, fun travels, with a few book reviews sprinkled in here and there!  She's just a sweet, sweet Gal!  Go say Hi to her and check out her Money Saving tips for making your own detergents.
The news of Julie's cancer hit me hard.  I wanted so badly to whip up a batch of something yummy and run it on over to her, but well she's in Oklahoma, and well……I'm in Meechigan.  Bummer.  I rattled around ideas of link ups, and guest posts, and ways we could do some sort of online meal ministry.  Long story short after months of me rattlling ideas around in my noggin and emailing Julie, and a few other bloggers.  I decided to simply do a weekly link up, that would hopefully inspire others to love on people in their communities, through the gift of food.  I pray comfort, peace, and most of all healing for Julie, and I pray that someday I can really deliver a hot meal to her doorstep!
Today in honor of Julie,  I will be taking No Peek Beef Tips to two separate amazing Gals in my community.  One who, like Julie, is battling cancer, and the other a young mom is living, courageously, with MS.
Is there a family in your community that has been struck with disease or illness, that you could bless by bringing a meal?
I snagged the recipe for No Peek Beef Tips from Bob the Butcher.  I have tweaked it ever so slightly.  Are you ready?  Four ingredients that's all you will need!!! How easy is that?! Heck you could make No Peek Beef Tips for the whole dad-blame neighborhood it's so easy!
Place 2 pounds of cubed Stew Beef in a baking dish.  Pour 2 cups of Ginger Ale over the meat.   Wipe the the sweat from your brow because that was definitely the most difficult part of this recipe.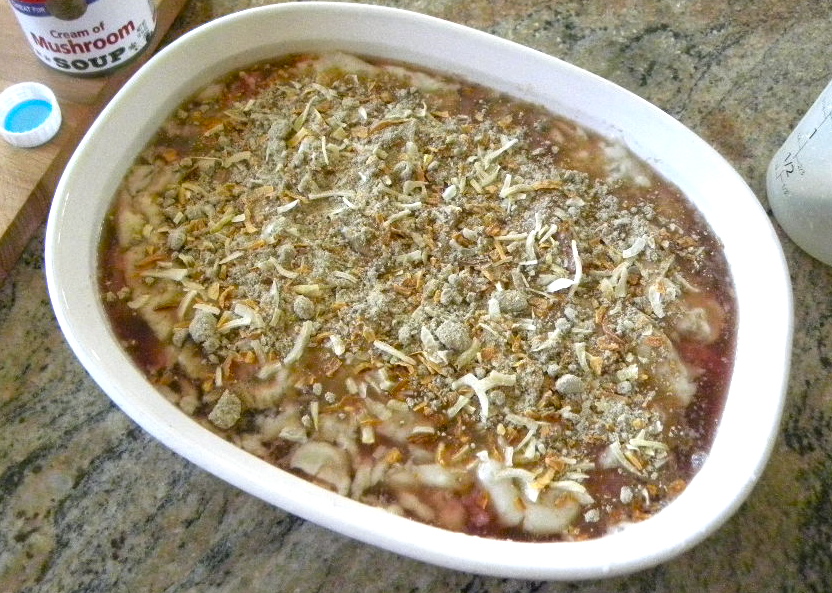 Open 1 can of Cream of Mushroom Soup, spread the soup  over meat.  Sprinkle 1 package of Dry Onion Soup on top.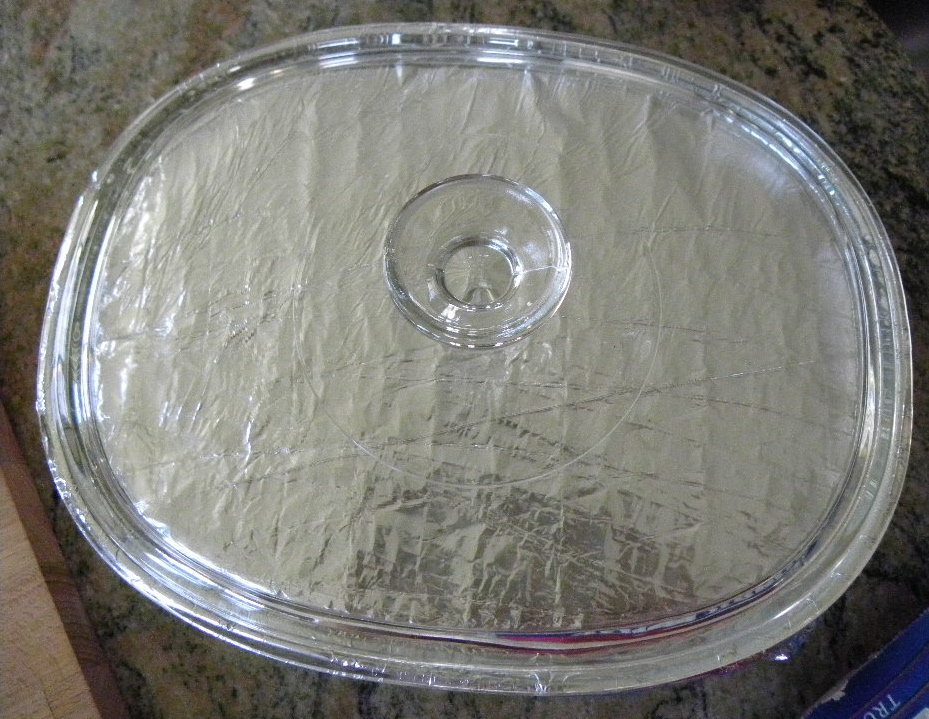 Cover with beef tips with foil and if there's lid cover with lid also.  You want this to be as airtight as possible.  Now pop the No Peek Beef Tips in the preheated 325 degree oven.  And DO NOT PEEK for 3 hours!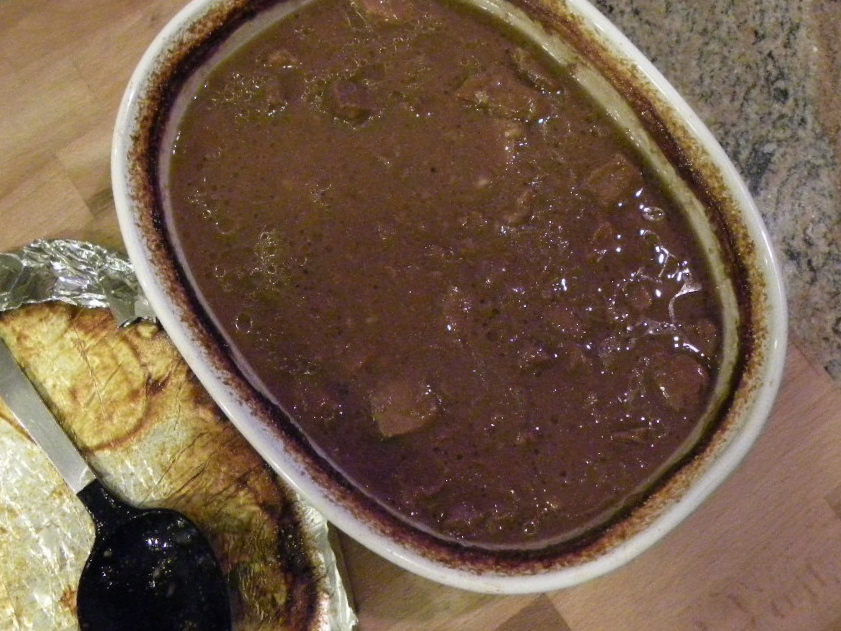 Mouthwatering….look at the rich, dark gravy that has emerged from four simple ingredients.  Sometimes, if I have them, I add a layer of fresh mushroom slices, which is super delicious if you like fungus…which I do.
[print_this]
No Peek Beef Tips
serves 6
2 pounds cubed Stew Beef
2 cups Ginger Ale
1 can Cream of Mushroom Soup
1 package Dry Onion Soup (such as Mrs. Grass Onion Soup packets)
Preheat oven to 325 degrees.
In a baking dish layer ingredients in order listed. Beef, pour ginger ale over stew meat, spread mushroom soup over meat, sprinkle with dry onion soup mix, cover tightly with aluminum foil, place lid on dish if you have one. You want this to be as airtight as possible. Place in preheated oven for 3 hours…NO PEEKING! Serve with mashed potatoes or wide noodles.
Enjoy!
Sheila
[/print_this]
I often will serve this with wide egg noodles or mashed potatoes, cooked carrots are my families favorite vegetable with this Main Dish.  OH and don't forget the dinner rolls!
No Peek Beef Tips is a perfect, easy, comforting Meal 4 Sharing!
Now it's time for you to share your favorite Main Dish Meals!
It's nice to share!
1. Click on the Add link below then Add the permalink from your post.  Please do not link your websites homepage.
2. Select the photo you wish to link to your site and include the title of what you are sharing!
3. Create a link to Eat2gather.net within your post, to share all the great recipes with your readers.  I also included a blog button below if you share this on your sidebar or in your post I will hug you and kiss you!!  Well not literally, but maybe if I happen to run into you. (wink)
Eat 2gather is family friendly so make sure what you are sharing is also.  I reserve the right to delete any link if I feel it necessary.
OK LET THE SHARING BEGIN!!!