I'm so sorry.  I am so very sorry for what I am about to do.  Please forgive me.  I realize it's a new year, and if you are like me you are watching the carbs.  And if you are not like me well then this is going to be right up your alley!!!  Just think how wonderful life could be with a Garlic Knot on your plate, in your hand, in your mouth, IN YOUR BELLY!!  Pretty wonderful people……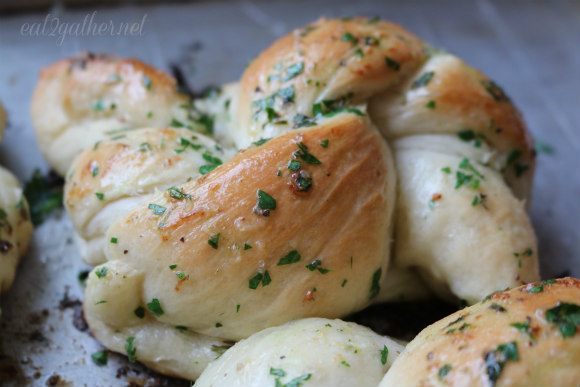 Your family will think you, quite literally, are THE bomb.com.  I'm pretty sure they will be snapping some chat, and face booking, and bragging you up on twitter and what ever other social media there is out there that allows braggatory pics and posts. These rolls. (Insert blank stare and drool.)  Truth be told these knots might be life changing, for real.  People say their recipes are "life changing" all the time, I've said that, but this time, this time it's for reals. The recipe below is only for four.  I'm trying to ease you in to this addiction slowly, by weeks end you will no doubt be making 8 or 12 of these at a time.  They're good warmed up, or sliced and made into a sandwich, so WHAT THE HECK why not made scads of them.  Dozens.  Who's going to stop you?  Not me.  Certainly not your family.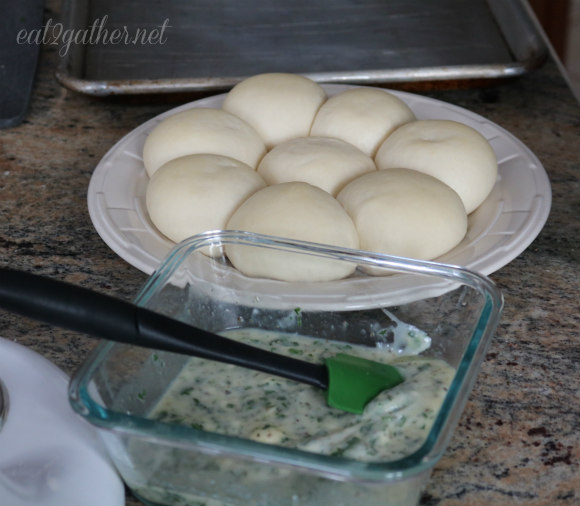 Let the little frozen balls of heavenlyness thaw and double in size.  While this is happening you can get your herb butter ready.  Freddy.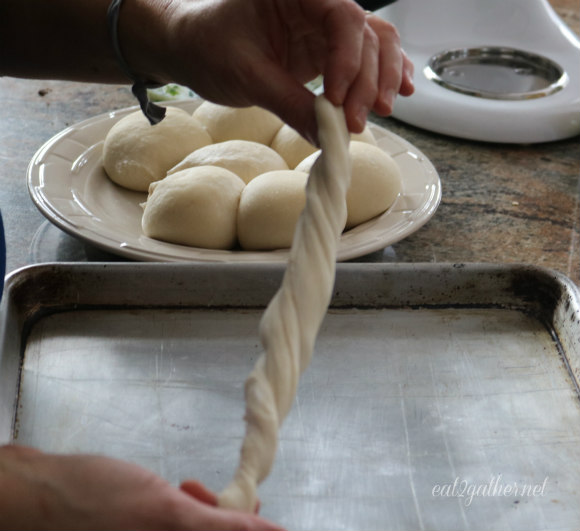 Stretch one roll in to a rope about 8 inches long.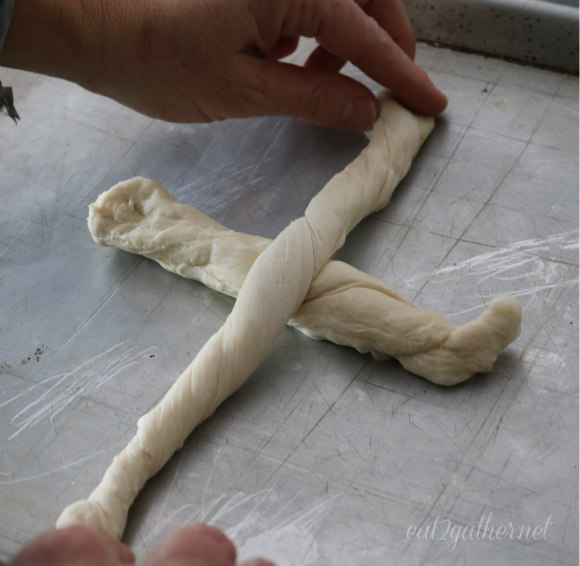 Stretch a second roll into a rope, make a cross or X.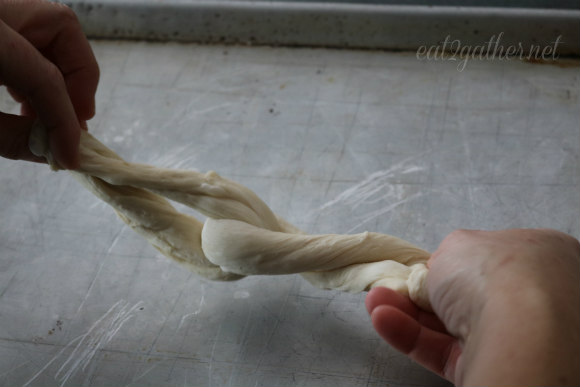 Grab two of the ends and bring them together making a knot, almost like you are making a paper change but knotting the ends instead of sticking them together.

Do the same with the remaining loose ends.
When all dough balls have been stretched and knotted dip them into butter herb mixture and place on a baking sheet, or in a pan.  Place in a 400 degree oven for 15 minutes.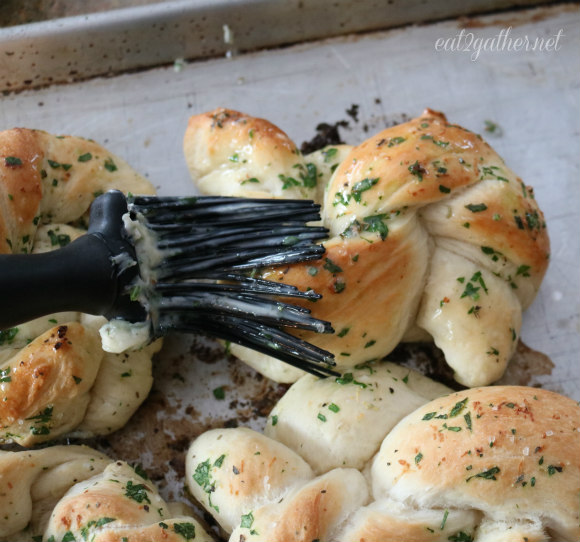 Remove and brush with any remaining herb butter.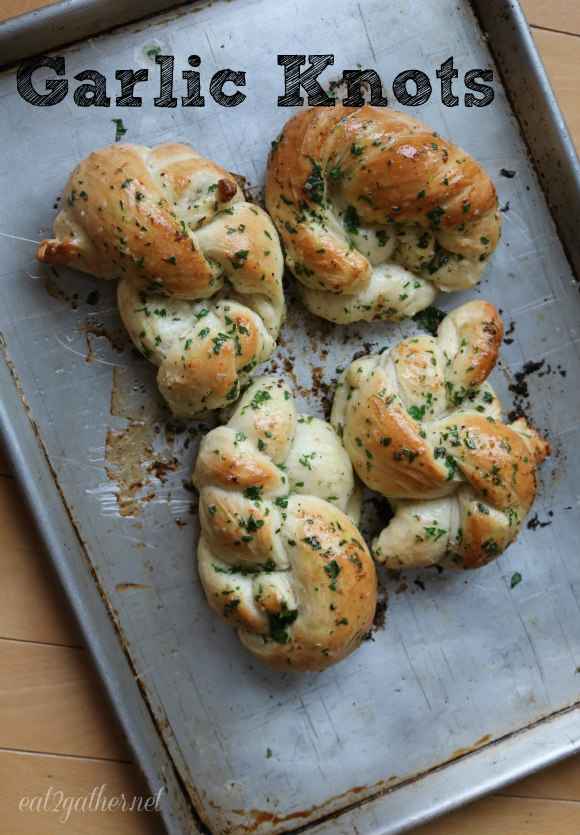 Now tie your hands behind your back, and yell dinners READY!  If you leave your hands free and wait even one minute, you will not be able to contain yourself, and the next think you know your family will be slapping your buttery face trying to wake you up after your overdose of garlic knots.  True story.  Er I mean this could very well happen.  I think I dreamt that something like this happened.  Once upon a time…..  In all seriousness when I make these rolls, my kids go into moaning mode, and they take to smacking, loudly.  It's quite obscene, really.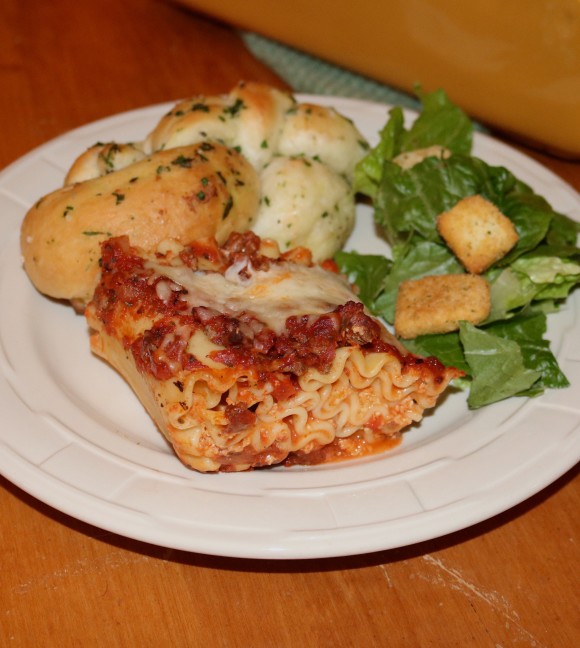 They go well with anything and everything.  Italian fare, steak dinner, a hearty soup or chowder, make sandwiches out of the leftovers if you have any.  This has never happened here, but I imagine sliced in half they would make a lovely sandwich.
[print_this]
Garlic Knots
makes 4 or more if you dare!
8 Rhodes frozen Dough Texas Dinner Rolls
6 tablespoons Butter softened, slightly melted
1 Garlic Glove, grated or finely minced
2 tablespoons finely chopped fresh Parsley
1/2 teaspoon dried Italian Herb Blend
1/2 teaspoon Coarse Sea Salt
Pepper to taste
Preheat oven to 400 degrees.
Note: Set rolls out on a plate 2 hours in advance to thaw and double in size.
1. In a medium sized dish combine softened/slightly melted butter with parsley, garlic, Italian Herb blend, salt, and pepper, set aside.
2. When rolls are completely thawed and have doubled in size take roll and stretch out into an 8 inch long rope, lie it on baking sheet do the same with second roll, lie it crossways on first roll making an X. Bring two of the sides together and tie a knot, creating a link type shape, do the same with the other two loose ends. Secure ends by pinching dough together. Repeat this 4Xs.
3. Dip each knot into butter, covering entire knot with herb mixture, return to baking pan or sheet. Bake at 400 degrees for 15 minutes. Remove from oven and brush knots with remaining herb butter mixture.
Note: These knots can also be sprinkled with parmesan cheese. ALSO if you are a true garlic lover by all means add more garlic, three to five cloves would not be a bad idea at all! Garlic knots are great with any meal that has Italian flavors, but honestly they are amazing as a side to a steak dinner, or a big bowl of soup (especially a chowder!).
Enjoy!
[/print_this]
I love all things bread, as does my family.  The biggest annoyance to us is when we go out for dinner and we watch another table, of guests, fail to eat their basket of bread as we ask for our 4th!
"Oh sheesh just give us their bread will ya!!"
If you're a fellow bread lover you should really follow my BREAD pinterest board 😉 XO, Sheila