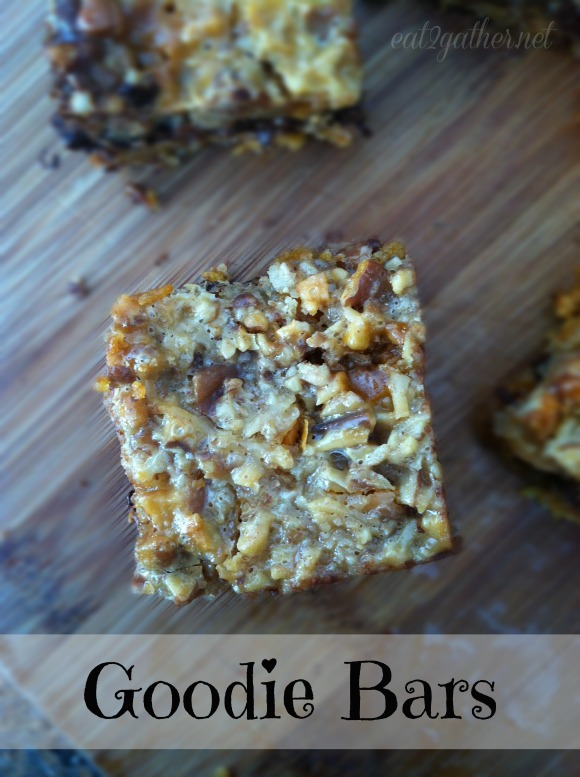 These bars were a goto goodie in my home growing up.  Thus the name goodie bars.   Oooo they are so good Eeeee!  And super easy, I'm pretty sure this is one of the first things I learned to bake as a kid, standing on my little red stool.
By the way….did you have a little red stool?  You know the one, if you had one, you'll know what I'm talking about.  It was red and painted in white on the top step it said "this little stool is mine, I use it all the time, to reach the things I couldn't and lots of things I shouldn't!".  Awe I miss that stool.  I'm sure it got sold in a garage sale along with Mrs Beasly.  Will you excuse me a sec…..?  Thanks.  I needed to blow my nose.  sniff sniff.
What's the first thing you can remember baking?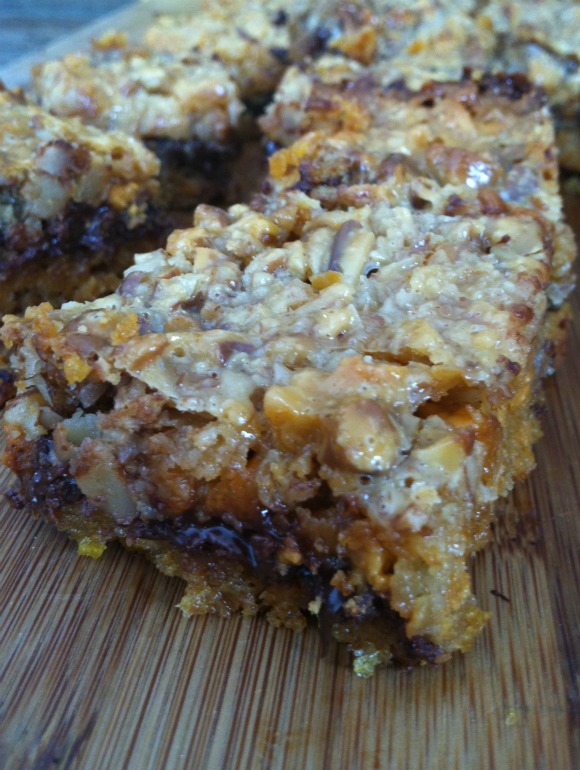 These bars are easy and so addicting.  One thing you need to know, because goodie bars are so ooey gooey they can be hard to get out of the pan.  The best way I've found to remedy this is by lining my pan with aluminum foil and greasing the dickens out of it.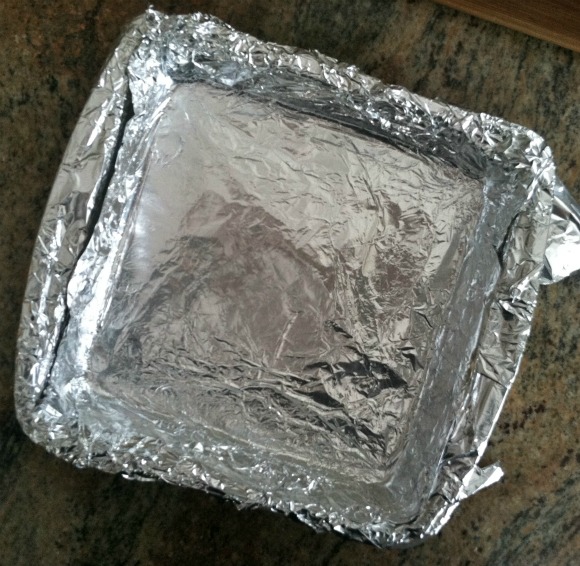 Take aluminum foil and line your pan like so, then spray it with baking spray, or rub Crisco or butter into every corner and up the sides, what ever you normally use to grease your pans will do just do it double the normal amount.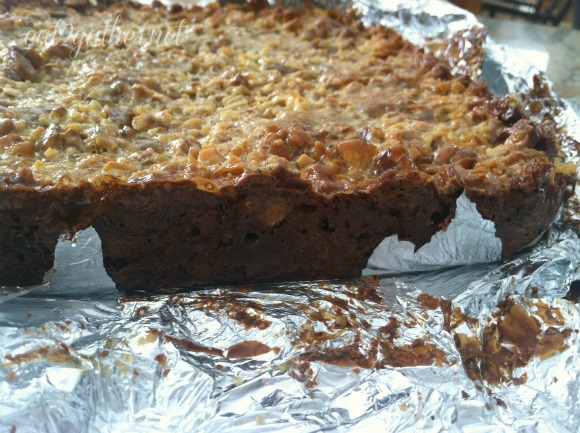 Or you will end up with aluminum foil stuck to the sides of your bars.  See above.   I was being a slacker.  It's been known to happen.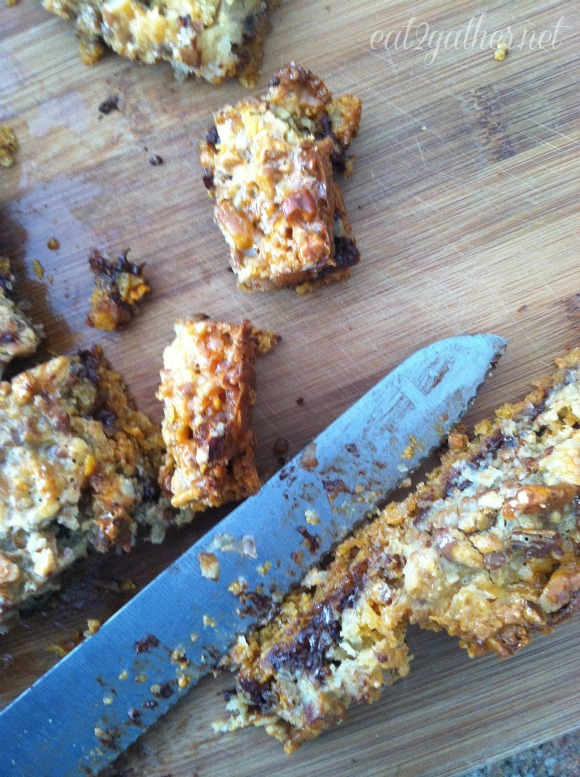 Lest you think everything comes out perfect in my kitchen I thought I'd also show you this.  No biggy it's all tastes the same, things don't always come out all perfect and pretty (when you forget to adequately grease your pan), but hey that's life!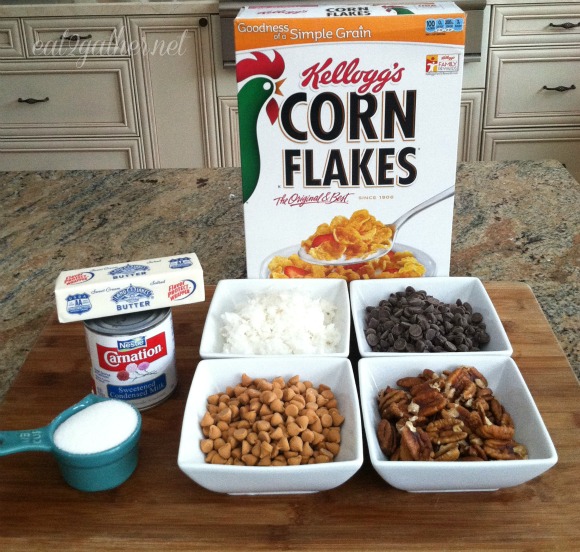 Here's what you will need to make Goodie Bars.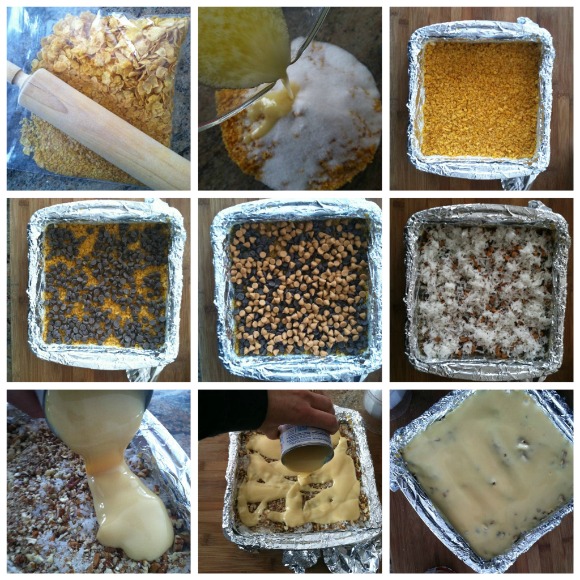 Layers upon layers of goodies.  First crush 4 cups of corn flakes mix them with sugar, and melted butter press in to a well greased pan.  Sprinkle chocolate chips, butterscotch chips, coconut, and chopped nuts in order over crust, pour a can of sweetened condensed milk over the whole shabang. Pop it in a 350 degree oven for 45 minutes.  Allow to cool, peel back aluminum foil, cut into squares and have at IT!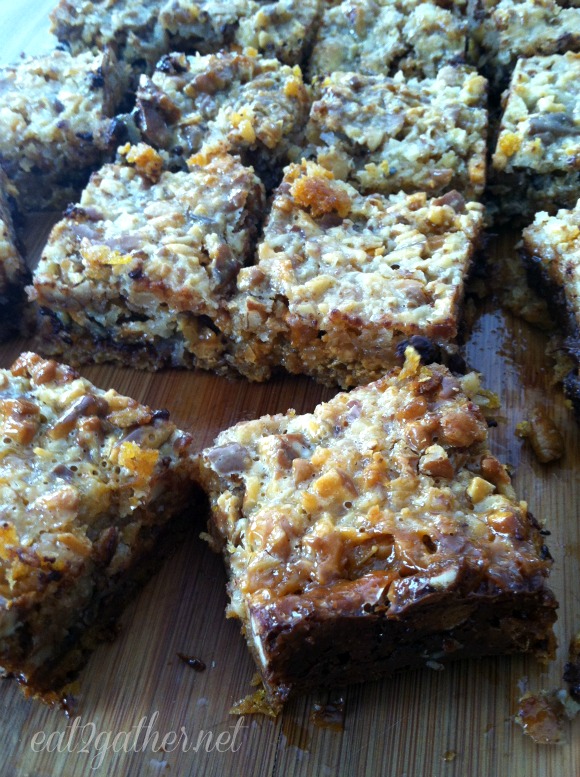 [print_this]
Goodie Bars
4 cups Corn Flakes, crushed
4 tablespoons Butter, melted
4 tablespoons Sugar
1 cup Chocolate Chips
1 cup Butterscotch Chips
1 cup Coconut
1 cup chopped Pecan (or any nut you like, I also like sliced almonds)
1 14 ounce can Sweetened Condensed Milk
Preheat oven to 350 degrees. Line 8×8 baking pan with aluminum foil and grease well.
Combine crushed corn flakes, sugar and melted butter in a bowl, pour into prepared pan and press down. Layer the next four ingredients, in order given, evenly over corn flake crust. Pour can of sweetened condensed milk over the top of goodie bars, making sure that it's evenly distributed.
Bake in a preheated 350 degree oven for 45 minutes. Remove from oven and allow to cool. Remove from pan, peel back foil, cut into squares.
Enjoy!
[/print_this]
These would be really good while watching the Super Bowl don't you think?
Have a great weekend! Sheila