Day 19 of 31 days of Meals 4 Sharing! I'm starting to get a little attached to this series.  I was worried at first about what I had gotten myself into, but I have loved every minute of it.  I especially have loved hearing from all of you.  You've shared your experiences with me, given me some new great ideas, and encouraged me in so many ways.  I want you to know how much I appreciate and covet your comments!
Ree's Comfort BBQ Meatballs are one of my all time favorite meals to share.  Everyone loves them!  They are great leftover, frozen, cold, you name it!  They are the perfect poster meal for comfort food.  (You really must click on the above, and read PW's post, because when I read it I could so relate to having three babies suckin' me dry and just wanting to eat my left hand I was so hungry….then you must MAKE THEM very, very soon.  Your family will love you so much they may even declare a day of celebration, and bring you breakfast in bed the next morning, and draw you pictures, and clean the house….well maybe not clean the house, but they may unload and load the dishwasher!  I demand you make these meatballs!)
OK enough about Ree and her meatballs.  I want to share my meata-ballza with you.  What is it about little balls of meat that are so comforting?   I'm not sure either, but they are.  My family loves Swedish Meatballs, and I always get compliments when I share them with others.  So now I'm going to share them with you!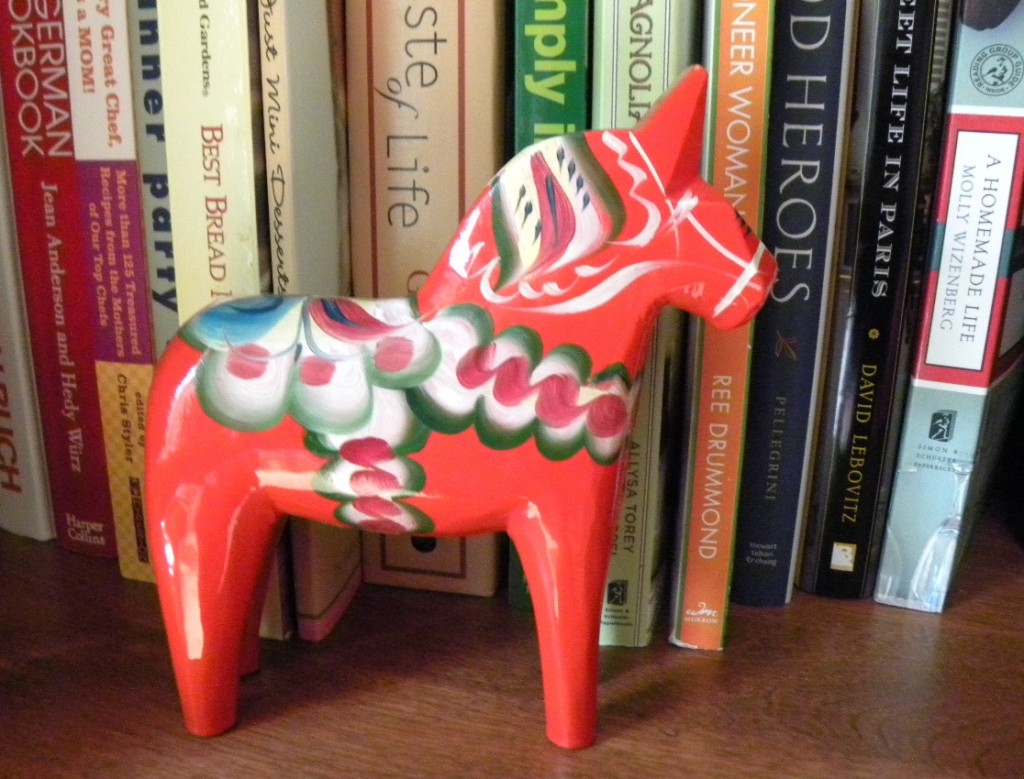 Just a side note: I am in no way shape or form Swedish in my heritage.  I wish I were.  My legs would be longer, and my hair shinier, and I might even have a cute little red cottage somewhere in the hills.  I do however have one of those Swedish horses….I guess that makes me a Swede wanna-be.
This recipe makes 80 meatballs more or less.  I know that's an abundance of ballz, however it allows you to make a meal for yourself and a meal for someone else, remember that's what this is all about around here this month.  I actually got 3 meals out of this recipe the last time, because one of the meals was going to a couple from church, it's just the two of them, so I rationed the meatballs out into three dishes.
Let's get started: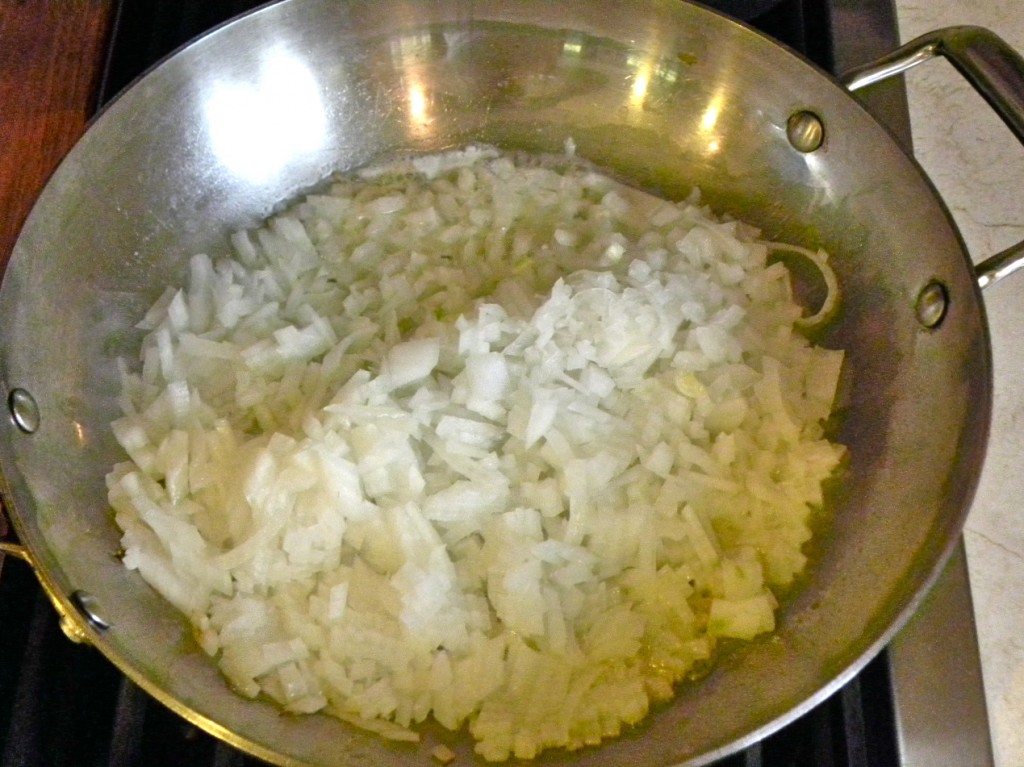 Chop 1 large sweet Onion and saute in 1 tablespoon of Olive Oil.  Approximately 1-1 1/2 cups onion.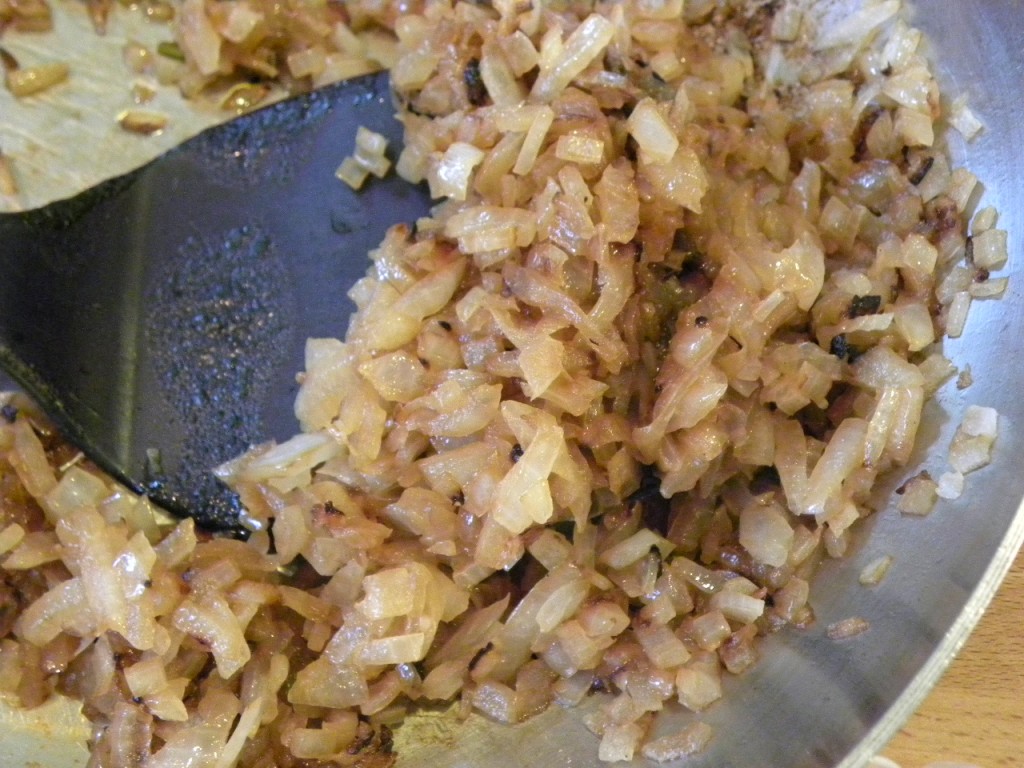 Cook onions until they become golden in color.  Set aside.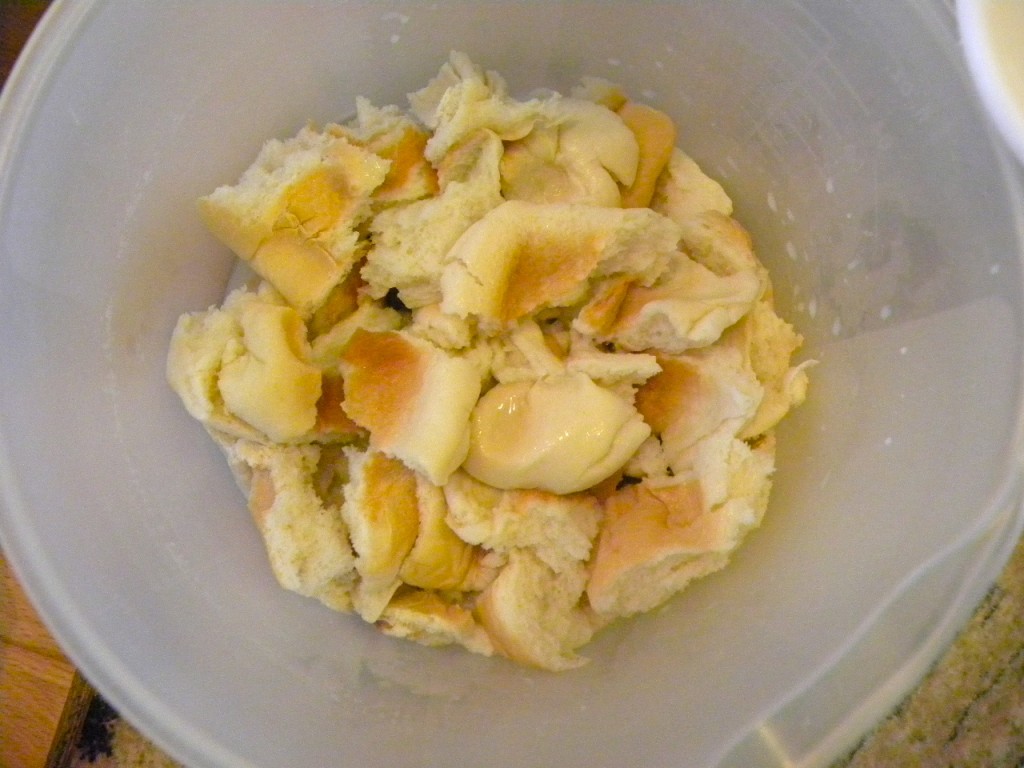 Place 8 slices of Bread in a medium sized mixing bowl with 1 1/2 cups Milk, set this aside for 5 minutes to  let the milk soak into the bread.  I had leftover hamburger buns so I used those instead of sliced bread.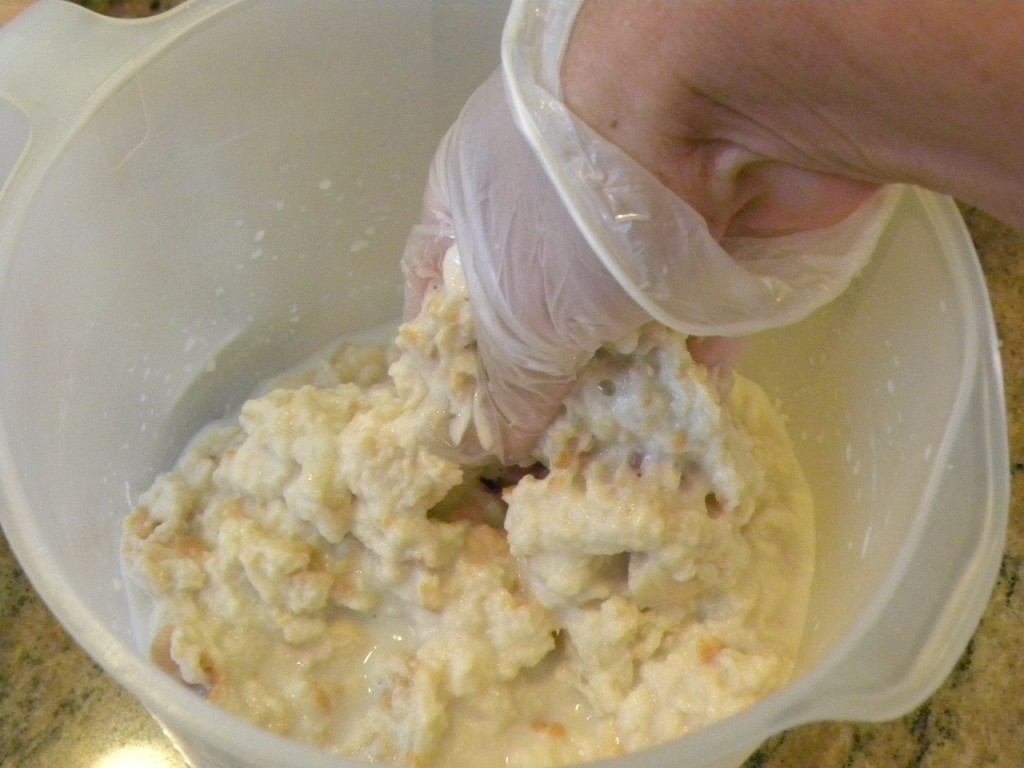 Now squish the bread and the milk together, try to break up the bread as much as possible.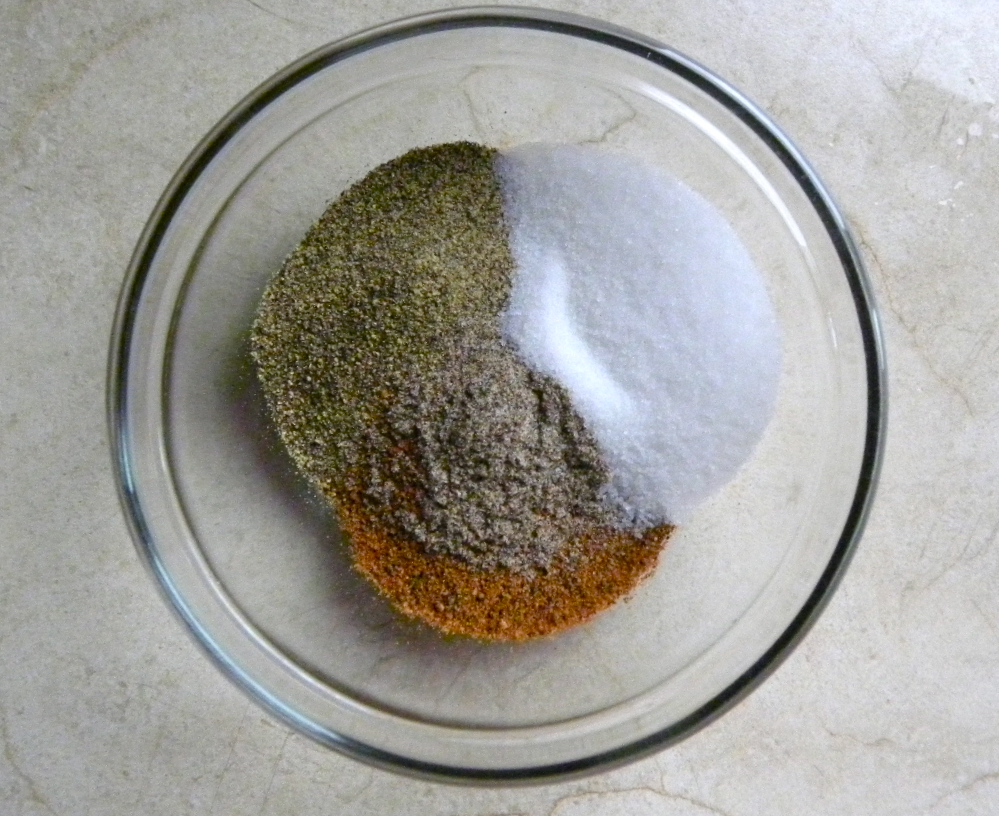 Measure out 3 teaspoons Pepper, 1 1/2 teaspoons ground Nutmeg, 3 teaspoons Salt, 1 teaspoon ground Cardamon, 1/2 teaspoon Sweet Paprika.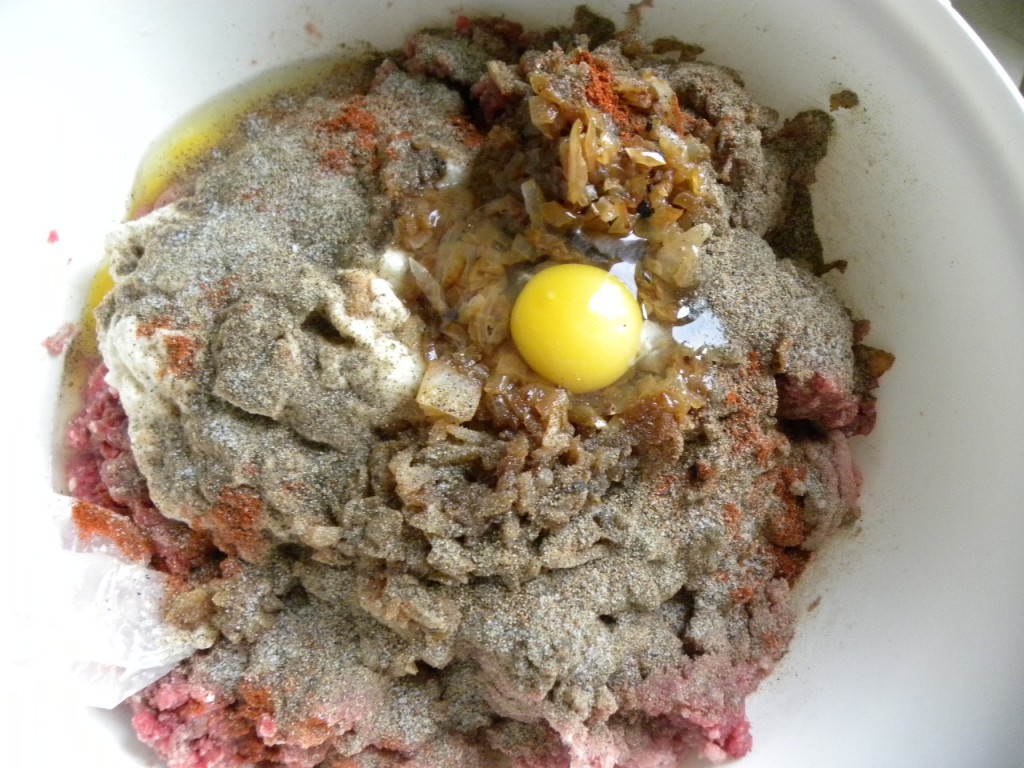 In a large mixing bowl combine 3lbs ground Beef, 1lb ground Pork, bread and milk mixture, 2 Eggs, and Spices.  Now it's time to get your hands dirty or if you are like me and raw cold meat makes you gag, then snap on some rubber gloves and start squishin'.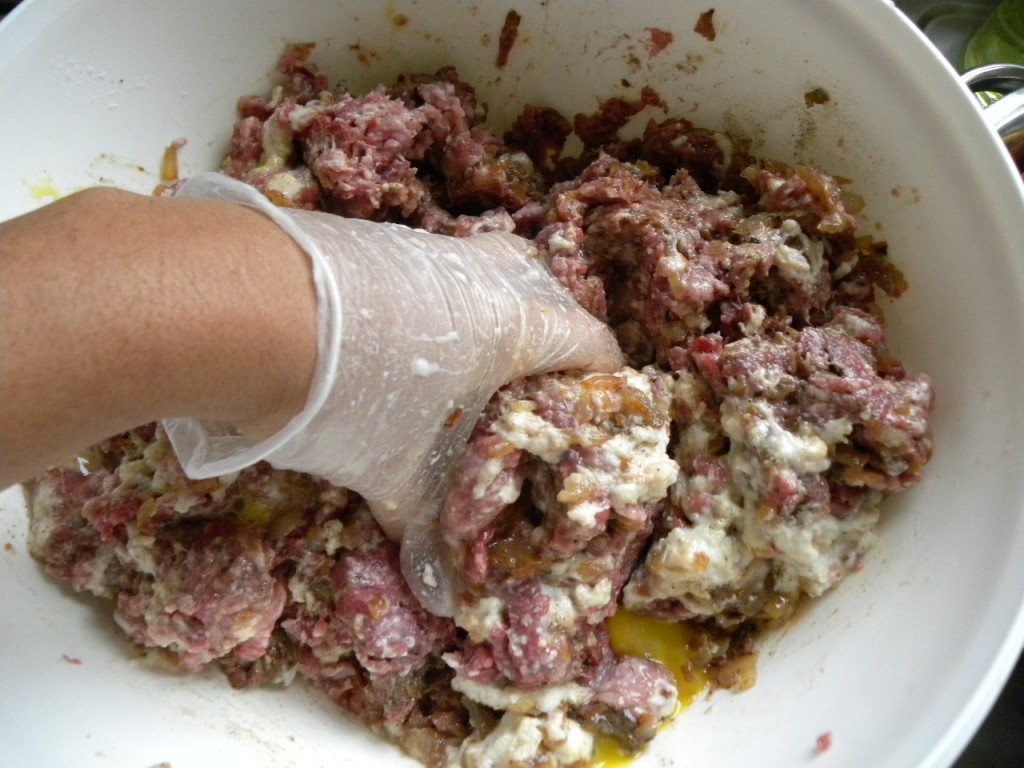 Squish, squish, squish, keep squishing until you are confident that everything is evenly incorporated.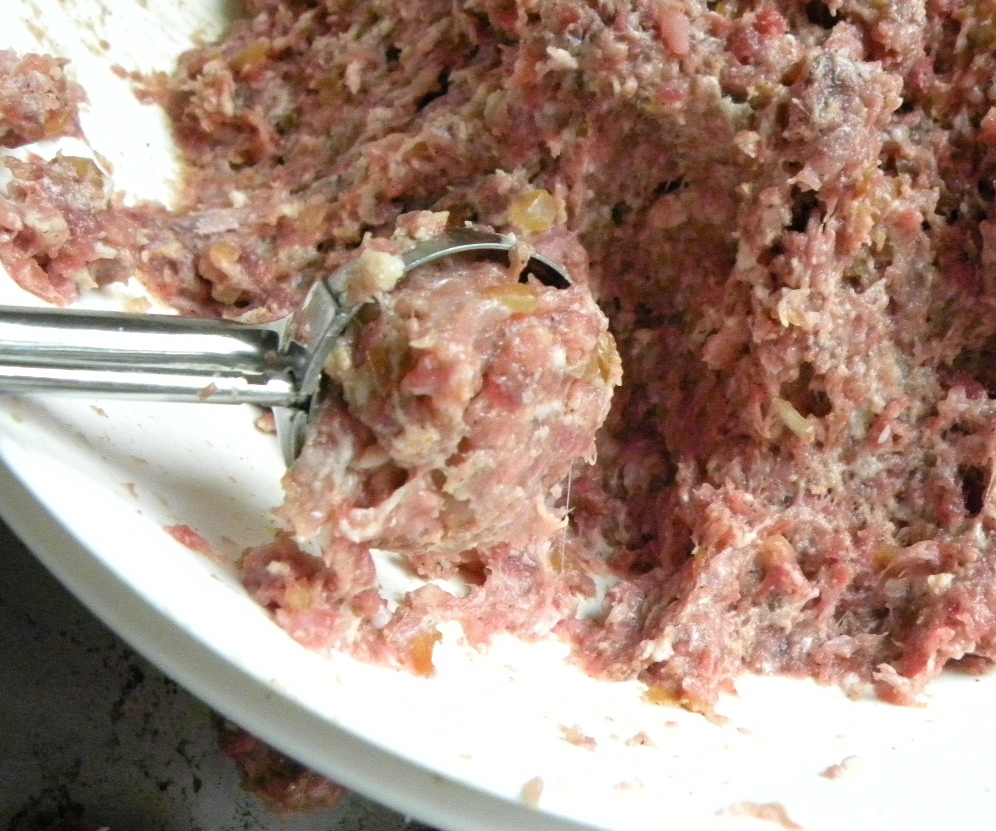 I use this melon baller, cookie dough plopper thing to make meatballs that are similar in size.  If you don't have one, no biggie just try to make them about an inch in diameter.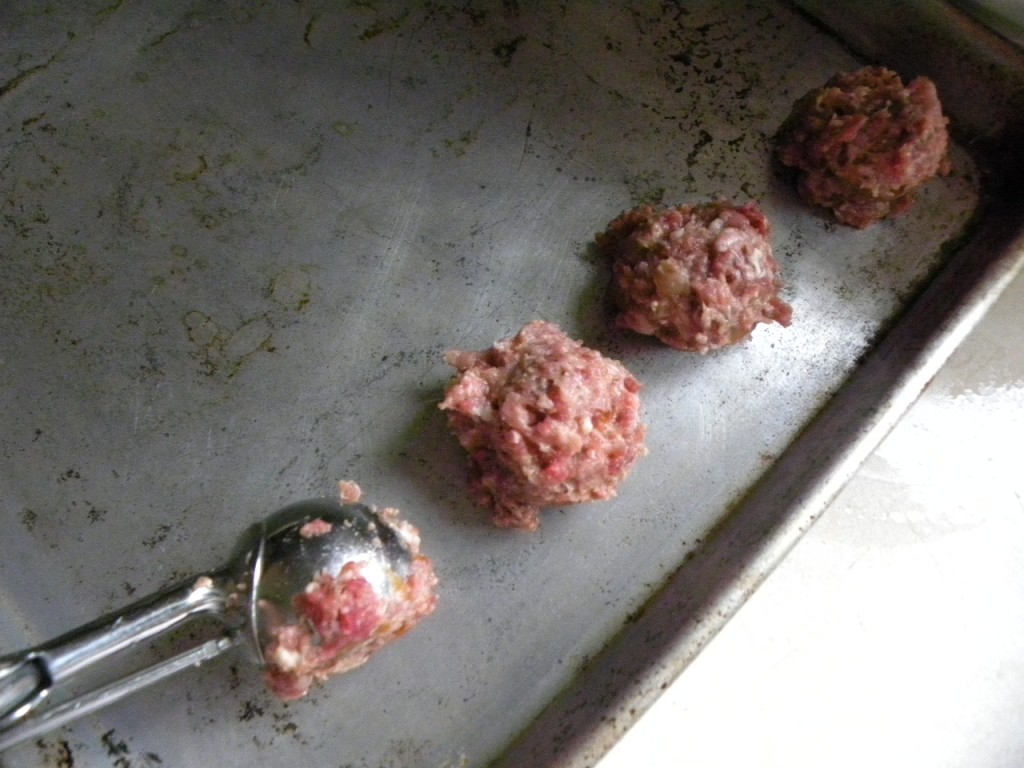 Place them on baking sheets.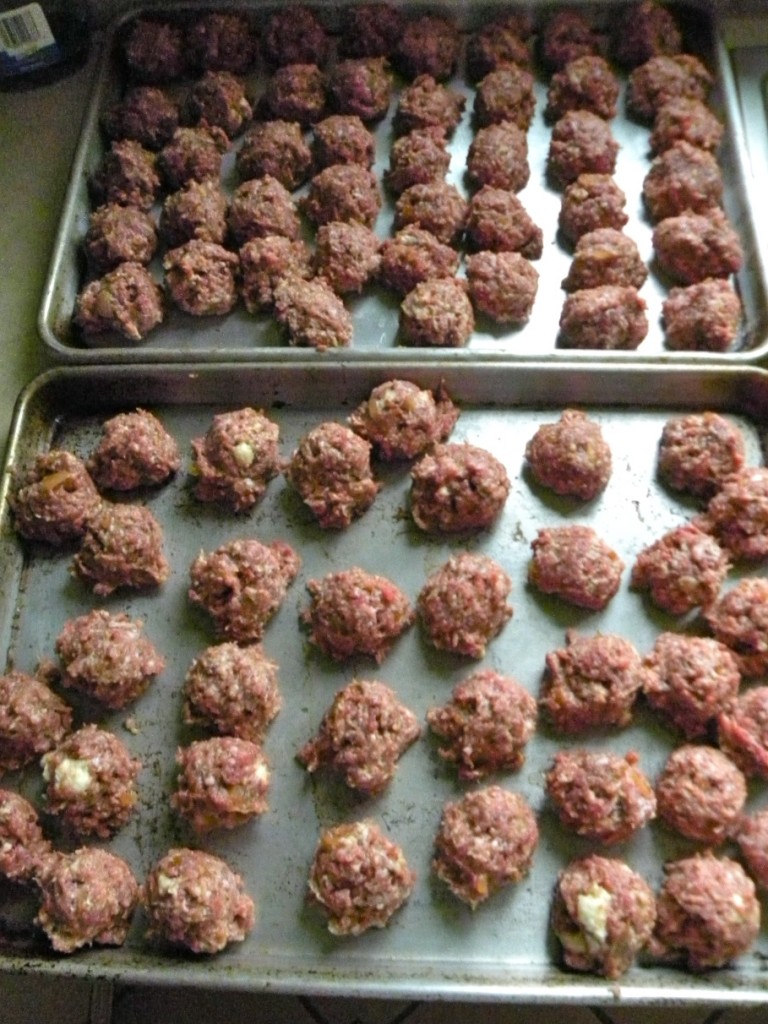 After I get all the meat made into balls, I place the trays of meatballs in the freezer for 30-60 minutes.  I think that this helps them hold their shape, and keeps them from falling apart when you brown them.  However, if you are pressed for time you can skip this part.  You can actually skip the next part also, and just pop them in the oven for 45 minutes at 350.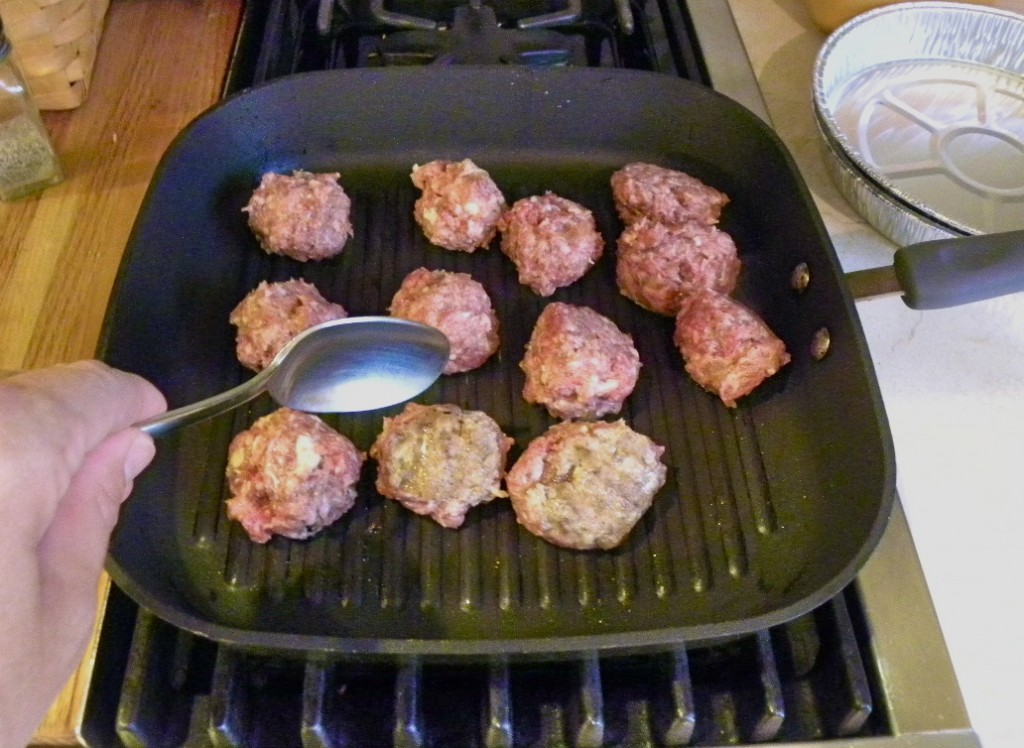 So like I said you can skip the freezing step and you can skip the browning step if you like.  I like to brown my meatballs I think it adds to the color and texture of the meatballs.  If you choose so brown your ballz, do so in batches and then place them back on the baking sheets.  They just need to be browned on the outside not cooked through, because you are going to finish cooking them in the oven.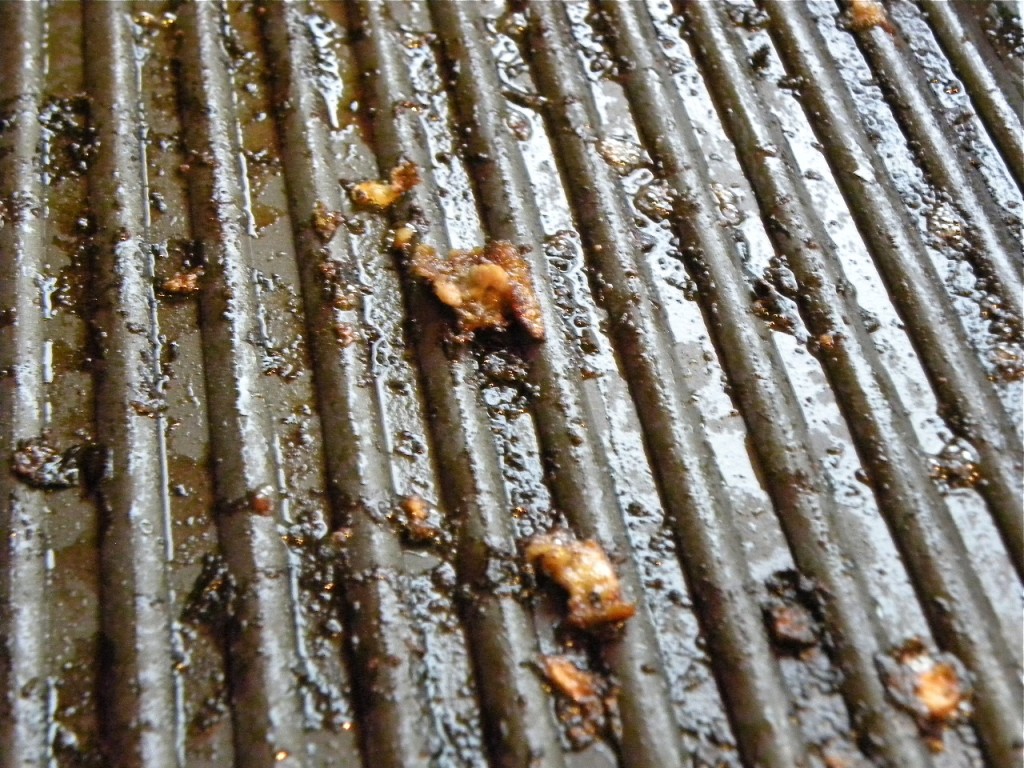 Set your pan aside you do not want to let all this browned, yummy goodness go to waste!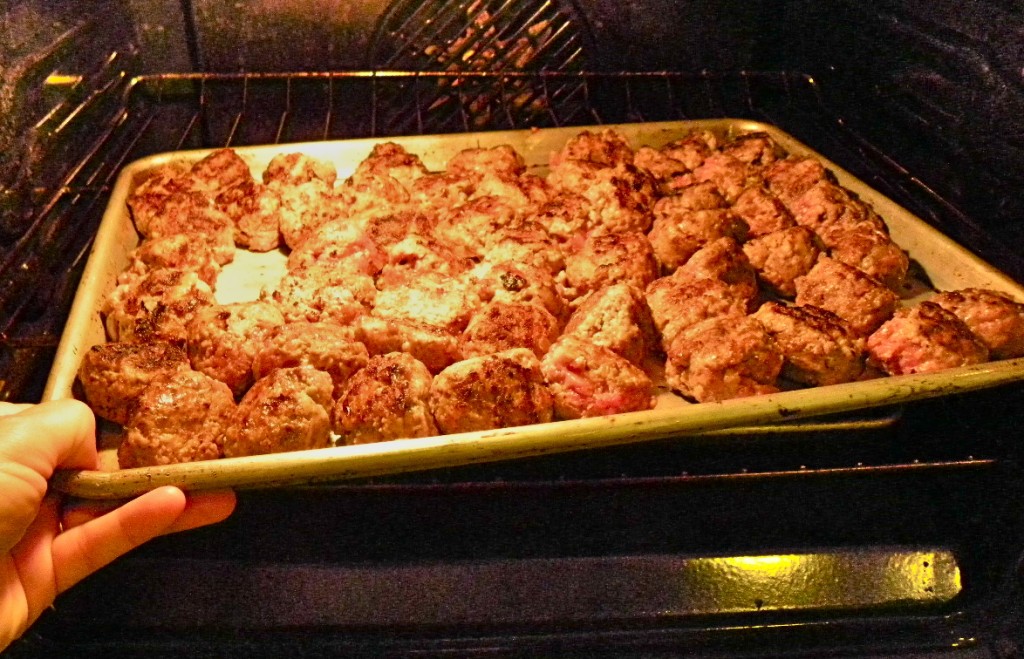 Place the previously browned meat balls in a 350 degree oven for 30 minutes.
TIP: After baking you could actually let the meatballs cool place them in Ziploc freezer bags and  freeze them for later, at which time you would make the gravy that goes with Swedish Meatballs.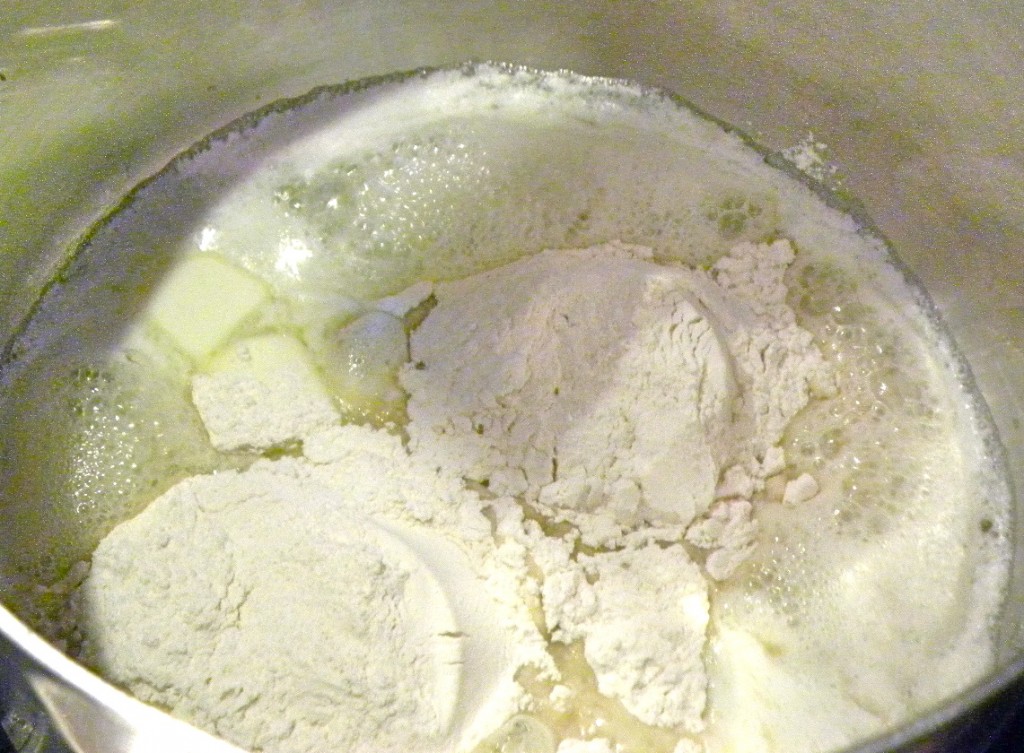 Gravy for Swedish Meatballs:  add 1 stick Butter, and 2/3 cup Flour to a heavy sauce pan over medium heat.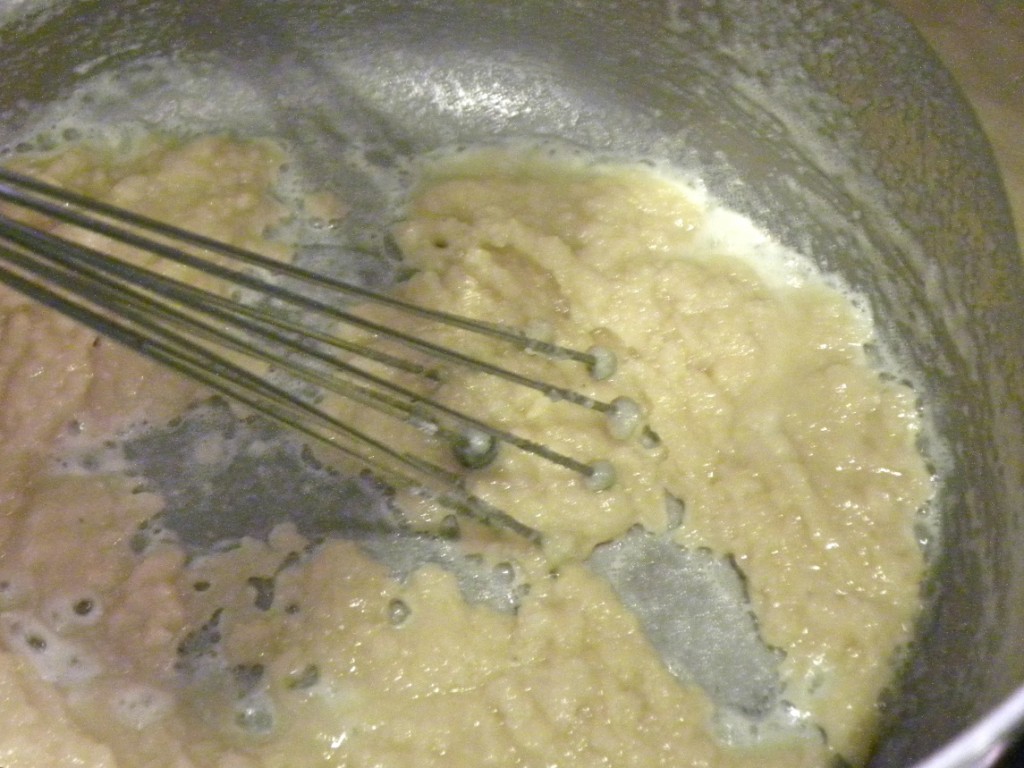 Whisk continuously as butter melts, making sure no lumps form, continue to cook and whisk until the roux (that's what butter and flour are went turned into a paste used to thicken sauces) turns a caramely color.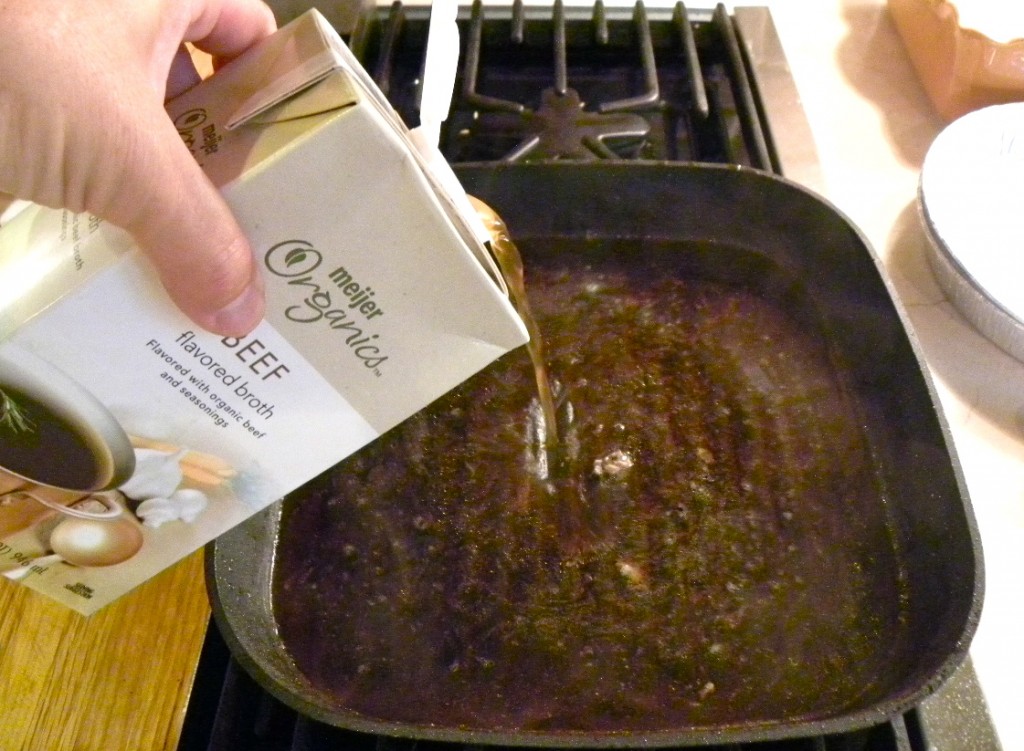 Now you can go back to your frying pan with all the yummies in the bottom, heat it up, and deglaze it with a cup or so of the beef stock (you will need 2 quarts of beef stock).  Use a spatula to scrape the goodies off the bottom.  Now you can pour this into the roux……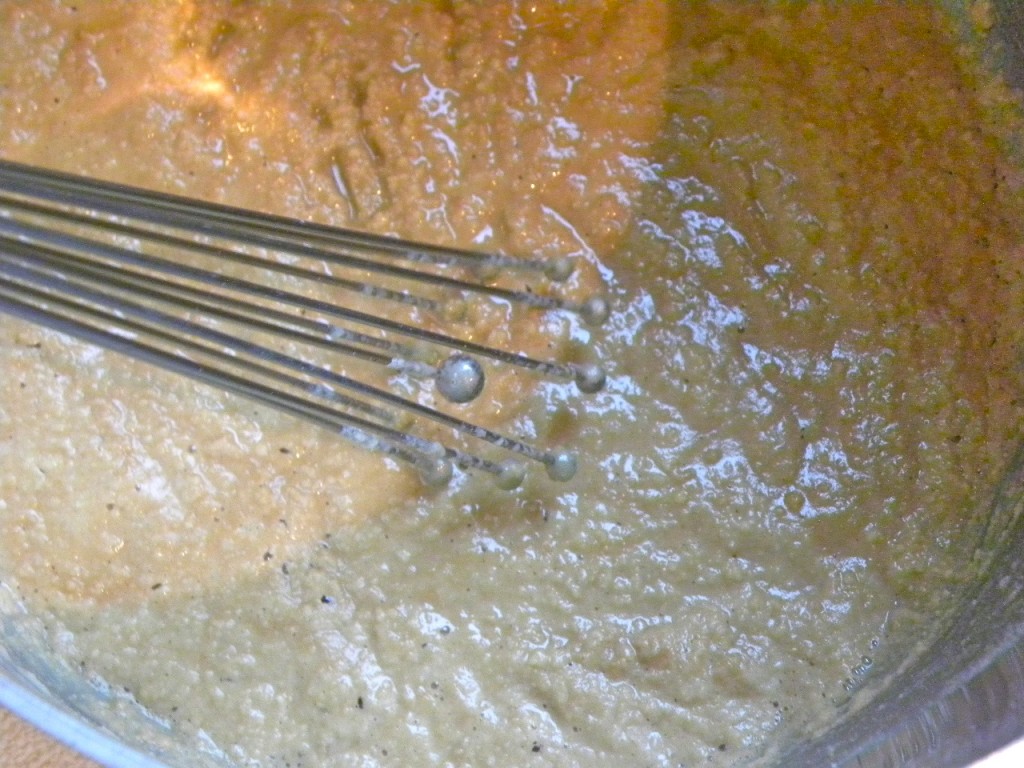 whisking all the while, so that you have a lump free gravy.  Continue to add the remaining 2 quarts of beef stock, you may find you get a few lumps, but nothing that a good whisking won't beat out.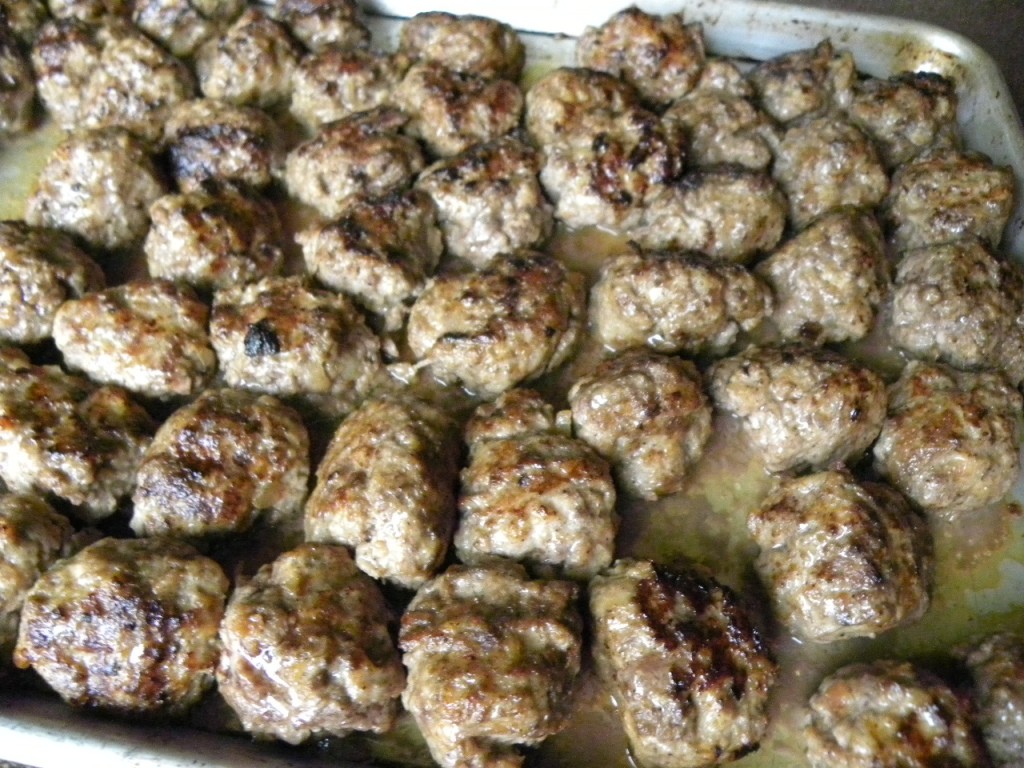 Remove the meatballs from the oven, transfer them to serving dishes.  You will be left with a wonderful juice in the baking pan.  DO NOT wash that down the drain, it has all the delicious flavors from the meat.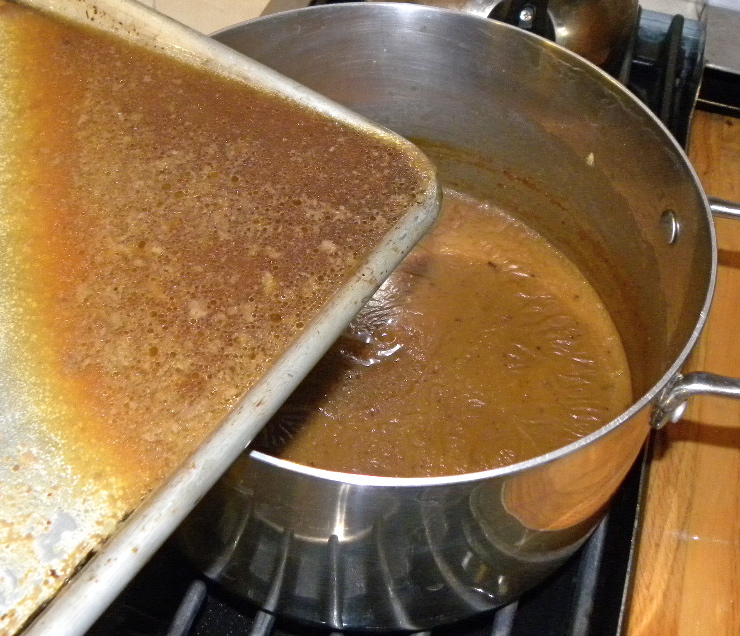 Whisk it into the gravy, bring it up to a boil for another few minutes.  At this point taste the gravy add salt and pepper to taste.  Remove from heat.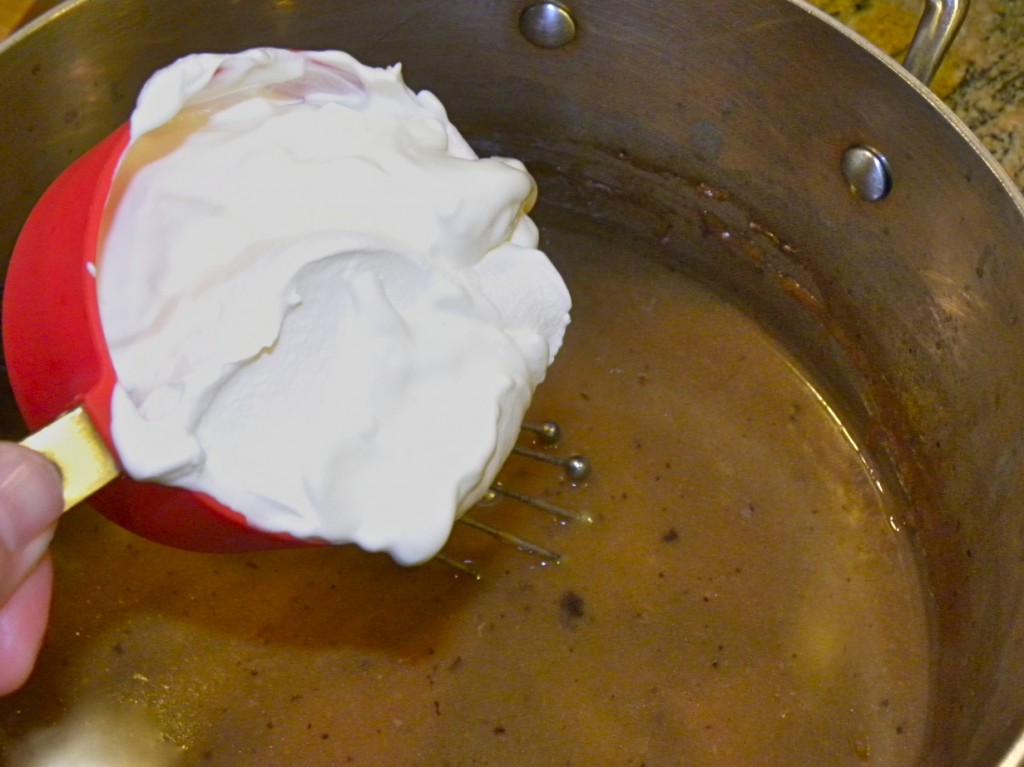 Now for the secret weapon, Sour Cream,  whisk 1 heaping cup of sour cream into the gravy.  Sour Cream gives the gravy a creamy zing!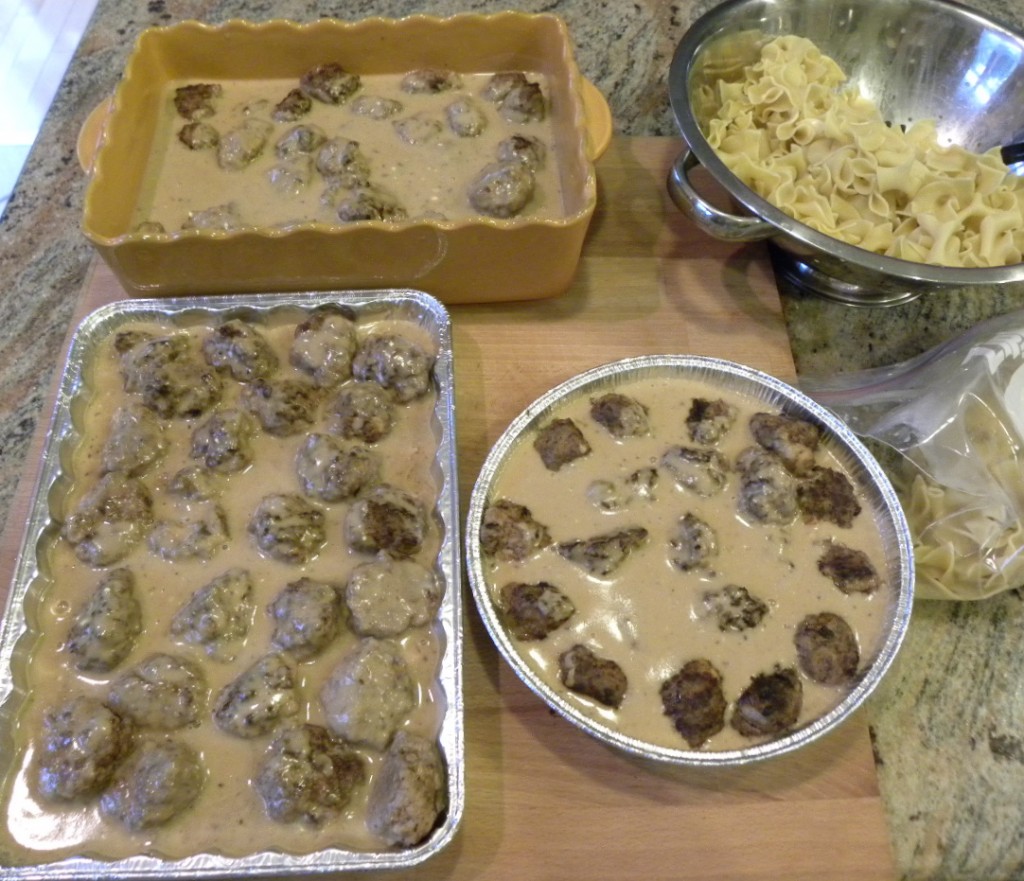 Pour gravy over the meatballs.  Serve immediantly with boiled/mashed potatoes, or wide egg noodles.
[print_this]
Swedish Meatballs
1 large sweet Onion chopped
1 tablespoon Olive Oil
3 pounds ground Beef
1 pound ground Pork
8 slices Bread
1 1/2 cups Milk
2 Eggs
3 teaspoons ground Pepper
3 teaspoons Salt
1 1/2 teaspoons ground Nutmeg
1 teaspoon Cardamon
1/2 teaspoon Paprika
1 stick Butter
2/3 cup Flour
2 quarts Beef Stock (64 ounces)
1 heaping cup Sour Cream
salt and pepper to taste
Caramelize onion in olive oil for 10 minutes, until onions are golden in color.  Place bread and milk in a medium sized mixing bowl and set aside, allowing bread to soak up liquid.  Using hands or a fork break bread up in milk so that it resembles a paste  In a large bowl combine ground beef, ground pork, spices, caramelized onions, eggs, and bread milk mixture.  Combine with hands until all ingredients are thoroughly incorporated.  Form meat mixture into 1 inch balls, place on baking sheets, put in freezer for 30-60 minutes.  Remove from freezer and brown meatballs in a frying pan.  Meatballs do not need to be cooked through just browned on the outside.  Do this in batches removing the meatballs and placing them back on the baking sheets.  When the meatball browning process is complete place meatballs in a 350 degree oven for 30 minutes.  While meatballs are baking you can start to prepare the gravy by melting one stick of butter in a large sauce pan with 2/3 cup flour, whisk continually creating your roux. When the roux is golden in color, gradually whisk in 2 quarts of beef stock.  I also add the juice from the meatball pans into the gravy.  Bring gravy to a low boil and cook for 10-15 minutes until gravy is thick enough to coat the back of a spoon.  Remove from heat whisk in 1 heaping cup of sour cream.  Add salt and pepper to taste.  Pour gravy over meatballs, and serve with mashed or boiled potatoes or wide egg noodles.  You can serve Swedish Meatballs immediately or place in baking dishes to reheat later.  If reheating later bake at 350 degrees for 30 minutes just so meatballs get heated through.
[/print_this]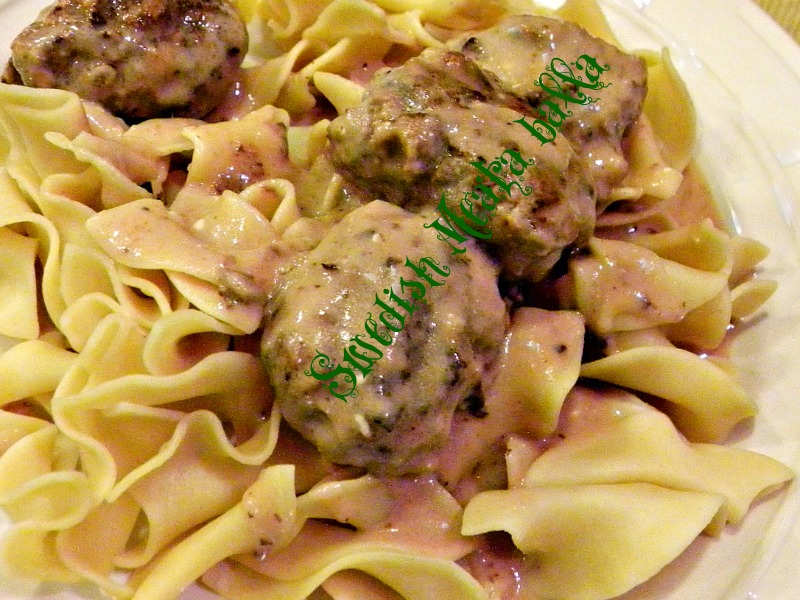 My meatball pictures were not not so purdy.  I tried to make them purdy.  They needed some color….so I added some word parsley!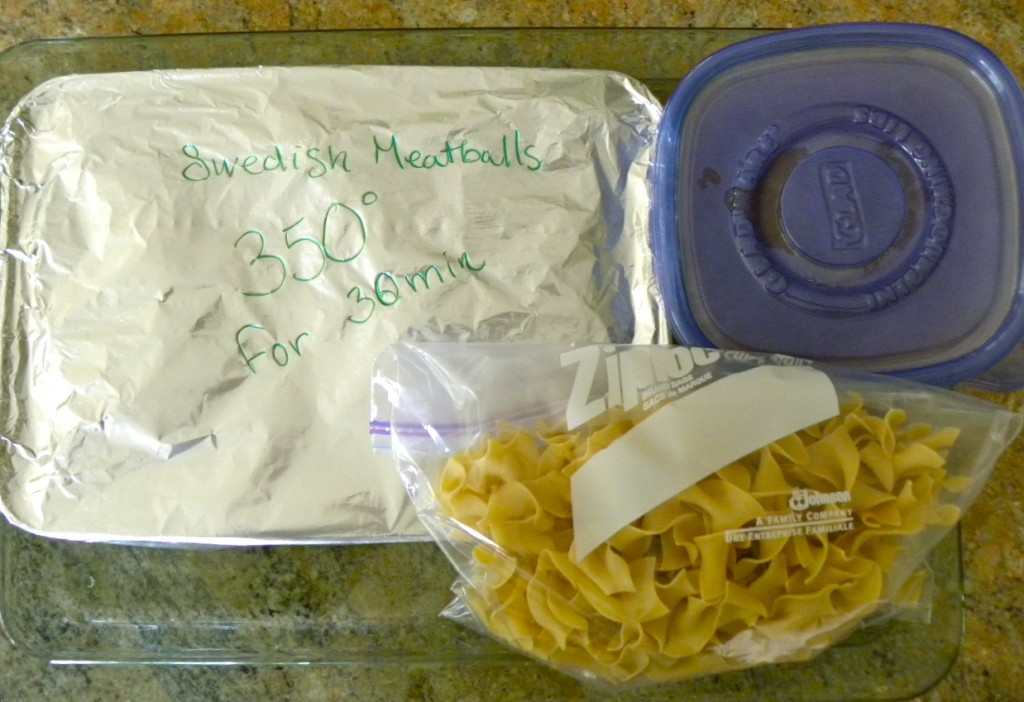 This is one of my delivery trays.  I have a couple trays that I use to put meals on so I can deliver them without having to make multiple trips from the car to the recipients house.  I always try to remember to write directions in sharpie on meals.  That way if they are not going to eat it right away the directions will be right there as well as what's in the foiled gift.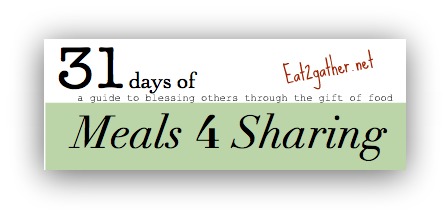 HEY! Do you follow my FACEBOOK page or my TWITTER?  Whatcha waiting for?!
Phew! Sorry this was late today. Life got the better of me….hope you understand!  Ever have one of those days? Rainy, cold, van pooped out on me, guinea pig is out of food, dogs got eyeboogs, laundry is piled high, belly is jiggling just a little bit more than usual….you know that kinda day?
I hope you had a non-belly jiggling kinda day!
LUV!
Sheila
P.S. Just for kicks and giggles I had google translator translate belly jiggle into Swedish, so if you were Swedish you would have a magen litegrann kinda day, Hmmm very interesting, there ain't nothing lite in this belly today!
Adjo!
That's Swedish for goodbye.