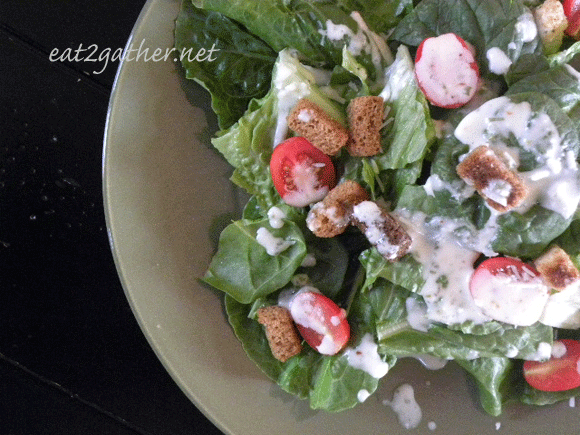 My kids love the salad dressing at Olive Garden. It's about the only place I can get my kiddos to eat salad.  A friend recently told me that you can purchase the dressing at the restaurant to take home.  I didn't check the pricing on it, but I think that might get expensive. I decided I better figure out a way to make it myself.  So I headed over to  CopyKat Recipes website and of course she had it there.  Her recipe, I think is very good, but my kiddos were not in agreement.  So I set out to please my kiddos…anything to get them to eat their veggies right?  Can I get an Amen?!  With a little tweaking here and there this is my version of Olive Gardens Salad Dressing.  Thanks CopyKat for pointing me in the right direction!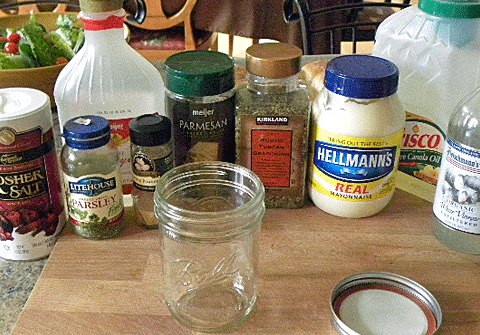 All of the ingredients were easily found in my pantry, which makes this recipe super quick to replenish. The only exception might be the Rustic Tuscan Seasoning from Costco, not sure if they always carry this blend. The original recipe called for Italian Seasoning, but I found the Tuscan Blend  made the dressing taste authentic.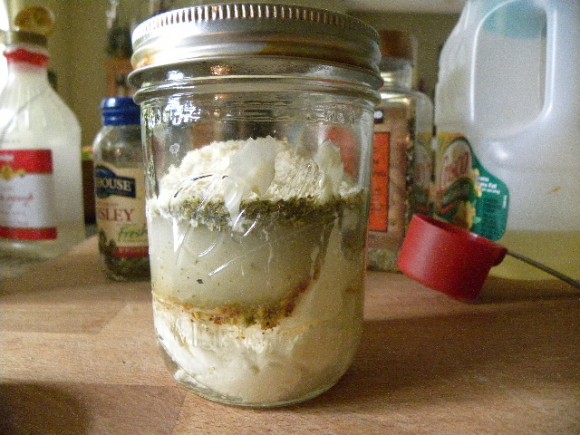 Throw all the ingredients in a mason jar or some sort of covered container that you can store and pour from.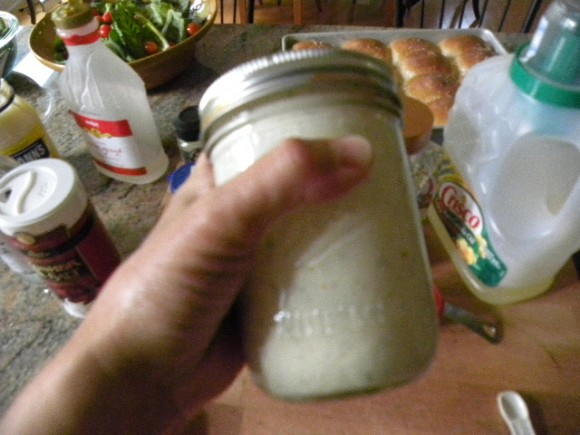 AAAwww shake, shake, shake…shake your groove thang, shake your groove thang….
And I might add, you will need to shake your groove thang quite vigorously for about 2-3 minutes. If your kids are just setting around being useless, make them shake their groove thang…it's good for them! Whip-um in to shape!
[print_this]
Italian Dressing
adapted from CopyKats Olive Garden Salad Dressing
1/2 cup Mayonnaise
1/4 cup White Vinegar
2 tablespoons Corn Syrup
1 teaspoon Vegetable Oil
1/4 teaspoon Garlic Powder
3/4 teaspoon Rustic Tuscan Seasoning by Kirkland (Costco brand) or Italian Seasoning
1/2 teaspoon Parsly Flakes
1/4 teaspoon Salt
2-3 tablespoons Parmesan Cheese
Place all the ingredients, in any order, into a container that has a lid and can be easily shaken. I prefer a mason jar. Shake vigorously for 2-3 minutes. Store in refrigerator.
Enjoy!
[/print_this]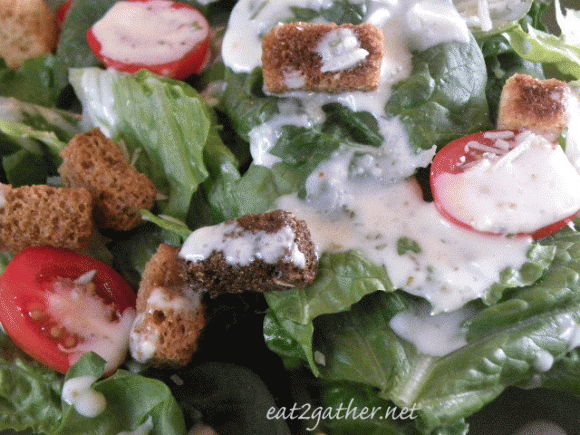 Mmmmm it really  is pretty darn close to the real thing.  I hope you give it a try.  Let me know what you think.
Have a great day!
Sheila