Hearty Chicken & Wild Rice Soup

Soupapalooza couldn't have come at a better time!  Nothing is better on a cold winter day than a fragrant hearty bowl of soup.  Ahhhh, can't you just smell it cooking now?  Today I am joining Kristen at Dineanddish.net and Cheryl at TidyMom.net for their 2nd annual Soupapalooza!  You will definitely want to head over to their sites for the chance to win awesome prizes and to snag some great new soup recipes in their Soupapalooza Link-up!
This weekend we were hit by a winter storm.  The kiddos had Friday off school, and it continued to be fa fa fa rEEEZING  outside all weekend long.  This has been the strangest winter ever in Michigan.  Thursday night my sons soccer team practiced outside, then the very next morning we have 7 inches of snow and school off! Wasupwiddat?  Now by the end of the week they are saying it could be in the 40's and all this snow will be gone.  The roads are horrible all ready.  I feel like with all this freezing and thawing I live in a pothole paradise.
We are hearty, thick, stick to your ribs kinda soup people.  Brothy thin soups haven't had a good track record around this house.  So today I want to share with you my Hearty Chicken and Wild Rice Soup.  My son had eaten supper at a friends house sometime ago and had a Chicken and Rice Soup that he raved about.  Instead of hassling the mom for the recipe I decided to try to figure it out on my own.  This is what I came up with.  Luke said, "It's different Mom, but I really like it."  Ok, I'll take that!   I hope your family enjoys it as much as my family did!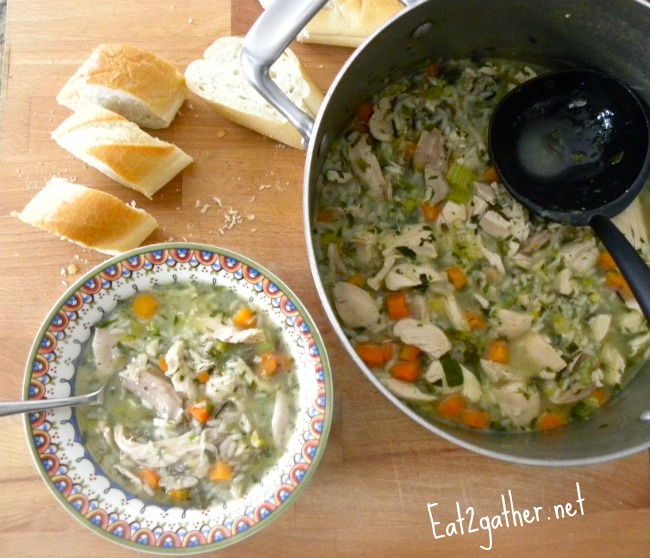 Hearty Chicken and Wild Rice Soup is chocked full of healthy stuff.  Lots and lots of stuff that's healthy is in this soup, which also makes it perfect for this time of year because it seems "the junk" is going around, and we all want to keep our immune systems in tip top shape!
"An old-fashioned vegetable soup, without any enhancement, is a more powerful anticarcinogen than any known medicine." James Duke M.D.(U.S.D.A.)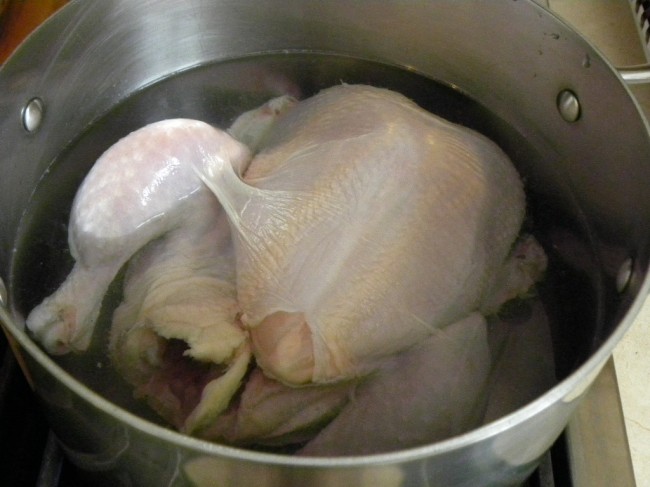 First I start with a whole chicken.  Place chicken in a pot,  fill with water just to the top of the chicken.  Boil for 30 minutes or until chicken begins to come apart from the bone.

While the chicken is boiling I chop up my veggies.  Chop 1 medium onion, 11/2 -2 cups. (I had the cryin' onion eyes and forgot to take picture) Three stalks of Celery plus the heart of the celery, this give soups amazing flavor.  Don't throw away the good stuff!  Cut three Carrots into small pieces.  Chop 1 cup of Spinach. Two Garlic Cloves, minced.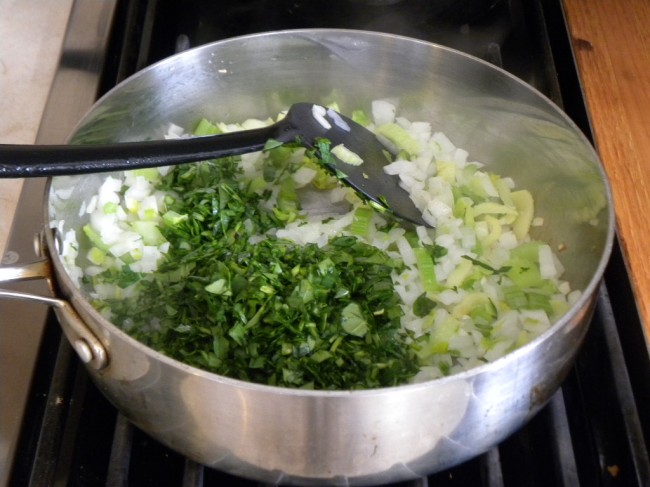 In 1 tablespoon Olive Oil sauté onion, celery, and garlic until tender.  Turn heat down to medium low and add the spinach continue to sauté for 1 minute.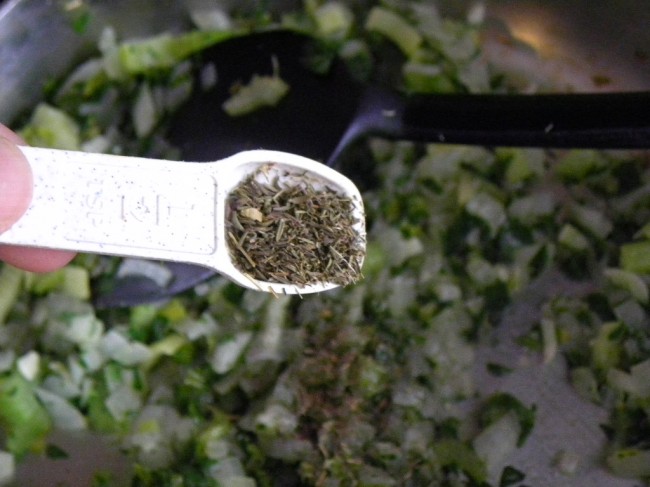 After spinach has wilted add in 1 teaspoon Tarragon , 1/2 teaspoon Thyme, 1/2 teaspoon Salt, and 12 turns of fresh cracked Pepper. Combine for a minute over heat, turn heat off and set aside.  I love the fresh lemony taste that tarragon adds to soups…luverly!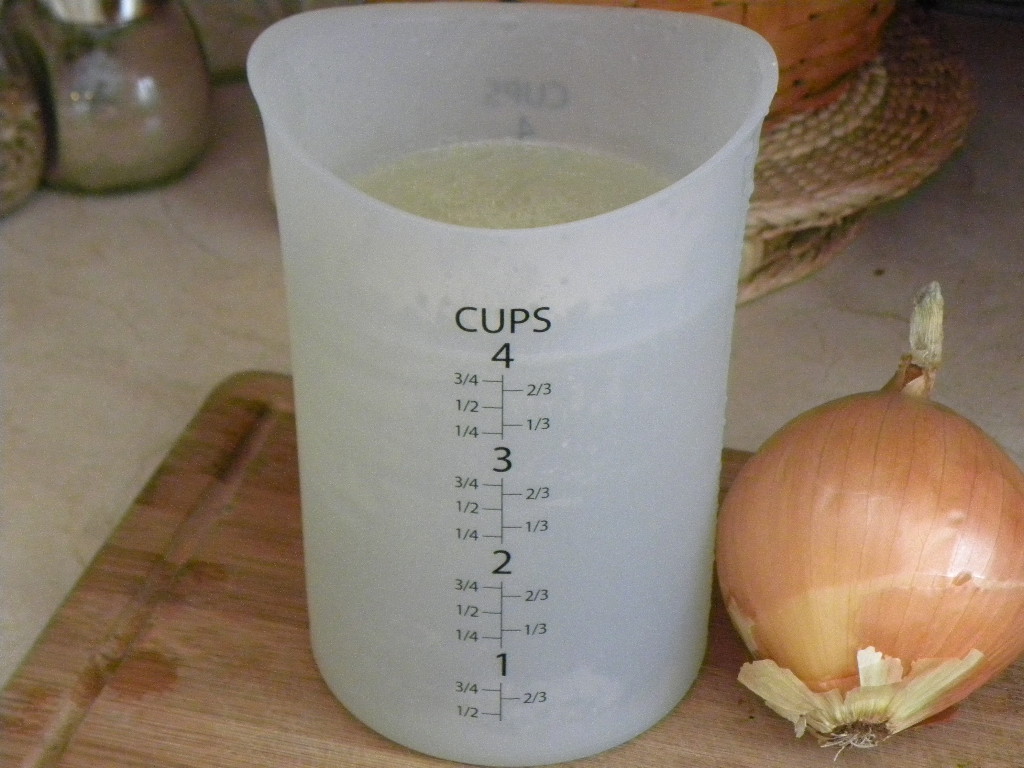 Reserve 4 cups of liquid from chicken.  Remove chicken from pot, let cool until able to handle, remove meat from the bones and set aside.  (approximately 4 cups shredded chicken)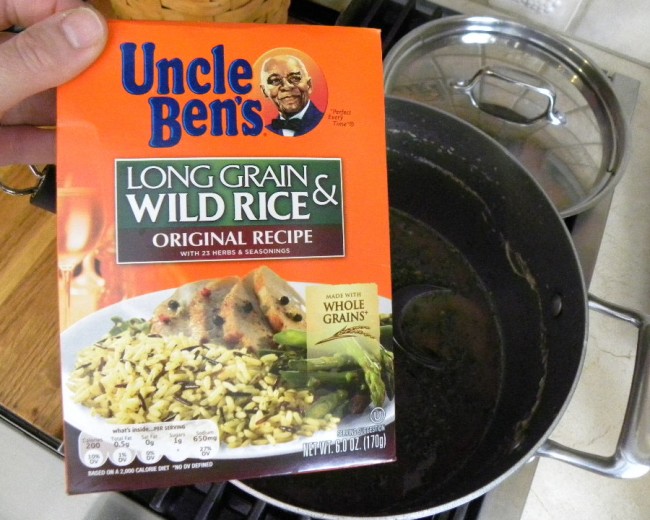 No need to dirty another pot, in the same pot you cooked the chicken in cook one 6 ounce box of Uncle Ben's Original Recipe Long Grain and Wild Rice, according to directions on the box, delete the butter.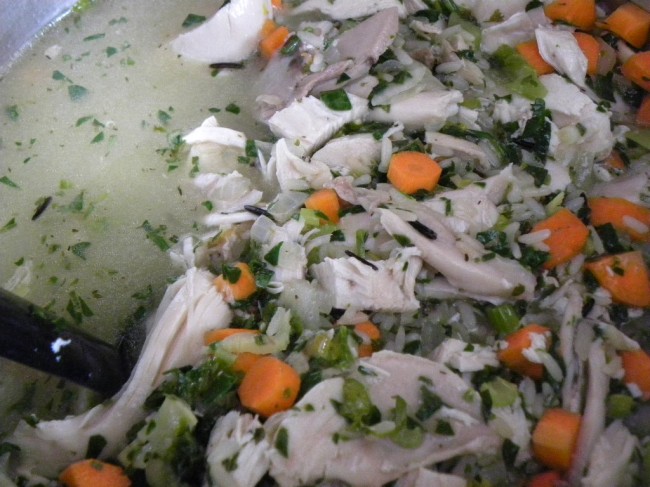 When the rice is done it's time to add everything to the pot.  Add sauteed veggies, reserved liquid from chicken, diced carrots, and shredded chicken to the pot.  If you prefer your soup soupier feel free to add a can of chicken broth to the pot also.  Let this simmer for 20 minutes or until carrots are tender.  Serve. Enjoy!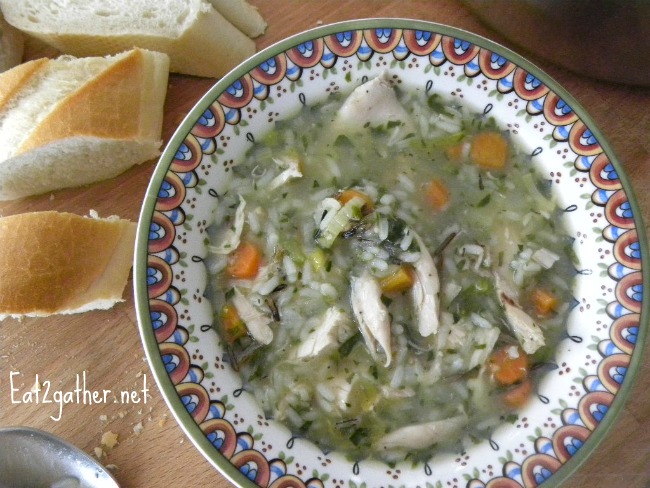 [print_this]
Hearty Chicken &Wild Rice Soup
6-8 servings
1 whole Chicken
1 tablespoon Olive Oil
2 cloves Garlic, minced
1 medium Onion, chopped (approximately 1 1/2-2 cups)
3 ribs of Celery + heart chopped finely
1 cup Spinach, chopped fine
1 teaspoon Tarragon
1/2 teaspoon Thyme
1/2 teaspoon Salt
fresh cracked Pepper, 12 turns of peppermill
1 6 ounce box Uncle Bens Original Recipe Long Grain &Wild Rice
1 cup Carrots, diced small (3 carrots)
4 cups of reserved liquid from boiling chicken
optional 1 14.5 ounce can Chicken Broth
In large pot cover whole chicken in water, boil for 30 minutes or until chicken starts to fall off bone. Reserve 4 cups of liquid from chicken. When chicken has cooled remove meat from the bone. In sauté pan sauté onions, garlic, and celery until tender. Add spinach sauté until wilted about 1 minute. Add tarragon, thyme, salt and pepper to veggies continue to sauté' for another minute over low heat, turn off heat, and set veggies aside.  In the same pot chicken was cooked in prepare Uncle Bens Rice according to box directions, leaving out the butter. When rice is done add in veggies, reserved liquid, carrots and chicken. If you prefer a soupier soup then add the additional chicken broth. Simmer for 20 minutes or until carrots are tender.
Enjoy!
[/print_this]
Are you a hearty soup lover or do you prefer a lighter brothier soup?
Thanks for stopping by today and joining in the Soupapalooza extravaganza!
Be sure to join in the SoupaPalooza fun at TidyMom and Dine & Dishsponsored by KitchenAid, Red Star Yeast and Le Creuset
I am also sharing this recipe at Mingle Mondays over at Robyn site Add a Pinch!