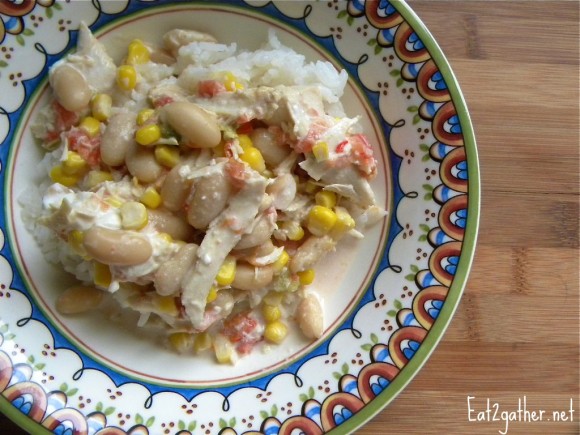 I wish I had a dime for every time someone asks me, "Can you make that in a crock pot?" And I intelligently answer, "UMmmm I dunno, I guess so…..". Truth is I am not a crock potter, for lack of a better term.  I cook all sorts of recipes slow, just not in my crock pot. I usually throw things together in my dutch oven or roasting pan and cook on low in the oven for hours.  I use my crock pot to keep things warm, but not for cooking.
This school year has been a whirl wind.  I feel like I blinked in September and WHAM bam thank you maam January is almost over!   I have resorted to all sorts of tricks for making a home cooked dinner for my family.
Trick #1 Take out.
Trick #2 Calling home giving, child that answers the phone, cooking instructions.  This is not a bad trick at all, my kids have learned to cook many a food via satellite.  They have also learn how to use the washing machine too!
Trick #3 Cereal and  lots of Breakfast for dinner, dinners.
Trick #4 Ordering food/Take out. Did I mention there is a really good Thai restaurant not far from my house?
Trick #5 Finally, using my crock pot to cook dinner.
Are you wondering why I need tricks to get dinner made when I don't even work….outside of the home?
Well, besides being busy doing many other things that I will spare you the gory details of, the challenge of dinner most nights is that my family is not all around at the same time.  After the kiddos get out of school the vicious cycle begins.  Picking up, dropping off, watching games, getting haircuts, trying to keep orthodontic appointments (Having four children in some sort of orthodontic appliance is WHACKO!), band, orchestra, swim meets, piano.  Did I mention Kenny started a new job that has nearly turned our lives upside down?  Well, I am not complaining,  I am very thankful my husband has a job but…..can I just say, "CALGON TAKE ME AWAY!".
So I have found, after 17 years of wifely duties, the crock pot to be my new friend.  We are still trying to get to know each other.  Trying to figure out what works.  My kids have their favorites and not all of them work in the crock pot.  That's where trick #2 comes in handy. But I have come up with a few new recipes that have made their way into our regular dinner rotation.
Rotel Crock Pot Chicken was created from a conversation I had with another mom at a basketball game, she told me that she uses her crock pot all the time.  "For instance last night I just threw in chicken breasts and a jar of salsa and we had it over rice." she told me.  OK that got my wheels a spinnin', and I missed the whole next half of my sons game while I day dreamed about what I would add to chicken breasts in my crock pot.  I'm easily distracted by food.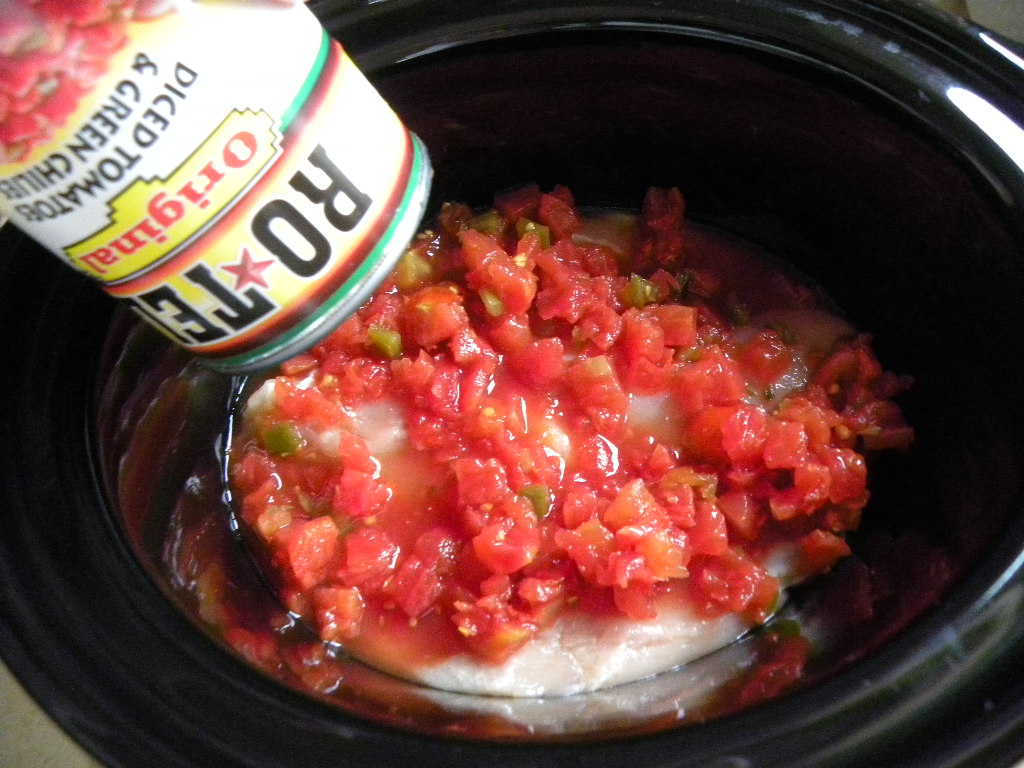 Place 3-4 boneless, skinless Chicken Breasts in crock pot, pour 1 can of Rotel over top.  Cover with lid.  Cook for 3-4 hours on low….longer if you need to.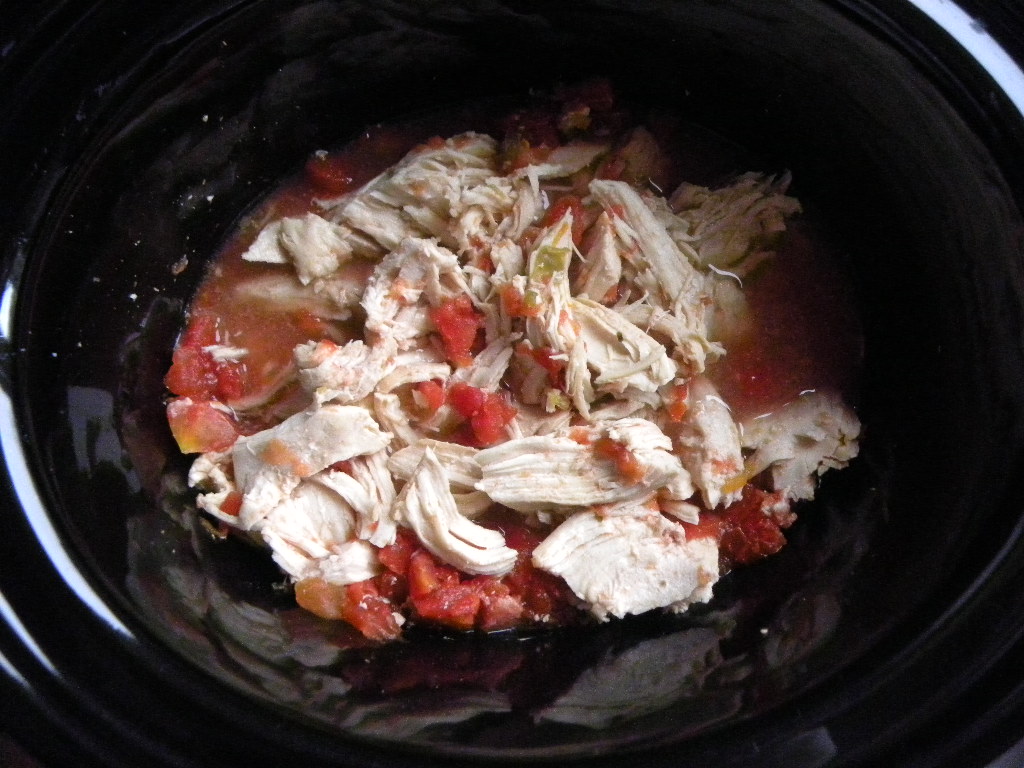 After you have let chicken and Rotel cook for at least 3 hours on low, take a fork and pull chicken apart into bite sized pieces.
r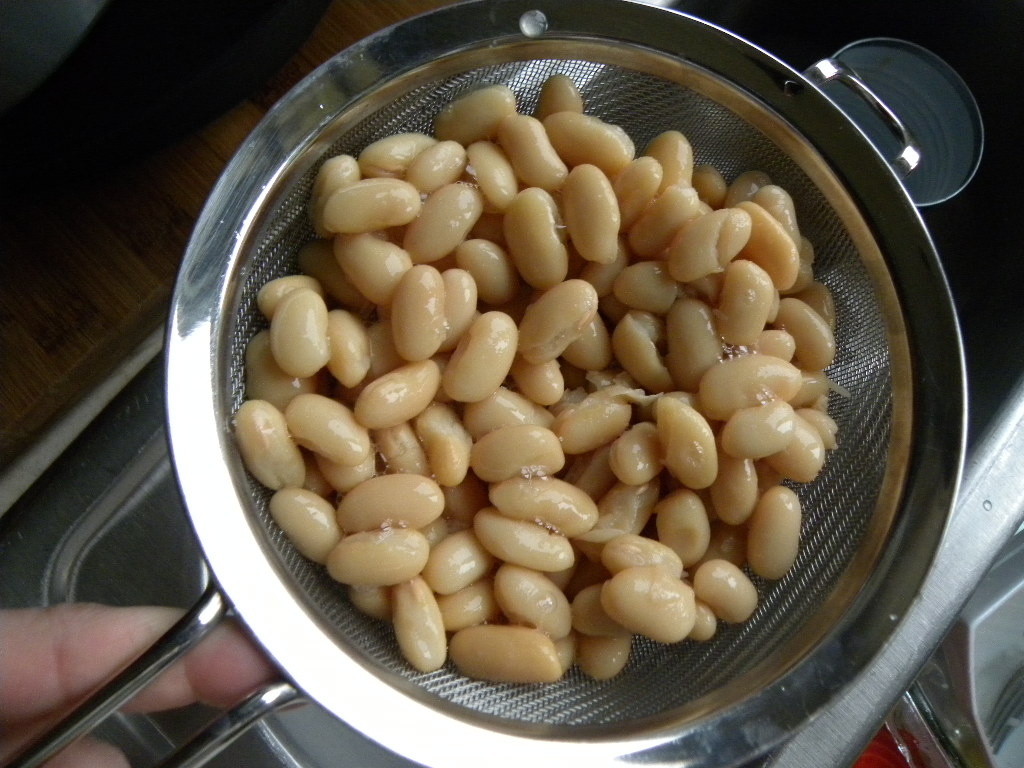 Drain 1 can of Cannellini or Black Beans.  We prefer Rotel Chicken with black beans, but all I had this day was cannellini.  It was still delicious.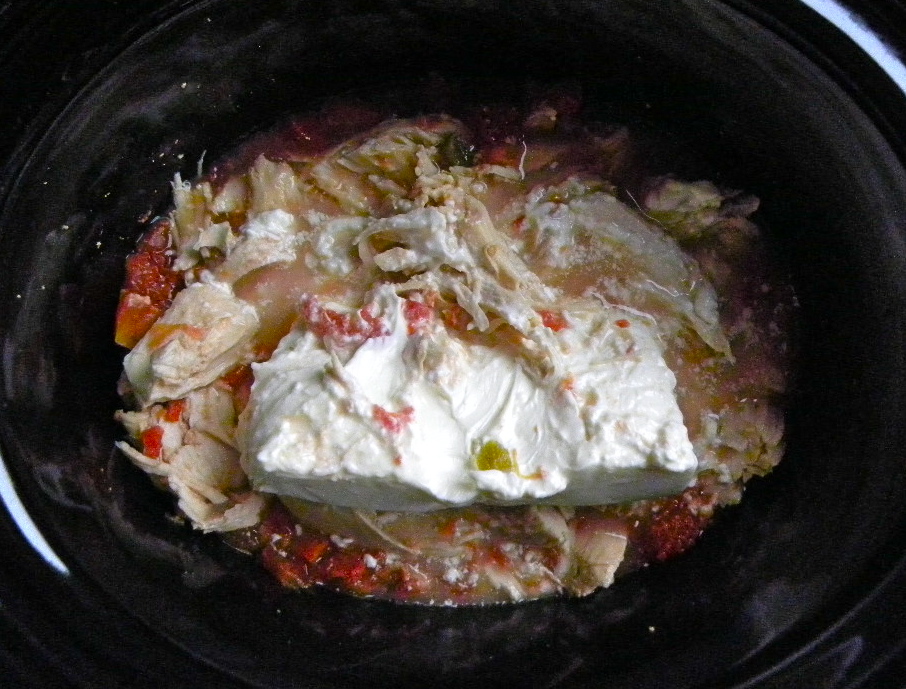 While draining your beans, toss in 1, 8 ounce block of Cream Cheese.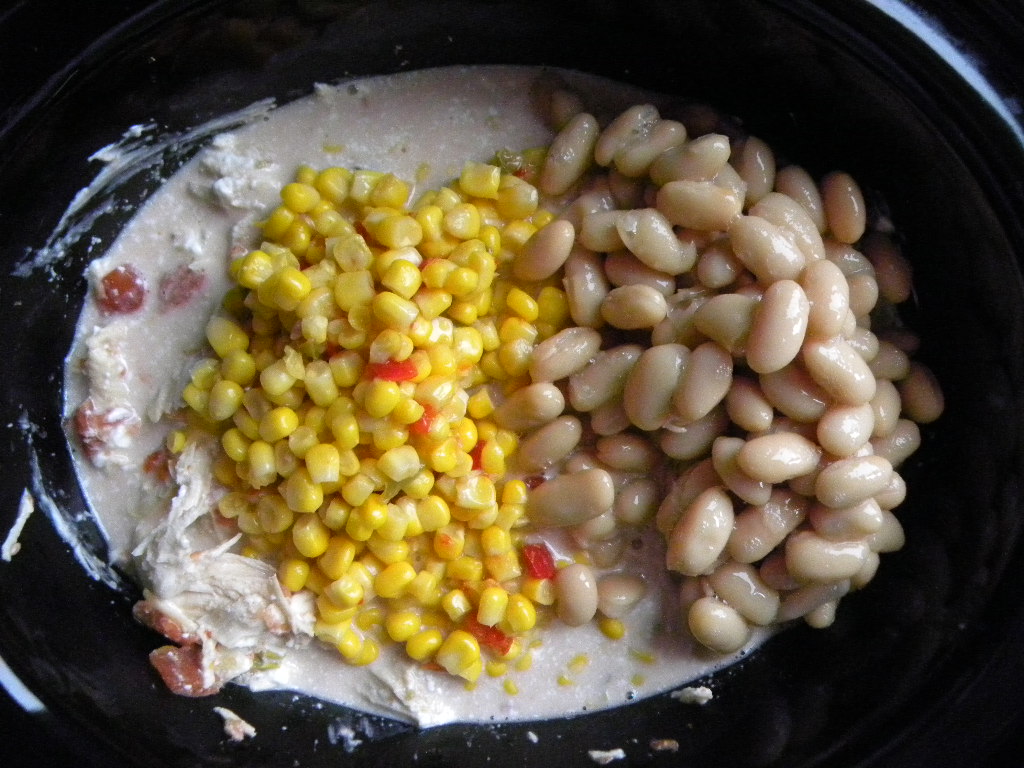 Add the drained beans and 1 can of Fiesta Corn, drained, to the pot.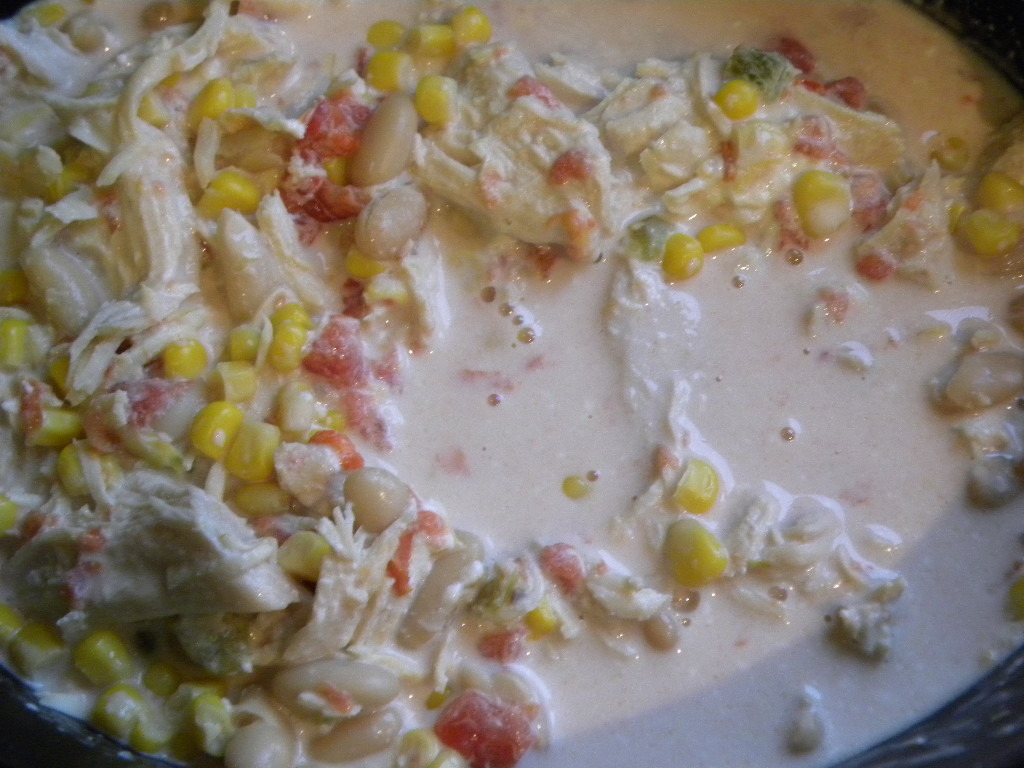 Gently stir ingredients around, and turn crock pot temperature to Warm.  Cover and wait for the family to show up and eat.  I have left this meal in the crock pot for 4 hours on warm.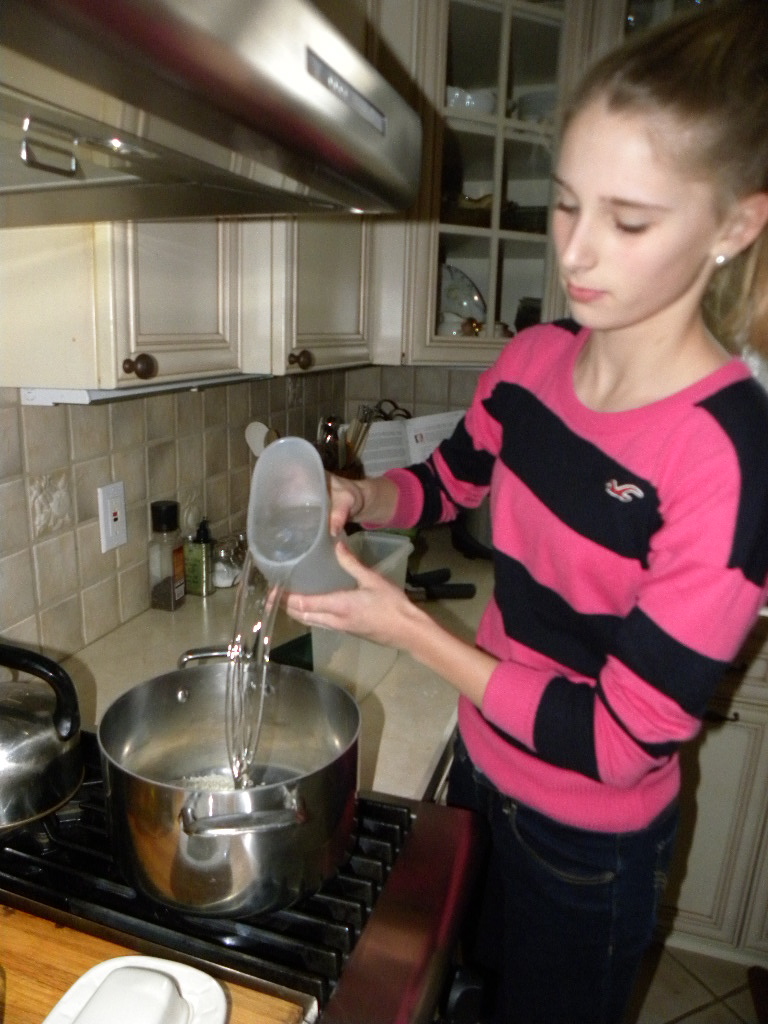 Use Trick #2 if you are not home to make rice.  If you don't have anyone that can make rice for you, or if you are out of rice, or just don't care for rice.  Rotel Chicken is amazing served with tortilla chips.  Crumble a few in bottom of bowl, ladle Rotel Chicken over top, crumble a few more over top with a sprinkle of cheese.  We especially like to spoon it over Cilantro Lime Rice, you can find the recipe here.
Now I'm going go out with Calgon…he's taking me away….to the land of bon bons and no alarm clocks!
Enjoy!
Sheila
[print_this]
Rotel Chicken
3-4 boneless, skinless Chicken Breasts
1 can Rotel, any variety. I use original.
1 8 ounce brick Cream Cheese
1 can Black or Cannellini Beans, drained
1 can Fiesta Corn, drained
Place chicken in crock pot, pour can of Rotel over chicken. Cover and cook on low for 3-4 hours or as long as 5. When ready use fork to break chicken into bite sized pieces, add cream cheese, beans, and corn, gently stir. Turn crock pot down to warm heat, cover and serve over rice or with tortilla chips. This will keep on warm in crock pot for up to 4 hours.
[/print_this]