I want you to know that I truly try to steer clear of recipes that are too fussy.  I know you are all busy and  you don't have time to be in the kitchen all day and night and dirting every pan in the house.  Your goal, as is mine, is to get a homemade meal on the table for your family.  Well I have to warn you this recipe is a little fussy, and although I've tried to somewhat simplify it from the original recipe……
You might dirty a dish or two…
And it may take you more than an hour…
But…but…but…chicken butt!
It's worth every minute, and you can make these hand sized pies of goodness ahead of time and bake them up when your ready, and the leftovers keep really well.  So there are a few great trade offs for the extra work you'll put into making homemade empanadas!
Honestly if you are having a spring like I am, every night is spent running from one sporting event to the next Empanadas are the perfect meal for an "on the go" evening.  Wrap up these hearty meat and bean filled pies in foil and hit the road!
Here's how-we-doey!
 Dough: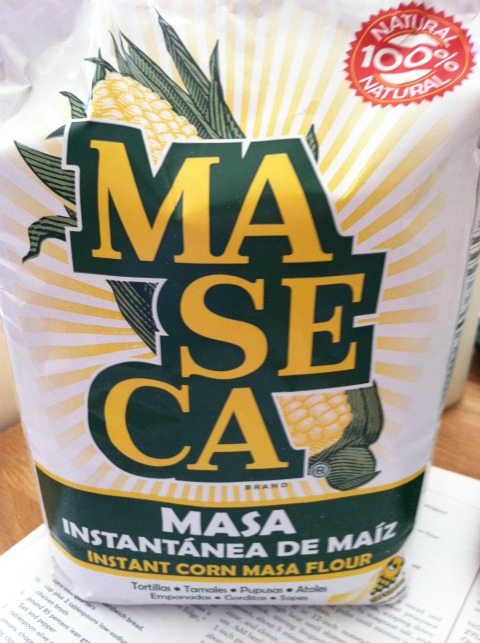 Start with the dough for the pies er uh….I meant to say empanadas, you will need Masa.  Masa can be found in any grocery store, near the hispanic food section. I found the recipe for these empanadas in the June, Make-Ahead Recipes issue of Cook's Illustrated magazine.  Although I improvised on the filling, I stuck close to the dough recipe.  Thinking that the dough was too fussy I made a batch of my basic pie crust adding masa to it.  It was a disaster.  My crust did not hold up well at all, although it tasted ok, there was no way one could pick up the pie and eat it on the go with my pie crust.  However the recipe from Cook's Illustrated was perfect in every way.  Of course!!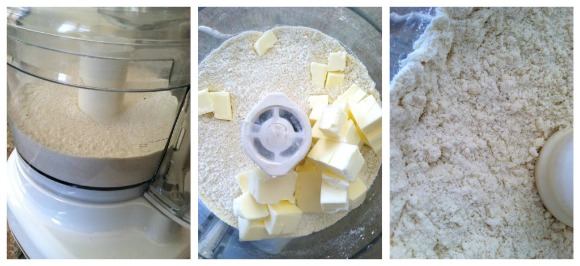 Start by adding 1 cup of the flour, the masa, sugar, and the salt to your food processor pulse a couple times until combined.  Add 12 tablespoons cold butter cut into chunks and pulse until butter is completely incorporated and mixture looks like wet sand.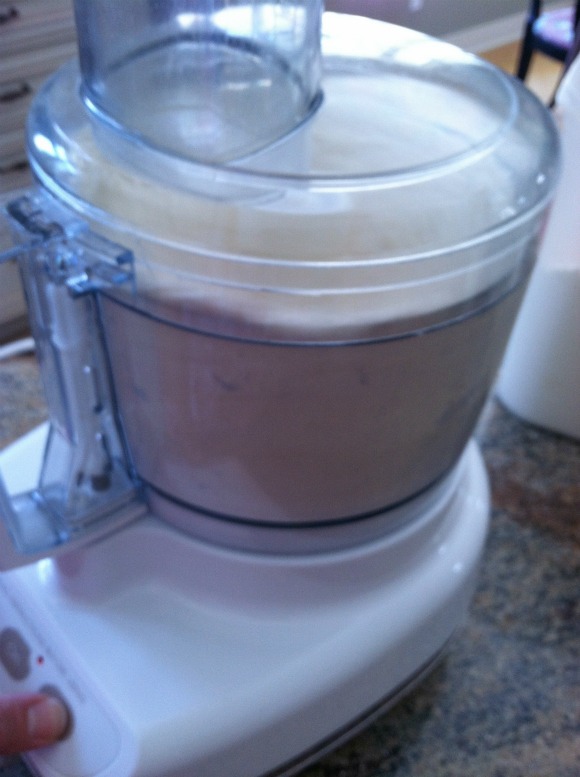 Now add the remaining 2 cups flour and pulse until mixtures is of an even consistancy.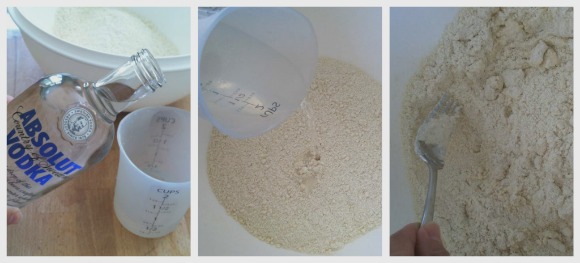 Pour mixture into a bowl, then measure out 1/2 cup very cold water, and 1/2 cup vodka slowly drizzle over dry mixture.  Use a fork to bring the dough together.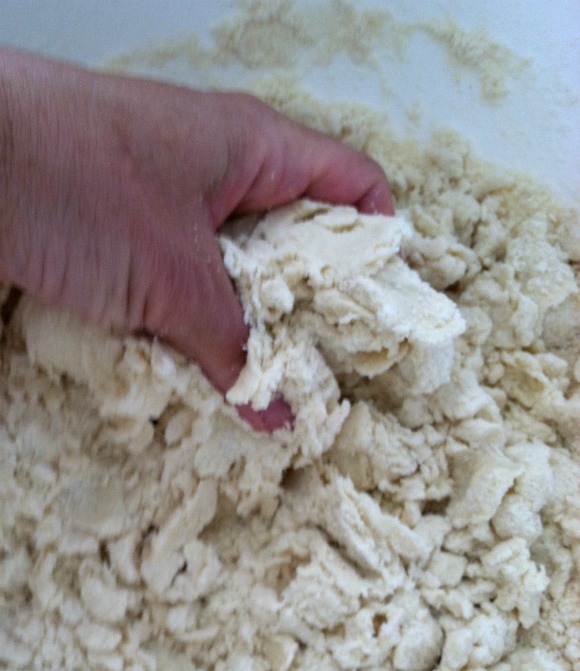 I understand this may be a freaky photo…that clawish type thing is my hand working the dough together.  You will need to get your phalanges dirty, if your dough seems too dry and is not sticking together after working it with your hands, add more water a tablespoon at a time until dough forms a ball.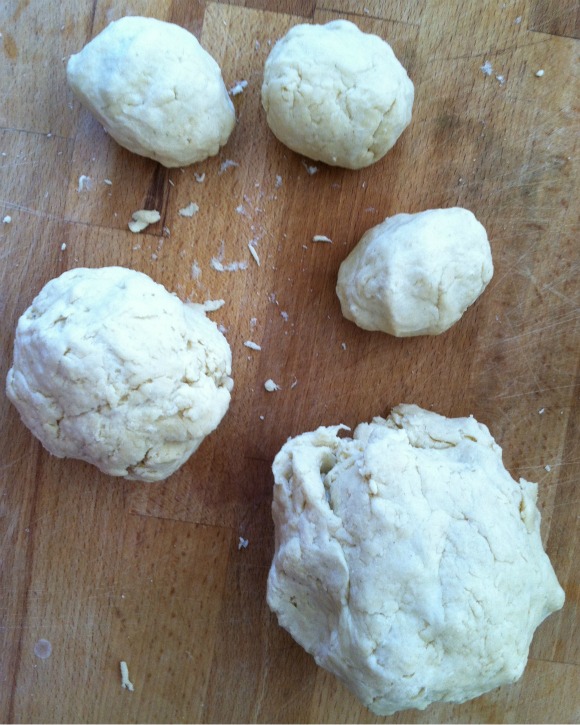 Divide dough in half, and then in half again, then divide each quarter into 3 equal parts.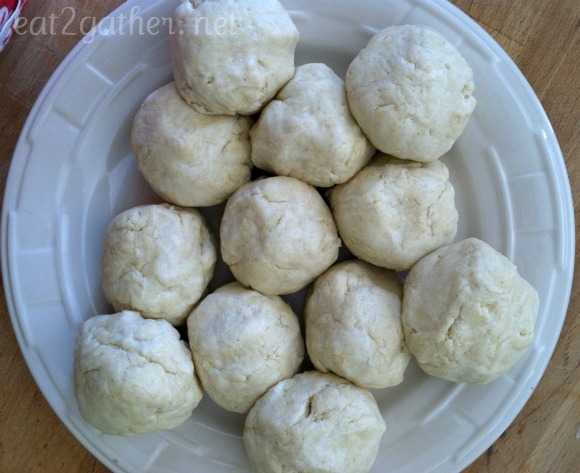 Roll into balls, place on a plate, cover in plastic wrap, and store in the refrigerator while making the filling. This dough will keep in the refrigerator up to three days and in the freezer for up to two weeks.
 Filling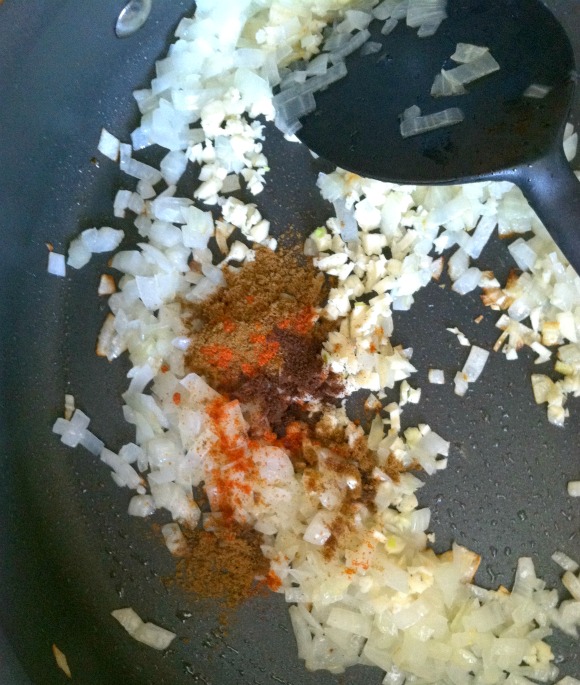 Saute' onions until transparent and cooked down to half, add in garlic let cook for one minute then add in cumin, cayenne pepper, cloves, and a sprinkle of salt and pepper stir around and let cook until fragrant 1 more minute.
In a bowl take the ground beef and slice of bread and work it together with your hands until you can't see the bread anymore.  Kind of like if you are making meat balls.  If bread isn't disappearing in to the meat add a tablespoon or two of warm water.  Once this is worked in add ground beef mixture to pan with onions, brown the meat,  breaking it in small pieces with spatula.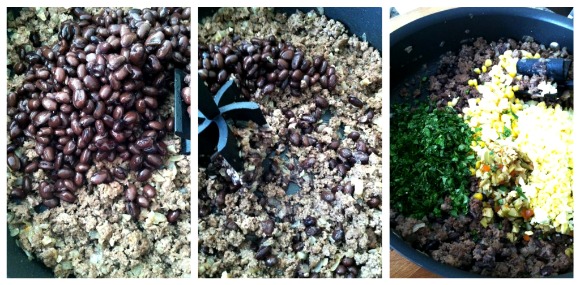 When beef is completely browned, remove from heat and add in beans, using a spatula or chopper smash about half of the beans making sort of a glue for the meat to hold togehter.  Now add in chopped hard boiled egg, olives, cilantro, and the frozen corn.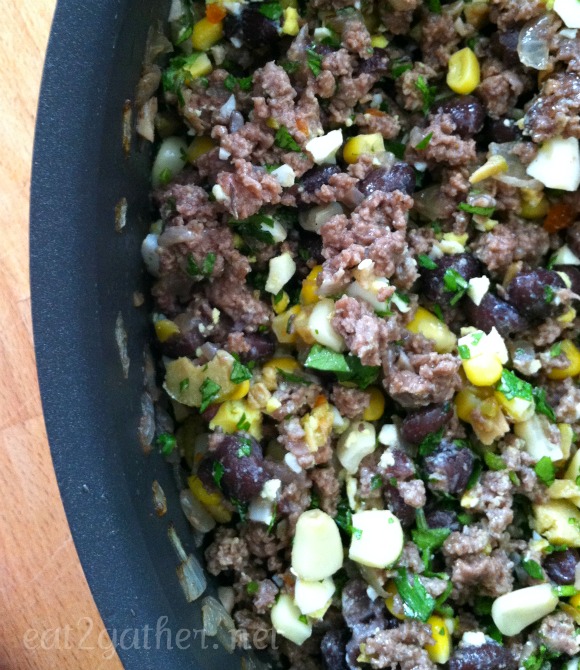 Incorporate all the ingredients, and set aside to cool completely.  At this point you could place meat mixture in the refrigerator for up to 2 days before you want to make the empanadas.
Here we go!  Rolling out the dough.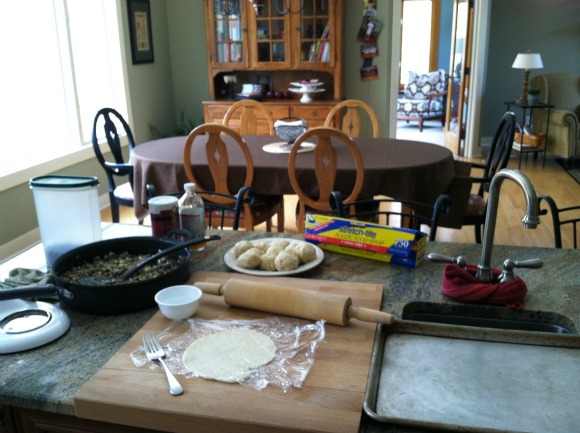 When you're ready to assemble get everything you will need out and ready.  What will you need?  Meat mixture, dough, cup of water, fork, plastic wrap, rolling pin and pans to lay finished empanadas on.  No you will not need chocolate chips, salt or vinegar…forget you ever saw these things.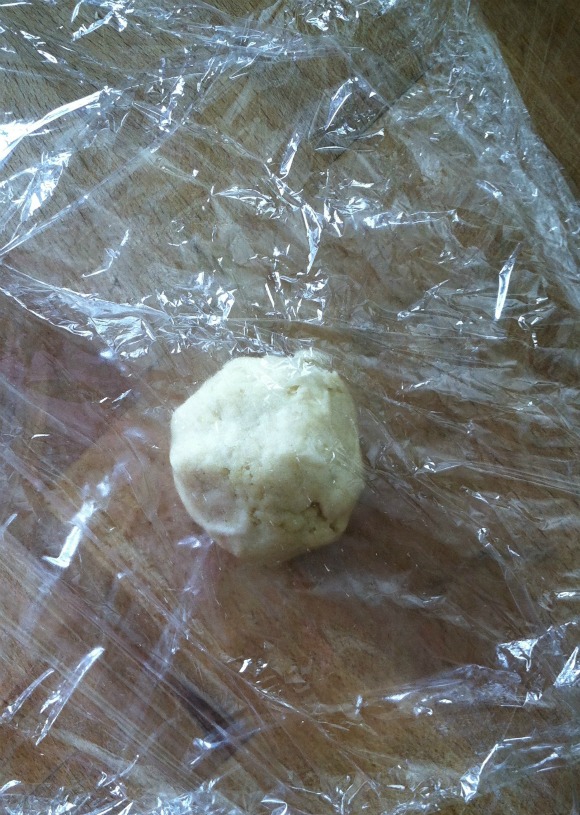 Believe me this is the best way to do this.  Place dough ball between two layers of plastic wrap and roll in to a thin disc.  I used the same two pieces of plastic wrap for all 12 balls.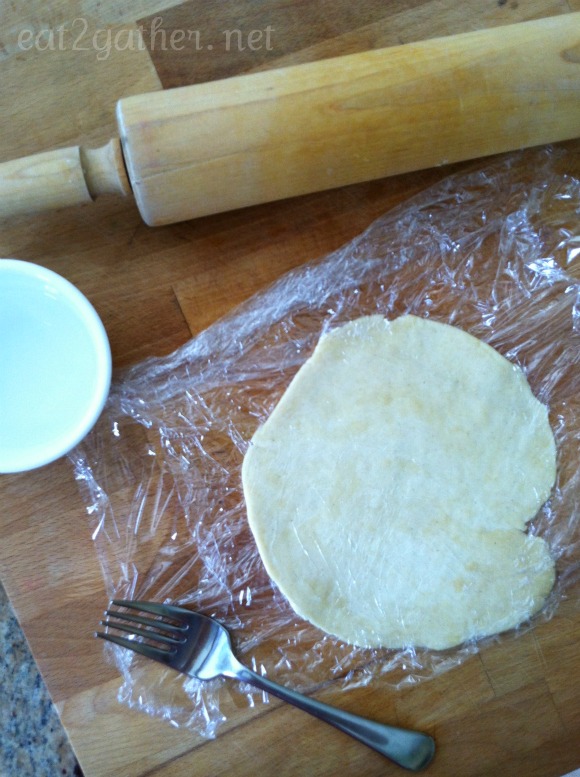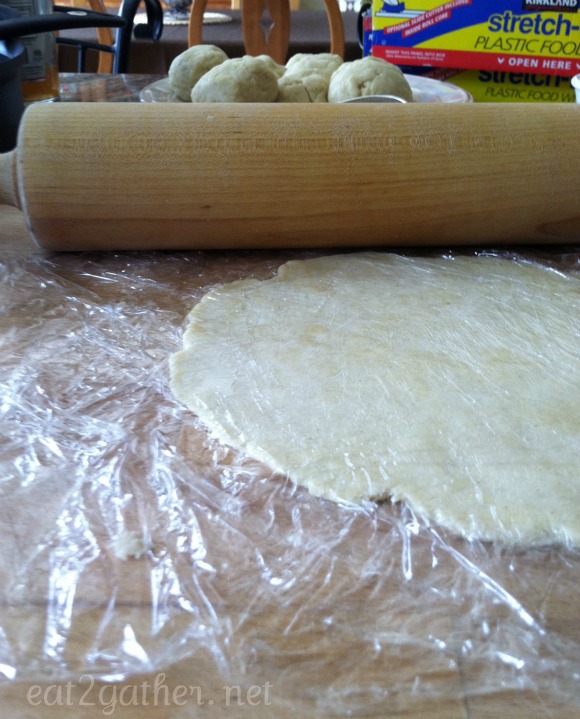 Each disc about 8 inches in diameter.

Place 1/3-1/2 cup of the filling onto dough, wet finger in water and run along the edge, fold dough over filling.

Filling may want to spill out, but the dough is very pliable just push filling back in it's place and stretch the dough over pressing the two sides of dough together.  Use fork to crimp the edges, if there is excess dough trim it off with a knife.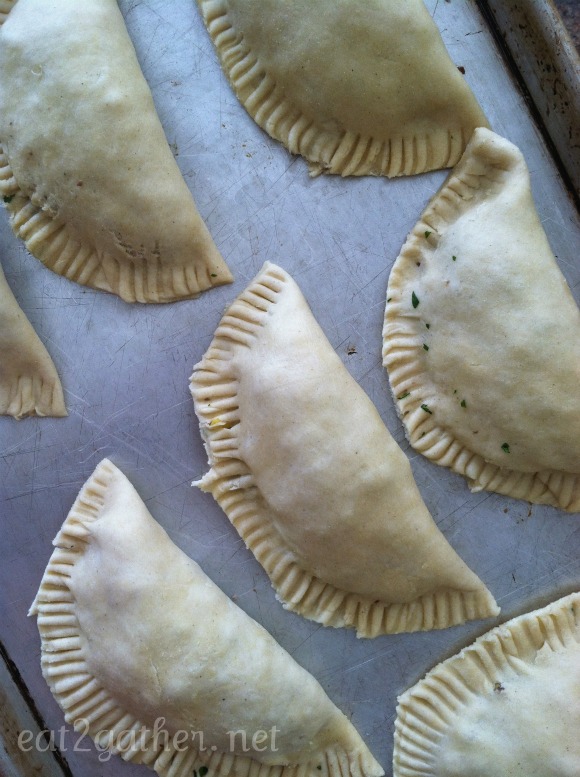 At this point you can bake immediately or cover with plastic wrap and store in refrigerator until ready to bake.
Notice I said bake.  Traditionally empanadas are fried, but with the easy technique I'm going to show you next you can save the hassle of frying and the calories it adds and still get the over all texture of a fried pie.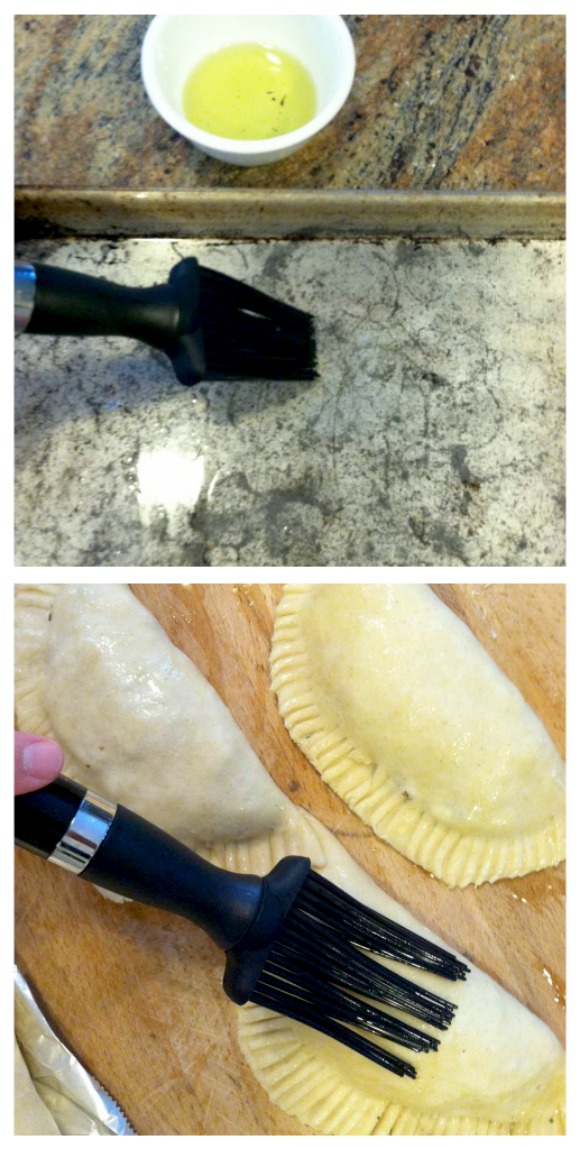 When you are ready to finally bake these babies.  Place your baking sheets in the oven and preheat oven to 425 degrees.  When oven is up to heat, remove pan and baste it with oil, place empanadas on pans and give them a quick baste with vegetable oil also, return pans to oven and bake at 425 degrees for 20-25 minutes. This gives these pies the traditional fried effect with out actually frying them.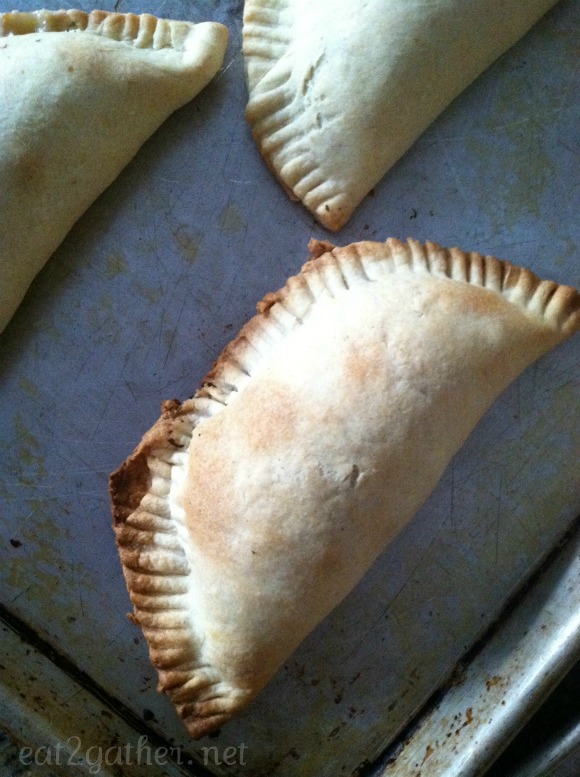 There you have it!  Phew!  I know there are a lot of steps.  I'm curious to know if these could be made, frozen, thawed and then baked.  Anyone out there ever done that?  Then you could actually have a empanada making day and have them on hand in your freezer.  Like making your own hot pockets I guess only infinitely better…..I actually can't believe I actually likened these tasty morsels to hot pockets….ooough.
[print_this]
Black Bean & Corn Beef Empanadas
recipe yields 12 empanadas
Filling
1 pound lean Ground Beef
1 slice White Bread, shredded in small pieces
salt and pepper to taste
1 tablespoon Vegetable Oil
2 cups finely chopped Onion
1 tablespoon minced Garlic
1 teaspoon ground Cumin
1/8 teaspoon Cayenne Pepper
1/8 teaspoon ground Clove
2 hard boiled Eggs, peeled and diced small
1/4 cup finely chopped Green Olives
1 14 ounce can Black Beans, drained and rinsed
1 cup frozen Corn
1/2 cup chopped Cilantro
Dough
3 cups All Purpose Flour
1 cup Masa
1 tablespoon Sugar
2 teaspoons Salt
12 tablespoons cold Butter, cut into small cubes
1/2 cup ice cold Water
1/2 cup cold Vodka
1/3 cup Vegetable Oil for the pans
Dough:
~Add 1 cup of the flour, masa, sugar and salt to a food processor, pulse a few times. Add butter, pulse until completely worked in to the flour mixture, should look like wet sand. Now add in the last 2 cups of flour, pulse 4-5 times. Empty mixture into a large bowl.
~Combine cold water and cold vodka, drizzle slowly over dry mixture, using a fork to bring dough together. When all the liquid has been added use your hands to bring dough together in to a ball. If it seems too dry add a tablespoon of water at a time until dough comes together.
~Divide dough in half, then half again, then dividing each quarter into thirds to make 12 equal sized balls of dough. Place on a plate, cover with plastic wrap and store in your refrigerator for up to three days, or in your freezer for 6 months.
Filling:
~Add 1 tablespoon of vegetable oil to a saute pan, when the pan is hot add in onions, saute until volume is reduced to half, add in garlic allow to cook for a minute, now add in cumin, clove, cayenne pepper, and salt and pepper to taste. Combine and cook until fragrant, about 1 minute.
~ In a bowl combine ground beef, and torn bread. Using hands incorporate until you can no longer see bread. You may need to use a tablespoon or two of warm water.
~Add ground beef mixture to pan with onions and garlic brown and break into small pieces, when meat is completely browned remove from heat.
~Add beans (that have been drained and rinsed) to meat using a spatula smash about half of the beans into the meat. Making a paste, this will help hold the meat mixture together.
~Add corn and chopped hard boiled egg, olives, and cilantro. Combine. Allow to cool completely. This can be stored in the refrigerator for up to 2 days before using.
Assembly:
You will need meat mixture, dough, a cup of water, fork, rolling pin, plastic wrap, pans to place finished empanadas on.
~Roll dough between two sheets of plastic wrap into 8 inch discs.
~Place 1/3-1/2 cup meat mixture in the center of each piece of dough. Wet finger in water, dampen the edge of dough with water, fold dough over and seal edges pressing down with finger.
~ Use fork to crimp edges, if there is excess dough, trim it off with a knife.
~Place empanadas on baking sheets. At this point empanadas can be wrapped tightly in plastic wrap until ready to bake. Or you can bake immediately.
Baking:
Place baking sheets in oven, preheat oven to 425 degrees with baking sheets in oven. When oven is up to temp, remove sheet and baste with vegetable oil place empanadas on hot pan and baste with oil, place in oven and bake for 20-25 minutes or until golden brown.
Enjoy!
Note:
~If you wanted to make and assemble empanadas and then store them until you are ready to bake you could do this up to 2 days prior to baking. Just make sure that your meat mixture is not more than 2 days old.
~You could also make these empanadas in a much smaller version for an appetizer.
~Wrap any leftovers in foil and eat with in two days. These empanadas reheat well in the microwave.
recipe adapted from Beef Empanadas in the Cook's Illustrated May/June 2013 issue
[/print_this]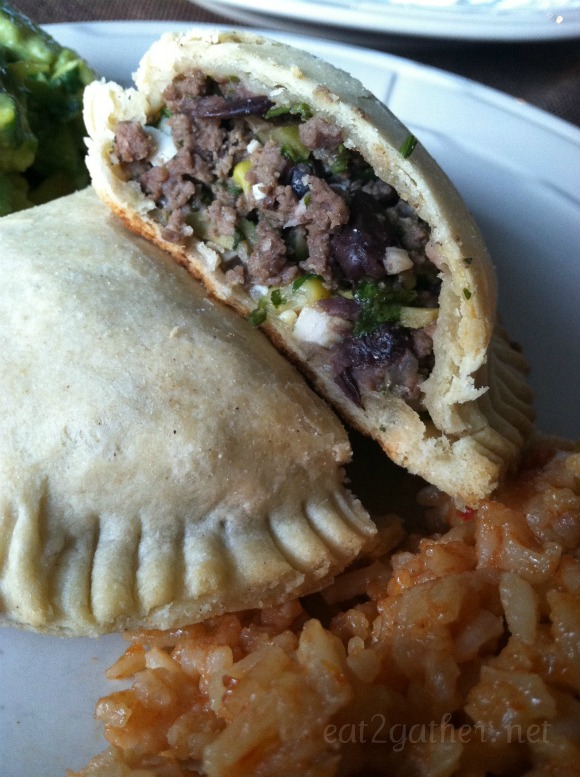 I served these with Spanish Rice and Mango and Avocado Salad.  But honestly you could serve them as is.  They are a whole meal in a convenient little hand held pie!  This meal is actually what the women would make and wrap up, most likely in a cloth for their men to take to work with them.  Portable, filling, and deliciously satisfying.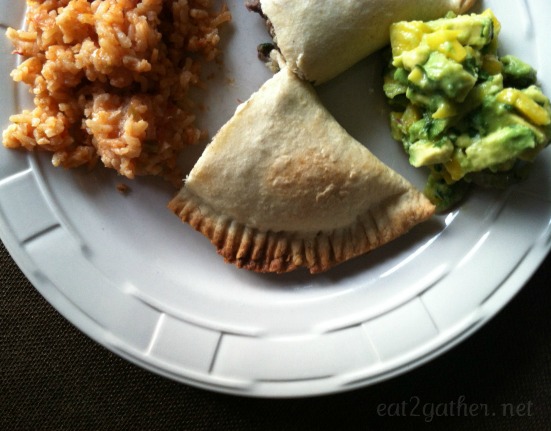 I hope you give these empanadas a try, enlist the help of your kiddos, make an empanada assembly line.  Feel free to get creative with the spices, and ingredients in the filling.
Have a great day!
Feliz Cinco de Mayo! Enjoy ; ) , Sheila