Grilled Chicken Pasta Salad
I bet you have all the ingredients on hand to make this tasty Grilled Chicken Pasta Salad; chicken, pasta, peppers, onion, and a simple dressing are all you need to make it today!  This salad packs easily into a cooler for a picnic or a trip to the beach.  It can be eaten for lunch or a light dinner with a green salad on the side.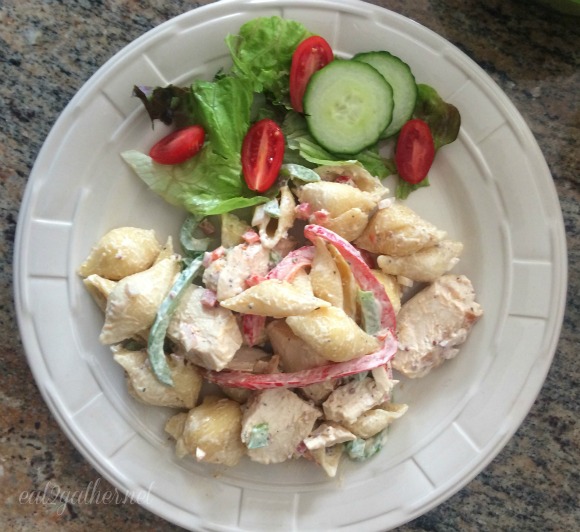 Summer is always highly anticipated, but then when it hits it can be quite a bit like a wrecking ball swinging this way and that crashing into our lives leaving us strewn everywhere.  However, not beaten and bruised mind you, but enjoying all that Summer has to offer.  It is just dang hard to get myself to sit down and blog, when beaches, books, taco tours, the pool,  bonfires, overnight guests,  farmers markets, kids sports, college visits and weekend getaways are clamoring for my attention!  Not to mention trying to get a meal on the table.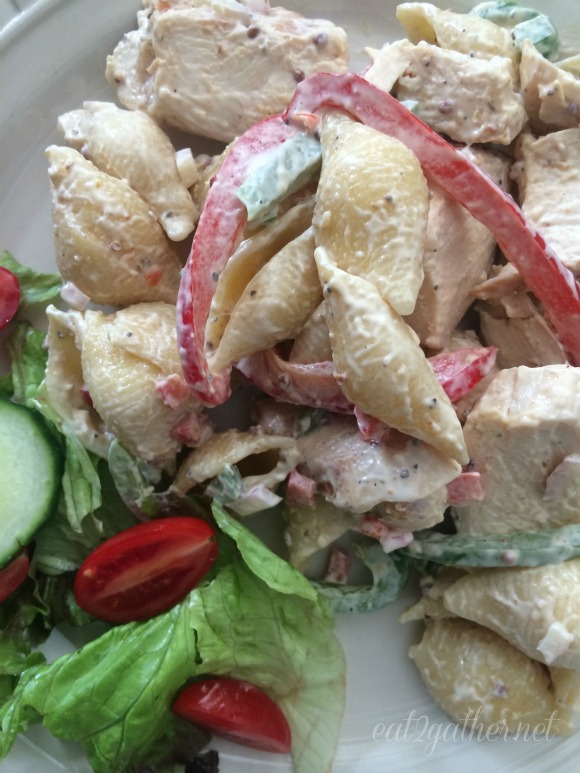 As my kids have gotten older and more active Summer has become out and out craziness.  Gone are the days of sitting around the kiddy pool and going to the library and the zoo for outings.  It was easy to coral everyone back then,  now I need a flow chart!!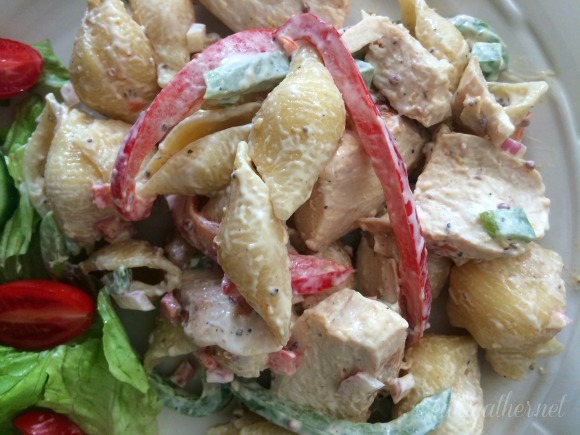 Did I tell you that my computer and my washing machine crashed?  And the light fixture in my laundry room has decided that it is no longer a fluorescent light it wants to be a strobe light, which about sends me into epileptic seizures every time I need to go in the laundry room, which is approximately every 4.5 seconds….er um maybe 45 minutes.  It's really pretty funny, I think I'm going to miss the disco atmosphere when it's finally fixed.
Ah.... so what is keeping you from the table this Summer?
I wanted to share with you a little trick of mine.  It's called over cooking.  Also known as making enough for two meals.  Grilling steak or chicken?  Make extra and use the leftover for wraps or to slice over a salad the next day.  We had grilled chicken recently and I used the extra to make a pasta salad for lunch and midnight munching for the busy weekend.  It was a lifesaver!
[print_this]
Grilled Chicken Pasta Salad
This recipe is perfect for a potluck, or to keep on hand for a quick lunch option. Nothing complicated here only simply delicious!
1 pound box large Shell Pasta
2-3 grilled Chicken Breasts
1 Red Bell Pepper
1 Green Pepper
1/4 cup finely chopped Red Onion
Dressing
1 cup Mayonnaise
1/4 cup Stoneground Mustard
1 1/2 tablespoons White Wine Vinegar
1/2 teaspoon fresh ground Pepper
1/4 teaspoon Celery Salt
a pinch of Rosemary
a dash of Garlic Powder
1. Bring salted water to a boil in a 6 quart pot, add pasta and cool for 7 minutes, drain, and set aside.
2. Sprinkle chicken breasts with salt and pepper and grill until done, allow to cool then slice thin on a diagonal and cut through once. Set aside.
3. Wash peppers, cut in half, cut out seeds. Cut one half of each pepper into long thin strips; chop the other half of each pepper into small pieces.
4. Whisk together dressing ingredients.
5. Combine pasta, chicken, peppers, onion and dressing. Mix until all ingredients are covered with dressing. Place in refrigerator for 1 hour before serving.
Enjoy!
[/print_this]
What tips do you have for making mealtime easier in the Summer?
XO, Sheila