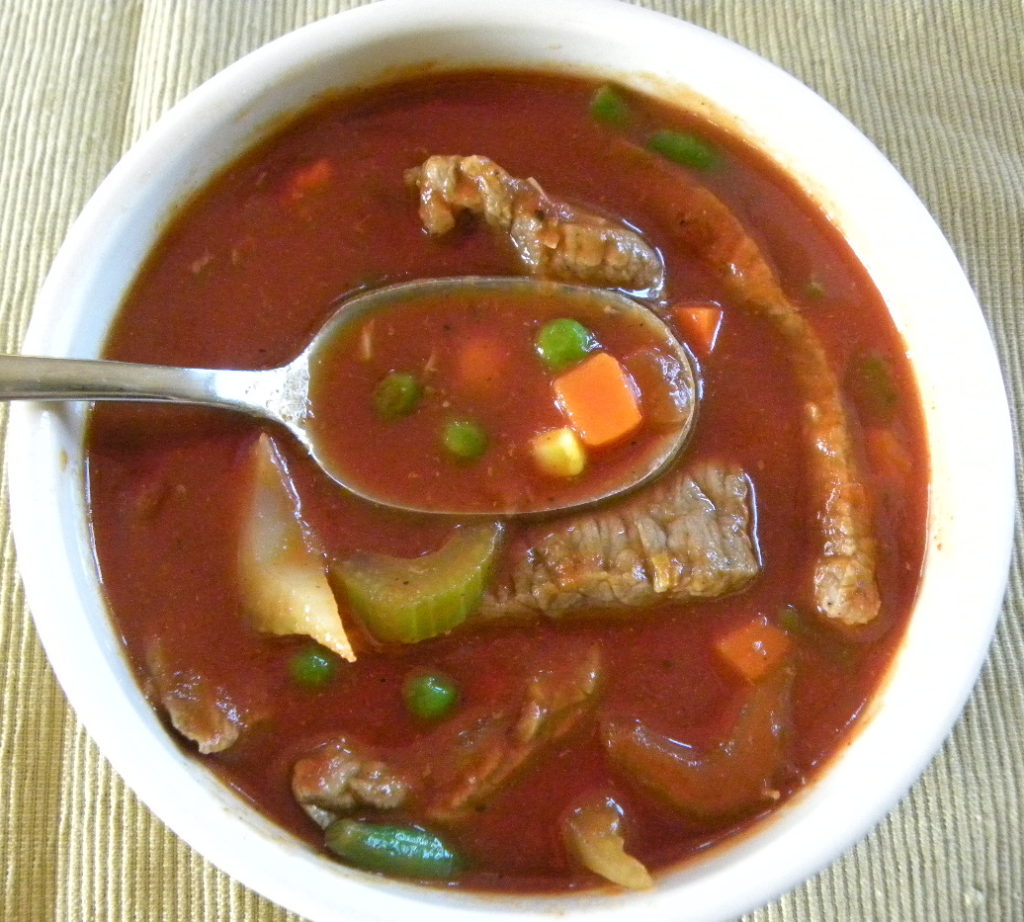 I'm going to make this short and sweet today, because that's what this soup is, simple and delicious.   So simple in fact that you can throw it together in fifteen minutes?!   Or less… if you're a fast chopper.  The cook time is a bit longer, 1 1/2 hours, so it's not a last minute meal, but if you think ahead a bit, you can get it ready throw it in your crockpot, or in your oven, and forget about it until dinner time.
It's been raining cats and dogs here the last couple day,  nothing warms you on a cold, wet, November day like a bowl of Steak Soup.  So lets get cookin…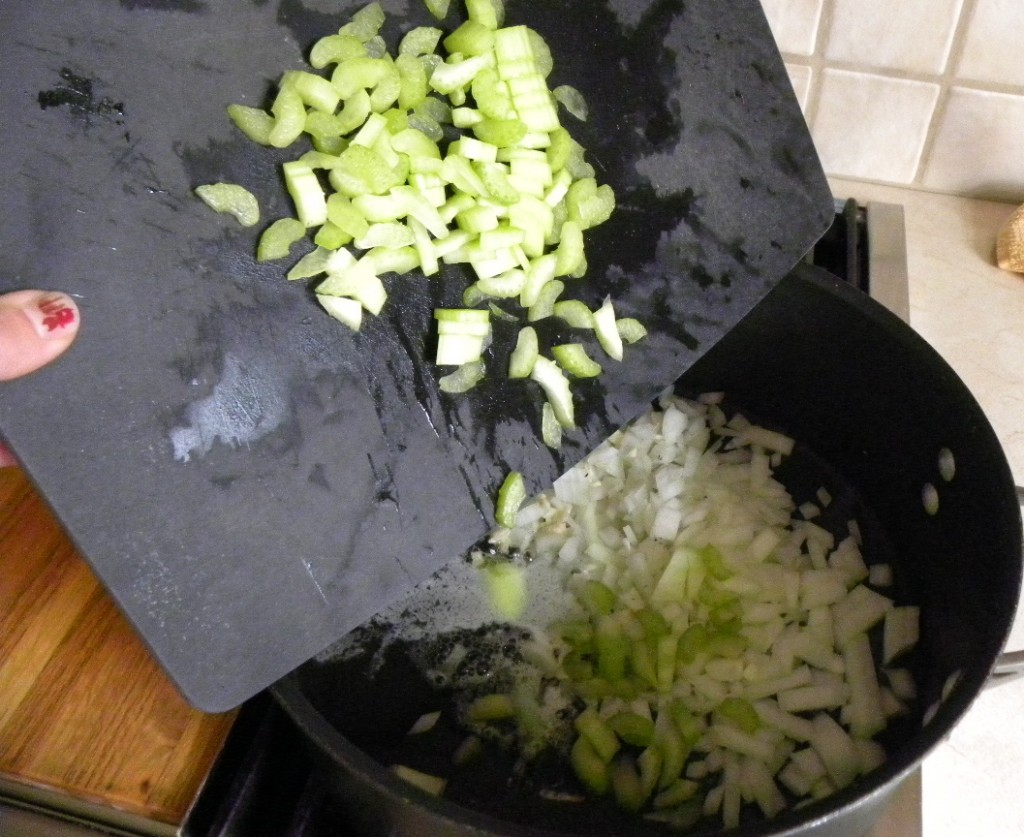 Chop onion and celery, saute' in 6 quart pot or dutch oven, with butter.  How do you like my luverly manicure?  Isn't is beee-u-tee-ful?  I think I need me a Shellac!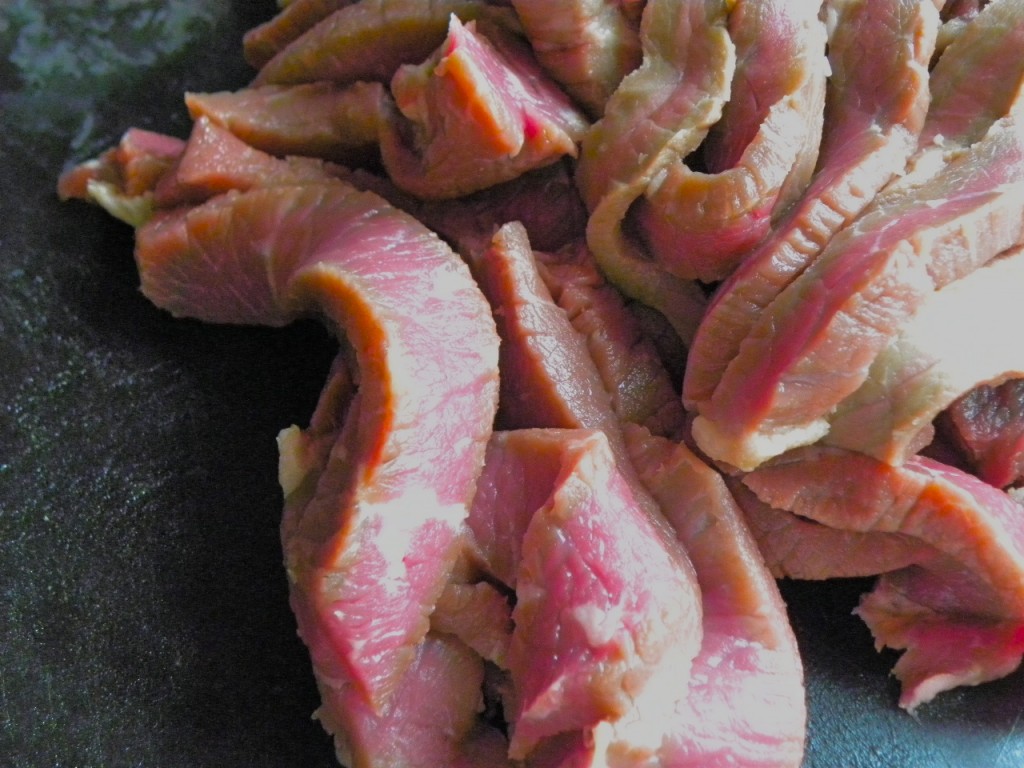 I never think meat is very appetizing photographed sorry……but I wanted you to see how I sliced the round steak thin against the grain of the meat.  Two pounds of round steak sliced thin sprinkle with Lawry's Seasoning Salt.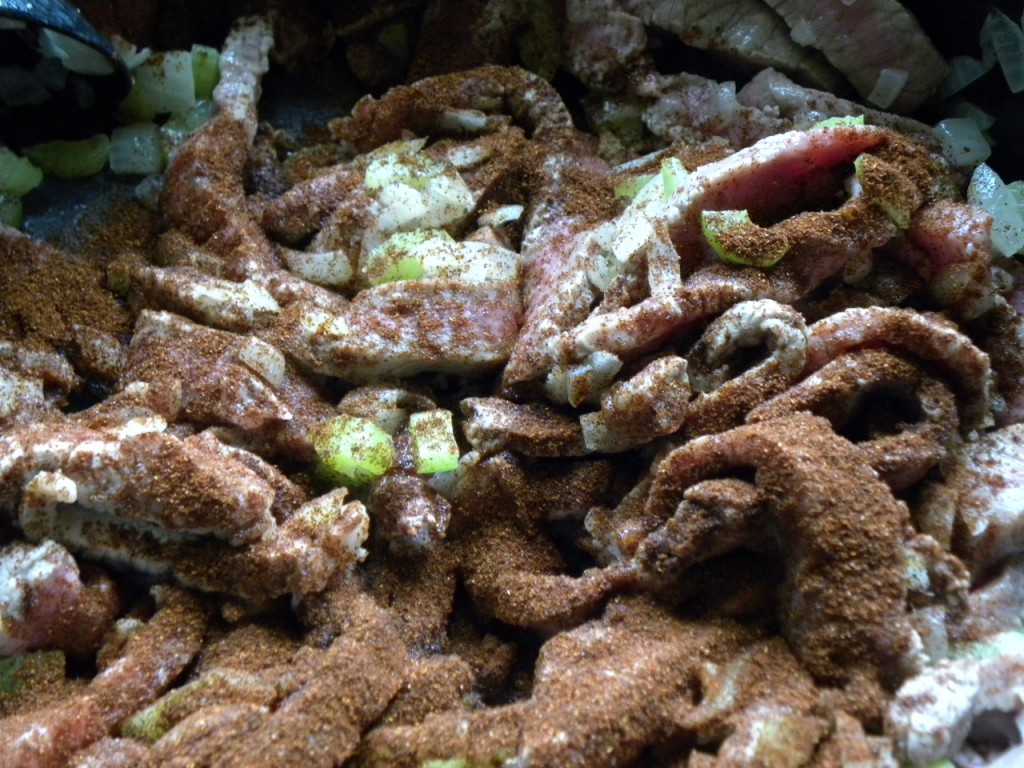 Toss the sliced, and seasoned steak in the pot along with chili powder and paprika. Cook on medium high heat until all the meat has been browned, and there isn't any pink left.  (Depending on how spicy you like you food you can add more or less chili powder. )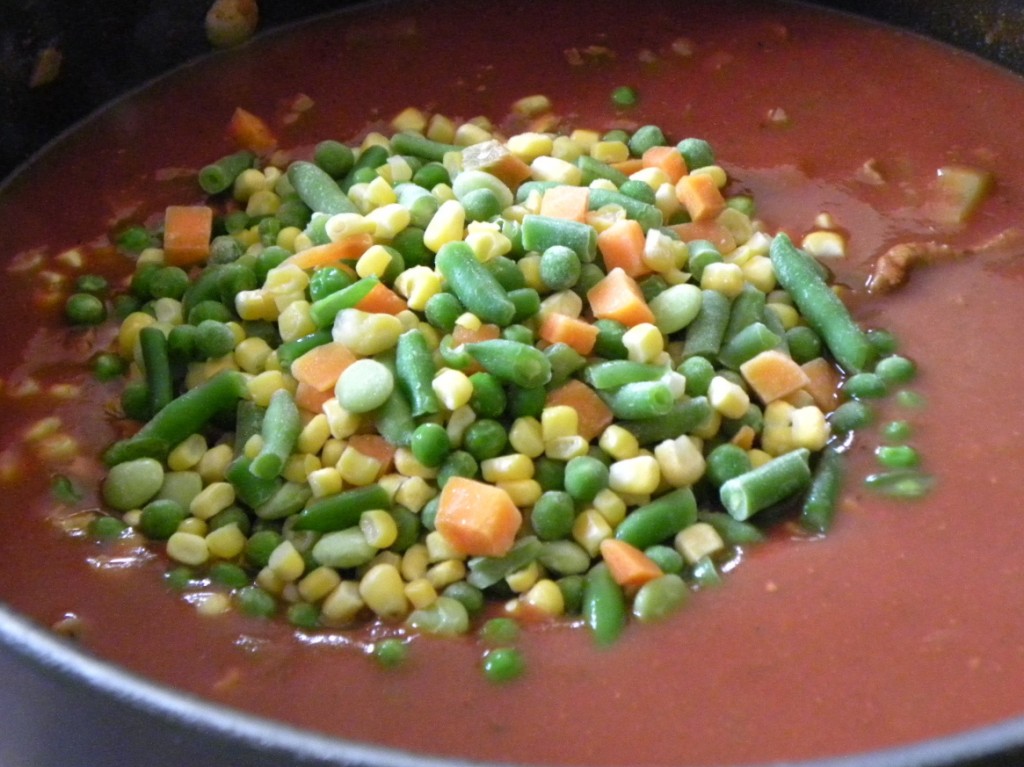 Next add the tomato sauce, plus a half a can of water, pour in the bag of frozen mixed vegetables.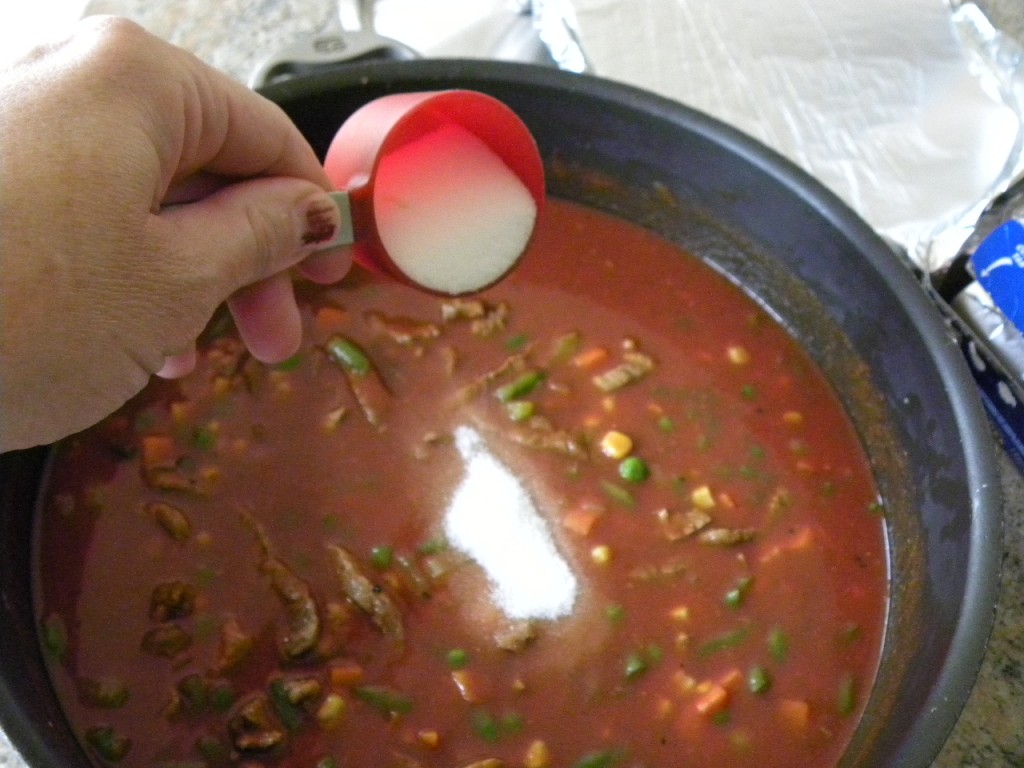 Give it a stir and add a heaping tablespoon of sugar.  Stir.  At any point after the meat was browned you could transfer the ingredients to a crockpot if you like and cook it for at least 1 1/2 hours, 3 is best!  But if you are like me and you are not really in the crockpot cooking groove then…….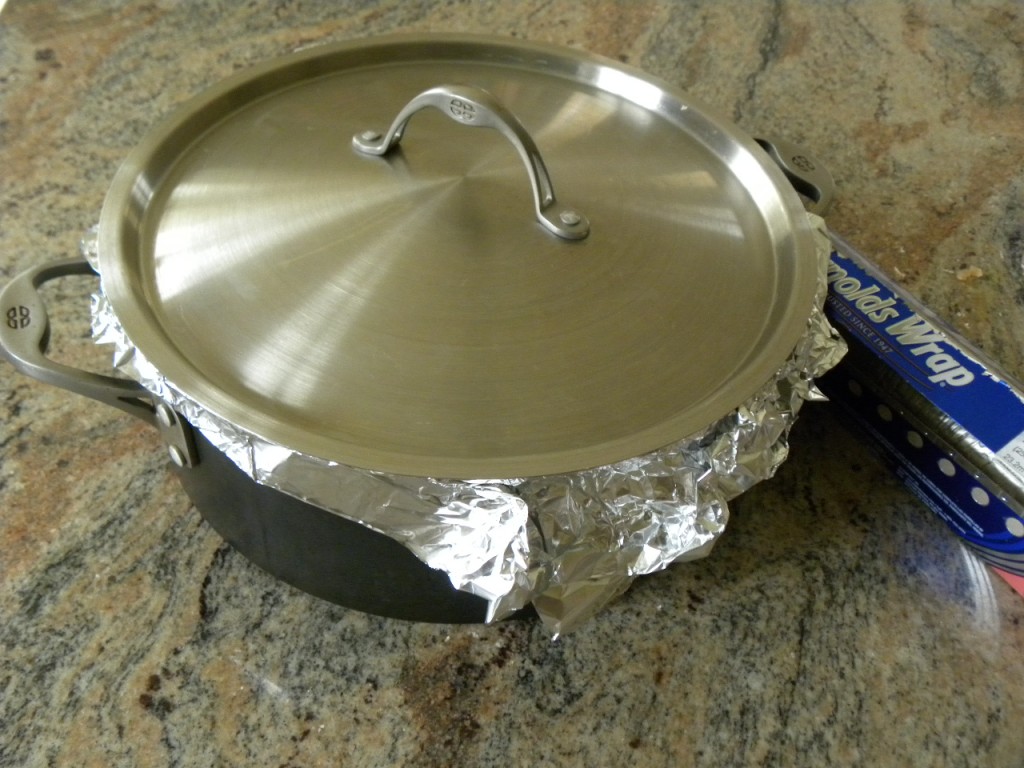 take foil and cover your pot, place lid over foil, (this helps keep all the yummy flavors in) pop it in a 300 degree oven for 2-3 hours, 325 for 1 1/2 hours.  There you have it Steak Soup.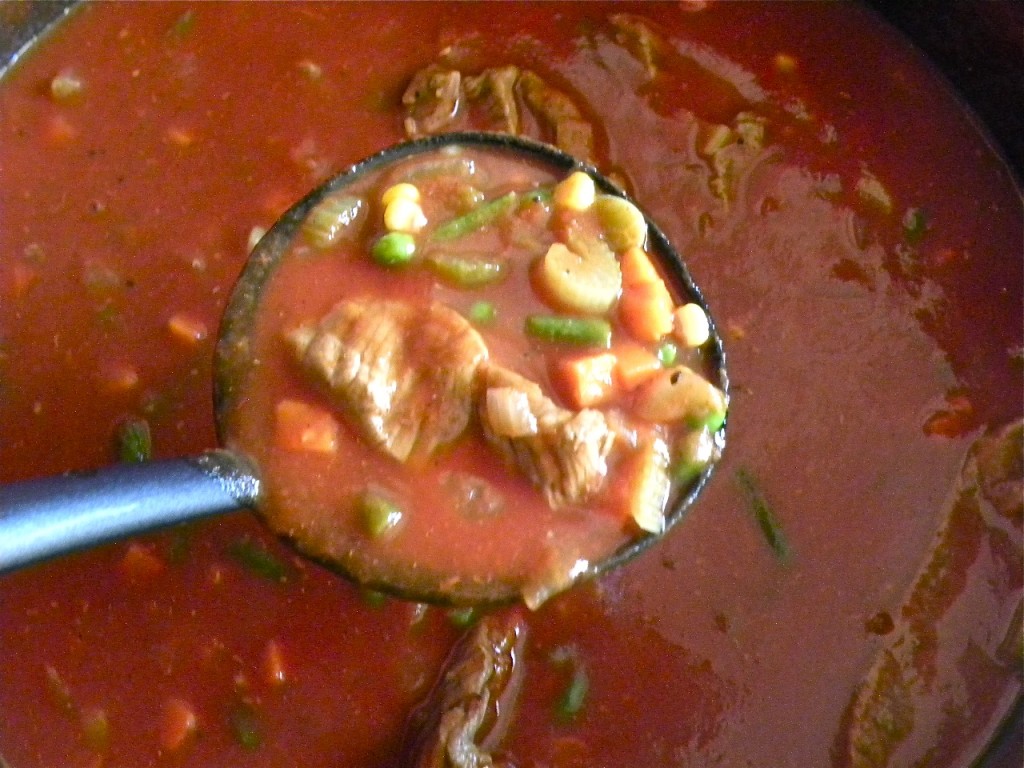 Steak Soup is one of the many recipes that my mom made us on a regular basis growing up, it was in the meal rotation.   I had forgotten about it until just recently when my mom visited and we were reminiscing over old recipes.  It is MMmm mm Good!  Steak Soup "will take care of even the meanest appetites!"  OK….name that soup commercial.
Oh my I almost forgot to mention that Steak Soup is a perfect Meal 4 Sharing!
[print_this]
Steak Soup serves 6-8
2 pounds Round Steak, cut in thin strips
1 teaspoon Lawrys's Seasoning Salt
1 tablespoon Butter
1 medium Onion, chopped (1 1/2 cups)
2-3 stalks Celery, chopped
1-3 teaspoons Chili Powder
1 teaspoon Paprika (optional)
2 large cans (28 ounce)  Tomato Sauce + water
1 bag frozen Mixed Vegetables, (carrots, peas, corn, lima beans, beans)
1 heaping tablespoon Sugar
Cut round steak across the grain into long thin strips sprinkle with Lawry's Salt.  In a 6qt pot or dutch oven sauté onions and celery in tablespoon of butter, until soft.  Add seasoned meat, brown meat in pan with celery and onions on medium-high heat.  When meat is no longer red add paprika, and chili powder depending on the amount of heat you like 3 teaspoons spicy, 1 just a hint of spice, continue to cook meat with spices for another 2 minutes.  Add both cans tomato sauce + 1/2 can of water or if you have it beef broth is nice too.   Pour bag of veggies in along with sugar.  Stir to combine.  Cover pot with foil, place cover on top to create a airtight seal.  Cook over low heat for 1 1/2 hours or in 325 degree oven, or 2-3 hours in a 300 degree oven.  This soup also works well in a crockpot.
[/print_this]
I've linked this recipe up at TidyMom.net and DineandDish.net Soupapalooza.
Be sure to join in the SoupaPalooza fun at TidyMom and Dine & Dishsponsored by KitchenAid, Red Star Yeast and Le Creuset