Caesar Chicken Noodle Salad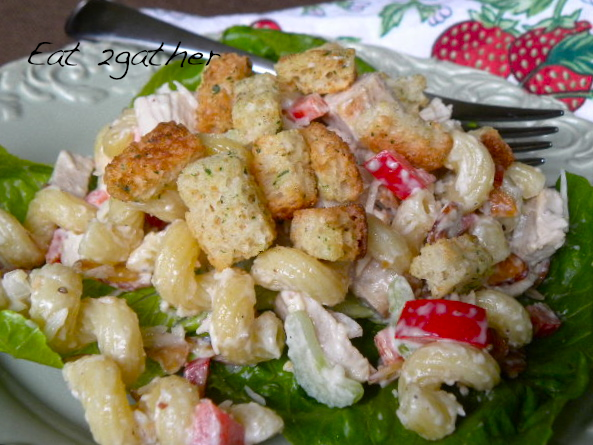 I have to confess.  Summer is not my favorite time of year to cook.  Phew…there I said it!  I always get the guilts when everyone starts gushing over grilling out and picnics and all their favorite summertime recipes.  Don't get me wrong I like to cook in the summer just not as much as I do in other seasons.
After pondering why…why….WHY.  Why don't I enjoy cooking in the summer?  I finally came to the conclusion that, well I came to several conclusions.  Here are a few:
~When you have a constant stream of kiddos through your kitchen from morning till night, at some point ya just want to shut-her down, and go out to eat.
~Winters can be long in Michigan, when the sand is warm and the waters of Lake Michigan or the pool at the Club are beckoning my family forth…..well I don't argue with beckoning waters.  I take all of the beach and pool I can get.  Which means packing PBJ's and watermelon in a cooler….that's not really cooking is it?
~No schedule.  Our schedule is all thrown off and willy nilly in the summer months.  I need to plan ahead.  When we are on a regular school schedule planning meals is easier.
~The last and final reason is, I enjoy winter food more.  There I said it.  Comfort food.  Most of the foods I think of as comfort food are foods I want when it's cold.  Soups, pasta, gravies, warm hot food you know what I mean?
Now don't get me wrong I do cook for my family.  We are not starving over here.  It just seems to be monotonous.  Grilled meat, fresh veggie, salad.  GOOD GOLLY it's so healthy!  Maybe that's my problem…..there's not enough buttah.
It definitely has to be something I can whip up fast.  Last night my oldest son had his first football game of his high school career.  He caught a couple passes, and made a touch down. Made his momma proud.  A few family members showed up to watch, so I had them over afterward for some sustenance, they had to recharge after all that cheering, clapping, and woot wooting.  I didn't want to have to cook once we got back so I had everything cut up and ready for BLT's, I also served this ever so easy Caesar Chicken Noodle Salad, and cut up a watermelon.  Voila!  Dinner was served.
So here it is my easy peasy Caesar Chicken Noodle Salad.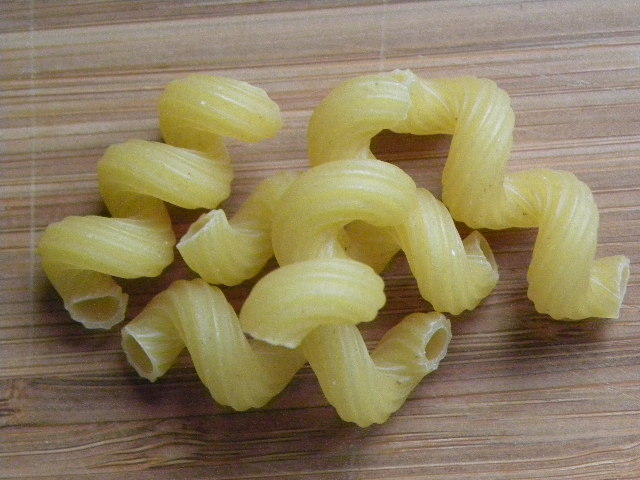 These cutey patootey corkscrew noodles are my favorite.  They look fun, and they hang on to sauces and pieces of vegetables.  I always have them in my pantry.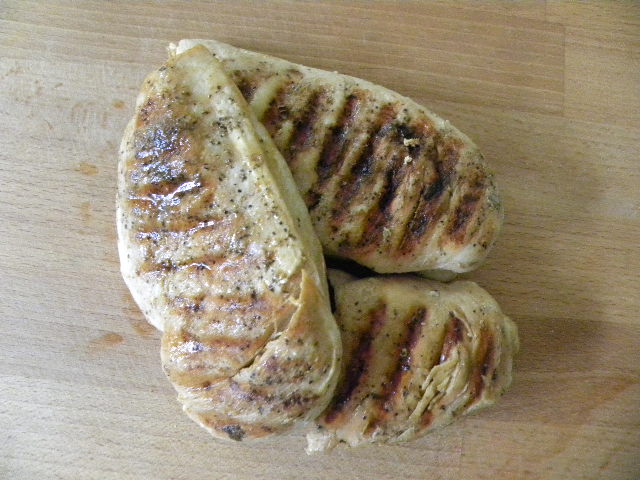 Grill up 3-4 chicken breasts.  You can bake them too.  Let them cool and then cut up into bite sized pieces.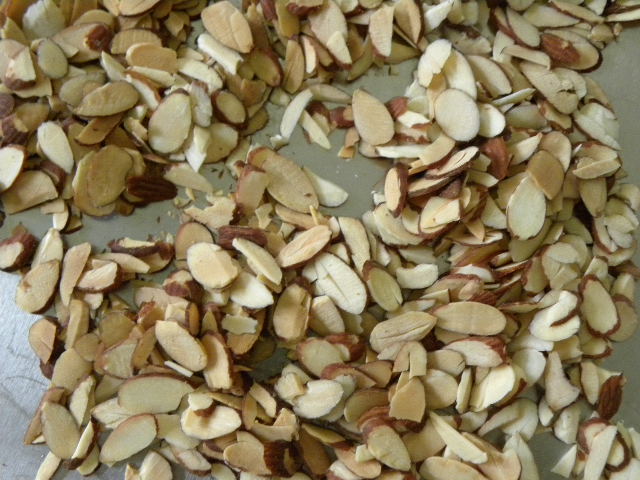 Toast 1 2.5 ounce package of almonds (3/4 cup).  Lay almonds on a baking sheet, place in oven for approximately 4 minutes at 350 degrees, and there you have it…toasted almonds.  Toasting brings out the flavor of the nut, and makes them crunchier.  Crunchier is betterer.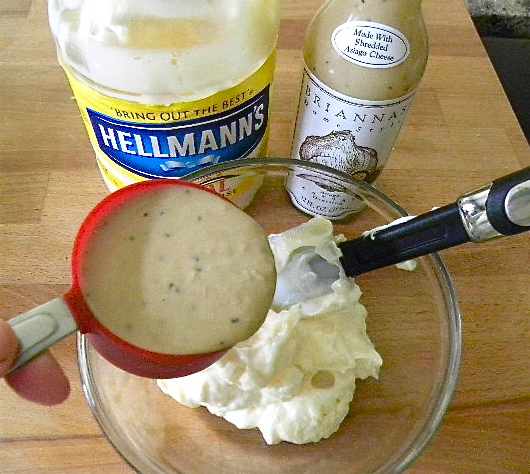 Whip up your dressing.  One cup mayonnaise, 1 cup of your favorite bottled caesar dressing.  Give that a good whisking.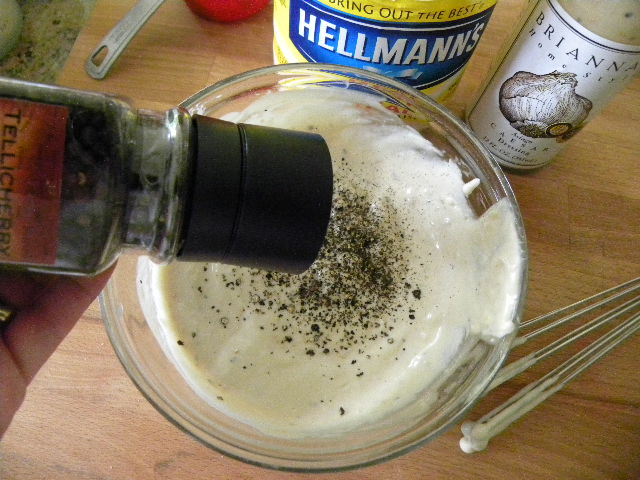 Be generous with the fresh cracked pepper.  Don't have a pepper mill.  Don't fret my friend…add 1/2 teaspoon of ground pepper.  It's all good.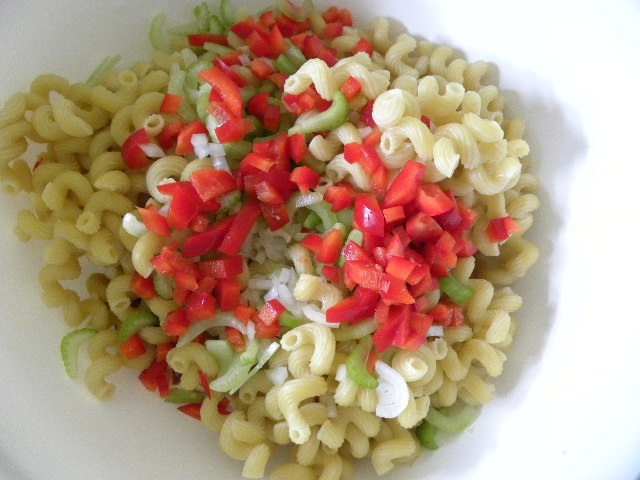 Place noodles, 1/2 cup chopped red bell pepper, 2 stalks celery chopped,  and 1/4-1/2 cup onion minced to a large bowl.  You need room to mix up your salad with out it flying out over the rim of the bowl, so get out your biggest bowl.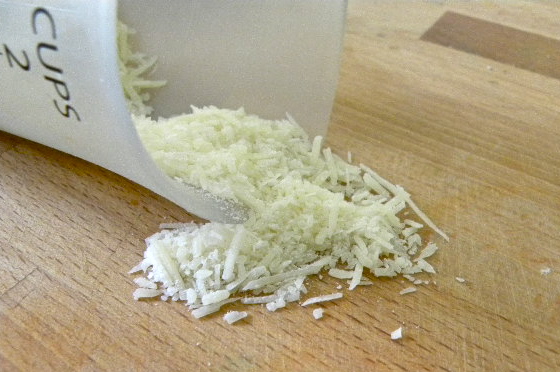 Parmesan cheese is a luverly thing….1 cup is what you will need, reserve 1-2 tablespoons for garnish.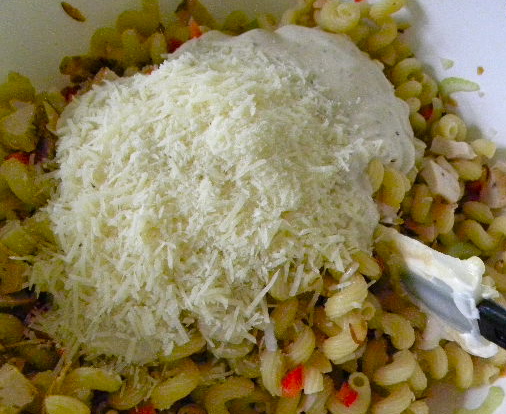 Add dressing, cheese, almonds, and chicken to the bowl.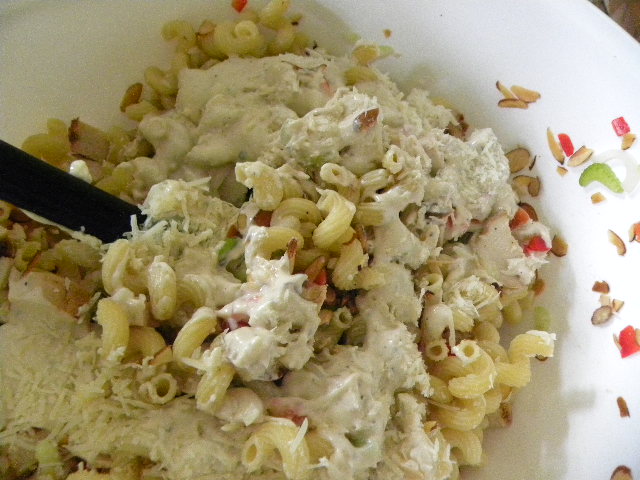 Give it a good mix, transfer to a prettier serving bowl if you like or just stand over your large bowl and eat right out of it like a heard of cattle.  I am never one to judge.
[print_this]
Caesar Chicken Noodle Salad
1 pound Corkscrew Pasta, cooked al dente
3-4 Chicken Breasts, grilled or baked
3/4 cup sliced Almonds, toasted
1/2 cup Red Bell Pepper, chipped
1/4-1/2 cup Onion, minced
2 stalks Celery, finely chopped
1 cup Parmesan Cheese
1 cup Mayonnaise
1 cup bottled Caesar Salad Dressing
1/2 teaspoon freshly cracked Pepper
1 bag large cut Salad Croutons, for garnish
~boil and drain noodles transfer to a large bowl, big enough for mixing ingredients
~season chicken breasts with salt and pepper and grill or bake, let cool, cut into bite sized pieces, add to noodles. (baking time would be 30 minutes at 350 degrees)
~spread almonds on a cookie sheet bake in oven for 4 minutes at 350 degrees, let cool
~chop red bell pepper, celery, and onion add to bowl with noodles and chicken
~whisk mayonnaise, salad dressing, and fresh ground pepper together
~add parmesan cheese, toasted almonds, and dressing, mix well
Transfer to a serving bowl garnish with extra parmesan cheese and croutons. If plating up ahead of time, serve on a bed of romaine lettuce.
`
[/print_this]
What season do you enjoy cooking in the most?
Well now I am off to the pool…Oh woe as me…..
Have a great weekend!
Sheila