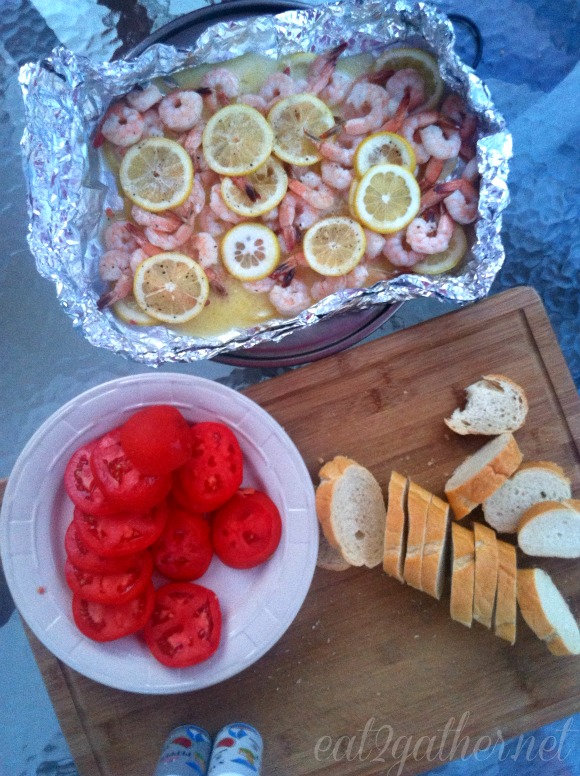 Well this is it folks…my chitlins shove off to a new school year tomorrow!  I know many of your kids have been back to school since the 4th of July or so….. Not in the Mitten, unless your kiddos go to Pree-vat schools, school doesn't start until the Tuesday after Labor Day.
I think I've been known to say that I love summer, that I love having my kiddos home, and life is grand and amazing and just down right one huge party around here during summer…..well people the parties over.  I'm tired.  I'm too old for the party.  I need a schedule.  One that involves more than six hours of sleep, one that involves no more alcohol, chips, dips, skittles, guacamole, hot dogs, pizza, turtle sundaes, one that involves kids going to bed at 10pm not 1am, one that involves a little peace and quiet!  The grouchy mom has arrived.  This happens every summer….like clock work, mom gets burned out.  I can't keep up the pace.  It's my own dern fault.  The crazy thing is while here I set whining about how exhausted I am….if you saw what I had planned for the last five days you would shake your head and say shut your trap women…you-za fool, you need to stop…drop and roll.   I can't stop…I can't help myself.
Here's what I have planned for the this last day before school starts: five course breakfast, a trip to the museum, lunch at the zoo, a movie, dinner at the new Five Guys in town, maybe a stop off for ice cream, the mall anyone?, target, a drive out to the beach catch the "last" sunset of summer, back home POOL PARTY!, bonfire…the end. JK
Seriously nahw…. today is laundry, organizing for school tomorrow, making sure I filled out the mountain of forms for my tribe…the end.
So now that I've unloaded on you 😉 I thought I would share one of our favorite summer meals.  It's quick, and easy.  This is a "recipe" that Big D made for Ken and I one winter night at her house for an appetizer.  I love it any time of year, but outside in the summer is the best.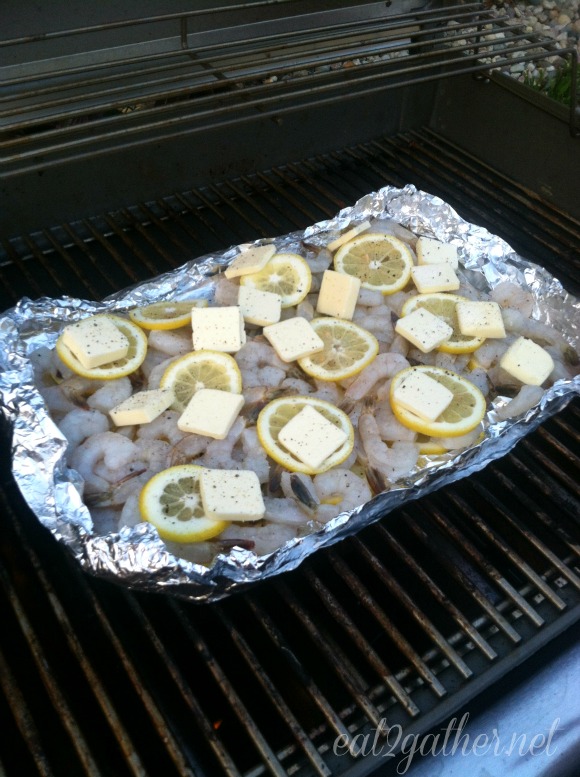 [print_this]
Beach Shrimp
2 pounds tail-on, shelled, deveined Shrimp uncooked
1 stick Butter
2 Lemons, sliced thin
Salt and Pepper
Preheat grill, or if using oven preheat to 375 degrees.
Using heavy-duty aluminum foil make a pan by using two layers of foil and rolling up all four edges to make a pan for the shrimp to go on the grill.
Lay the slices from one lemon on the bottom of the aluminum foil pan. Now spread the shrimp evenly over the lemon slices. Lay the slices from the second lemon over top of the shrimp. Cut stick of butter in to twelve pieces place the pieces of butter evenly over top of the shrimp and lemons. Sprinkle with salt and pepper to your liking.
Place aluminum foil pan on the grill, make sure heat is around 400 degrees if your grill has a temperature gauge. Cook shrimp on grill for approximately 10 minutes or until juices are bubbly and all the shrimp are pink.
Note: You can also make this in your oven and pretend you are at the beach 😉 by doing the same thing on a baking sheet in a 375 degree oven.  This way it can be summer all year round!!
Enjoy!
[/print_this]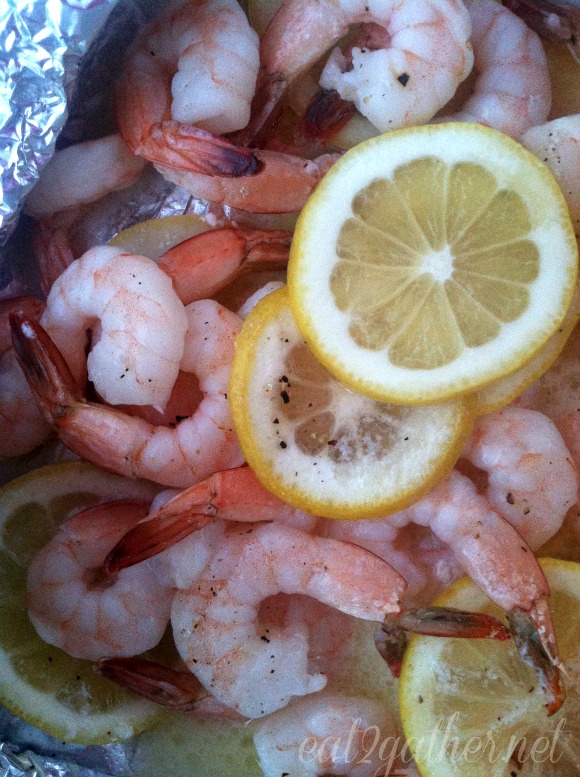 A few more lovely shrimp recipes….
Shrimp Boil Eat2gather
Penne a la Betsy Pioneer Woman
Shrimp Skewers The Lemon Bowl
Shrimp Tacos Noble Pig
Shrimp Noodle Dish…with saffron and other yummy stuff  climbing Grier Mountain
Happy Labor Day!
XOXO Sheila