Strawberry Rhubarb Balsamic Jam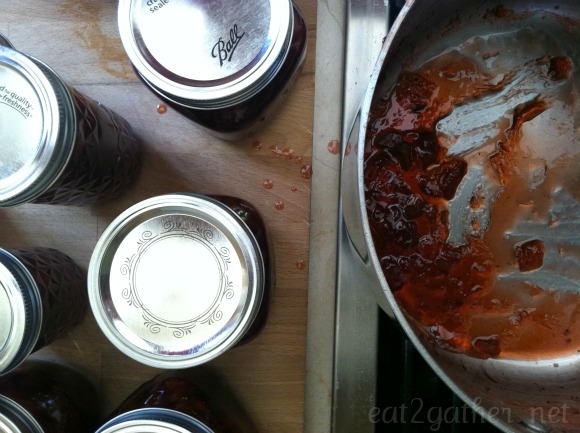 I once wrote an essay on strawberry picking.  It's scribbled in a red journal.  It's never been published, or even typed out for other eyes to see. I thought I would share a few snippets of it with you today and a recipe I concocted that happened to turn out exceptional….if I do say so myself…..this time anyway.  Well actually it's exceptional every time, it's just a matter of perspective.
"Like life berry picking should be done with those you love…."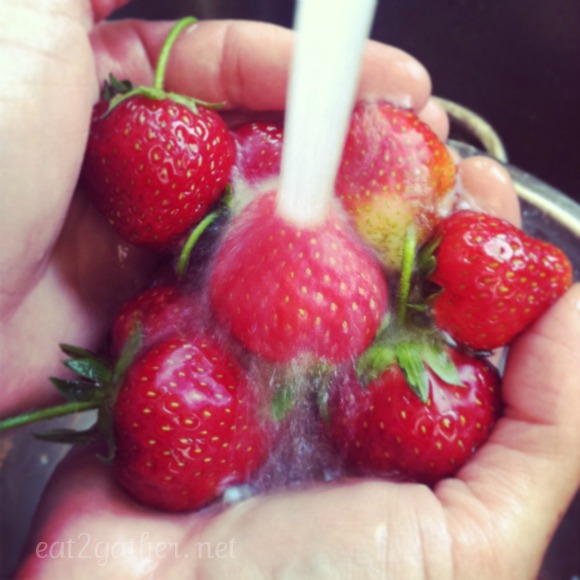 "The berries always seem larger, redder, more worthy of picking in the row that is not yours to pick. "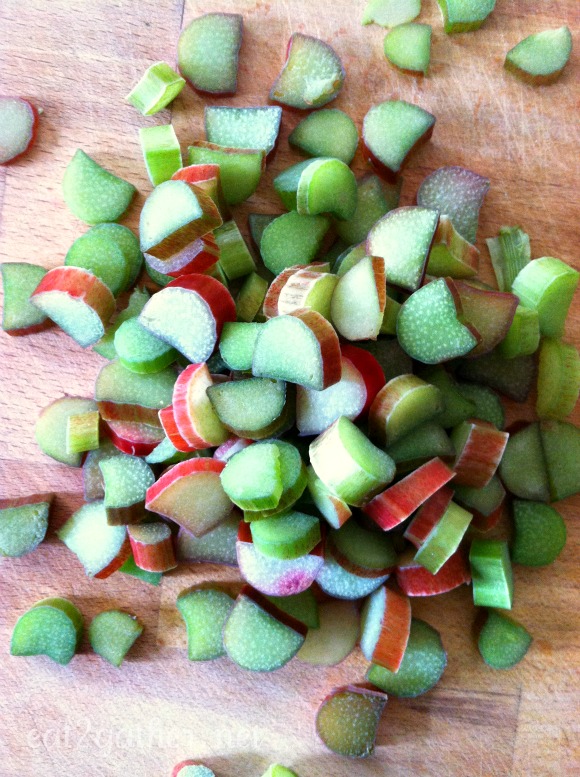 "To my surprise the row was full of uncovered ripe beautiful berries.  Just where I least expected them……."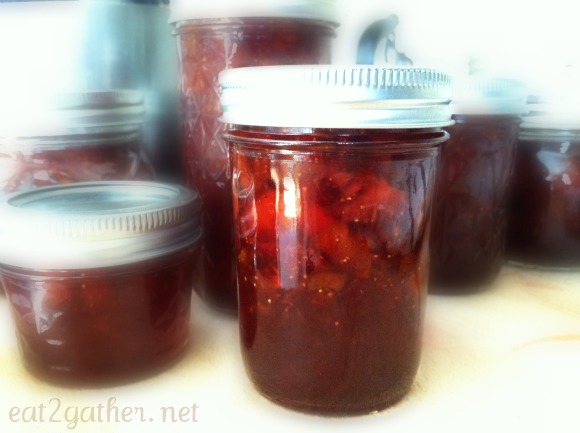 "My knees were dirty and  stained  from the berry strewn path……"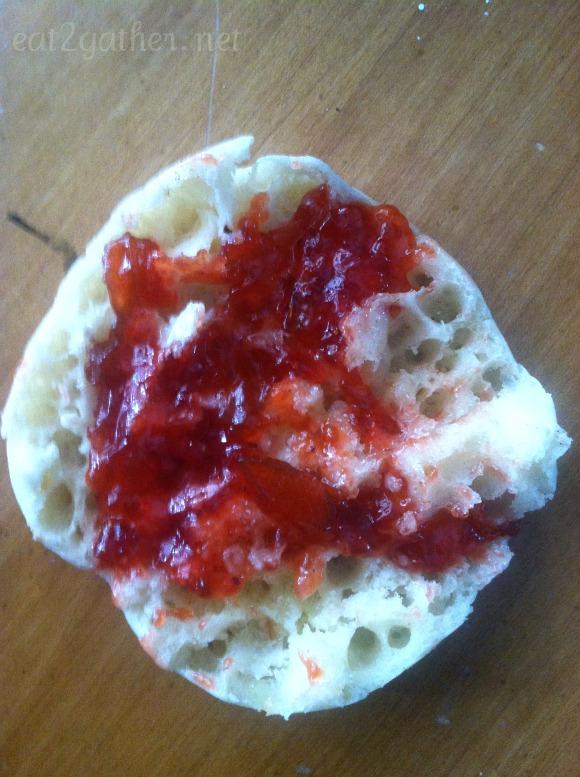 Berry picking has many life lessons.  What's the saying life is a like a bowl of cherries or is that life is like a box of chocolates…well I think life is like a strawberry patch.  You never know who you are going to meet, what you are going to find, the cost can be high or low depending on the sacrifice put into the work accomplished, but when all is said and done you return home to assess the the harvest, to start a new work of cleaning and hulling and smashing and cooking, tasting and waiting hoping that all this work isn't for naught.  That your jam has jelled. And then when you realize it has jelled you rejoice with butter toast and jam all around…..
And when it has not jelled, and it's runny, drippy, red, and the burned sticky smell of sugar and the mess on the stove is too much to bear then there is only one thing to do….
Call those you love, gather them around close…
One will get the bowls, another the spoons, the other the bucket of ice cream, and have yourselves bowls of creamy ice cream with strawberry syrup over top….maybe drizzle some chocolate sauce on there while you're at it.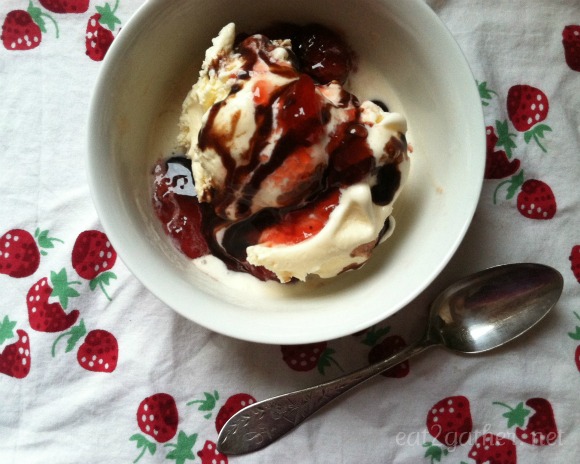 And give thanks for what is, and not what you thought should have been.
[print_this]
Strawberry Rhubarb Balsamic Jam
makes 14 cups of jam
6 cups mashed Strawberries
3 cups Rhubarb, chopped in to small pieces
8 cups granulated Sugar
1 tablespoon Butter
2 packets Certo pectin (1 box)
2 tablespoons Balsamic Vinegar
1. Combine berries, rhubarb and sugar in a large pot, turn heat on medium stir continurously until mixture comes to a low bowl.
2. Add in butter, continue to stir and cook at low bowl for 30 minutes.
3. Slowly add in both pouches of Certo pectin stirring as you do. Continue to stir for one more minute..possibly two.
4. Remove from heat. Stir in balsamic vinegar.
5. Spoon hot jam into prepared jars, place lids on jars and wait to hear the pops as the lids seal.
Enjoy!
Note:Keep in mind, at least this is true for me, that homemade jam is never as solid or thick as store bought jam.  Mine is never runny, but it's looser. It spreads easier.  I like it better that way, but some may think it wrong if you have never made your own jam.
[/print_this]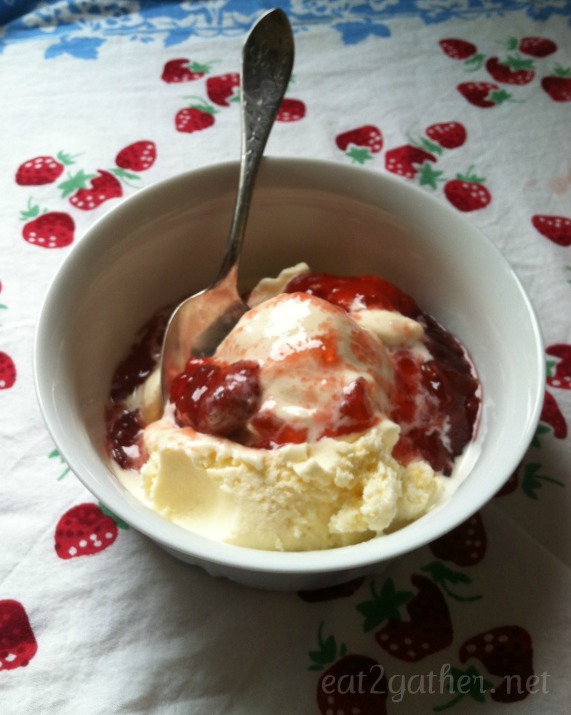 with love, Sheila