A simple cheese plate, as an appetizer,  is easy and elegant; let me show you just how easy entertaining this holiday season can be!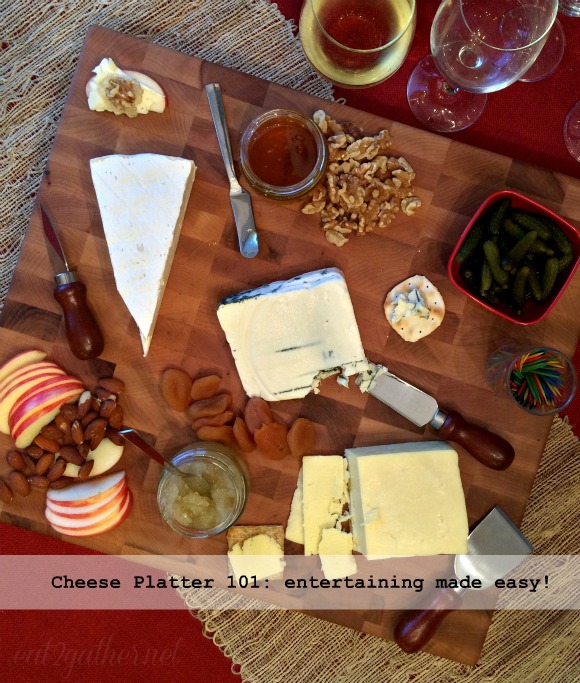 I have vowed this holiday season to keep life simple!  That does not mean that I want to cut down; by all means I want to live life to the fullest this December!  It does mean that I am attempting to keep my eyes on what's important and not try to out do or over do, which I can sometimes do.  My first step was to only put out one-third of my decorations.  I have three huge tubs of decorations; well really four but who's counting?!  In all honesty I don't even enjoy decorating, but you know that!  What I do enjoy is feeding people and spending time with family and friends.  A cheese plate is my favorite way to gather people around my table, and it always works.  Put cheese on a plate and they will come.  Have you seen that movie?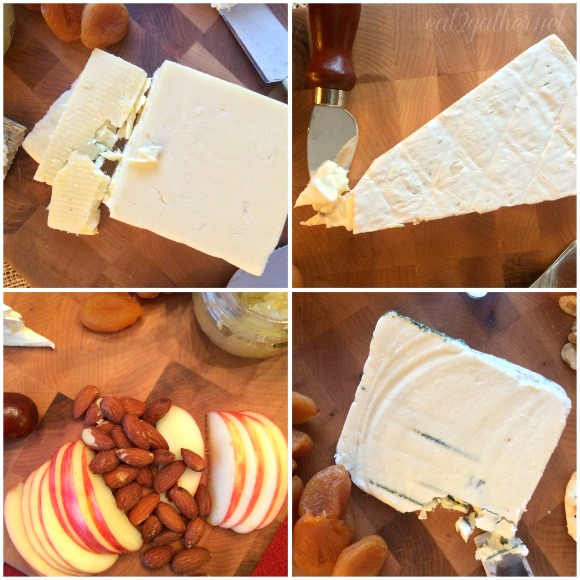 Do you ever find yourself wanting to get together with friends or family but holding back,  because you feel like you don't have time to make a bunch of appetizers?   Have you ever wanted to invite someone over spur of the moment, but haven't because you're not sure what to serve them and you really do not want to run the grocery store….again!?  I've got something that will revolutionize the way you entertain this holiday season!  It's called a CHEESE PLATTER!  This simple appetizer can be as simple or as complicated as you want it to be, and I bet you have everything you need in your pantry to throw one together right now.  I wrote a more in-depth Cheese Platter 101 post here.  Today we are going to keep it simple!
Tip number 1: ALWAYS keep cheese on hand.  What kind of cheese?
Your favorites!  That's hard for me because all cheese is my favorite.  Literally.  (Recently my son asked me "mom what's your favorite food?" I answered "CHEESE!".  True story. )
Tip number 2: There are no rules with a cheese platter.  (Don't believe what Martha, Bon Appetit, or Food and Wine magazine tell you!) Let me repeat.  There are no rules with a cheese platter.  Well maybe just one rule, keep it simple.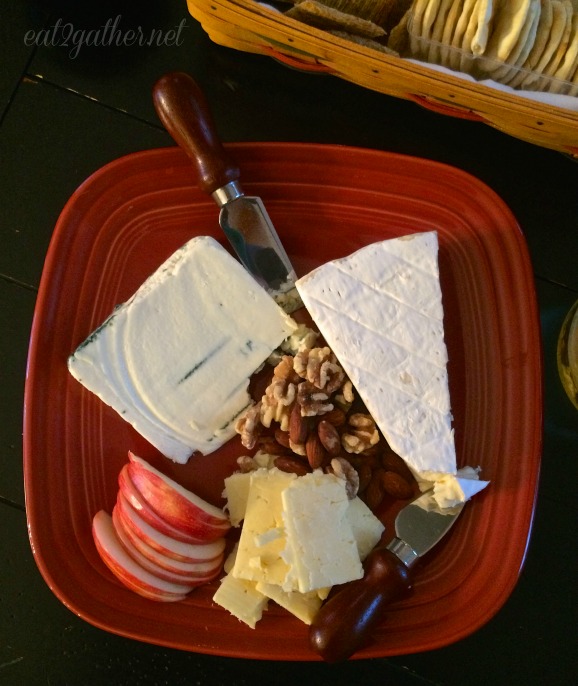 Serve cheese you love, and serve it simply.  No perfect plate or platter needed.  It is best to serve a variety; try not to server three cheddar cheeses or a plate full of brie….although that sounds pretty amazing to me!  If you have an apple in the refrigerator slice it up, add some nuts; whatever you have is fine.  If you want to you can always add a little bowl of pickles, some honey, or a little dish or chutney or preserves is always a good thing, but again not necessary!  Crackers: keep it simple.  I love triscuits, Carrs table water crackers, or let's be honest you can't beat Ritz crackers!  Meat; feel free to add some slices of ham, or salami to your cheese platter if you have it on hand.
Remember no rules!
And it's ok to let cheese set out, you actually want to serve cheese at room temperature, this allows you to enjoy the true flavors of the cheese.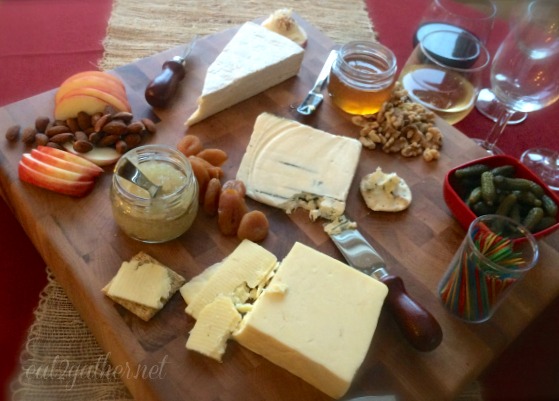 I stuck with American cows milk cheeses, for the above platter,  since my good friends from the American Dairy Association Mideast are sponsoring this post, and because Americans make some pretty darn good cheese!!  I thought it would be fun to see what I could find!  I went with a cheddar (Prairie Breeze is made on a Mennonite farm in Iowa), a blue cheese (Point Reyes is made by the Giancomini family outside of San Francisco) , and a brie (Saint Rocca is a triple cream cows milk brie made in Michigan).  If you are not a fan of blue cheese then may I recommend swapping in a Swiss cheese from Ohio, Ohio is the nation's top producer of Swiss cheese!
Tip number 3: If you don't have a cheese monger….have no fear!!  High quality cheese can be purchased anywhere and everywhere!  I am lucky enough to have an amazing cheese store nearby, but honestly most of the time I just pick up cheese at the grocery store along with my other groceries.
Speaking of cheese mongers, while I was at The Cheese Lady recently talking cheese with the ladies that work there, they agreed with me that making a cheese platter should be low key, laid back, and easy; no need to stress yourself out.  Serve the cheeses you like, add a few accompaniments, and your favorite wine or beer and enjoy!  No rules.  Just cheese.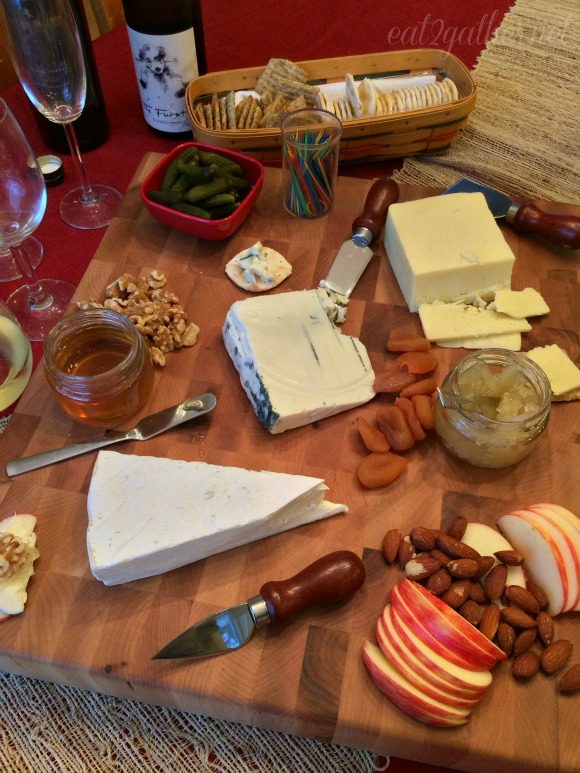 Something else I would like to add is that when properly stored most cheeses will last a couple of weeks in your refrigerator.  Proper storage is simple.  Simply wrap cheese tightly in parchment or waxed paper and store separately in a plastic bag preferably in the bottom of your refrigerators  vegetable/fruit bin. Always make sure cheese is dry and never damp, if condensation has formed on cheese then dry it off with a paper towel before rewrapping with paper and storing.
Cheese Platter 101: review!
Tip number 1: always have your favorite cheeses on hand.  
Cheese keeps for weeks in your refrigerator, when stored properly. 
(see above notes on proper storage)
Tip number 2: there are no rules!  Keep it simple.  Serve what you like, 
with what you like! You don't need fancy platters. A plate, a cutting board, 
whatever you have handy.
Tip number 3: high quality cheese can be purchased anywhere and everywhere; 
you don't need to go to a specialty store or spend a lot of money!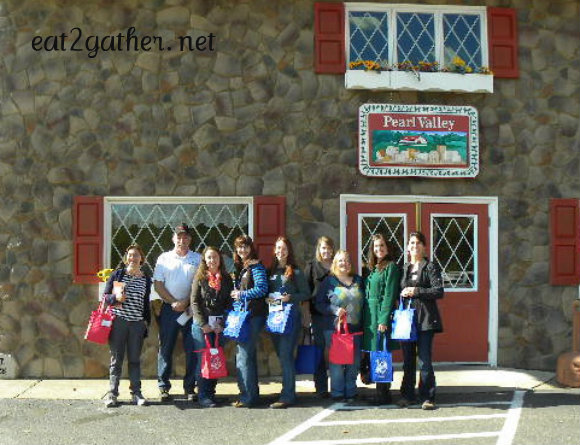 Did you know today is Giving Tuesday?  Remember a few years back when I had the opportunity to travel to the Ohio with several other bloggers, we got to tour the Peal Valley Cheese factory where they make some YUMMY swiss cheese and visit the amazing dairy farmers that provide milk for cheese making and drinking!  I have been very fortunate to have a wonderful working relationship with the folks at The American Dairy Association Mideast.  I wanted to make sure you knew about the great things my friends at ADA Mideast are are doing this month.  They are partnering with Feeding America's Great American Milk Drive (GAMD), which is the first-ever nationwide program to deliver highly desired and nutrient-rich gallons of milk to hungry families who need it most. So….
May I suggest you make yourself a cheese platter and join me Wednesday night?! The American Dairy Association Mideast is throwing a fabulous twitter party. Your invitation is below! I hope I see you there!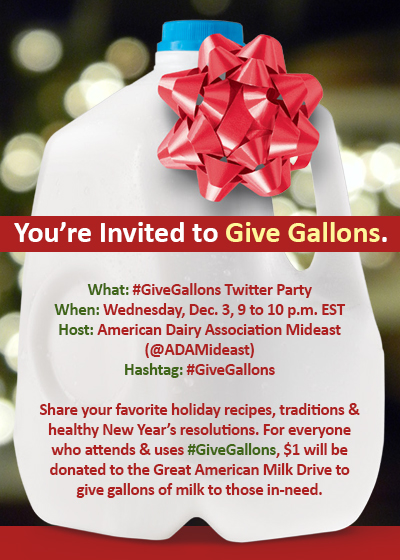 Connect with the American Dairy Association on
PINTEREST|

FACEBOOK

| TWITTER
Join me, and the 11 bloggers below, Wednesday night on Twitter to help #GIVEGALLONS  to those in need.  American Dairy Association is partnering with Feeding America to get milk to those in-need with the Great American Milk Drive.
The Lemon Bowl, Climbing Grier Mountain, Shugary Sweets, In Katrina's Kitchen, The Law Students Wife, Lemons for Lulu, Garnish with Lemon, Dessert for Two, Inside BruCrew Life, Food Faith Fitness, Love Grows Wild
See  you Wednesday on tweeter 😉 , Sheila
Disclaimer:  The American Dairy Association Mideast asked me to share with you my love of cheese and in return they compensated me.  Because of amazing partnerships like this I am able to continue to keep Eat2gather up and running!  Please know that all ideas are 100% my own.