Cheddar Stout Fondue with roasted vegetables
Cheese fondue is interactive, delicious, and a great way
to gather friends and family around the table!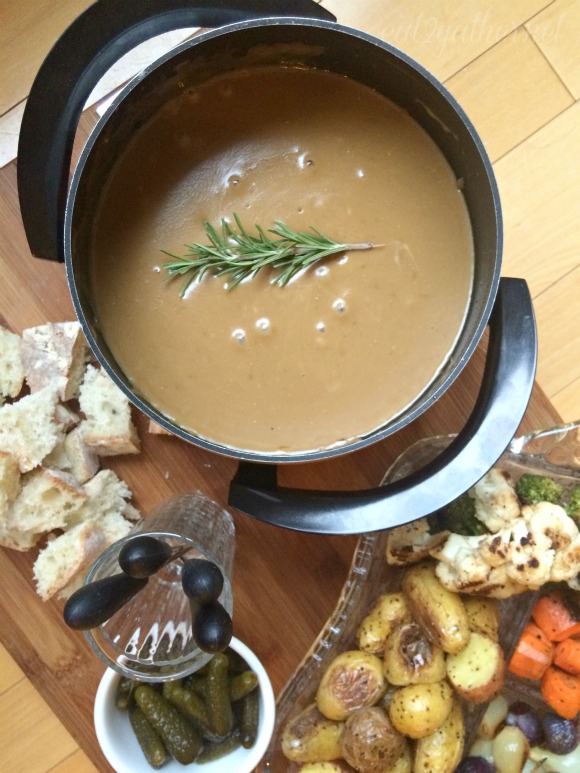 Fondue is a Christmas Eve tradition for our family.  Every year since forever, even when the kids where little, we have done fondue with my dad and my sister and her husband.  It's an event, that takes the whole evening.  We usually pause between courses to open gifts or play a game,  we start with Cheese Fondue, move on to the meat in hot broth or oil, and end with chocolate fondue.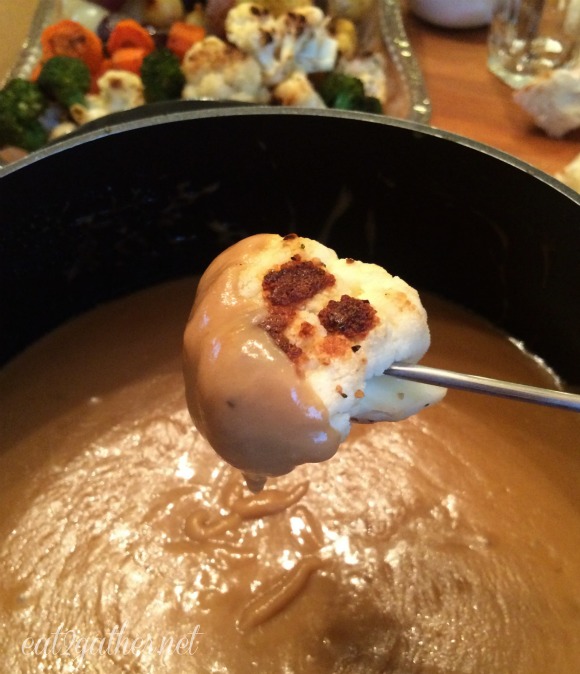 Besides dipping bread in the cheese, we love dipping roasted vegetables.  Not only do they taste delicious they look so pretty on the platter; which makes for a very festive party!  Roasted vegetables are easy to prepare, and can be made ahead of time.  You could also dip cubes of bread, gherkins, slices of apple, pretzels, the list goes on and on.  Honestly, I think everything is amazing dipped in warm gooey cheese.  Can I get an Amen?!
Making fondue is quick and easy.  Let me show you just how easy it is!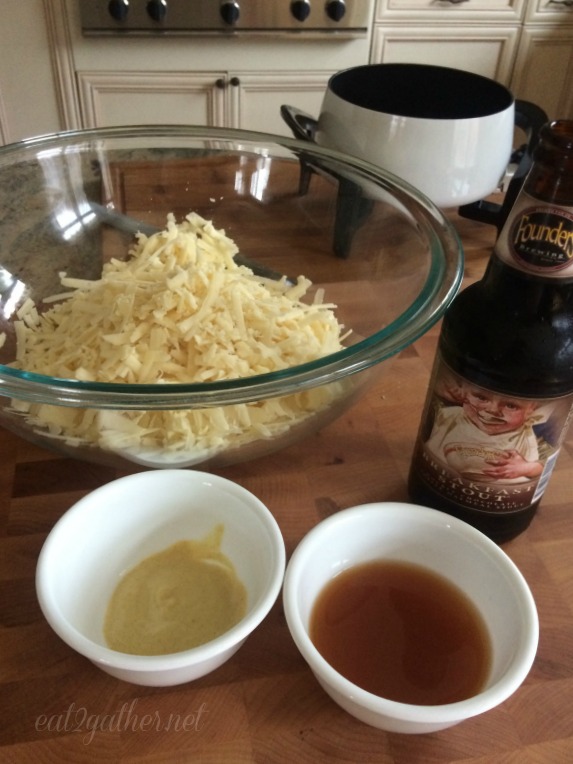 This is all you need.  Cheese, Stout, Apple Cider, Dijon Mustard, and a little flour, well and a fondue pot of course!  If you don't have a pot, I bet someone you know does and they would let your borrow it!!

Grate the cheese, toss with flour, set aside.  Add stout, cider, and mustard to the pot bring to a simmer and gradually add in the cheese continuing to stir until smooth!  That's it.  If you can't find a stout you could use any better quality beer or ale, but a stout balances out the sharp cheddar the best.  It almost looks like caramel, don't you think?!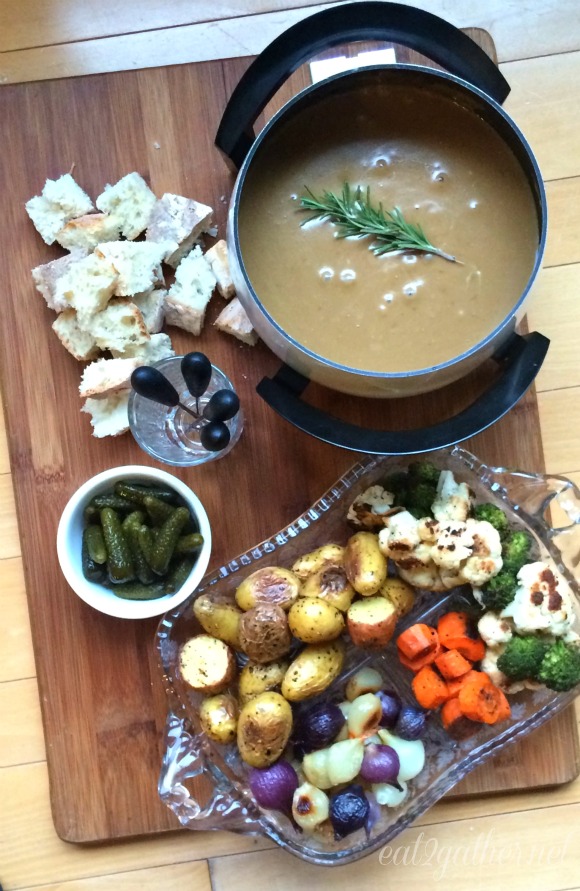 Amazing things happen when you gather people around a hot pot of melted cheese!
[print_this]
Cheddar Stout Fondue
serves 4 as a heavy appetizer, 6-8 as a lighter appetizer
1/4 pound Emmental or Swiss Cheese, shredded
3/4 pound aged Sharp Cheddar Cheese, shredded
2 tablespoons Flour
3/4 cup Stout beer
1/4 Apple Cider or Apple Juice
1 tablespoon Dijon Mustard
Accompaniments: roasted fingerling potatoes, carrots, broccoli, cauliflower, boiler onions, bread chunks, sweet gherkins
1. Shred and combine cheeses, toss with flour, set aside.
2. In fondue pot whisk together stout, cider, and Dijon mustard bring to a simmer.
3. Once liquid begins to bubble slightly around the edges start adding cheese to the pot stirring constantly, until all cheese has been added and fondue is a smooth consistency. You may need to thin it out with more stout if desired. Be careful that heat does not get too high; if you have an electric fondue pot keep at simmer. If using a sterno you may need to regulate the temperature with the snuffer.
Serve with roasted vegetables, bread chunks, and sweet gherkins.
Note: Roasted vegetables can be made a day in advance by tossing potatoes/cauliflower/broccoli/onions/carrots in olive oil, sprinkle with salt and pepper, spread on a baking sheet and bake at 400 degrees for 20 minutes. Allow to cool and store in refrigerator until one hour before your ready to fondue. Vegetables should be room temperature.
(The cheese that I used specifically was a 3 year old aged Canadian Cheddar and Grand Cru which is an Alpine style cheese from Wisconsin.  Both are cows milk cheeses!)  
[/print_this]
Tis the season to eat and be merry!  I think cheese is one of life's simplest, most delicious culinary pleasures! For more ideas on how share cheese this holiday season my friends at the United Dairy Industry of Michigan have a new online guide Mouthwatering Cheese Pairings that will help you combine your favorite cheeses with wine, craft beer and other tasty bites to help make your holiday gathering or casual weeknight cheese plate something special.
I'd like to extend an invitation for you to join me and other food bloggers for a Twitter Party.  Learn how to pair your favorite cheeses with wine, craft beer and other foods AND earn a chance to win a fabulous cheese pairing package! Wednesday, Dec. 17 at 8 p.m. EST #pairmicheese
For MOOre dairylicious recipes and information be sure to follow the UDIM –> FACEBOOK | TWITTER | PINTEREST
Disclaimer:  I have been compensated for my time to create this recipe for the United Dairy Industry of Michigan.  As always thank you for supporting the brands that make Eat2gather possible.  As always everything you see here is 100 percent my own.