Meals 4 Sharing Fridays: Leftovers
Hello!  Today is a very exciting day for me, I get to be two places at one time!  You can also find me at the Reluctant Entertainer.  My dear friend Sandy offered me the opportunity to guest post on her blog, and after I peeled myself off the pavement, I said YES!

I have been a huge fan of Sandy's blog The Reluctant Entertainer, for sometime.  Sandy reached out to me a few years back, and we finally met at Blogher Food in 2010.  I felt like I had known her my whole life!  Please go here, because I would love for you to get to know Sandy's heart too!  And if you don't have it already you will need to get her book The Reluctant Entertainer, it is full of tips on easy stress free entertaining as well as amazing recipes.  Not only does Sandy have a book, and a crazyily popular blog, she also has an E-book called The Balcony Girls.  The Balcony Girls is a book created to help teach girls about virtues and friendships.  "Balcony Girls teaches pre-teen and teen girls about the deeper meaning of friendships, how to grow their faith, and how to stand by their friends during these difficult years as a growing girl." The Balcony Girls E-book is available here.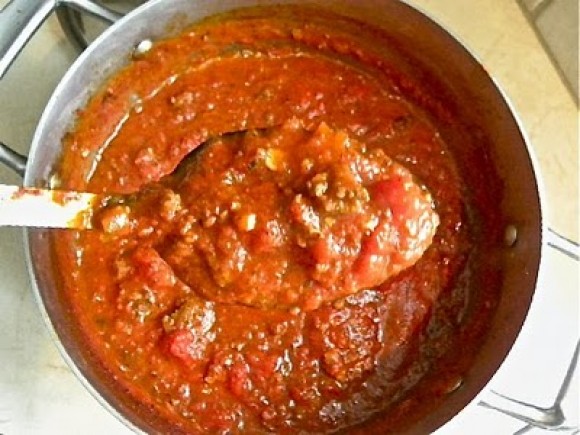 Today I want to talk about leftovers. Who said  "waste not want not"?  I went looking for this phrase in my Bible, it wasn't there.  So then I headed where all people go when they need to know something….no not the library silly, Google!  I googled it.  "Origins of waste not want not"  It's sort of sketchy.  One source said that Ben Franklin penned it in 1700's.  Other sources say it's from an English proverb book that dates back even further.  Who knows?!  What I do know is it makes perfect sense.  For all we know Adam probably said it to Eve.  "Pick those dropped apples up off the ground and make some apple sauce women!"  "Do you really need a new fig leaf everyday? Seriously, Eve, waste not want not."
Confession: I waste food.
I love to cook, and bake, and there are always leftovers.  What do I do with those leftovers?  Well, until recently, I would package them up, place them in the refrigerator, where they would sit for a few days, even a week, until I decide to clean out my fridge and throw them all away.  Waste!  If my dad, who's a bachelor, eats dinner with us I always package up the leftovers and send them home with him.  Which he loves.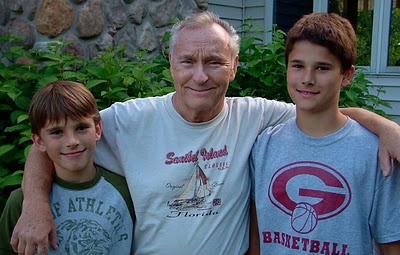 My Dad with my boys
Why don't we have a leftover night?  We do sometimes, but my kids hate it, my husband doesn't really care for it either, and to be honest I am lazy about forcing it on them. (That was confession #2)
What do you do with leftovers?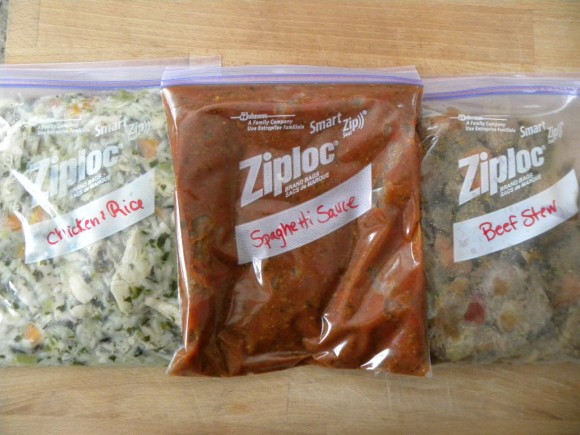 Do you have a leftover night, or does your family complain like mine?
Recently, after having lasagna for dinner, which is a favorite of a single friend of ours, I said to my husband, "Will would love these leftovers, but when are we going to see him again?".  Right then and there I had an idea!  I decided to take the leftovers from that night  and package them up to freeze right away.  I  labeled and dated them, so we would remember the what and when of what was in the dinner packages.   Then when my dad or our friend came over I could send them home with perfectly portioned frozen meals.  They would love it.  I started freezing everything.  Cookies, brownies, any entree' that I made.  The key is to freeze it right away, and then date it.  It should be eaten within three months of the date it was made.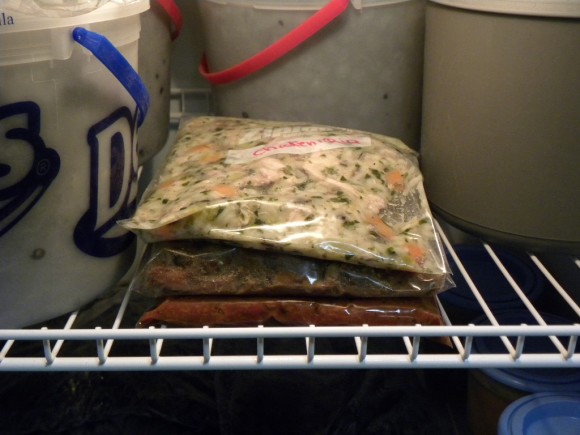 I am sure this is not a new idea to many of you, but for me it has been revolutionary.  I have been able to let go of my guilt regarding how much food I waste.  No matter how cliche it sounds, there truly are people starving, not just in China, but literally in my own city.  And when I throw food away I always think to myself, and sometimes out loud to my family,  "that would have been a good meal for somebody, but we are to persnickety and spoiled to eat it!".
Even though my dad and our friend are by no means starving, I at least feel I am helping them out by sharing, and they are grateful for it.
Who do you know someone that could benefit from your leftovers?
A sibling who is single,  a parent, a good friend, there has to be someone in your life that would be grateful for frozen meals.
Recently instead of giving these two ol' men our leftovers I have portioned some out for them first.   Spaghetti sauce,  soup, pulled pork, cookies…..I bag it up, freeze it and then we get the "leftovers"!  Kind of a sneaky way to get my kiddos to eat leftovers wouldn't you say?
I've shared the recipe for my Spaghetti Sauce before, but I'm feeling the need to share again.  It comes together quickly and it freezes easily.  It's a great recipe for your family or to share with others.  I hope you enjoy it!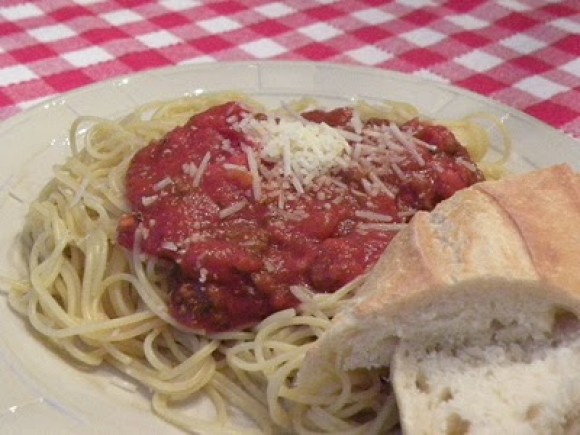 [print_this]
Spaghetti Sauce
1 tablespoon olive oil
1 medium white onion diced (approximately 1 cup give or take)
3 garlic cloves minced (approximately 1 heaping tablespoon)
1 teaspoon salt
1 lb ground beef
2 28oz. cans diced tomatoes
1 28oz. can tomato puree
1 12 oz can tomato paste + 1 can of water
2 heaping tablespoons of sugar
1 heaping tablespoon of McCormick Italian Seasoning
1 tablespoon dried Basil (I prefer the Lighthouse Freeze Dried brand)
1/4 teaspoon crushed red pepper
1/2 teaspoon salt and pepper
1. Saute onion and garlic in a 6 quart saucepan, add 1 teaspoon of salt, continue to cook until caramelizing starts. Add ground beef, and cook, chopping beef up with spatula to break it up as it browns.
2. When beef is completely browned add tomato paste, stir, fill can with water, add to pan. Add the diced and pureed cans of tomatoes, stir to blend.
3. Now season: add sugar, Italian seasoning, basil, crushed red pepper flakes(feel free to add more if you like spicy). Simmer for at least 1/2 hour.
**Crock Pot version: brown meat with onions and garlic put in crock pot with all the other ingredients and cook on high for 4-5 hours medium/low heat for 8.  Stir occasionally if you have time.
[/print_this]
So now it's time to let the SHARING begin!  Here's how……

1. Click on the Add link below then Add the permalink from your post.  Please do not link your websites homepage.
2. Select the photo you wish to link to your site and include the title of what you are sharing!
3. Create a link to Eat2gather.net within your post, to share all the great recipes with your readers.  Please feel free to grab my  blog button from the sidebar.  If you share the button on your sidebar or in your post I will hug you and kiss you!!  Well not literally, but maybe if I happen to run into you. (wink)
Don't forget to visit Sandy at the Reluctant Entertainer, I guarantee you will have found yourself a new favorite blog!