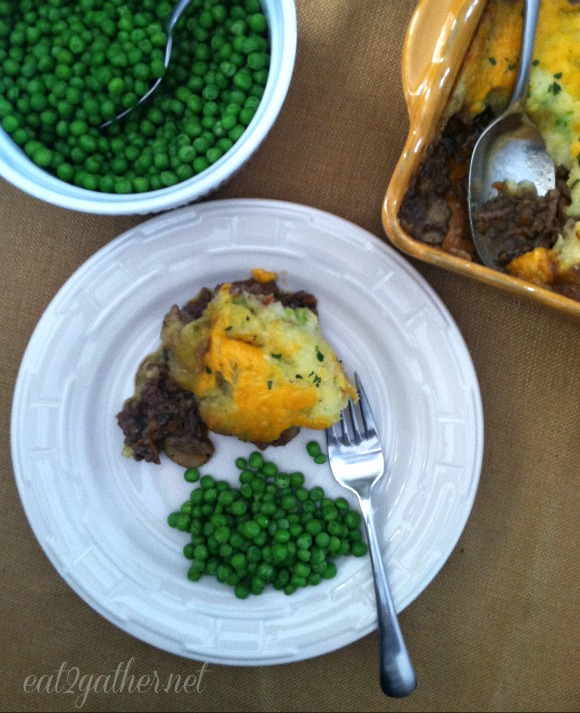 The first time I ever had Shepherds Pie was on our honeymoon in Burlington Vermont at a little brew pub.  It was heavenly.  The next time I partook of this tasty one dish meal was in Ireland, six months pregnant on a bus tour through the British Isles, this time my shepherds pie was not so tasty.  Or maybe it was the bus,  the pregnancy, and not being able to drink with everyone else!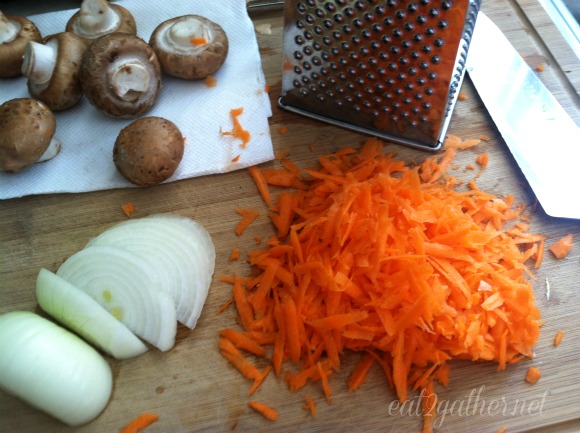 At some point I came up with my own recipe for shepherd's pie, but then was told because I use ground beef it's actually cottage pie not shepherds pie which uses lamb in the recipe. Well the version I'm sharing today was recommended to me by cousin Sara,  it's from Michael Chiarello.  Michael's recipe uses a combination of lamb and beef.  Perfect!  I did mess with the process and left out one ingredient but basically it's the same idea.  I prefer my peas as a layer in the pie. I think I would do that the next time I make it.  Oh yeh and I sort of did my mashed potatoes my way, so I definitely adapted this recipe to fit my liking.  I think you can too!  Just don't leave the cinnamon out, unless you have an allergy, I know it may sound weird but it's perfect in this recipe!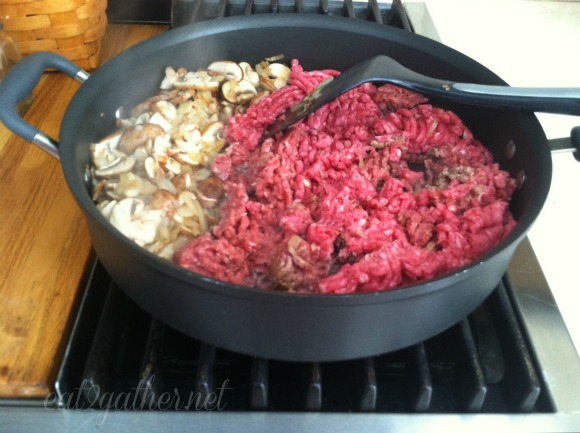 If you go to the original recipe you will see that the meat is browned then remove and added back in later.  Ain't nobody got time for that!  Here is my little trick for skipping this step.  I browned my onions and mushrooms first then scooched them to the side and  added the ground beef and lamb to the pan, once the meat was browned I mix it all together and moved on with the next step of the recipe.  If you use an oven proof skillet there is no need to put the meat layer of this pie into a baking dish you can leave it right in the pan and add the mashed potato layer, bake, and eat!
[print_this]
Shepherds Pie
Adapted from Michael Chiarello's Food Network recipe

1 tablespoon Olive Oil
1 pound ground Beef
1/2 pound ground Lamb
1 cup chopped Onion
3 Carrots, peeled and grated
1 8 ounce container Mini Portobello or Cremini Mushrooms
1 tablespoon chopped fresh Thyme
2 tablespoons chopped fresh Parsley
1/2 teaspoon ground Cinnamon
1 tablespoon flour
1 cup Red Wine (like a Cabernet or a Merlot)
1 1/2 cups Beef Stock
salt and pepper to taste
2 pounds Yukon Gold Potatoes
4 tablespoons Butter
1/4 cup Milk or Half and Half
Salt and fresh ground Pepper
1/2 cup chopped Scallions
1 cup grated Sharp Cheddar Cheese
Preheat oven to 375 degrees
1. Heat olive oil over medium heat in a large skillet or dutch oven. Brown the onions and mushrooms in the oil. When they are soft and brown on the edges push them to one side of the pan and add the meat to the open space saute' for 5 minutes or until brown and no longer pink. Mix meat together in the pan with mushrooms and onions then add carrot, thyme, parsley stir. Sprinkle with cinnamon and flour stir, mixture will be pasty from flour. Add in wine and beef stock continue to stir while cooking over medium heat. Add salt and pepper to taste. Cover and allow to cook for 15 minutes.
2. Peel potatoes, cut them into large even sized pieces and place into a pot of cold salted water. Bring water to a boil and allow potatoes to cook until they are fork tender, about 10 minutes.
When potatoes are done, drain them and place pot back on warm burner (even though it's turned off) add butter and milk, then mash potatoes into a puree. Add salt and pepper to your taste. Fold scallions into puree'd potatoes.
3. Place meat mixture in the bottom of a 9×13 baking dish, spread potatoes over top, and sprinkle with cheddar cheese. Place dish in preheated oven and bake for 30 minutes or until bubbly and potatoes are browning around the edges.
Serve with peas and a crusty loaf of bread!
Enjoy!
[/print_this]
Wishing you a rainbow
For sunlight after showers—
Miles and miles of Irish smiles
For golden happy hours—
Shamrocks at your doorway
For luck and laughter too,
And a host of friends that never ends
Each day your whole life through!
an old Irish saying 'wish for a friend'
Happy St Patrick's Day! Sheila