Dinner Dilemma Wednesday is here again!  Or is everyday a dinner dilemma?
What to make, how to find time to make it.
 Bringing dinner to  the table in the busyness of life can sometimes be seriously overwhelming so much so that sometimes we just skip it all together.  Well I'm here to help you get some new quick and easy meal ideas that will take away the stress and get your family around the table together!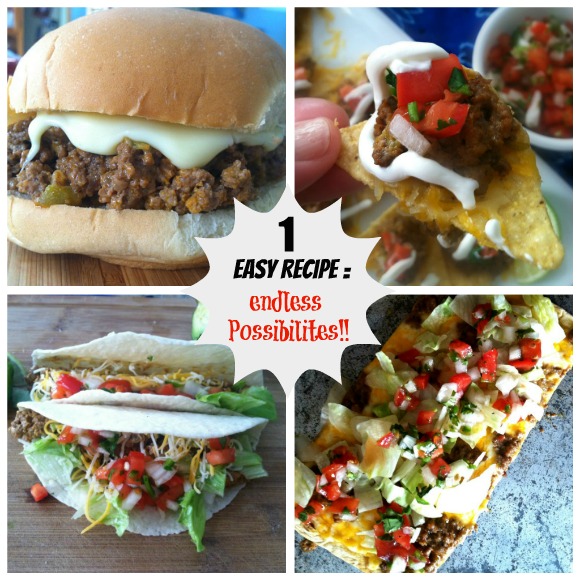 I love it when I can find a quick and easy short cut that makes getting dinner on the table a cinch!  This meal is so easy I can't even begin to tell you…I do have to apologize for the lack of creativness with the name…what to call this?? Yummy Meat, Delicous Cheesy Ground Beef, my sons contribution "the Best Meat Ever" there we have it!
I recently was out for dinner with some friends, and I ordered the ultimate sloppy joe! This thing was killer. The meat tasted like a cross between barbecuey sloppy joe meat and taco meat….add that to a brioche bun, top it with peppery french fries and douse the whole gol dern thang in queso, sprinkle a few more french fries around the edge and you will never ever want to go home again. It's literally the second coming. Well maybe that's going a bit too far…let's say it was a darn good sandwich!
Of course I had to come home and figure out how to make my version of this sloppy joe.  The flavors where so complex this was not going to be easy!  Then I stuck my noggin in my pantry and came face to face with this guy.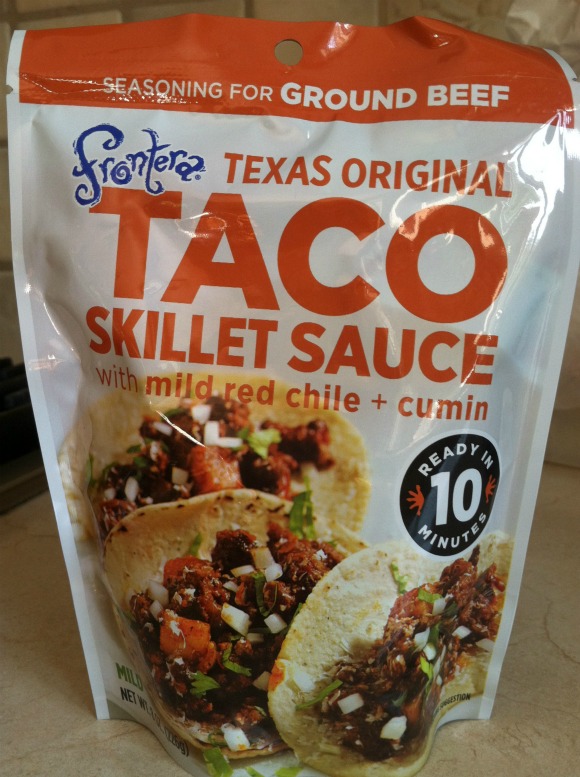 Well Hello there big boy…fancy meeting you here!
I have used these Frontera skillet sauces in the past but not this flavor.  This Texas Original had just the spice combo I needed, molasses, smokey, peppery, garlic, cumin but no measuring necessary. I decided to give it a go!  I have to say I love these sauces, they are all natural, no preservatives, a.k.a. I can read everything that's in the ingredient list without scratching my head and furrowing my brow.
This is not a sponsored post for Frontera or Rick Bayless…..I just happen to love him, his restaurants, and his products!  
The only flavor that was missing was the cheese.  This element was crucial!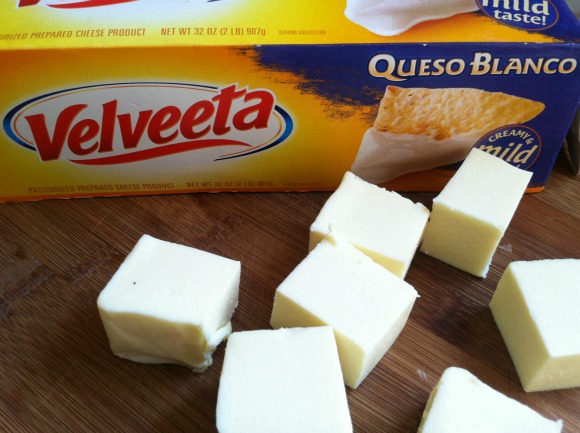 No worries my old pal Vel Veeta came to the rescue!   I grew up on velveeta.  It's in my blood.  Have you tried the queso velveeta?  Best thing since sliced bread!
I have to say when I first made this meat I was not intending for it to be like the sloppy joe meat to end all…but that's how it turned out.  I made quite a batch of it, thinking I would freeze half of it, but my kids loved it so much it never made it to the freezer and we had a plethora of different meals for the next two days.
That's right.
You heard me.
One meat that took me 10 minutes to make and we had three days worth of meals, lunches, and snacks from it.
Here's how you too can have this marvelous BBQ cheesy meat…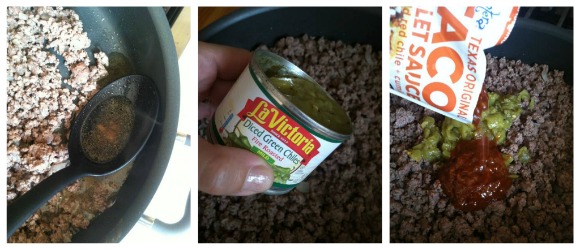 Brown the ground beef with 1/2 cup diced onion, drain any excess grease from the pan, add in a can of diced green chilies and the Frontera Texas Original Taco skillet sauce combine and let simmer.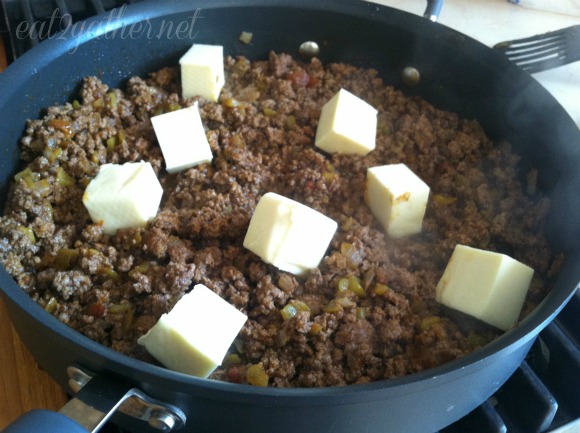 The cheese is what makes this meat special; cut up 8 ounces of queso velveeta into cubes let the cheese melt into the meat mixture and stir it in.
Voila!
That's it.
One meat… so many meals!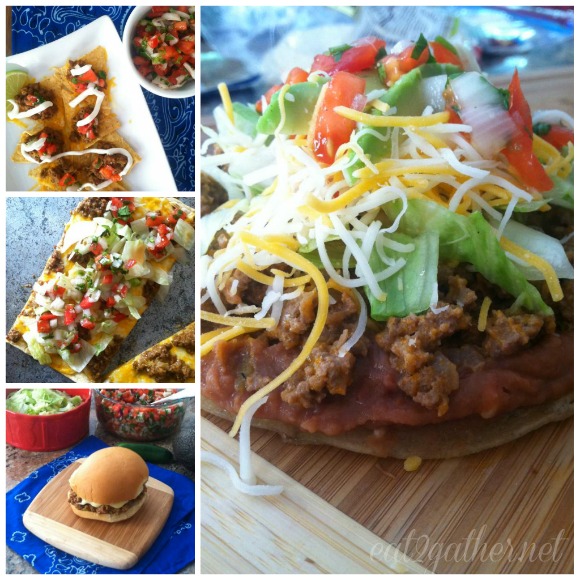 Cheesy Sloppy Joes ~ topped with more queso velveeta…please, and some pickled jalepenos.  Slap yo momma!
Tacos
Tostadas
Taco Salad
Pizza
Nachos Grande
I'm sure there are many ways to serve this meat that I haven't even thought of.
I'd love to hear what you come up with!!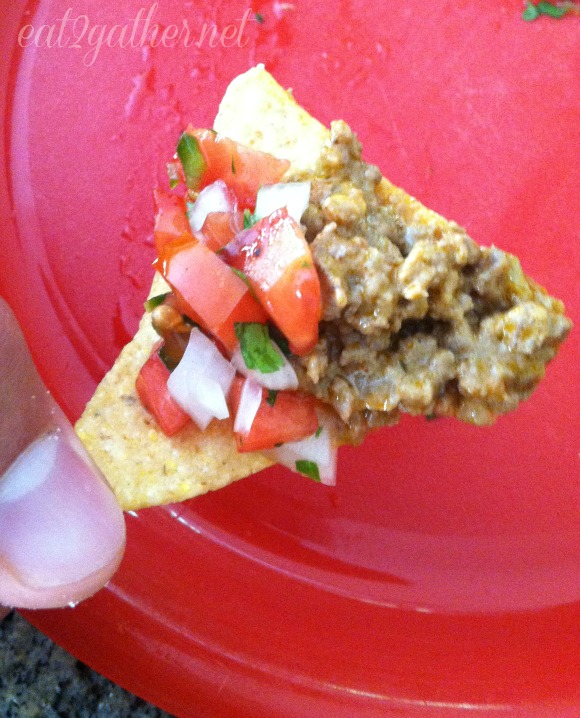 This is how my son liked it best.  He warms it  up in a bowl, dips chips in it, and top them off with pica de gallo!  Gotta love a 16 year old boy, they are so easy to please!  This meat freezes really well.  Make a double batch and freeze it for a quick last minute meal, or late night snack.

[print_this]
The Best Meat Ever ~versatile sloppy joe meat
1/2 cup diced Onion
2 pounds lean Ground Beef
1 4 ounce can Diced Green Chili's
1 pouch Frontera Texas Original Taco Skillet Sauce (8 ounces)
8 ounces of Queso Velveeta (regular Velveeta works also)
Brown ground beef with onions, when meat is fully cooked drain off excess grease by tipping the pan and scooping out with a large serving spoon. Return meat to heat and add in diced chilis and taco sauce allow to simmer for a few minutes. Add in cubes of velveeta let melt into the meat, when melted stir meat to incorporate cheese.
This meat is so versatile it can be served on a bun for sloppy joes, used in tacos, on nachos, for pizza meat, on salad. Use your imagination! It also freezes well.
Enjoy!
[/print_this]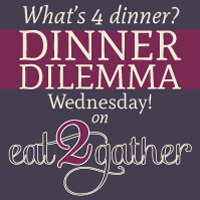 I hope this helps you get dinner on the table with time to spare to enjoy your family!
Have a great day!
Mucho Love-O, Sheila