Chevre Roasted Vegetable Salad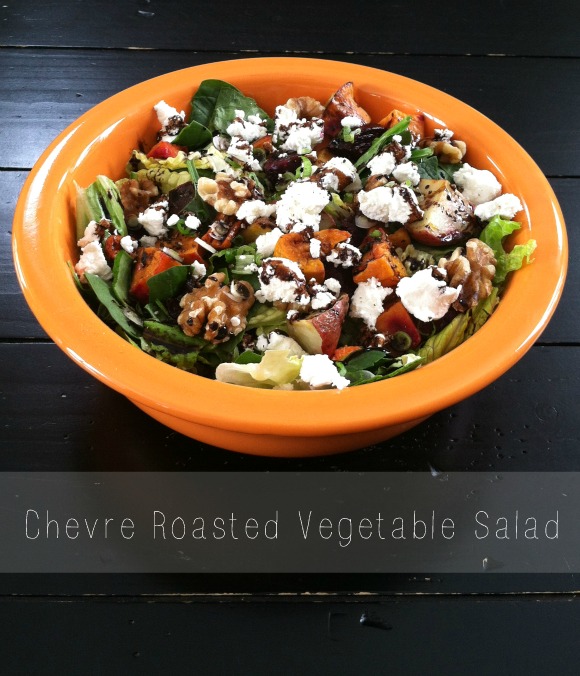 I am always coming home from eating out and trying to recreate whatever fabulousness it was that I just ate.  Do you ever do that?  One of my favorite restaurants in Grand Rapids is Marie Catribs, for many, many reasons, far too many to count.  This salad has been on the menu, I dare say, since the beginning.  It's called The Chev.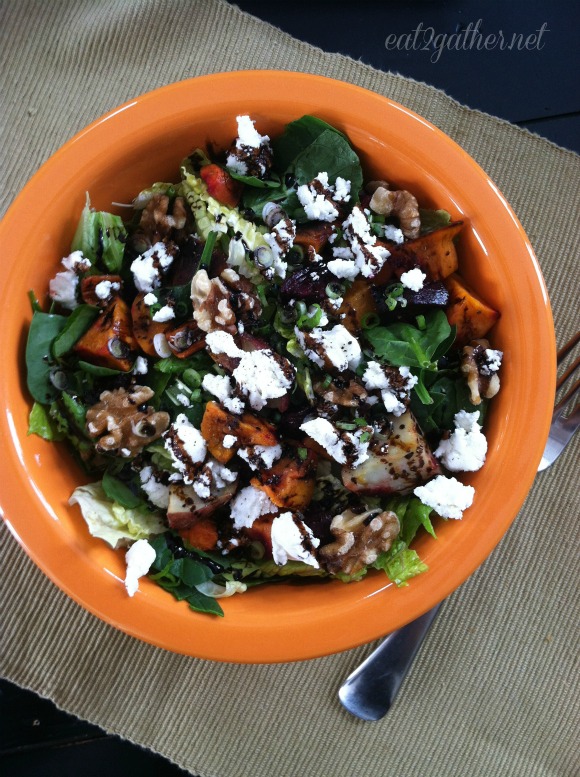 I don't normally fix many salads, especially in the winter, salad seems like a summer food to me, but with this new eating plan of mine I've got to do it.  I've got to make the SALADS!!  I WANT TO make the COOKIES and eat the COOKIES but.  Chicken butt.  Could someone please make a kale power salad that tastes like a double chocolate chip cookie?
Please?  Pretty please with chocolate chips on top.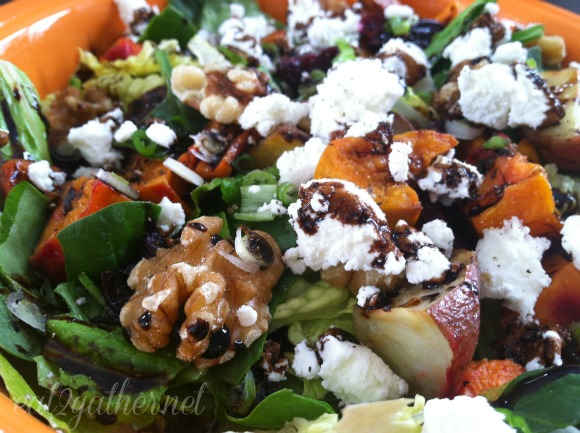 OK, I've said my peace, now back to "the" salad.  I order it every time I'm at Marie Catribs.  I just can't bring myself to order anything else.  I love it!  So I thought I had best not be holding back on my peeps any longer I need to share THE salad with you!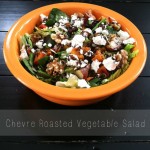 Print Recipe
Chevre Roasted Vegetable Salad
Roasted root vegetables, creamy goat cheese, zippy balsamic dressing, perfect makings of a hearty salad.
Ingredients
3

cups

Mixed Greens

1 1/2

cups

Roasted Root Vegetables

sweet potato, beets, red skin potato, parsnip, rutabaga, all or any combo you like

2/3

cup

toasted Whole Walnuts

1

Green Onion

cut into thin slices

1/2

cup

crumbled Chevre

goat cheese

2

tablespoons

Balsamic Glaze

no time to reduce balsamic vinegar? use it straight up!

fresh cracked pepper
Instructions
Layer above ingredients on a plate or in a shallow bowl in order given. Drizzle with balsamic glaze and give it a few cracks of pepper grab a fork and enjoy!
balsamic glaze - reduction of balsamic vinegar
place 1 1/2 cups balsamic vinegar + 1 tablespoon honey in a small sauce pan over medium heat. Cook, while continually whisking to insure vinegar doesn't burn, for about 10 minutes until vinegar thickens, or reduces to about 1/2 of original or 3/4 cup.
Notes
This salad is also amazing with grilled salmon or chicken on top!
Don't let the balsamic glaze hold you back; any vinaigrette that has a balsamic vinegar base will work just fine as a dressing for this salad.  I actually have used balsamic vinegar straight up many times.
I hope you get a chance to enjoy this salad with a warm cup of tea! (and a cookie!)
Have a great weekend, Sheila