This side dish is full of surprises under the crunchy almond and cracker topping is a casserole full of textures and flavors that will find you going back for seconds and hoping there are leftovers for tomorrow!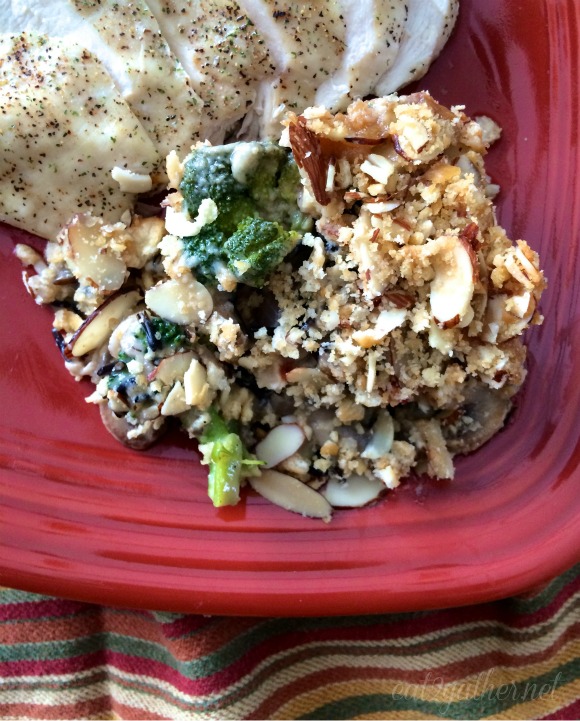 I love a good old fashioned mushroom soup laden side dish just as much as the next guy (case in point) however when I asked my sister for this recipe that I remembered my mom making, but had never made myself, and saw the ingredients I just knew a little side dish make-over was needed.   Like I said don't get me wrong I love mayonnaise and mushroom soup just as much as the next guy, but umm well I was sure I could add to it's savory deliciousness by making a homemade cheesy mushrooms sauce full of herbs, and I was right!
The Holidays are right around the corner and if you ask me there can never be enough side dishes at the table!  So you had better add Cheesy Broccoli and Wild Rice Casserole to your list!!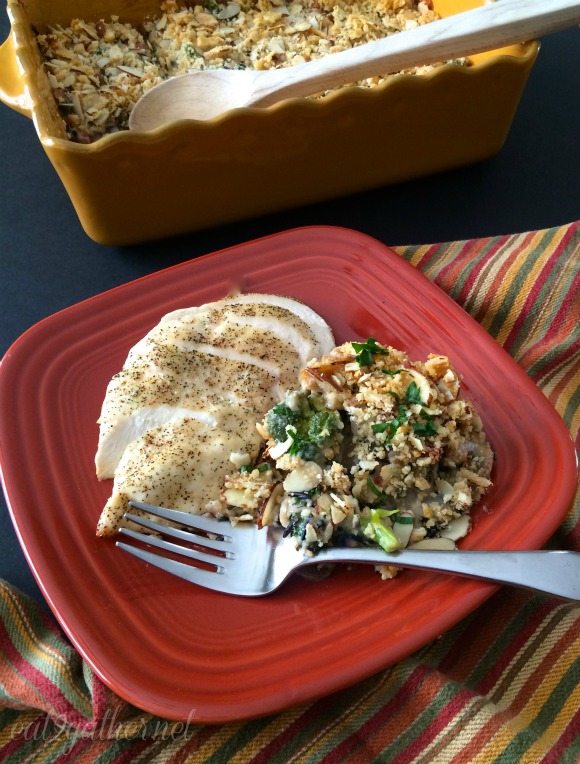 This side dish will pair nicely with roast turkey, chicken, or Cornish game hens; it would also be a nice addition to a prime rib or beef tenderloin dinner.  I'm pretty sure you can't go wrong with this tasty dish.  BONUS: It can be made ahead of time! (See note in recipe below for details.)  And if you're lucky enough to have leftovers you're lucky enough!  The leftovers make a heavenly lunch!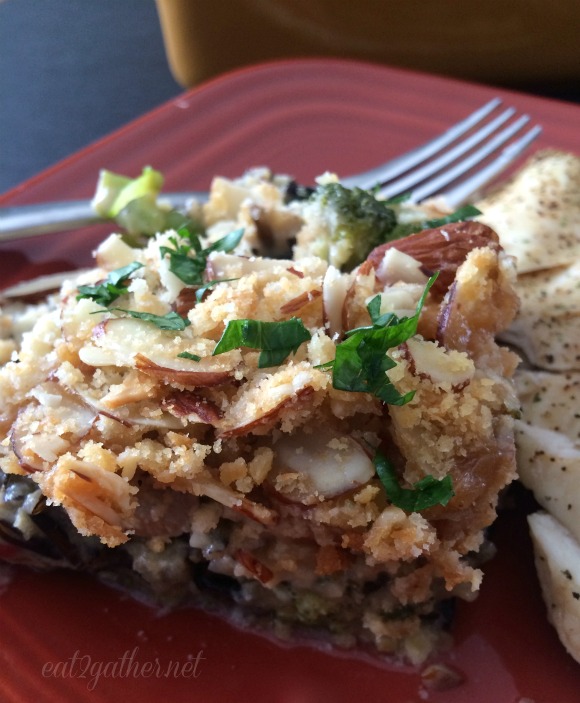 Wild rice, broccoli, pimentos for a splash of color all tossed in a savory mushroom cheese sauce and topped with a buttery almond and cracker topping and baked to bubbling crispy perfection!  I'm going to dare say this will be the new favorite side dish for your holiday table or your next potluck!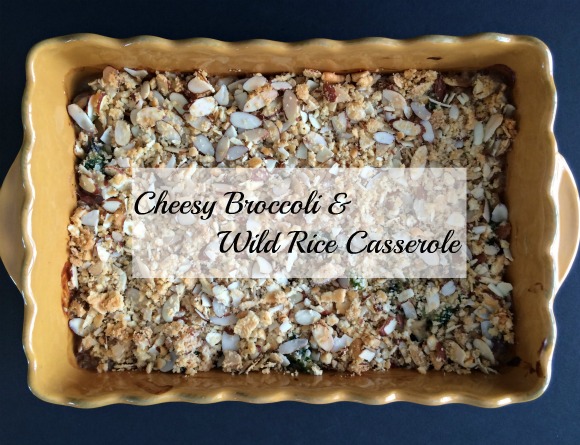 [print_this]
Cheesy Broccoli and Wild Rice Casserole
11 x 7 baking dish needed / Serves 8
2 heads of Broccoli, blanched (approximately 4 cups of broccoli florets)
1 cup Wild Rice
2 1/2 cups Chicken Broth
1 teaspoon Bouillon
8 ounces White Button Mushrooms, sliced
1 cup chopped Red Onion
4 tablespoons Butter
1/2 teaspoon dried Thyme
1/2 teaspoon dried Rosemary
1/2 teaspoon Celery Salt
1/2 teaspoon Salt
1/2 teaspoon fresh ground Pepper
1/4 teaspoon Garlic Powder
3 tablespoons Flour
2 cups Milk
1 cup shredded Sharp Cheddar Cheese
1/4 cup shredded Parmesan Cheese
1 4 ounce jar Pimentos, drained
1 sleeve Ritz Crackers
1 cup sliced Almonds
4 tablespoons Butter, melted
1. Blanch broccoli and set aside.
2. In a medium sauce pan combine chicken broth, bouillon, and wild rice bring to a boil turn heat down to low, cover pan and cook for 1 hour.
3. Melt butter in a large skillet add mushrooms and onions to the melted butter sauté on medium-low heat for five minutes or until onions and mushrooms become tender and start to caramelize. Add seasonings (thyme, rosemary, garlic powder, celery salt, salt, & pepper) and stir to combine. Sprinkle flour over onions and mushroom mixture stir to coat and then slowly add milk stirring as you go. Continue to stir and cook until sauce becomes a smooth consistency and starts to bubble. Remove from heat.
4. Add cheeses to the hot mushroom sauce and stir to combine.
5. Add broccoli, rice, and drained pimentos to the sauce and stir. Taste. Add salt and pepper if needed. Pour into an ungreased 11x 7 baking dish.
6. Place one sleeve of Ritz crackers in a zip-loc bag, zip to seal and roll a rolling pin over the crackers to crush them, open bag and add sliced almonds and melted butter, reseal and shake to combine. Spread topping evenly over cheesy broccoli and wild rice casserole and bake in a 350 degree oven for 30 minutes.
Make-ahead Note: After step 5 you can place casserole in refrigerator for up to 2 days before finishing with cracker topping and baking. This casserole can also be made and placed in freezer for up to 3 months before thawing, adding the topping and baking.
Enjoy!
[/print_this]
Disclosure:  The United Dairy Industry of Michigan has compensated me for developing and sharing this recipe.  Thank you for supporting the brands that make it possible for Eat2gather to stay up and running. As always all thoughts are 100% my own!