This is the first pie I ever made. It's my mom's apple pie. It is quite honestly the best apple pie anywhere!   I prefer to use the MacIntosh or Spy variety of apples for my pies. They have the perfect flavor for pies, and they hold up wonderfully!


I'm really sort of shocked that in four years of blogging (yes it's been four years already!) I have never shared this recipe. This Apple Pie recipe is THE recipe.  It's the one. It's the real deal. It is my pride and joy.  There is nothing better.  If I were a bettin' girl I'd put it all on this pie.
I could sit here and go on and on about how flaky the crust is, how deliciously sweet/tart,  buttery and perfectly spiced this pie is….BUT WHY.  What more is there to be written about apple pie?  What more I say!  You have to see it to believe it.  So I'm going to give you a feast for your eyes……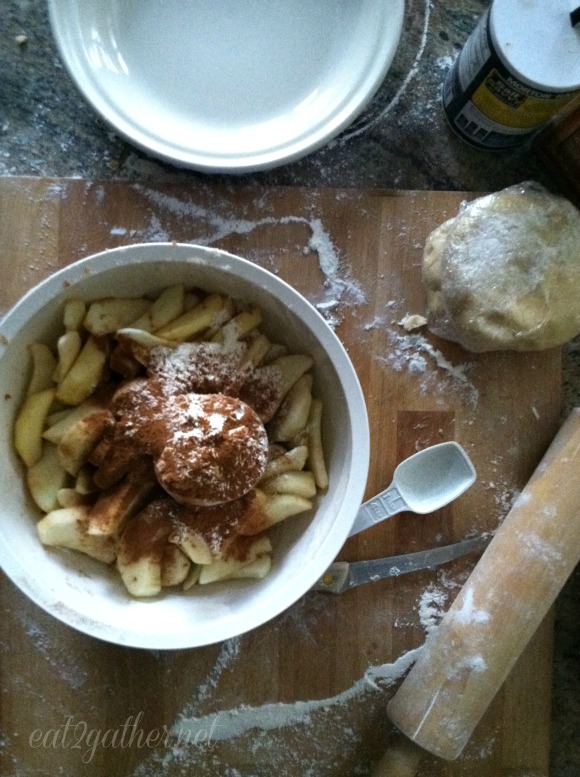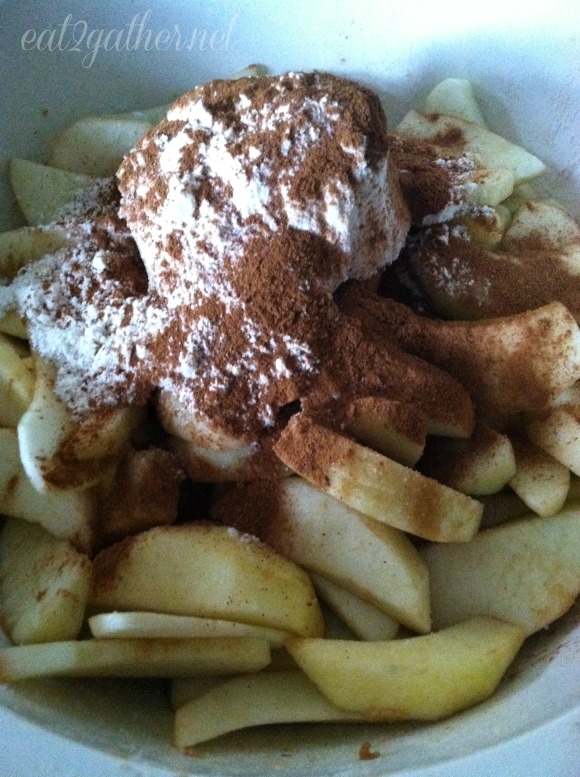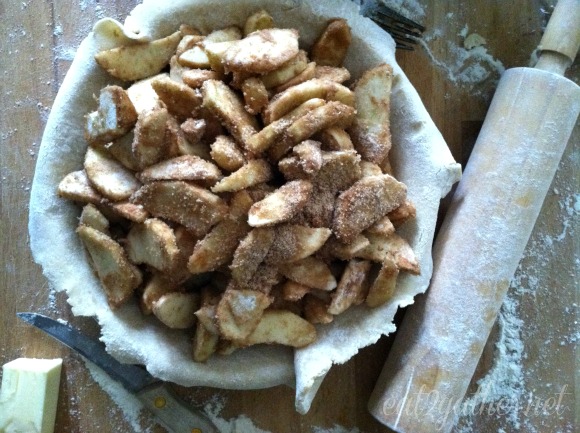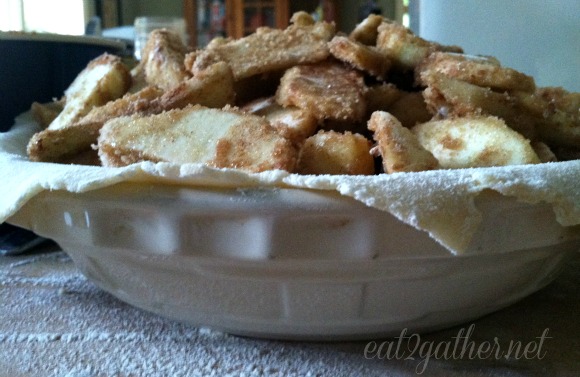 One secret to a great apple pie is to never be afraid to pile the fruit high.  Even higher than this if you dare!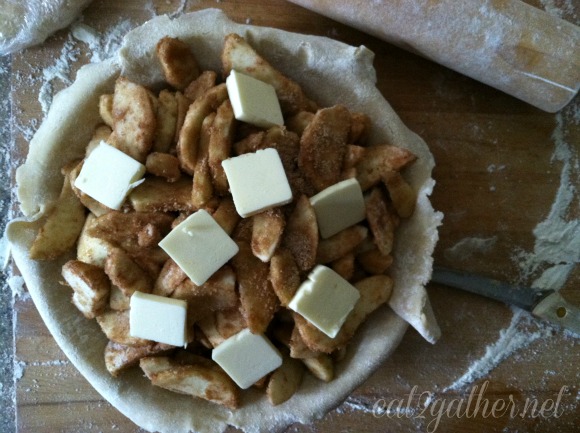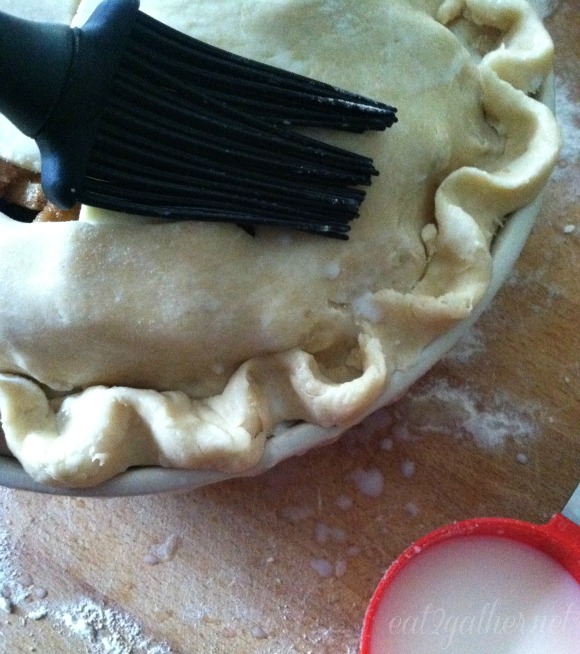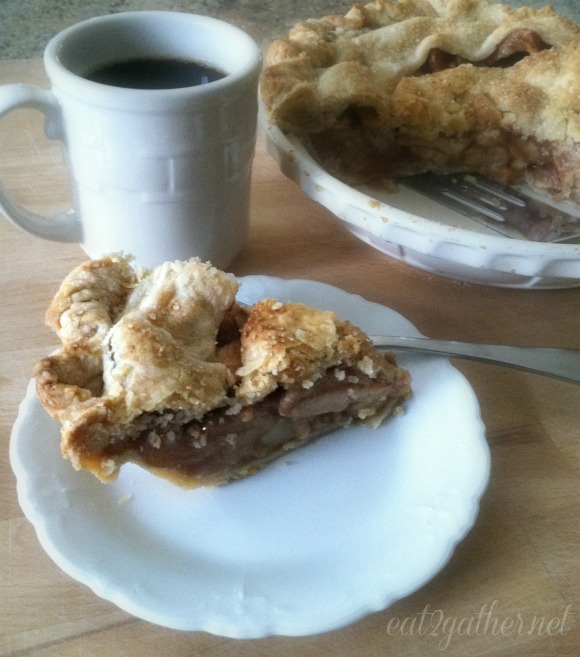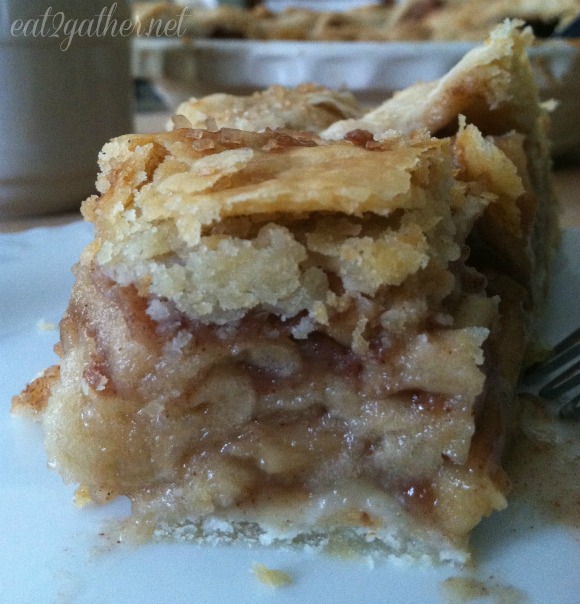 Now go make your own!  Please don't be afraid to make your own crust.  The crust really does make a difference when making pie, sweet or savory.  You're welcome.
[print_this]
Apple Pie
makes 1 9 or 10 inch pie
6-8 Apples, peel, core, and slice(6 cups of apples slices)
1/2 cup Brown Sugar
3 tablespoons Flour
1/2 teaspoon Salt
1 1/2 teaspoons ground Cinnamon
a dash of Nutmeg
4 tablespoons Butter
2 Pie Crusts
1 tablespoon milk
1 tablespoon granulated Sugar
Preheat oven to 375 degrees.
1. Peel, core, and slice apples into a large bowl, add brown sugar, flour, cinnamon, salt, and a dash of nutmeg (more if you like). Toss apple slices in this mixture until all apples are coated.
2. Roll out pie crust and lay it in the bottom of the pie plate. Fill with apple mixture.
3. Cut butter into chunks and place evenly over the top of apples.
4. Roll out second pie crust, cut a few small slits in the middle of the crust, allowing for steam to release from pie. Lay second crust over the top and crimp the edges.
5. optional: brush pie crust with milk and sprinkle with granulated sugar. (I like to use the heavy grain sugar)
6. Place pie on a baking sheet and bake for 75 minutes at 375 degrees. Remove and allow to cool for at least 30 minutes before serving. (I place pie on a baking sheet to keep my oven clean, because sometimes the juices from the pie will bubble out.)
Note: I prefer to use the MacIntosh or Spy variety of apples for my pies.
Enjoy!
[/print_this]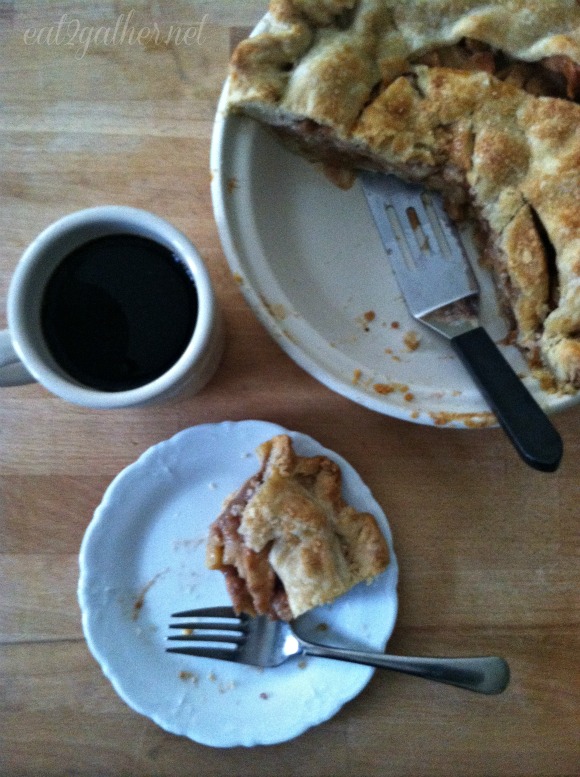 I honestly wish with all my heart that I could make each and every one of you this pie.  Maybe someday if my cookbook dream comes true I'll serve it up at my book signing party!
Until then….make your own! 😉
signed, Mrs. P (Pie) Diddy
(don't ask)