I decided to take a little hiatus from Meals 4 Sharing Fridays and repost some oldies but goodies from my first year of blogging….2 years ago….or has it been 3?  Way back in the Strawberry Cake days. Hey, can I see a show of hands?  How many of you out there have been hanging around here since the Strawberry Cake days?
Ok you people need to get a life!
I'm just joshin' ya.  Honestly, I am so grateful for each and every one of my readers!  I also want to thank everyone that has taken the time to link up to Meals 4 Sharing Fridays, week after week.   You guys rock!   I'm not sure what's going to happen with E2g's Friday link-up, but have no fear I will continue to post about ways to love others through the gift of food, and hospitality!
The first time I posted this salad, I had no concern for SEO what-so-evah, you can kind of tell by the title of the post.  Skidders Favorite Salad.  Who the heck is going to search for that, and if they happened to dig deep into the archives and came across Skidders Salad who would even venture to try it?   I noticed in the last two years I altered  the ingredients quite a bit.  So I guess you could almost say it's a whole new recipe!   The additions of sesame oil and rice wine vinegar add a nuttiness, plus a sweet tangy flavor to this salad….kind of like it's creator! (sweet and nutty!)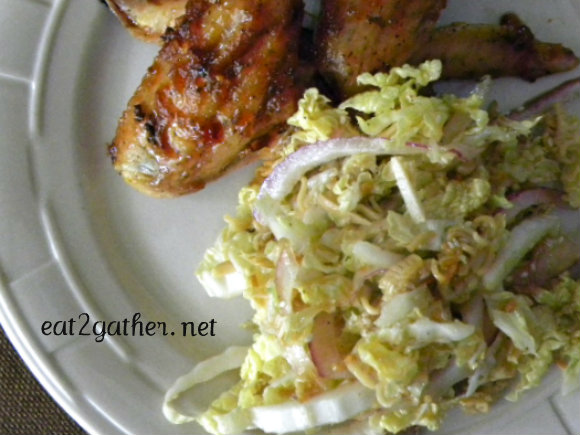 This salad is the perfect salad for Summer!  It's crispy, fresh, and full of flavor!  It is the ideal companion to grilled meat.  Last night my youngest son requested spicy asian wings for dinner, so I made Nappa Cabbage Salad as the side.  It has been so hot lately, light easy meals are all this girl can do.   One thing you need to know about Nappa Cabbage Salad is that it should not be tossed together until you're ready to serve it.  So if I take it to a party or picnic I always transport the components separately and toss it together at my destination.
Shred one head of Nappa Cabbage, cut 1/2 cup of Red Onion or Green Onions, whatever you have on hand.  Toss cabbage and onions together and set  them aside.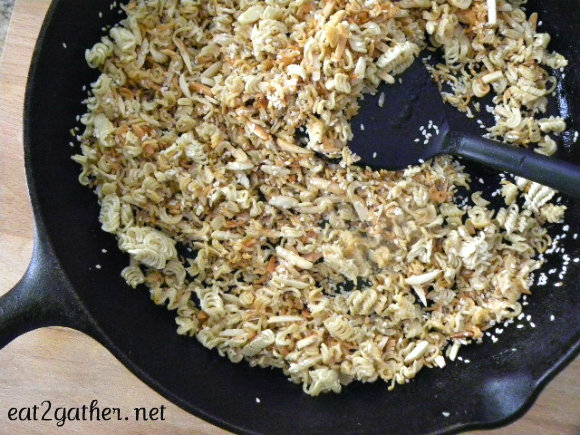 Next melt 1 stick of butter in a skillet.  Crush 2 packages of ramen noodles add them to the pan and saute (discard the flavor packs)].  When noodles start to get brown add in 6 ounces of slivered almonds, saute for a few more minutes, then add 1/2 cup sesame seeds and saute for another minute.  Remove from heat and let cool.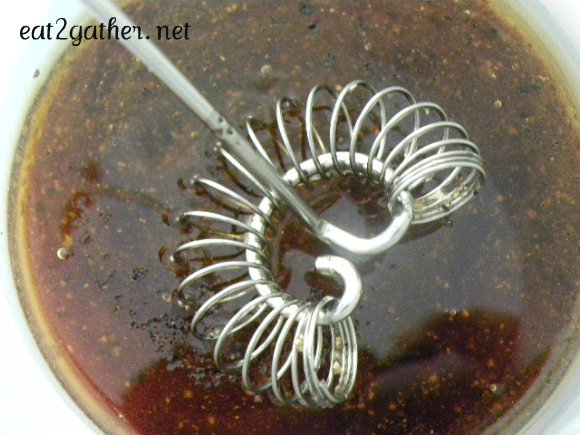 In a bowl whisk together 3/4 cup Vegetable Oil, 2 tablespoons Sesame Oil, 1/4 cup Soy Sauce, 1/4 cup Rice Wine Vinegar, 3/4 cup Sugar, 1/2 teaspoon fresh ground Pepper. Whisk until sugar granules dissolve.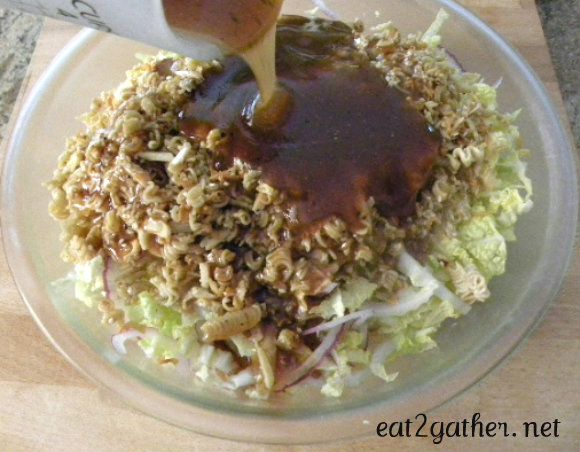 When ready to serve, pour ramen mixture over cabbage, and pour dressing over the whole dern thang.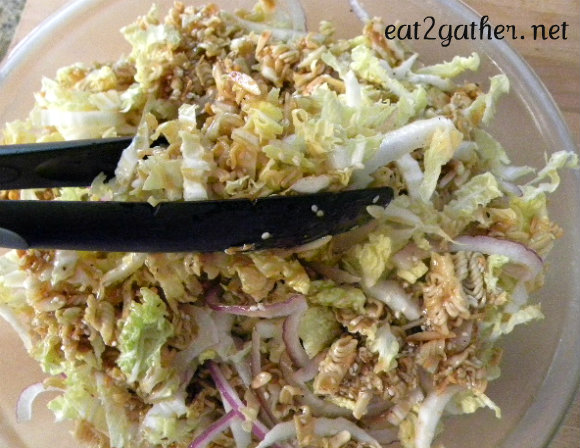 Give Skidders favorited salad a good thrashing and there you have it!  Summer salad at it's finest!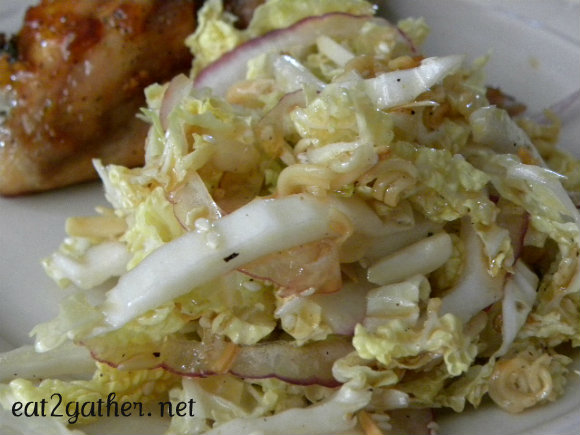 [print_this]
Napa Cabbage Salad
1 large head of Napa Cabbage
1/2 cup Onion (red sliced thin or green onions chopped)
1 stick Butter
2 packages Ramen Noodles (discard seasoning packet)
1/2 cup Sesame Seeds
1 6 ounce package slivered Almonds
Dressing:
3/4 cup Vegetable Oil
2 tablespoons Sesame Seed Oil
1/4 cup Soy Sauce
1/4 cup Rice Wine Vinegar
3/4 cup Sugar
1/2 fresh cracked Black Pepper
-Clean cabbage by rinsing it with cold water and letting drain in colander.  Shred cabbage.  Add shredded cabbage and chopped onions to large salad bowl.
-In skillet melt butter, add crushed ramen noodles to the pan. Move around with spatula until noodles begin toast, add almonds, saute for a minute longer, then add sesame seeds, continue to saute until sesame seeds begin to toast. Remove from heat and let cool.
-Combine all dressing ingredients and whisk until sugar has dissolved.
-Just before serving add ramen mixture to cabbage, pour dressing onto salad and toss. Serve immediently.
Note: If you are going to bring this to a potluck or picnic, I suggest, you transport the three components separately and toss on the spot just before everyone eats.
[/print_this]
Stay tuned for more oldies but goody redo's!
Cheers, Sheila