Spicy Fall Beef Stew with Apples
This is not your typical beef stew with carrots and potatoes.  This slow cooker beef stew is a new twist on old comfort food.  It's full of flavor and fragrant from the addition of apples, apricots, and my favorite spice blend Garam Masala.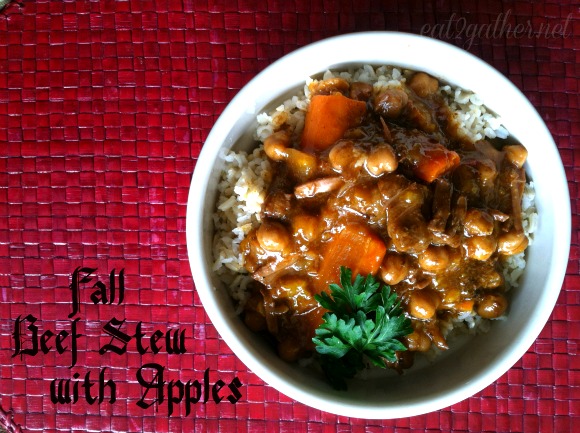 Gouge my eyes out.  What day is it?  I need a nap, my back hurts, my hair is frizzy, my wash machine smells musty.  Kenny has been out of town since Saturday.  He's in sunny Seattle, while we're in rainy Michigan.  I think he brought our lovely fall weather with him and Seattles misty mess showed up here in its place.  What's better on a dreary rainy day than beef stew?  I have many versions of beef stew here, but none quite like this.  This weather calls for more than just comfort food, it's screaming for flavor!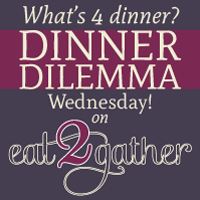 With my main squeeze gone, and me left to man the battleship alone, I not only had the dilemma of getting dinner on the table this week, but getting my blog post up on time!  So What's 4 Dinner Wednesdays is a wee bit late this week.  Please forgive.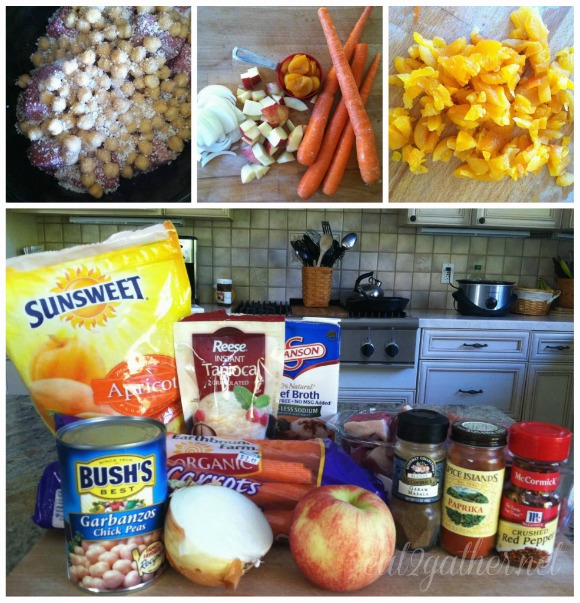 This stew was inspired by a recipe for Moroccan-Spiced Beef Stew I found in my Slow Cooker Revolution Cookbook.  I didn't have the right ingredients so I improvised and came up with this new twist on an old fashioned comfort food.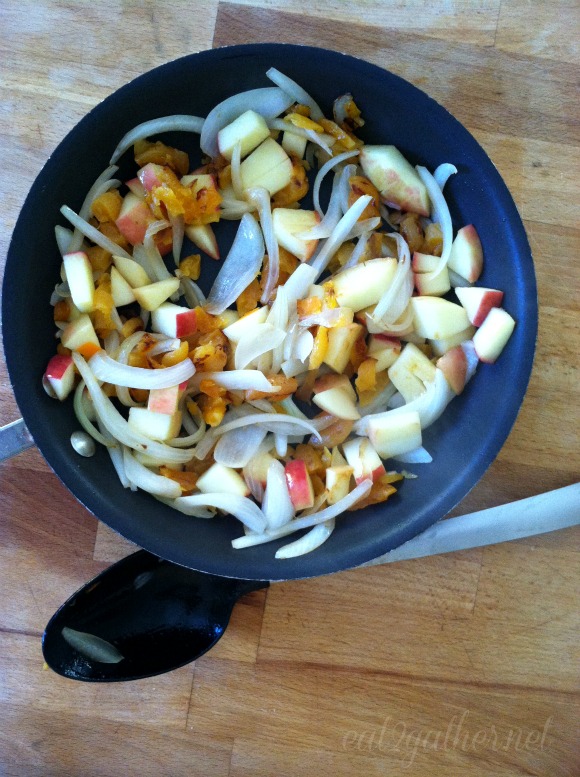 Apples and apricots are not something I would normally think to pair with beef, but now that I have I can't imagine anything better!
And BTW….my kids loved it!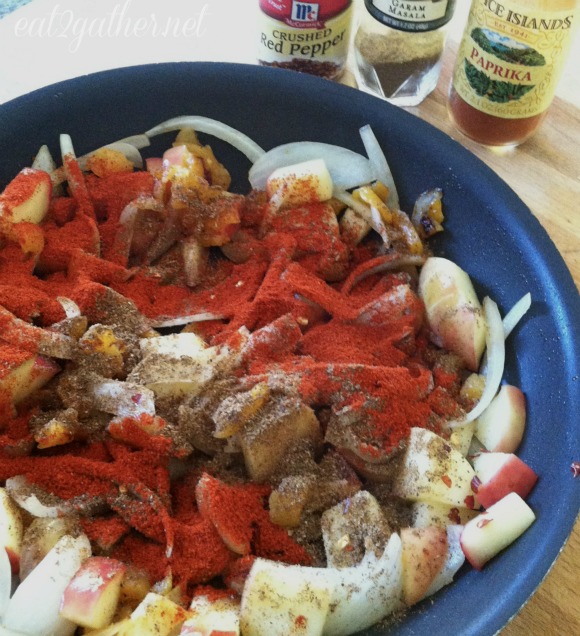 Beef Stew brings a few things to mind….thanks to the movie Benchwarmers beef stew took on a whole new meaning that I rather not discuss at this time, or think about…but now I am thinking about it…EWWww.
When attempting to describe beef stew a few words pop to mind, brown, gravy, brown, and gravy….oh did I say that already? That's why I wanted to share this recipe, this beef stew is everything but nondescript and blah. Although come to think of it I have a few other beef stew recipes posted and none of them are really brown and boring but none fly off the flavor charts quite like this one.  Garam Masala and loads of paprika give this stew an extraordinary punch of flavor.
If you have never used Garam Masala before you must start.  It includes a blend of coriander, cardamom, cinnamon, black pepper, dried chilies, and sometimes cumin, cloves, fennel, and mace…..see what's I'm sayin'.  In the words of Guy Fieri "flavortown".  Garam Masala can be found right along side all your other favorite spices.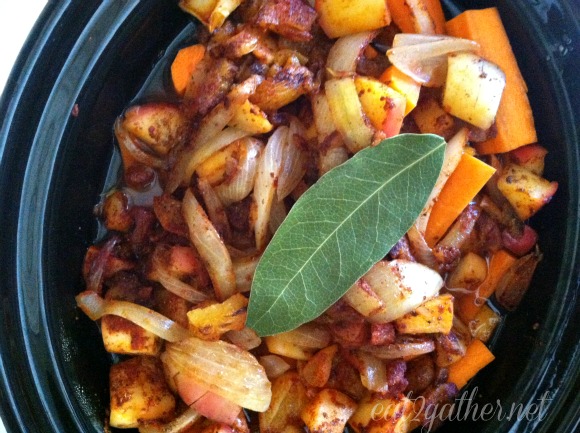 The fact that this is a slow cooker recipe make it a no brainer for the Dinner Dilemma series.  It took me 15 minutes to throw together, then I just turned my cooker on high and left it alone for 7 hours.  You can also cook on low for up to 9 hours, perfect for anyone that works outside the home.
[print_this]
Spicy Fall Beef Stew With Apples
inspired by Moroccan Spiced Beef Stew ~ Slow Cooker Revolution Cookbook
3 pounds of Stew Meat (1 inch cubes of Round Steak works well)
1 14 ounce can Garbanzo Beans, drained and rinsed
1 pound Carrots
2 heaping tablespoons Instant Tapioca
1/2 teaspoon Salt
1 tablespoon Olive Oil
1 cup sliced Onion
1 Apple, cored and diced (any variety)
1/2 cup Dried Apricots, rough chopped
1/8 teaspoon Red Pepper Flakes
1 heaping tablespoon Garam Masala
1 1/2 tablespoons Paprika
1 large Bay Leaf
3 cups Beef Broth
-5 or 7 quart slow cooker
-Cook on high for 5-6 hours/ on low for 8-9 hours.
1. Place cubes of stew meat in bottom of slow cooker. Drain and rinse can of garbanzo beans (chick peas) pour beans over meat. Sprinkle instant tapioca and 1/2 teaspoon salt over meat and beans. Place carrots over top and poke some down in with the meat.
2. In a skillet heat olive oil over medium heat, when oil is hot place onion, apple, and chopped apricots in pan and stir around until onion begins to brown and apple starts to soften, about 5 minutes. Add red pepper flakes, garam masala, and paprika to the pan stir around over heat for 1 minute, releasing the flavors of the spices.
3. Pour onion apple mixture over meat and carrots in your slow cooker. Pour 1 cup of the beef broth into the skillet that the onion was in, pour this liquid in to your slow cooker, this will get any spices that may have been left in pan, you don't want to leave any flavor behind! Pour the remaining 2 cups of broth into your slow cooker. The liquid should come up near the top of your onions and apples but should not cover completely.
Serve over rice or noodles, alone (with bread on the side) is good too!
Note:  I sometimes will purchase stew meat already cut into cubes by my butcher and then other times I will purchase a rump roast or a round steak and cut it up myself. I also wanted to note that I like to use carrots that I need to peel and cut myself, but I have been known to purchase the bag of pre-cut pre-washed baby carrots too. Do what works best for you!  If you have never used Garam Masala, and are wondering where on earth you find it, it can be found right along side all your other everyday spices in the grocery store.
As always I hope you enjoy! Sheila
[/print_this]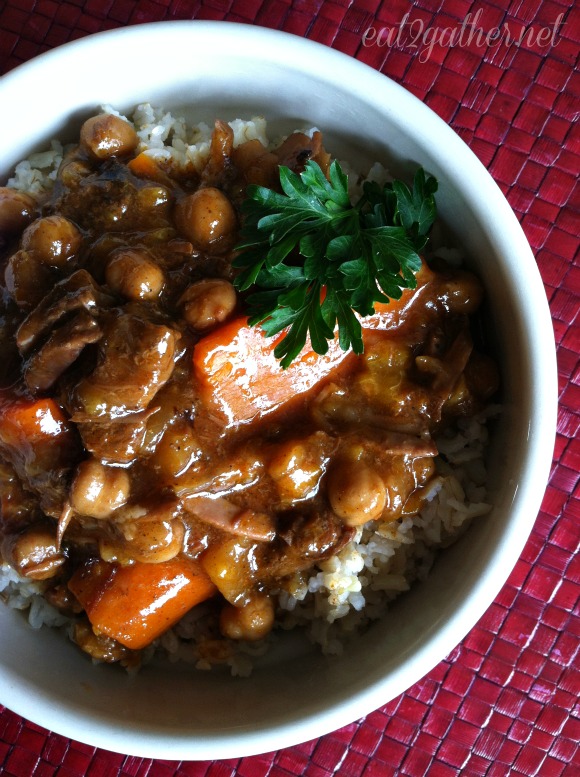 Just in case apples, apricots, and garam masala are way out of your comfort zone for beef stew here are a few of my tried and true favorites…one is even an award winner!
I hope the sun is shining in your neck of the woods!
XOX, Sheila