There is nothing better than waking up to the smell of a delicious breakfast being prepared.  This make ahead french toast is beautiful and perfect addition to your holiday brunch table.
Many thanks to the United Dairy Industry of Michigan  for sponsoring this recipe.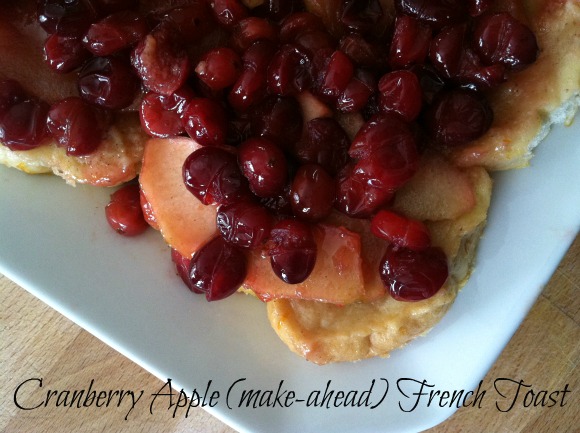 You won't believe how wonderful your kitchen smells while you're putting this french toast bake together, and then when you bake it; the smells of cinnamon, clove, oranges, cranberries and buttery apples, doesn't it sound like the best candle sent ever?!
Butter is definitely my favorite ingredient!  There is nothing better than the real thing!  I go through mountains of butter over the holidays, I would never consider leaving it out, there is absolutely nothing better than using real butter in your cooking and baking, it makes all the difference!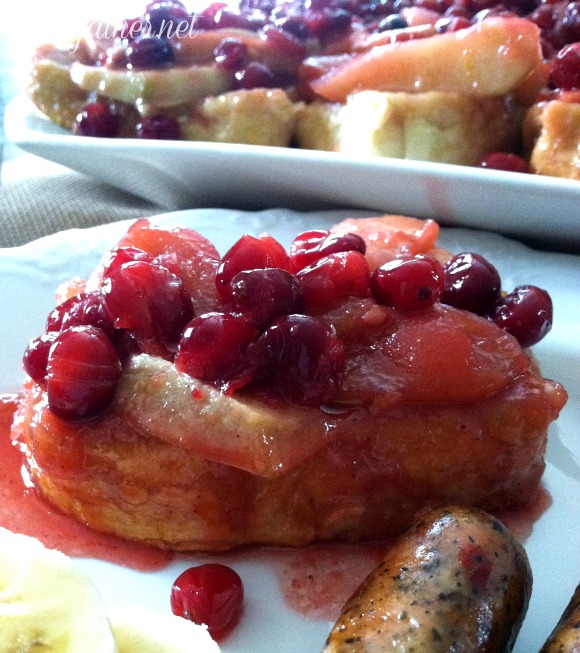 I guarantee Cranberry Apple French Toast will  knock everyone's socks off.  I have made this version for years but thought it deserved a big bold holiday make-over.  I'm not sure if I'll ever make it the old way again!  What makes this recipe absolutely perfect for the holidays is that it has to be made the night before.  Getting breakfast prep out of the way the night before  will make your holiday brunch or Christmas morning breakfast so much easier.  Oh you are so welcome!  Only the good stuff for yah!.
So here's how it's done!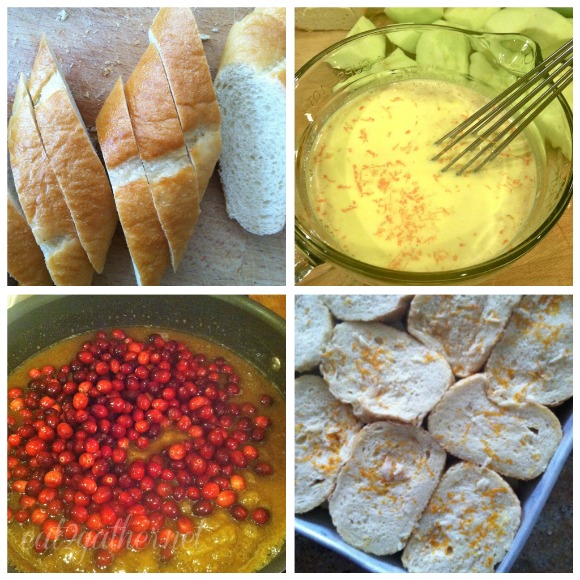 This recipe does have a few steps, but none of them are hard, just think of the reward in the morning!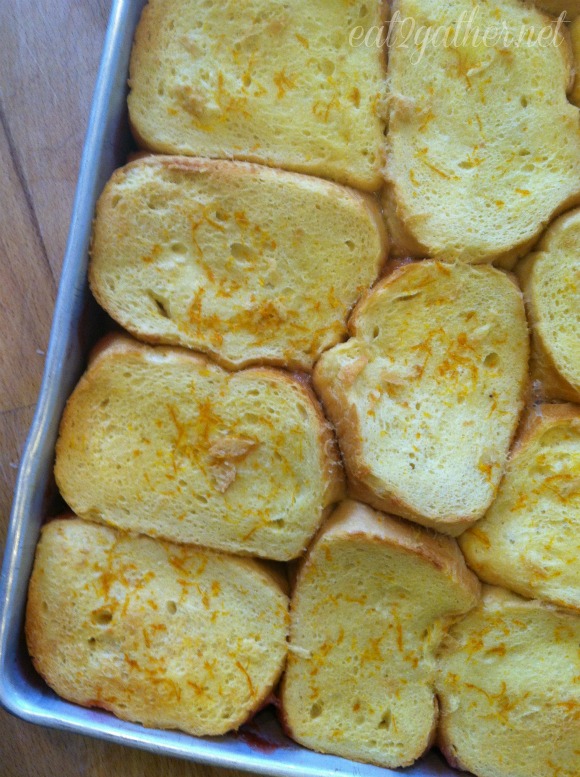 This  french toast doesn't  get brown on the top, the bread will become all puffed up and should feel dry, not soggy on the top at all, bake it an additional 15 minutes if needed.
**Make this in a  disposable pan and give it to a neighbor on Christmas Eve.  You'll get the best neighbor of the year award for sure!**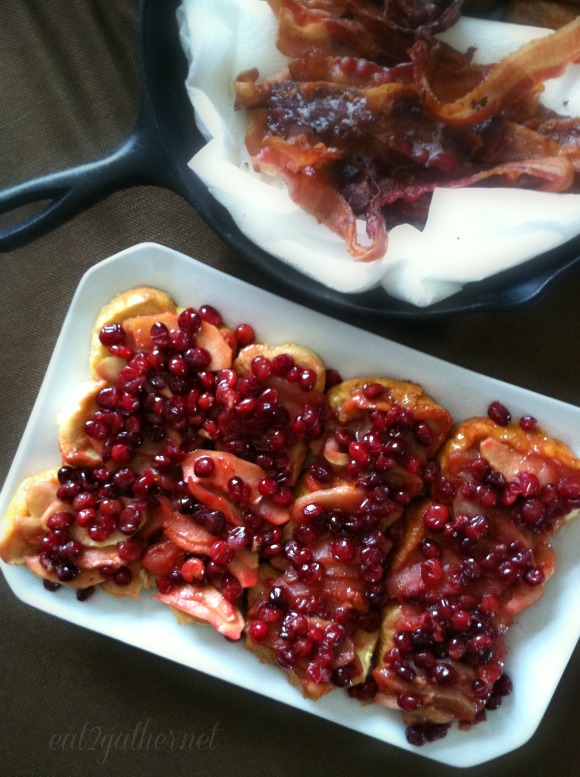 After removing the Cranberry Apple French Toast from the oven let stand for 10 minutes then place a large platter or a baking sheet over the pan and give it a quick flip, inverting the french toast out on to the platter/sheet.  If flipping hot caramely french toast out on a platter freaks you out you can skip this and just serve it straight out of the pan, it still taste spectacular, but it doesn't look quite as pretty!
[print_this]
Cranberry Apple (overnight) French Toast
serves 8
1 loaf Italian Bread, day old is best
1 stick Butter
1 cup Brown Sugar
2 tablespoons Corn Syrup
1 Orange, zested and juiced
1 12 ounce bag fresh Cranberries
1/2 teaspoon Cinnamon
1/4 teaspoon Clove
6 Eggs (5 whole + 1 yolk)
2 cups Whole Milk
1 teaspoon Vanilla
3-4 large Granny Smith Apples
1. Cut loaf of bread into 14 slices about 1 inch thick. Set aside.
2. Rinse cranberries, drain, and set aside. Peel, core, and slice apples also set aside.
3. Zest the peal of 1 orange into a medium sized bowl. Juice the orange into a small bowl.
4. Melt butter in large skillet add in brown sugar and corn syrup, whisk to combine, bring to a boil and let cook for 1 minute add in cranberries, and orange juice whisk and allow to cook at a low boil for 3 minutes, should be a syrupy consistency. Remove from heat, and whisk in cinnamon and clove.
5. Add 5 whole eggs and 1 egg yolk, milk, and vanilla to the orange zest. Whisk until frothy and smooth. Submerge cut pieces of bread into egg mixture, allowing them to soak up the liquid.
6. Pour cranberry caramel in to the bottom of a 9×13 baking pan, arrange apples in a pattern over top of the cranberries. Now place the custard soaked bread in one layer over the top of the apples. If there is any egg mixture left you can drizzle it on top of the bread. Cover with foil and place in refrigerator for overnight.
**This can be prepared up to 24 hours ahead of time.
7. Take french toast out of the refrigerator 30 minutes before baking.
Preheat oven to 375 degrees, bake Cranberry Apple French Toast for 45 minutes with foil on, then remove foil and allow to bake another 15 minutes. Remove dish from oven and allow to rest for 10 minutes. Place a large platter or baking sheet over the pan of French toast and invert.
NOTE: You don't have to invert the French toast onto a sheet but it looks so pretty when you do!
Serve with other breakfast/brunch mainstays bacon, sausage, breakfast potatoes.
Enjoy!
[/print_this]
Have you seen the Go Bold with Butter billboards?  Aren't they gorgeous?  Nothing like a billboard sized pat of butter to add some delicious to your day!
Do you have a favorite Holiday recipe that includes butter?  I'd love to hear what it is!!
Be sure to check out Go Bold with Butter, and United Dairy Industry of Michigan's (UDIM) website and Pinterest boards for more festive and delicious recipes using REAL butter.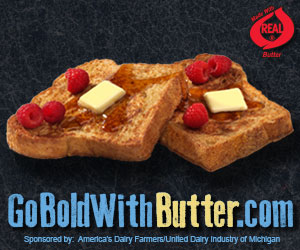 Disclosure: United Dairy Industry of Michigan sponsored this post.  All opinions expressed are my own.