31 days::Pumpkin Gingerbread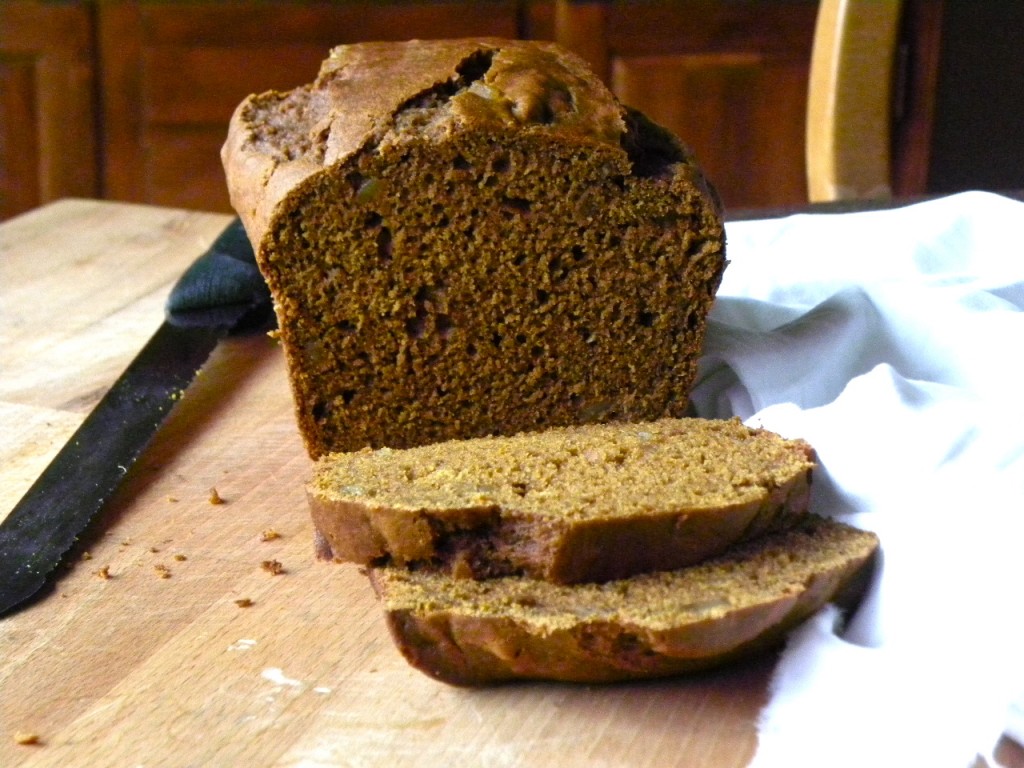 Pumpkin  Gingerbread taste like Thanksgiving and Christmas all wrapped into one purdy loaf!  Extremely moist from the pumpkin, molasses adds a luciously sweet flavor and bits of candied ginger add the perfect chewey texture.  It's perfect served in thick slices with a dollop of whipping cream for dessert, with your coffee for breakfast, or just a little nibble in the afternoon. It's quite frankly the perfect Holiday Bread for sharing!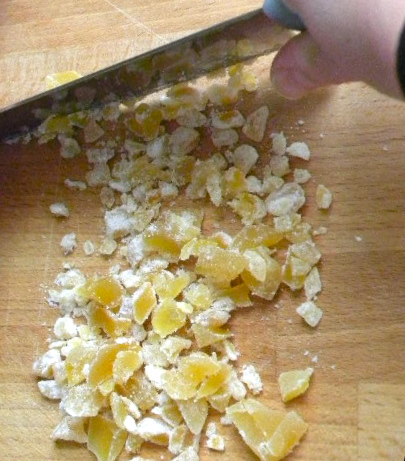 Besides the fact that this bread tastes fantastic it can be made days ahead of time, it actually taste better a day or so after it has been baked.  It also freezes well, you could make several loaves and take them out the night before you want to gift them.  This adds to this breads perfectness for gift giving.  This recipe can be made in one large loaf pan, three smaller loaf pans.  Wrap it tightly in plastic wrap, wrap it again in parchment paper with a festive bow, and Voila! You have a delicious and very fragrant gift for neighbors, teachers, bus drivers, well anyone really! The package will smell so good they will want to rip right into it.
[print_this]
Pumpkin Gingerbread
2 1/2 cups all purpose flour
1 teaspoon baking soda
1 teaspoon baking powder
1/2 teaspoon salt
3 teaspoons pumpkin pie spice
1/2 teaspoon ground ginger
1/3 cup candied ginger chopped finely
1 cup of canned pumpkin
2 eggs
1 stick butter (1/2 cup)
1/2 cup brown sugar
1/2 cup molasses
1/2 cup water
Preheat oven to 325 degrees.
-In a microwavable bowl add butter, brown sugar, molasses, and water, microwave on high for 1 minute. Set aside, butter will continue to melt whisk to combine ingredients well. Set aside.
-In a large mixing bowl combine flour, baking soda, baking powder, salt, pumpkin pie spice, ground ginger, and candied ginger chopped finely. Give ingredients a whisk, using fingers break up the candied ginger into the flour mixture, so that it is evenly distributed, and not clumped together.
-Whisk together eggs and canned pumpkin.
-Gradually add cooled butter sugar mixture to flour, then add pumpkin egg mixture. Mix on medium speed for 30 seconds, scrape sides of bowl and mix for another 30-60 seconds.
-Pour into a large greased loaf pan.  Batter  will fill pan 3/4 full.  Bake for 1hour and 15 minutes. Bake uncovered for 50 minutes, cover with tin foil for the last 25 minutes.  Carefully poke with a cake tester and make sure it comes out clean.  Let bread cool completely before removing or cutting.
[/print_this]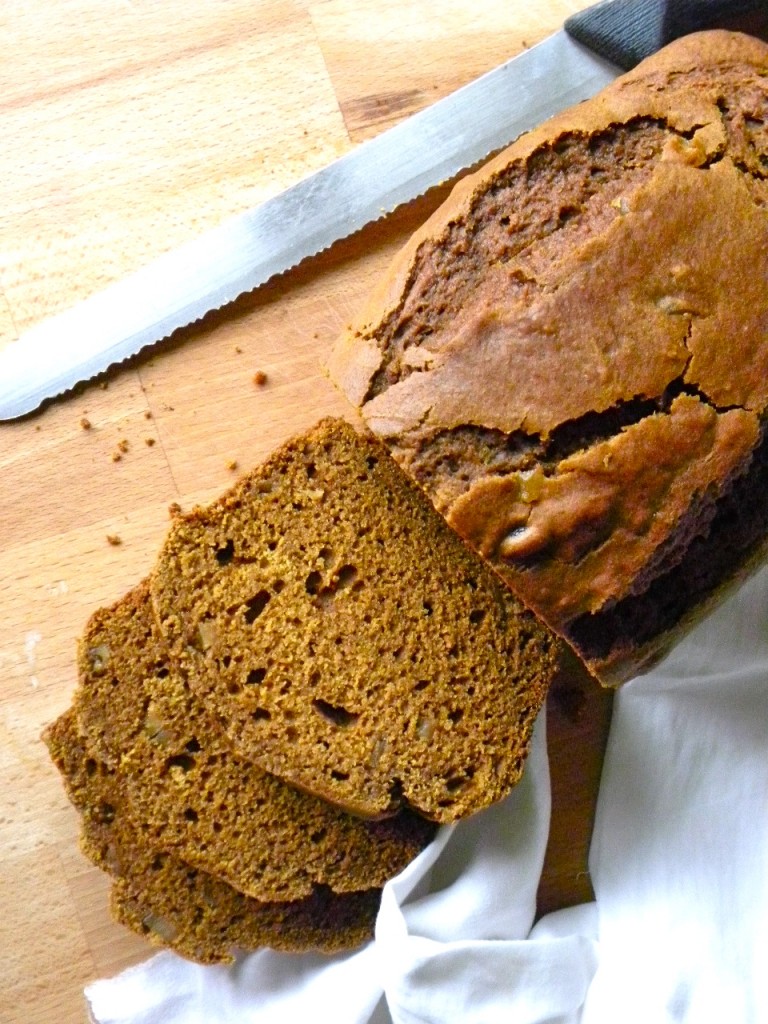 You might want to make yourself a loaf of this today, just to test it out!  It will make your house smell so good.  I am absolutely sure you will agree it is taste like the holidays in a loaf!
Do you give food as gifts during the Holiday Season?
Only 63 days until Christmas, and I haven't done a thing. I haven't bought one gift, or even given any thought to it.  Yikes!  Have you started your Christmas shopping yet? Hopefully I've helped give you some ideas in the last two days of ways you can give delicious home baked treats as gifts.  If you would like more ideas for yummy homemade gifts you can go HERE.
If you missed any of the last 21 days of 31 days of Meals 4 Sharing you can catch up below!
Have a great day! LUVya,
Sheila
Day 1~ my Heart for Meal Ministry
Day 2~ "I'm not comfortable with bringing someone a meal"....
Day 3~ Reasons 4 sharing a meal.
Day 4~ Quick Easy Apple Sauce
Day 5~ Organizing a Meal Schedule
Day 6~ #1 reason -No reason at all!
Day 7~ #2 reason 4 sharing a meal - Baby...baby....baby..oooo
Day 8~ Chicken Supreme
Day 9~ It doesn't have to be home cooked to be a Blessing
Day 10~ partnering 2 SHARE a meal
Day 11~ Dare
Day 12~ #3 reason Hostess Meal
Day 13~ #4 reason Back 2 Work
Day 14~ Chicken Salad - the perfect meal 4 SHARING
Day 15~ Containers
Day 16~ reason #5 illness/injury
Day 17~ (#6) Loss & an update on BwoB JOPLIN
Day 18~ bring your NEW neighbor a meal
Day 19~ Swedish Meatballs
Day 20~ #8 reason 4 sharing-last minute dinner invitation
Day 21~ Holiday Giving