I love baking at the holidays.  I love to bake and share it with my friends, and family.  Baking for someone is an inexpensive way to say you thought of them, you care about them.  It's basically a great gift idea!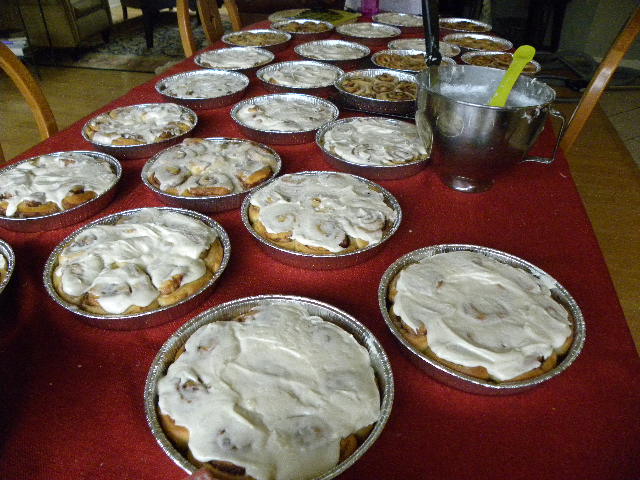 Pre-kiddos, I did crazy things like make homemade caramels and wrap them individually.  I made toffee, and an assortment of beautiful cookies.  It was a week long process of baking and packaging and then the deliveries.  Hokey Smokes!  But then came children flying into our lives at the speed of light, and my caramel making days were over.
Do you bake goodies and give them away at Christmastime?
One year I decided I had to make it easier on myself. I loved baking and giving, so I was not about to give that up! Cinnamon Rolls were the ticket!  Instead of baking 15 different cookies and candies, I could make cinnamon rolls all in one day and Kenny could deliver them the next.  That's his job, delivery boy!   He and the kids every Christmas Eve deliver cinnamon rolls.  Christmas Eve is my birthday so while I do lunch with my sister and cousins he does the delivering.  He and the kids make a good team!  They all take turns running up to people doors delivering the goods.  (And if you remember, from an earlier post, I get kinda anxious about the actual delivery….forgive me please, I'm just a kook.)
Just in case you wondered……this is the method to our Cinnamon Roll delivery.  Who: neighbors, family, friends that live within a 5 mile radius.  What: I make aproximately 25+ pans of cinnamon rolls.   How: I make them in 9″round disposable tins with plastic lids, then I tie a ribbon around them, no card or names on them.  When: Christmas Eve midday.   Why: because we love you all, but if you don't get one don't think we don't love you.  You just weren't home.  See if you are home Woohoo for you, if not then it's on to the next person. So if you received rolls one year and not the next that's why not because we scratched you from the list, you just weren't home.  So the moral of the story is if you want cinnamon rolls stay home mid day on Christmas Eve. I have some people that call and want to know when the delivery is going to be made, and well if they aren't home we can just leave it such and such spot.  Note: I used to write a note on each plate of goodies with the names of the people they should be delivered to, but then we found people weren't home, so then we were stuck with trying to figure out when to find them home….and well you get the idea.  This way just works better.  All the cinnamon rolls get delivered and everyone is happy…well everyone that got rolls anyway!
Baking for others at the Holidays can become a sweet traditions for all involved!
I have a super easy dough recipe for my bread machine it makes awesome cinnamon rolls!
Here's how: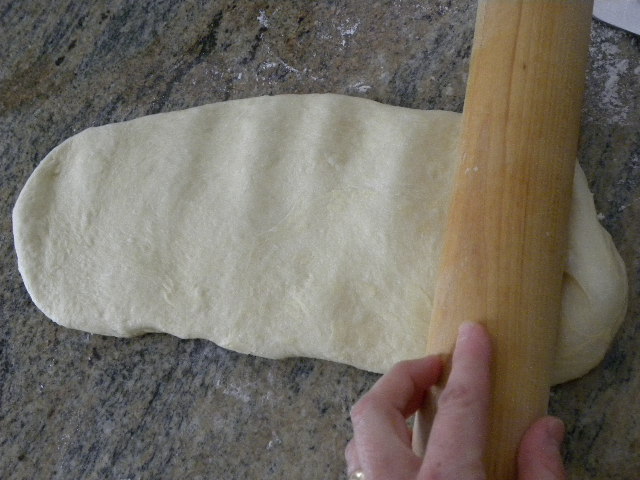 Make dough per recipe below.  Go HERE to see how.  Roll it out on lightly floured surface.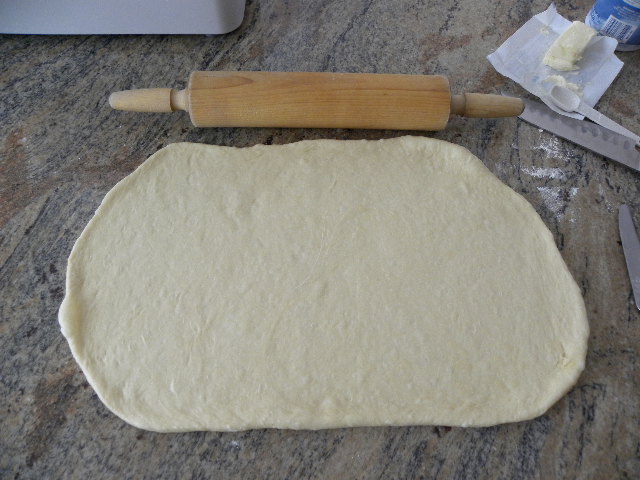 A nice big squarish rectangle like so.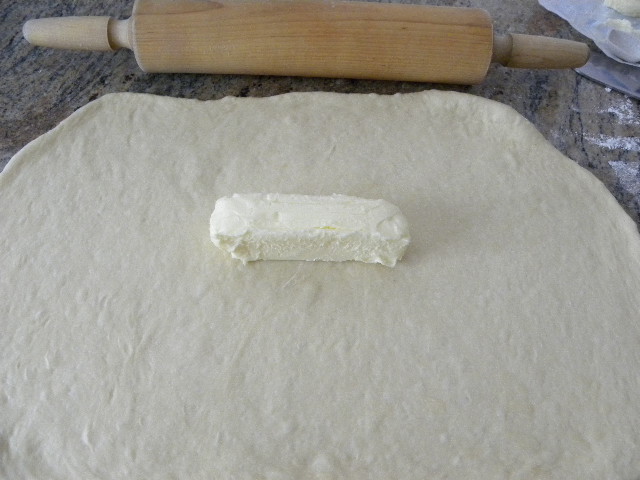 Soften 1 stick of butter, so it will spread easily.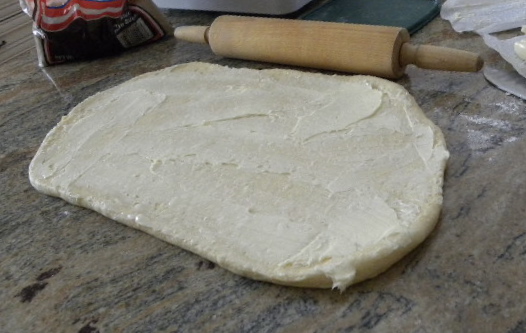 Spread butter evenly over rolled out dough.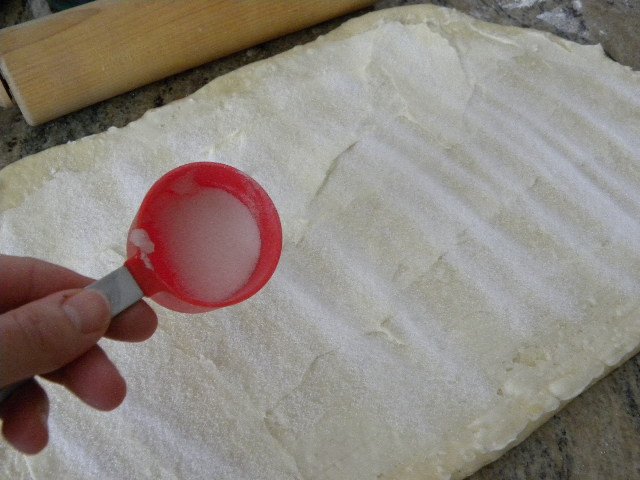 Sprinkle 1/4 cup granulated sugar over buttered dough.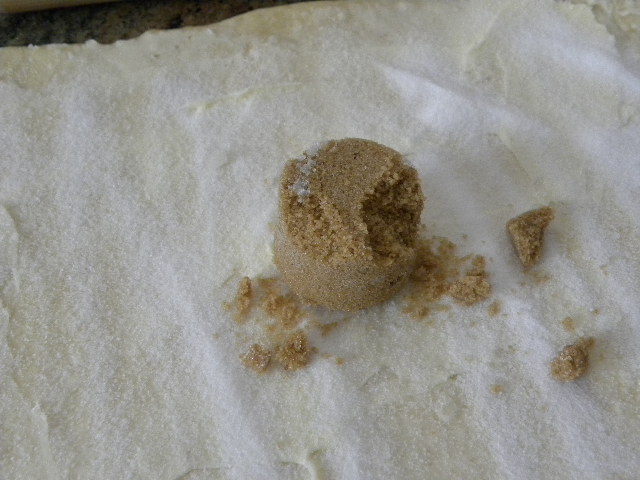 Now plop 1/4 cup brown sugar on the dough.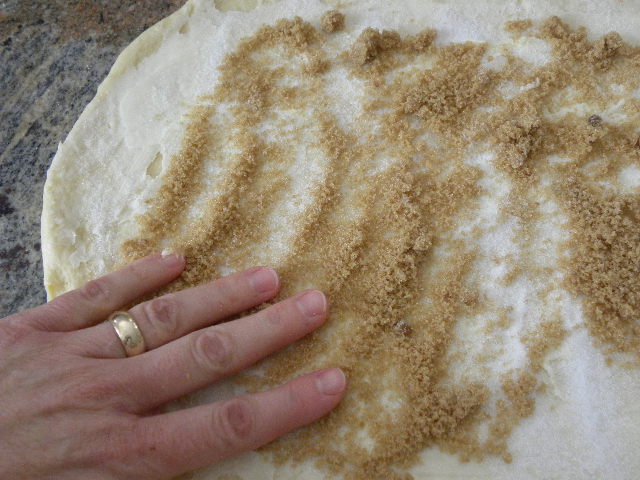 Using your fingers or a spatula spread brown sugar out evenly over dough.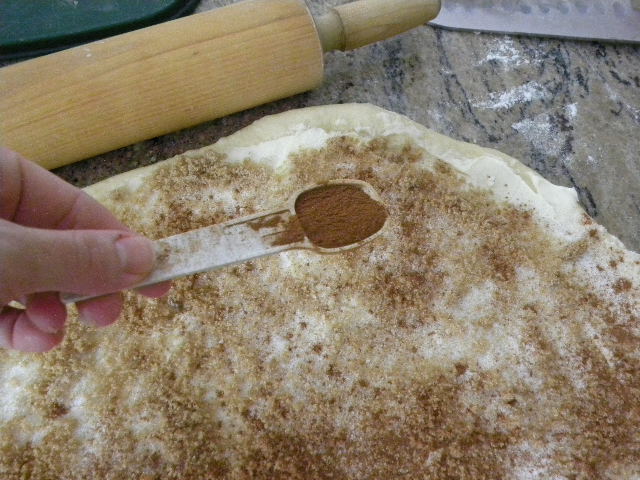 Now sprinkle 2-3 teaspoons of cinnamon evenly over sugar.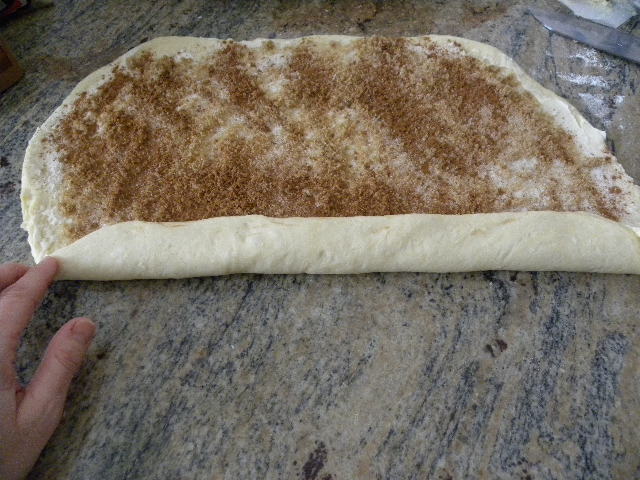 Now you can start to roll them up.  I roll away from me.  Tuck it in, nice and tight.  Just like when you rolled up your old poster of Scott Baio.  Not that I had any posters of Scott Baio on my walls or anything, but you know what I mean.  Roll it just a like a poster…roll, roll , roll.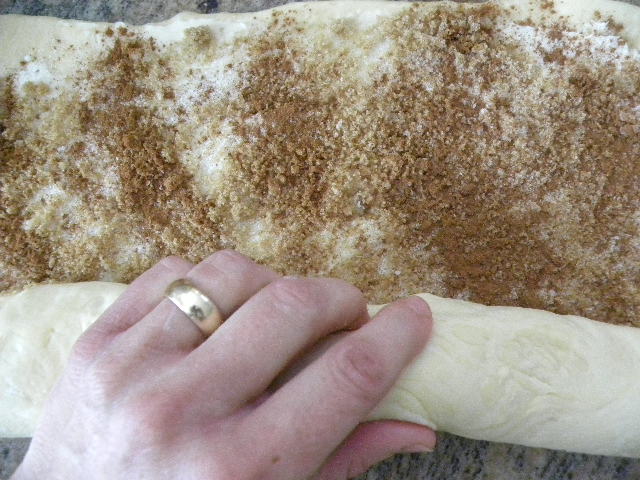 Gently, keeping all the good stuff in there.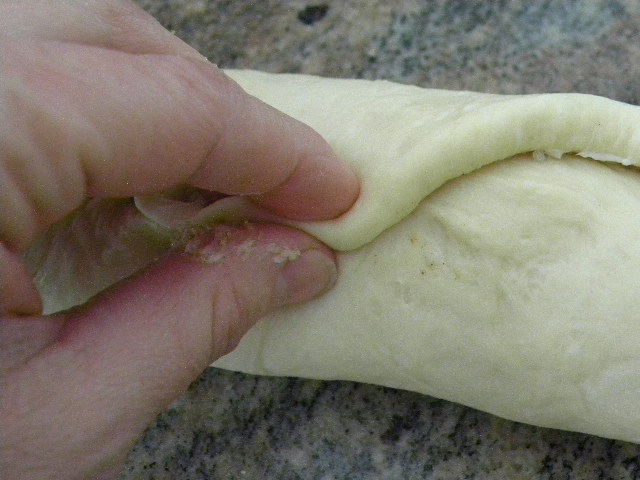 Now once you have it all rolled up, pinch the edges to hold the dough roll together.  Give it a little stretch form end to end.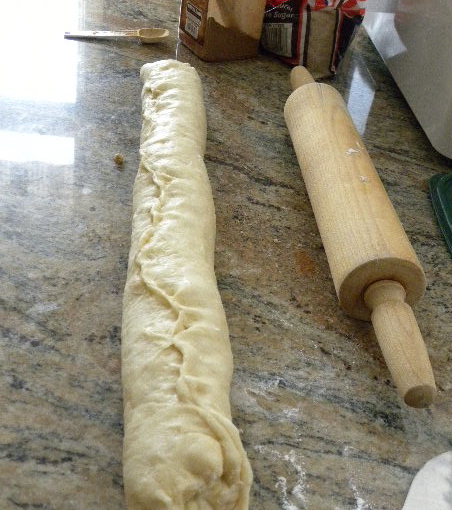 It should look like this.  If this is your first time making cinnamon rolls then it may take a little practice.  Just remember once they bake and are frosted….they are going to taste so wonderful that no one is going to care if they are perfectly shaped.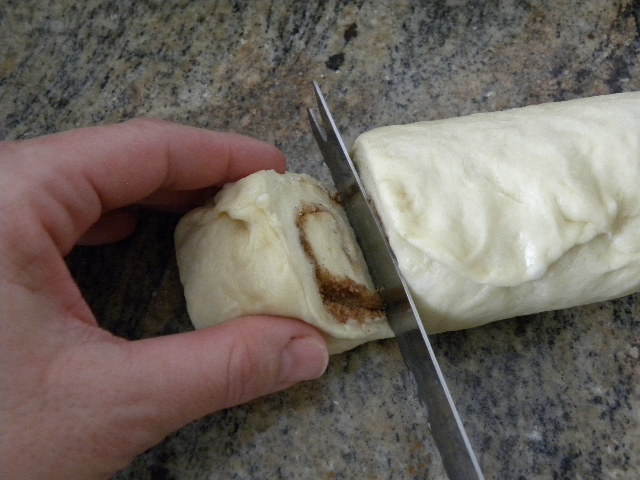 A serrated knife works best, slice off 1 inch slices, and place them in buttered baking pans.  I use 9 inch disposable pans for giving.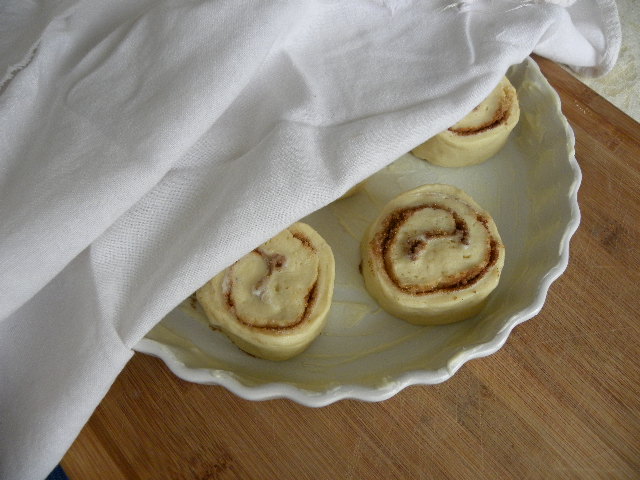 Now cover with a towel or cloth and let rise for 30 minutes.   When they have risen then you can place them in a 350 degree oven for 15-18 minutes, until golden brown.  While they are baking you can whip up the frosting.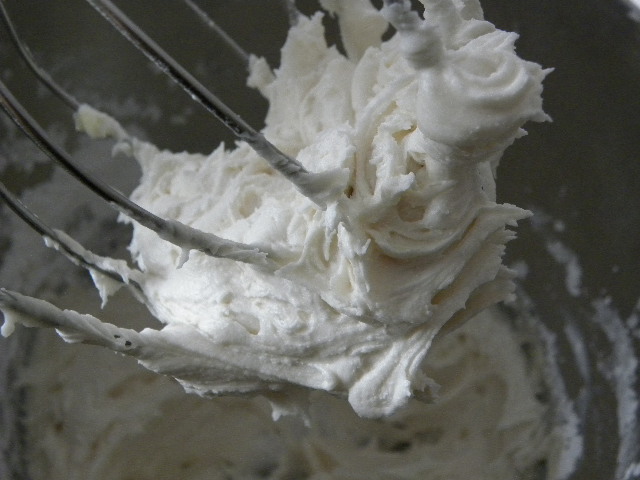 I will give you the frosing recipe below.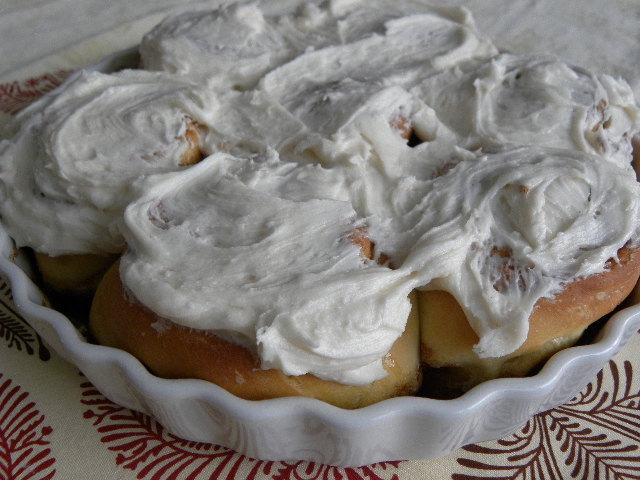 Be generous with your frosting.  You want a creamy dollop of frosting in every bite!
[print_this]
Bread Machine Cinnamon Rolls
24 rolls
1 cup lukewarm water
2 tablespoons softened butter
1 egg
1/4 cup sugar
3 1/4 cup bread flour
1 teaspoon salt
3 teaspoons yeast
Add ingredients into your bread machine pan, use the dough setting. When dough is finished remove from pan and place on a lightly floured surface. Roll dough out into a large rectangle.
1 stick softened butter
1/4 cup granulated sugar
1/4 cup brown sugar
2-3 teaspoons ground cinnamon
Preheat oven to 350 degrees
Spread softened butter over surface of rolled dough, sprinkle granulated sugar , follow with brown sugar, then sprinkle cinnamon evenly over the entire surface. Roll dough into a long poster like roll, pinching dough together at ends and along the middle to seal. use a serrated knife to slice one inch slices of dough off and place them into 9 inch round buttered baking dishes. Cover with towel or cloth and let dough rise for 30 minutes in a warm spot in your kitchen. If your oven has a proof setting this works best. After rising place in 350 degree oven for 15-18 minutes or until golden brown.
Frosting
1 pound powdered sugar (3 1/3 cups)
1/2 stick of butter melted (1/4 cup)
1 teaspoon vanilla extract
1/4 cup half&half (or milk)
Whip ingredients for frosting together until smooth, thick, and fluffy. Approximately 2 minutes. If frosting seems too stiff then add a tablespoon of milk at a time until the consistency is right. Frost rolls while they are warm.
Share. Enjoy. Repeat.
[/print_this]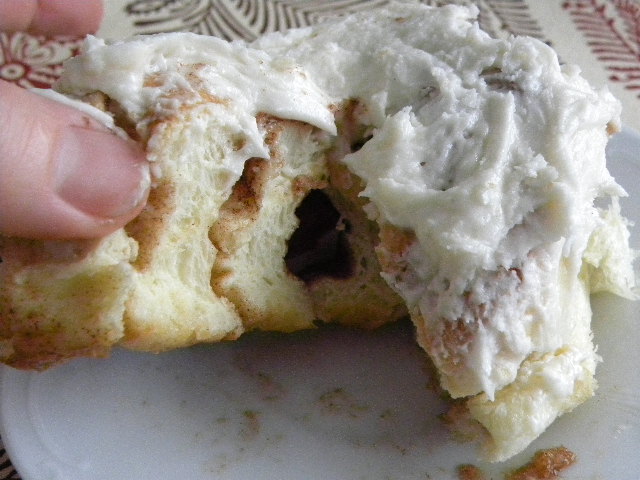 Don't you want all your friends and neighbors to have this yummy goodness on Christmas morning?
Do you have a baking tradition? What do you bake? When do you deliver? I would love to know what you do and how!
Come back tomorrow I have a super easy recipe for Holiday Sharing, that I'm going to give you.  You can make tomorrows recipe days ahead time or even weeks and freeze it before giving.  Christmas time always gets busy so I know if you are like me and you can get things done ahead of time it's always a bonus!
Do you have a favorite post from my 31 days of Meals 4 Sharing? I would love to hear which one it is.  Is there something that you would like me to write about?  If you need to get caught up on days you missed they are all listed below
Feliz Navidad!
Sheila
Day 1~ my Heart for Meal Ministry
Day 2~ "I'm not comfortable with bringing someone a meal"....
Day 3~ Reasons 4 sharing a meal.
Day 4~ Quick Easy Apple Sauce
Day 5~ Organizing a Meal Schedule
Day 6~ #1 reason -No reason at all!
Day 7~ #2 reason 4 sharing a meal - Baby...baby....baby..oooo
Day 8~ Chicken Supreme
Day 9~ It doesn't have to be home cooked to be a Blessing
Day 10~ partnering 2 SHARE a meal
Day 11~ Dare
Day 12~ #3 reason Hostess Meal
Day 13~ #4 reason Back 2 Work
Day 14~ Chicken Salad - the perfect meal 4 SHARING
Day 15~ Containers
Day 16~ reason #5 illness/injury
Day 17~ (#6) Loss & an update on BwoB JOPLIN
Day 18~ bring your NEW neighbor a meal
Day 19~ Swedish Meatballs
Day 20~ #8 reason 4 sharing-last minute dinner invitation