Cheesy, salty, tender bites of melt in your mouth goodness.  These cute little cheesy buttons make a great nibble for your holiday party.   Cheese Buds also make the perfect homemade holiday gift!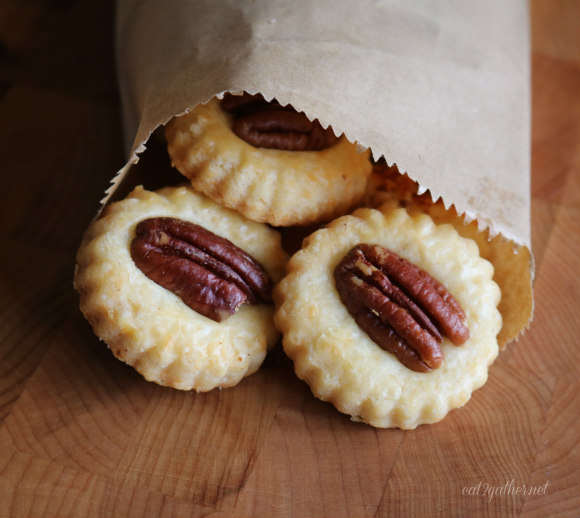 Who said Christmas cookies had to be sweet?  How about a cookie of the savory sort?  Growing up my mom and us girls aways made an assortment of cookies at the holidays, but one tasty morsel my mom always made that wasn't  your traditional sweet cookie was this cheese bud recipe.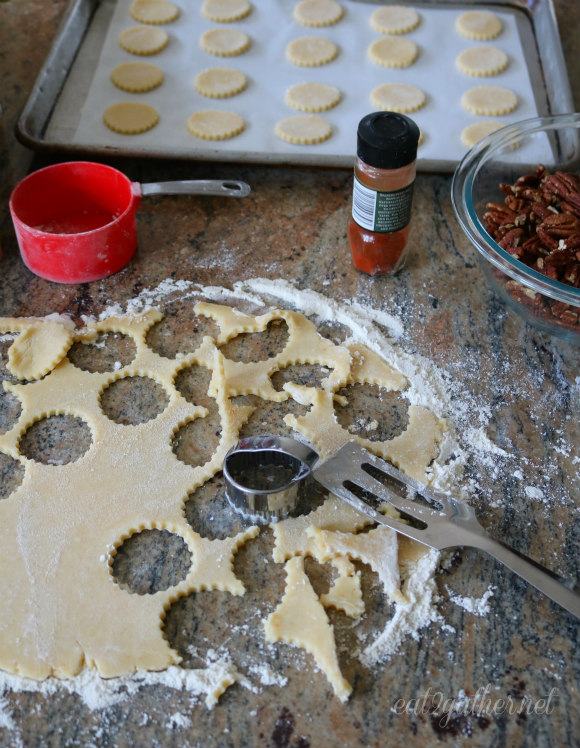 You know I love cheese.  I have always loved cheese.  I could not keep my dirty mitts off these tasty homemade bites when I was a kid.  Salty, tender, melt in your mouth cheese bites O goodness!  I usually had to be quick about snitching these because my mom usually made this recipe to be given as gifts.  She would pack them up all cute, and put a bow on them, and give them away to neighbors, teachers, bus drivers, the Avon lady, you name it my mom was and still is the queen of the homemade gifts, and cheese buds were one of her specialties.  What were her other specialties?  Knitted slippers, jams, jellies, liver paste or liver pate', macrame plant hangers, cookies, breads, seriously our house was like a craft barn at Christmastime!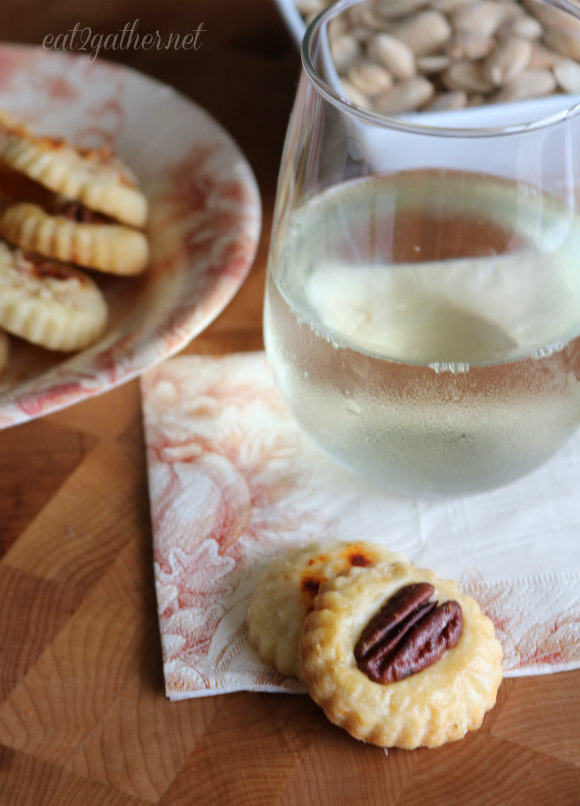 Not only are these little cheesy bites of goodness perfect for gifts they are the perfect nibble for parties and to have on hand for unexpected guests.  They can be kept in an airtight container for up to a week or in the freezer for a month, so easy to keep on hand and place on a plate with a little bowl of mixed nuts Voila!  Nibbles are served!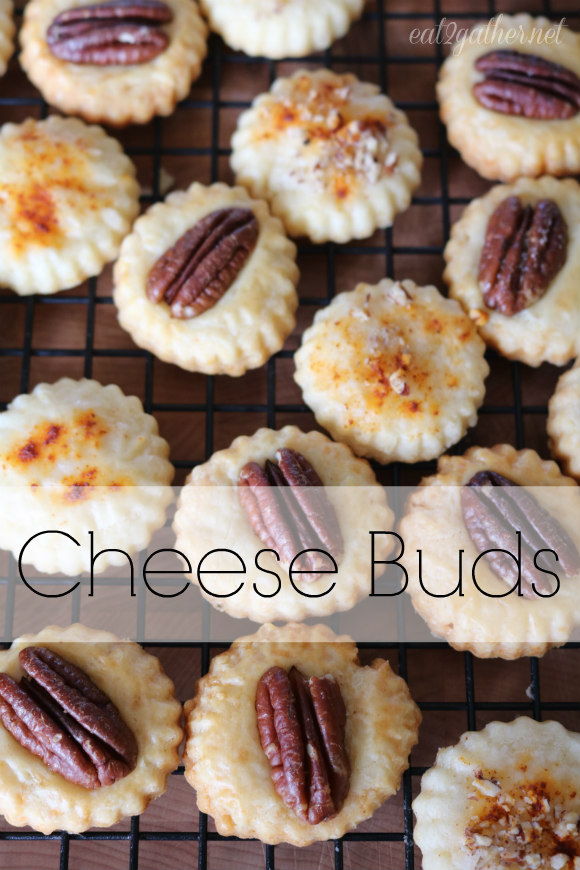 [print_this]
Cheese Buds
Makes 3 dozen
Prep time: 1 hour 15 minutes
Baking time: 15 minutes
Skill Level: easy to mid level baker
4 ounces Extra Sharp White Cheddar Cheese, grated (approximately 1 cup)
1/2 cup Unsalted Butter, cold and cut into chunks
1 Cup Cake Flour (all purpose flour can be used as well)
1 teaspoon Course Sea Salt
scant 1/8 teaspoon Cayenne Pepper
1 Egg White, whisked with one teaspoon cold water
Smoked Paprika
40 Pecan Halves
Preheat oven to 350 degrees. Line baking sheet with parchment paper.
1. Grate cheese.
2. Add flour, cheese, butter chunks, salt, and cayenne pepper to a food processor. Turn food processor on and allow to process until ingredients form into a ball. This will take approximately 1 minute.
3. Remove dough from food processor, wrap with plastic wrap and press into a flat round, place in refrigerator for 1 hour.
4. Dust counter top with flour and roll out dough until its 1/4 inch thick, using a 1  inch round cookie cutter (you want your cheese buds to be bite sized) cut out rounds and place on parchment paper lined baking sheets.
5. Place a pecan on top of rounds, using a pastry brush lightly paint each cracker with egg wash, and sprinkle with smoked paprika.
6. Bake in 350 degree oven for 15 minutes or until buds just start to brown around bottom edge. Check after 12 minutes.
7. Remove from oven, and immediently remove to a cooling rack. Allow to cool and store in an air tight container for put to 1 week, or freeze for 1 month.
Note: Cheese buds can also be made plain without the pecan, or pecans can be chopped and sprinkles on after egg wash and smoked paprika. Another suggestion if you like spicy feel free to be more liberal with the cayenne pepper.
Enjoy!
[/print_this]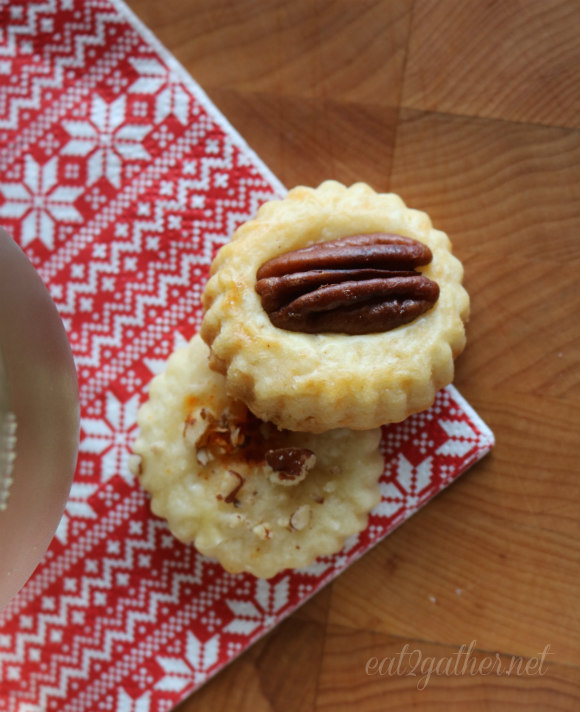 Are you ready for the holiday?  I'd love to hear one of your favorite holiday food memories?  Old or new!
Disclaimer:  I am proud to be a part of  blogger network that works with the United Dairy Industry of Michigan.  Thank you for helping support Eat2gather by supporting your local dairy farmers!