Looking for a whole grain, sugar-free, healthy way to start your day?  Look no further this Quinoa Breakfast Bowl naturally sweetened with prunes and perfectly spiced with cinnamon will pack a punch and get your day off to a great start!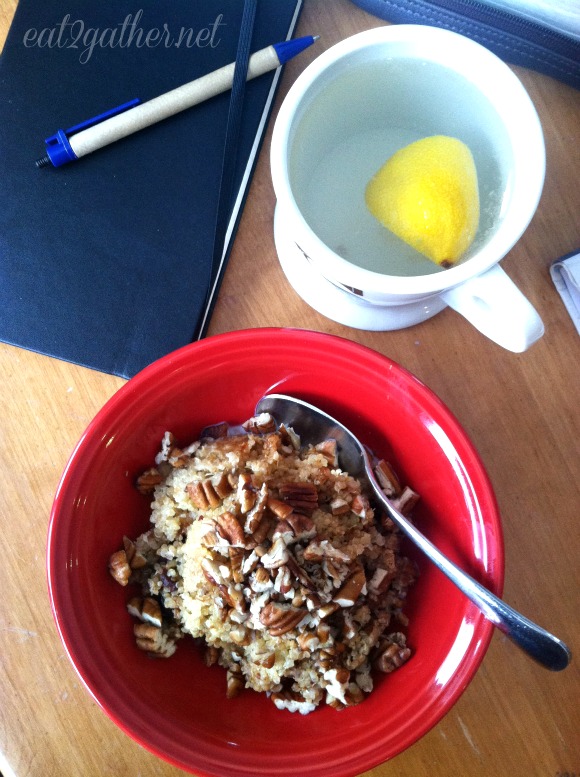 I cannot tell a lie.  Everything I wrote above is true.  This is whole grain and healthy, there is no sugar added only the natural sugar from the prunes (the prunes I used had no sugar added) the cinnamon is my favorite spice for morning it's also good for you in many ways including digestion and cinnamon helps regulate blood sugar.   What I did not say is this breakfast tastes awful!  It packs a punch alright!! Blah!  I could hardly stand to gag it down.  But gag it down I did.  Because I needed to fill my belly without eating any sugar.
Tis the season, everyone is detoxing, and dieting, and getting back on their healthy high horses.  I mentioned last week that I'm on a no sugar low carb diet er um eating plan.  So I was kinda naughty this weekend.  I ate french fries, drank a beer or two, and had a bowl of cereal!  OHMYGOSH it was glorious!!  Monday is a new day.  I'm giving it another go…I'm forgiving myself for my slip(s),  I'm starting fresh, as in fresh fruits, veggies, sugar-free, nothing packaged, boxed or processed so help me God.  Actually without God there's no way I could do this because I am a weak, weak individual!
 After one week of eating oatmeal, which I actually love, for breakfast I thought I would change it up and try quinoa for breakfast.  I've seen so many amazing looking pictures on instagram and
pinterest
I thought I should give it a try.
By the way…..quinoa is pronounced Keen-wah, not quin-O-wah
Just in case you wondered.  Not that anyone I know ever called it quin-O-wah or anything.
I was trying to keep it simple and sugar-free.  I maybe should have tossed some fresh berries on top maybe that would help.  I'm sorry I just can't sit here and say this breakfast tastes good.  Healthy, and sugar-free yes, delicious no.
Did you notice what's in my coffee mug?  I have started drinking hot water with lemon again.  I actually do love this.  It warms you up, it awakens your senses and it's just good for you.  I've read that it is, but I can't remember the specifics, just believe me.  Hot water with fresh squeezed lemon in the morning is good fer ya.  Drink it.  Everyday.
I think I will give quinoa another try.  I think I prefer quinoa in a more savory light.  I let you know what I come up with……
In the meantime if you are the brave gutsy healthy bang your head wake the dead type of person well then do I have a breakfast recipe for you!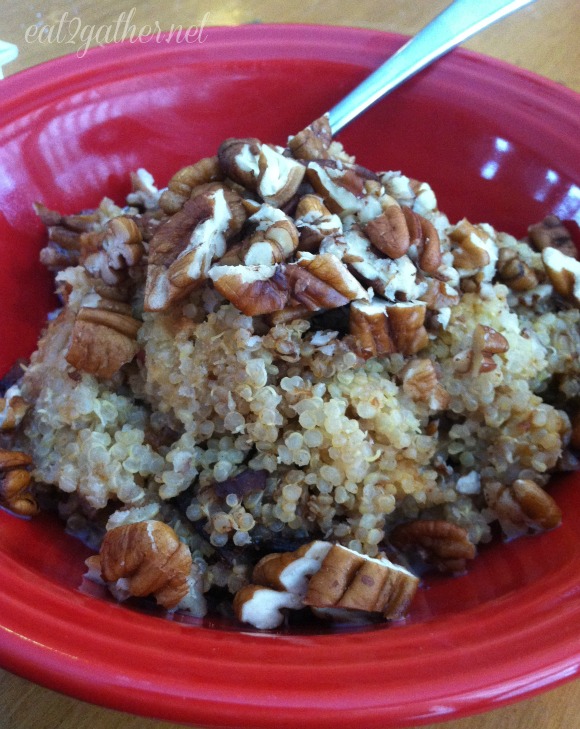 [print_this]
Quinoa Breakfast Bowl
3 servings
1 cup Water
1 cup Skim Milk
1 cup Quinoa
6-8 dried Prunes
1/2 teaspoon cinnamon
Toppings: chopped pecans, chia seeds, fresh fruit
Add quinoa, water, milk, and prunes to a pan bring to a low boil turn heat down, cover and allow to cook for 15 minutes. Turn off heat stir quinoa mashing prunes as you stir, return cover to pan and let sit for 5 minutes. Serve dry or with milk. Top with chopped nuts and/or fresh fruit.
[/print_this]
If you are not on a healthy high horse like me well then I apologize, because there is going to be a few unusually healthy recipes popping up around here.  I'll try not to over do it.  I still have my weekly quota of butter that needs to be consumed so have no fear sugar and fat will appear!
Do you use quinoa?  What's your favorite way to eat it?