Flat Bread Pizza is my go to dinner, appetizer, snack, breakfast…..you name it!  This meal is quick easy and my kids can whip it up for themselves.  Talk about a dinner dilemma buster.  This meal wins the prize!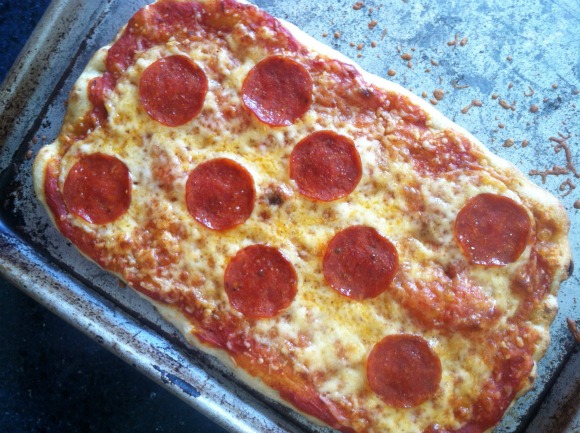 Today four young ladies were at my house, did you know that young ladies are ravenous?  That they will eat you out of house and home?  Yes they will, so be prepared if you have little girls that don't eat anything, they will grow up someday and eat you out of house and home.  True story.   Luckily I always keep naan bread or flat bread on hand or in the freezer for just such occasions!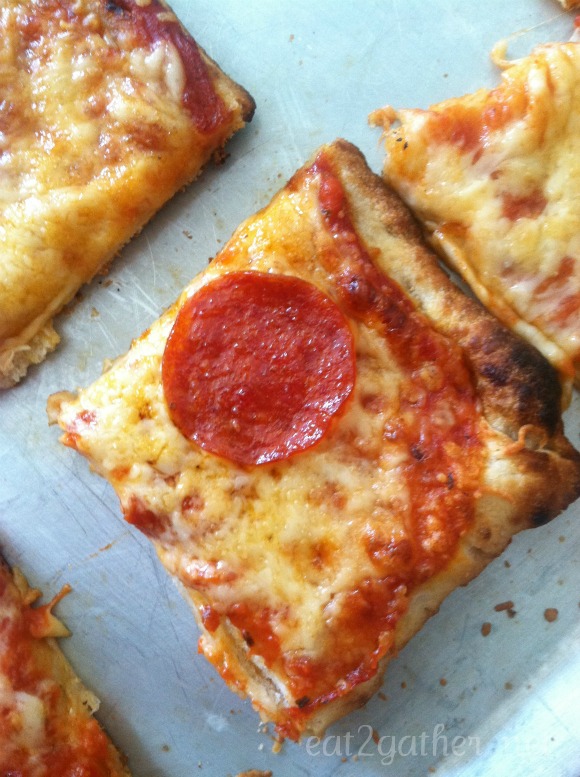 The possibilities are endless. But kids/teens always seem to like the basics cheese and pepperoni, two ingredients that are easy to keep on hand; I use canned pizza sauce.  Voila!  Dinner is served!
Today I was busy meeting my Michigan Food Blogger friends (Liz, Rachel, and Megan) at the new Downtown Market, getting a massage (that Kenny got me for Christmas and I'm just now using!), grocery shopping for a catering gig, and bathing suit shopping….basically neglecting my family.  It was all about me and what I needed and wanted to do.  Hey, don't give me the raspberries!  So needless to say I was thinking so much about myself….(really I was in shock over how much a bathing suit costs these days and how godawful they all looked on me) that I forgot to make a plan for dinner.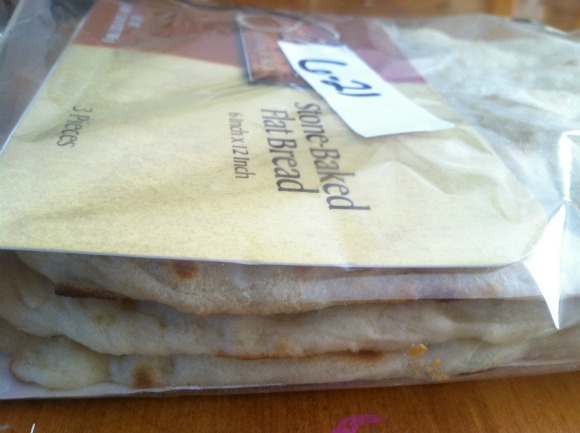 Thankfully I had flatbreads, sauce, cheese, and pepperoni's!  What more could a team of hungry kiddos want?!  Except for maybe…..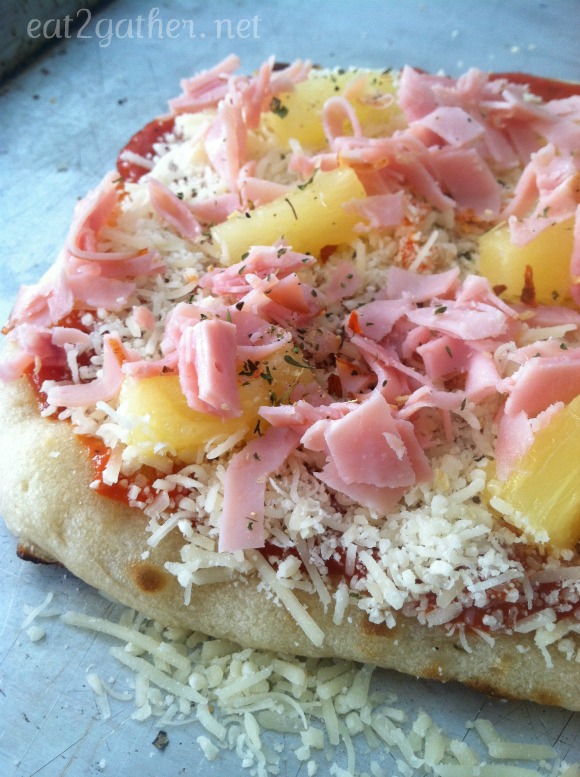 Ham and Pineapple!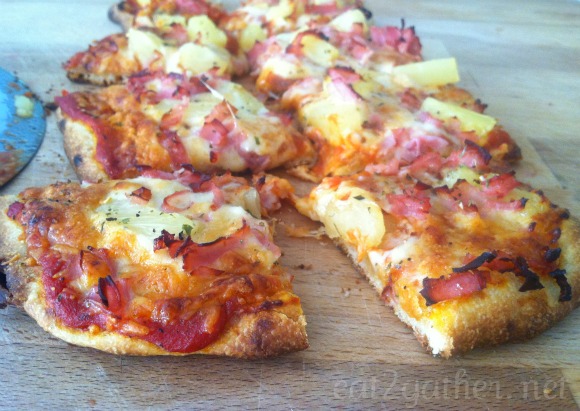 The topping possibilities,  like I said in the beginning, are quite literally endless!  Here are a few just off the top of my noggin.
BBQ Chicken ~ bottled bbq sauce, leftover chicken, cheese, if you want to get fancy add pepperoncinis, onion, cilantro
Pesto ~ pesto, feta cheese, and pine nuts
Vegi~ canned pizza sauce, cheese, and any vegetable your heart desires the more the merrier
BLT ~ toast flat bread with butter, after taking out of oven spread mayo on warm pizza and top with lettuce, diced tomato, and crumbled bacon
Breakfast Pizza ~ cheese, bacon, onions, peppers and eggs. Cover flatbread with cheese sprinkle with toppings crack eggs on top and bake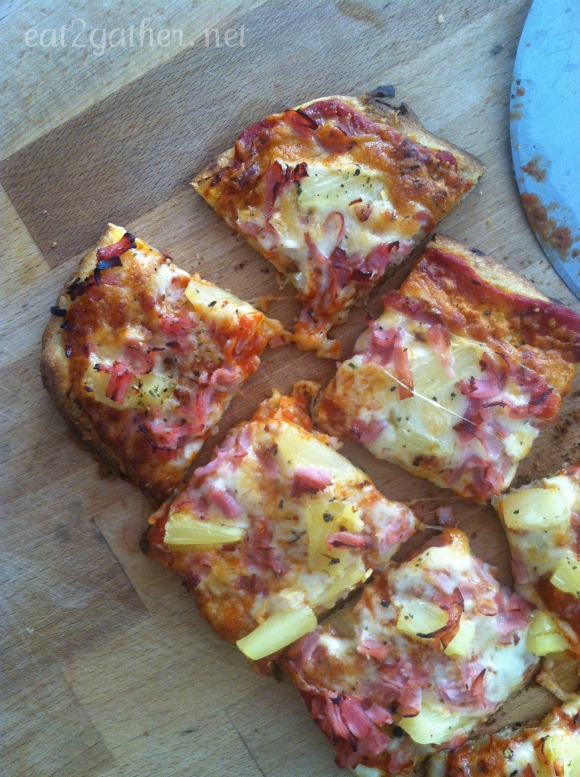 Are you getting the idea?  Anything you love on pizza or anything you have on hand for that matter can be used to top this flatbread it's the answer to your Dinner Dilemma! 

[print_this]
Flatbread Pizza
1 package of Flatbread or Naan Bread
1 can Pizza Sauce
shredded mozzarella
Toppings: anything your heart desires
Create pizza's and bake on a heavy baking sheet in a 450 degree oven for 15 minutes or until cheese is starting to bubble up and get brown around the edges.
Note: This is a very loose recipe…it really isn't a recipe at all. Please feel free to make it your own!
Enjoy!
[/print_this]
How would you top your flatbread?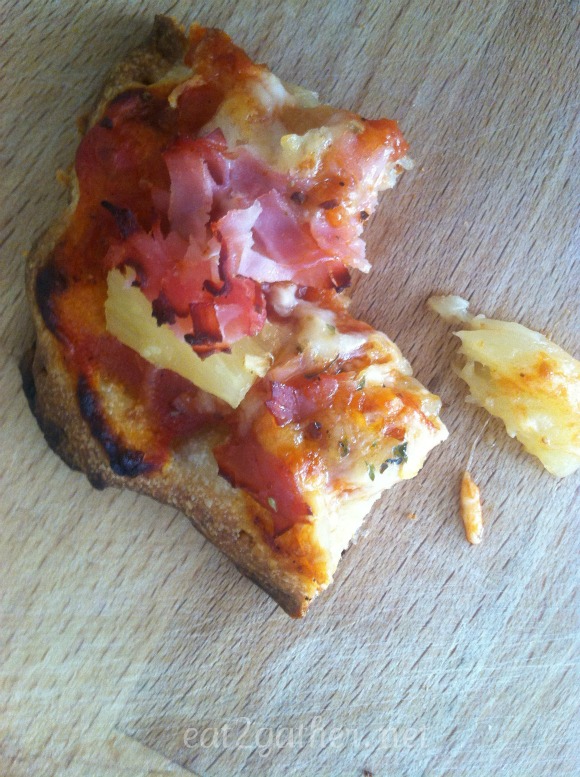 So how are you doing at getting dinner on the table this summer for your family?  Is it going well?  So far so good?  Or are you like me in a constant dilemma…schedules running hairy-carey.
Signed, Mommaseeta
(Why mommaseeta? That's what my kids call me. Ha!)
P.S. DON'T FORGET TO JOIN THE #BARNPARTY TONIGHT. Great prizes are involved! 2 #barnparty participants have the chance to WIN a Sur la Table gift card and a Ninja Kitchen System 1100!