Boiled Dinner ~ a.k.a. corned beef and cabbage
Mouthwatering tender corned beef accompanied by cabbage, potatoes, and carrots.  The wonderful aroma of this meal  while it's cooking is deliciously comforting.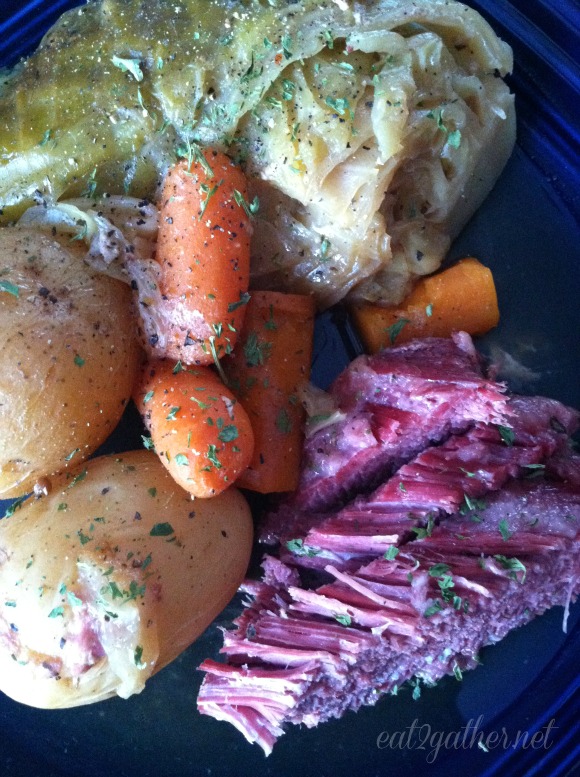 I grew up on "boiled dinner".  It's one of my dad's favorite meals.  It' sounds so ho-hum, but honestly it's pure comfort  food.  It's one of the dinners, from my youth, that I had forgotten about, until Cece had dinner at Big D's last year and she fed her corned beef and cabbage.  My kid when crazy for it!  And I got the guilts because I couldnt' believe I had never made boiled dinner for my family.

My mom made many versions of boiled dinner.  I think this is my favorite.  You see my mom is part Irish, and my dad is mostly German so his version usually included bratwurst and beer and my moms was pretty much like the one you see here.  Sometimes she used ham instead of corned beef, or are you sitting down?  Pig hocks….a.k.a. hogs ankles!  When I was a wee one I thought I was eating pigs feet.  Did it stop me from eating dinner?  No way.  There was nothing I wouldn't eat as a kid.  Was there mom?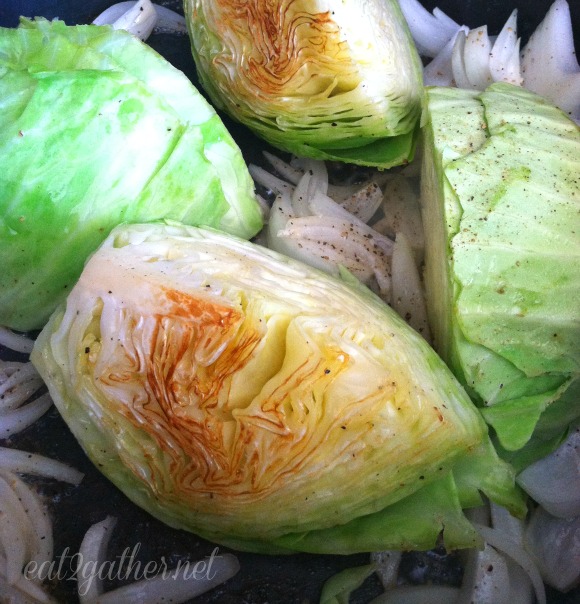 This recipe is so easy.  Crazy easy.  Embarrassingly easy.  One old fashioned head of cabbage, an onion, some potatoes, and carrots….and a corned beef of course.
What is corned beef?  Well let me tell you.  Hmm hmm (straightening my pig tail) well….. [insert my Alton Brown impersonation voice] Corned Beef is a beef brisket that is brined or marinated and then boiled until tender.  The brine is similar to what pickles are pickled in…..so basically corned beef is pickled beef.
There you have it!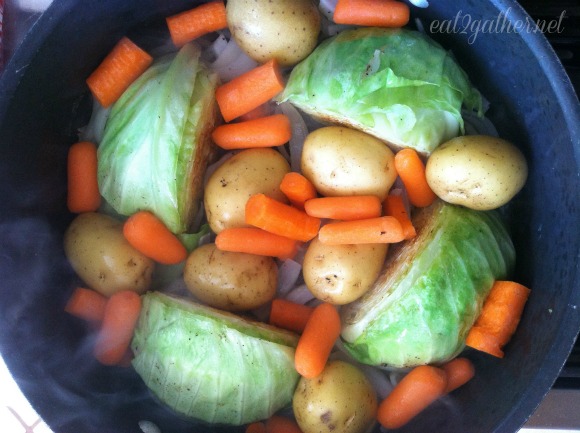 Let's jump topics here a minute.  Can you even believe it's going to be March this weekend?  That Fat Tuesday is less than a week away?   St. Patty's Day is just a couple weeks off?  It can't be.  There are still whole trees covered with snow in my back yard, and the temperature isn't suppose to exceed 25 for over a week.  I'm praying St Patrick brings more than green lederhosen and a shamrock with him.  I need some green grass!!
Is this winter getting you down?  Or are you a hearty soul…or do you just live in the south, if so shed-ep!

Back to the beef.  Weird picture.  Sorry.  It looks like I'm sprinkling peppercorns on a giant tongue.  That sort of gives me the heeby jeebies.  Pigs ankles I can do, giant tongues in a pot make me shudder.  But behold it is not a tongue it's a brined brisket….go forth and boil it!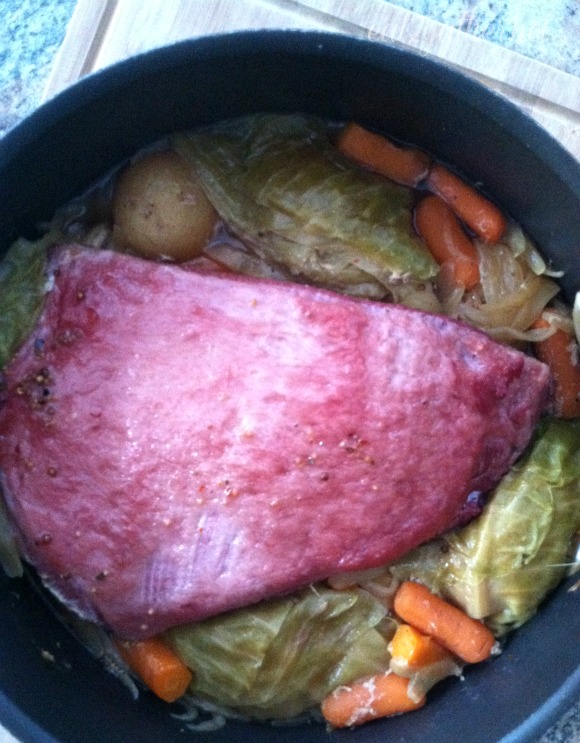 Four hours of cooking later and this meat is fall apart tender and so moist.  This my friends is a thing of beauty.  Not a creepy tongue.  Oh no! Heavens no, melt in your mouth comforting boiled dinner.
Corned beef is all the rage at the grocery store these days!  Grab one and get cookin'!
[print_this]
Corned Beef and Cabbage (boiled dinner)
1 5-6 pound Corned Beef with spice packet
1 head Cabbage, trimmed and quartered
4 tablespoons butter
1/2 teaspoon fresh ground Pepper
1 large Onion, sliced
8 medium sized Golden Potatoes
3 cups Carrot chunks
4 cups Chicken Stock
Preheat oven to 350 degrees.
On stove top melt butter in a dutch oven place quarters of cabbage flat side down in pan allow to brown add onions to pan let them cook with cabbage for a few minutes. Remove from stove top.
Remove corned beef from packaging, rinse under cold water, pat dry, and cut off any excess fat but not all fat.
Place potatoes and carrots in pan with cabbage and onions, lay corned beef over top, sprinkle with spice packet, pour chicken stock in pan, cover and cook in preheated 350 degree oven for 4 hours.
Remove from oven, remove corned beef from the pan and slice across the grain return cut meat to the pan with juices and veggies. Serve with a thick slice of bread and butter.
Enjoy!
[/print_this]
Want to see behind the scenes?  I'm not a professional photographer….in case you haven't noticed.  All the photography you see here is taken with my iphone.  It's true.  I would like to up my game by purchasing a big girl camera, but frankly it's not in my budget.   It is a goal of mine, but really I'm ALL ABOUT the food, and the fellowship and less about the pics….I hope you're ok with that.  I cook it, I snap a shot, do a few minor edits, and there you have it.  No back drops, props, or quasi magazine type staging…..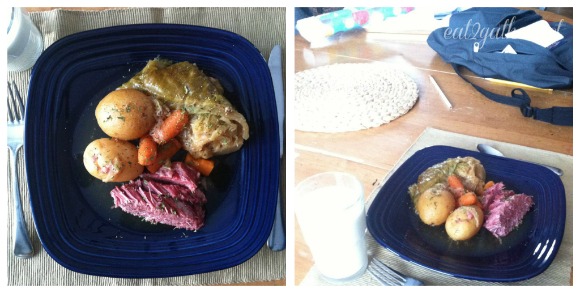 Home work, junk mail, this, that and who knows what………
This is real life people.  I just wanted you to get around the table with those you love.  It's easy.  Let's go!
XOX, Sheila