Italian Turkey Sausage Sandwiches
I love to keep pre-cooked sausages on hand in my freezer.  They are easy to pull out last-minute, thaw in the microwave and use in various different recipes. One of my family's favorite meals for lunch, dinner or linner is Italian sausage sandwiches.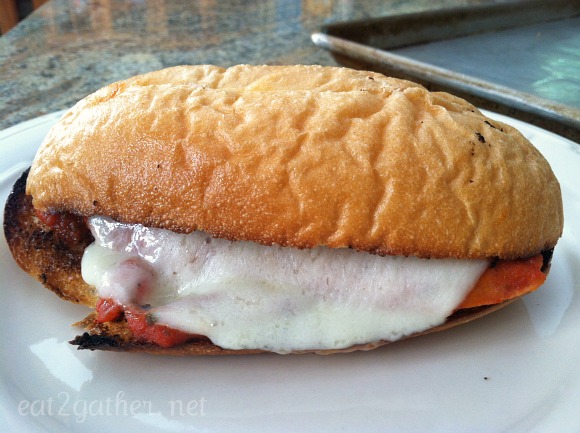 These sandwiches come together quickly and easily.  All you need is a package of italian turkey or chicken sausages, a 16 ounce jar of spaghetti sauce, buns, provolone (or any cheese you have on hand will work), and butter.

I split the sausages in half lengthwise, brown them in a skillet, pour the marinara sauce over them, simmer for a few minutes, place a sausage plus a nice ladle of sauce on a toasted bun, cover with a slice of provolone or mozzarella cheese, melt under the broiler and Voila!!  Dinner is served in 15 minutes FLAT!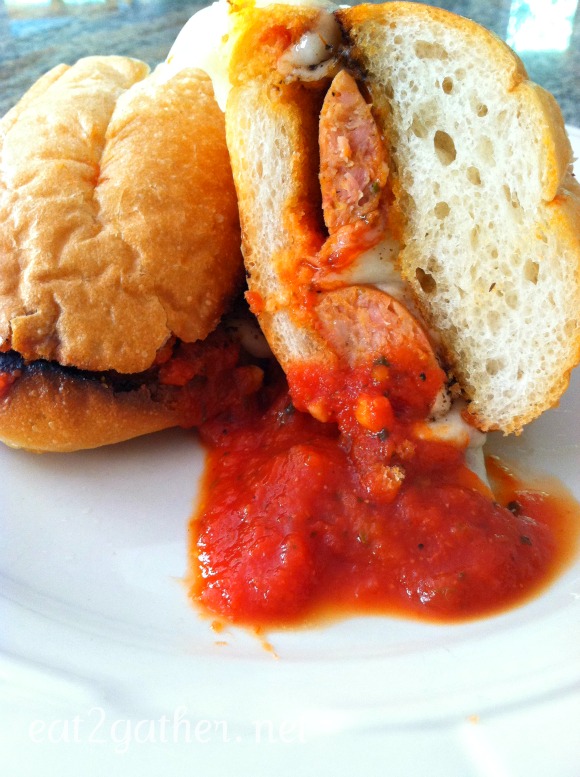 Everyone loves this meal and I love it because it's so easy and it's t perfect for using up leftover hamburger buns, or sub sandwich buns, I always have leftover buns of some sort!
[print_this]
Italian Turkey Sausage Sandwiches
makes 6
1 package of 6 pre-cooked Turkey or Chicken Sausages
1 16 ounce jar of Marinara Sauce
6 slices of Provolone Cheese
6 Buns of any sort (ciabatta, sub sandwich buns, hamburger buns all work well)
4 tablespoons Butter
Cut sausages in half lengthwise, pan fry in a large skillet on high heat until sausages begin to brown. Flip over and brown on the other side. Turn heat down to low and pour marinara sauce over sausages and let simmer for 5 minutes.
Lay buns out face up on baking sheet butter and toast under the broiler. After toasting remove half of the buns from the baking sheet and place one sausage on each bun remaining on the sheet, spoon a little bit of the sauce over the sausage, lay a piece of cheese over the sausage and sauce and place the sandwiches back under the broiler for 30 seconds or until cheese is melted and bubbly. Cover with top bun and serve.
Enjoy!
[/print_this]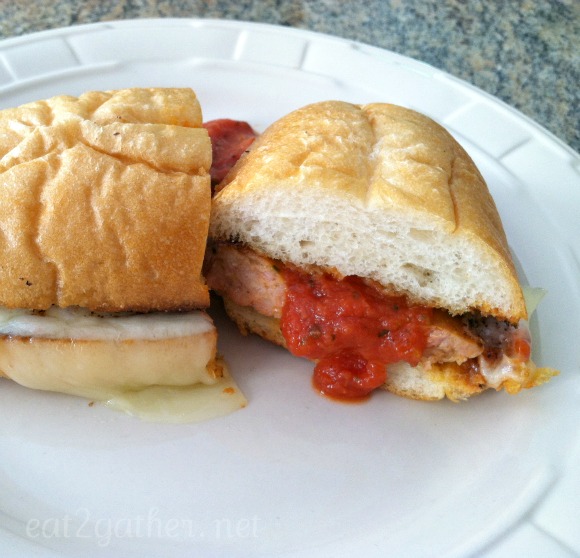 There you have it!  Your dinner dilemma is solved.  You are so welcome.  You know I love you and only want to see you eat2gather with your fam-buh-lee.
I am still up in the U.P., if you havent' heard from me by Monday the 11th know that
1.) I o'd on fudge.
2.) Got lost in the wilderness and hugged to death by a cuddly black bear.
3. Am still in search of a decent pastie….I may be gone awhile.
Yaaaa, Sheila