Peanut Butter Cheesecake Squares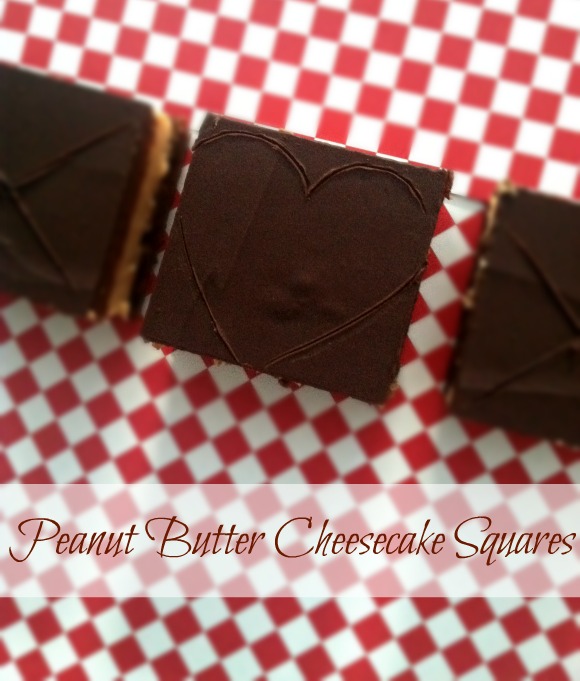 We really aren't big into Valentines Day.  Sorry.  I can't pretend like we are, when we're not.  I will say that it is a good excuse to have a dish of M&M's out and to make something nommy for my kiddos!
I've been wanting to make this recipe since last summer when I met up with my friends from the American Dairy Association Mideast in Austin Texas for Blogher Food.  The ADA Mideast hosted a scrumptious Wine and Cheesecake event.  It was seriously over the top!  Being that they're from Ohio they call this cheesecake Buckeye Cheesecake…of course. (As much as I love my Ohio friends I just couldn't bring myself to have Buckeye in the title of a recipe here.)  This cheesecake was served in the traditional round cake version at the party, but recently  Ree inspired me to make cheesecake in squares.  I think making it in squares makes it easier for sharing!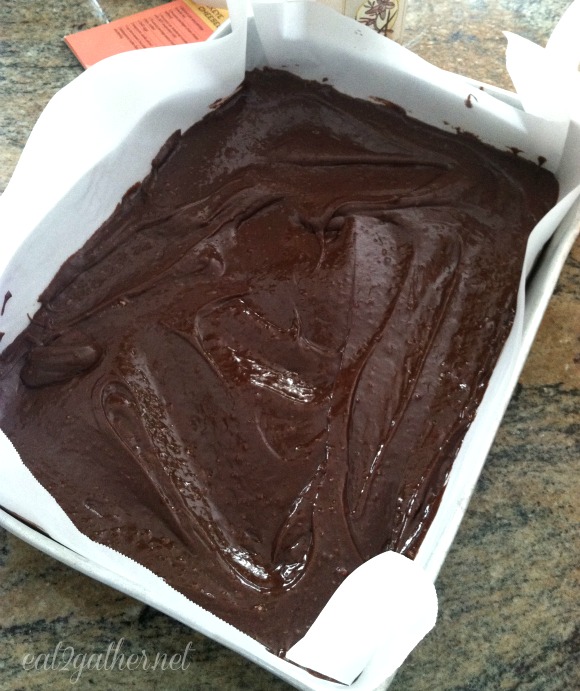 Start by taking a sheet of parchment paper and fitting it down into a 9×13 baking pan.  Parchment paper is my friend.  Then whip up a box of brownie mix, spoon it into the parchment lined pan, bake for 20 minutes, remove from oven and cool.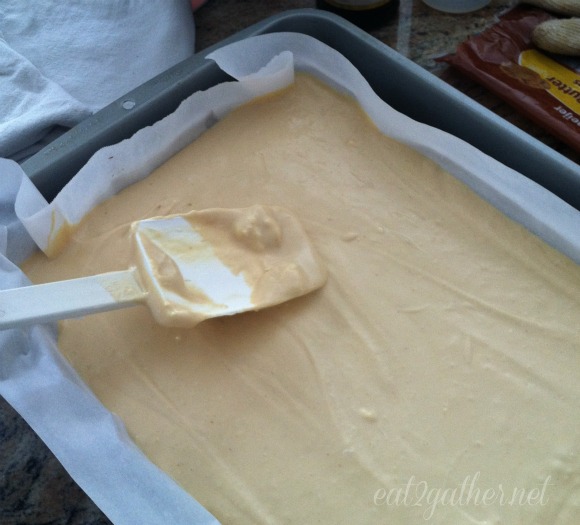 While the brownie crust is cooling whip up the peanut butter cheese cake middle.  It's really pretty dang easy.  Pardon my French.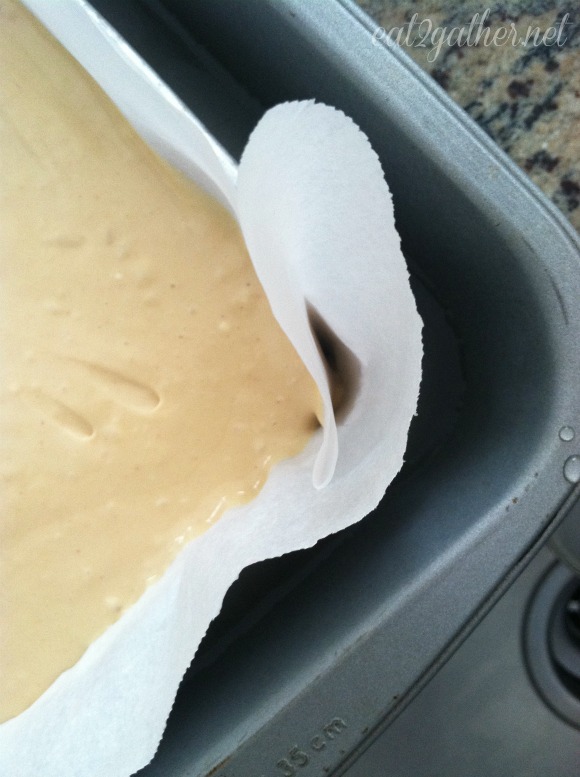 Next you will need to find a pan that your 9×13 pan can sit in. Sit the 9×13 down in to the larger pan and pour hot water in larger pan until it comes halfway up the sides of the smaller pan.  Place in oven and bake for 50 minutes.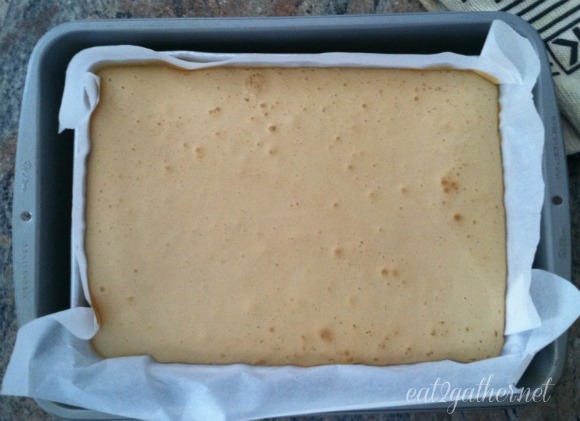 Is that pretty er what?! Allow cheesecake to cool completely.  Then remove cheesecake from water bath and place it in the refrigerator for 30 minutes, and while it's cooling and stuff you can make the chocolate ganache!  Ganache aren't you lucky 😉
Gah-nache you're cute!
Oh gah-nash ya don't say…..
OK ga-nash is ga-NASH!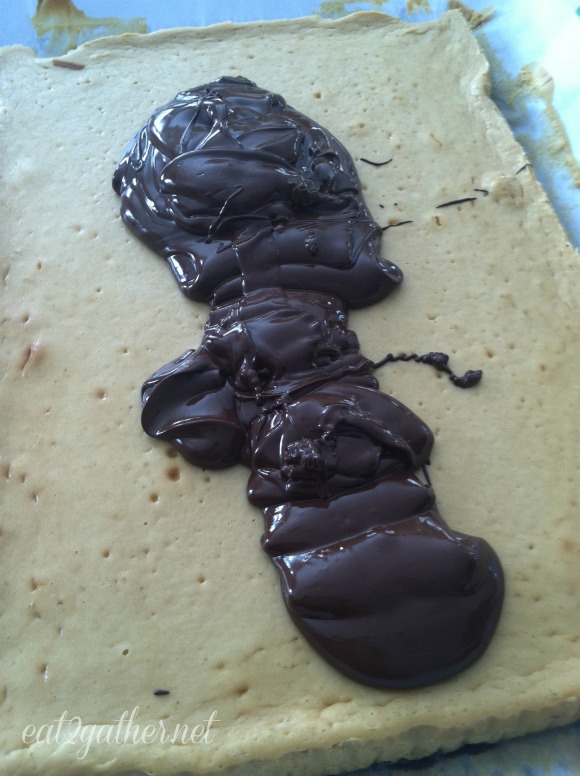 So as I was saying the chocolate ganache is super simple.  Melt semi-sweet chocolate chips with butter and vegetable oil whisk until smooth, pour over cheesecake, and spread evenly across the cake with a spatula.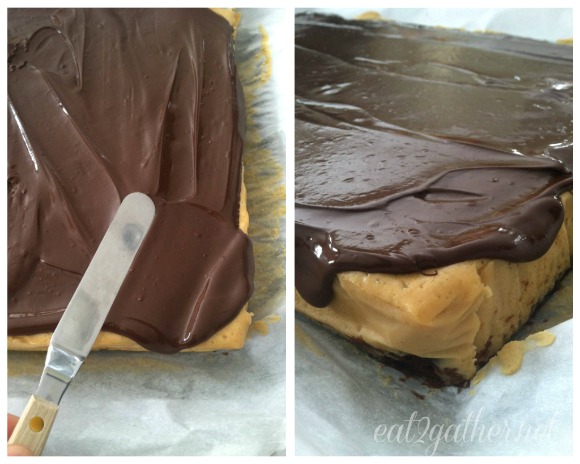 The rest is history.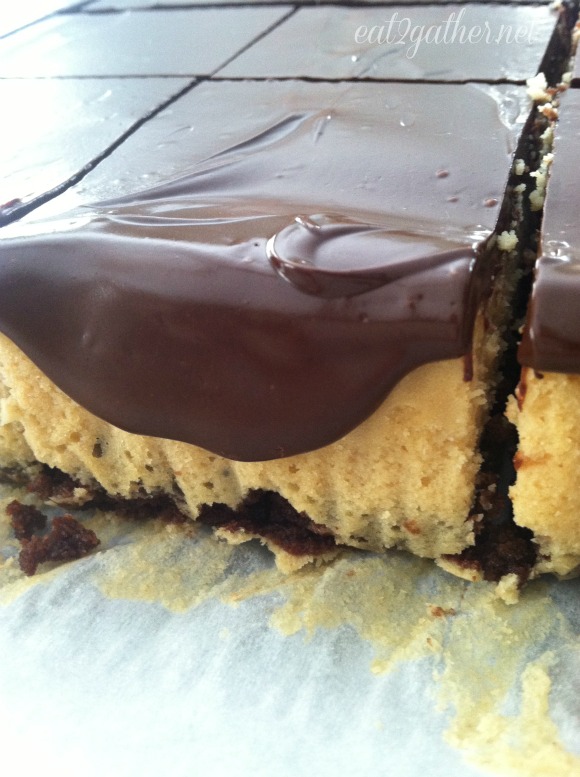 Cut into squares, and prepared to be amazed!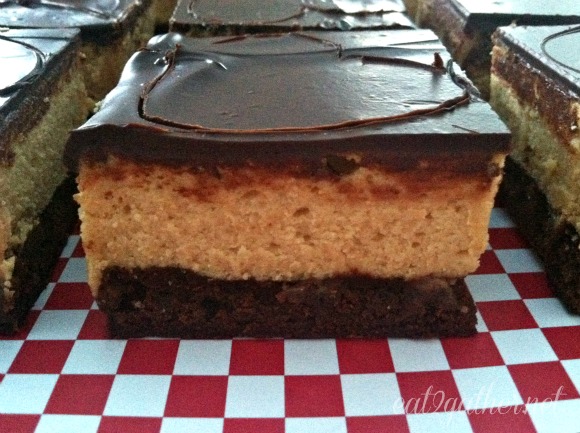 No other peanut butter cheesecake will compare.  Not a big peanut butter fan you say….mmmm I think this will make a believer out of ya!  Not too sweet,  brownie on the bottom, creamy dreamy cheesecake layer with the perfect amount of peanut butter in the middle, top it off with smooth and silky layer of chocolate ganache.
Are you week in the knees?
Do you need to sit down?
Glass of milk perhaps?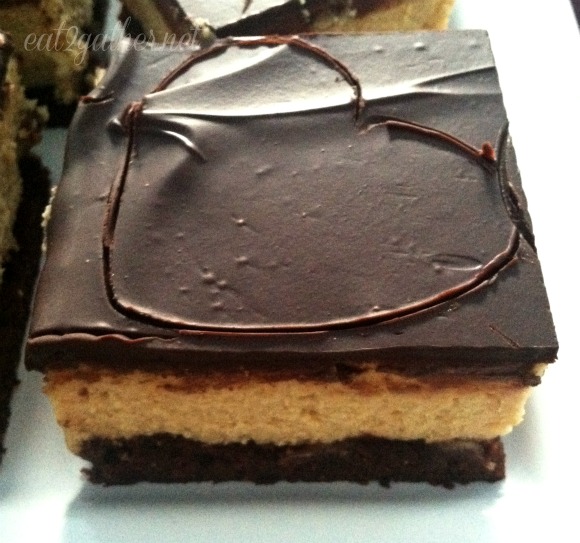 [print_this]
Peanut Butter Cheesecake Squares
24 squares
1 box Brownie Mix, any brand works
3 8 ounce bricks Cream Cheese
1 14 ounce can Sweetened Condensed Milk
4 Eggs
1 10 ounce package Peanut Butter Chips
2 teaspoons Vanilla Extract
1 1/2 cups Semi-sweet Chocolate Chips
1 tablespoon Butter
1 tablespoon Vegetable Oil
Preheat oven to 350 degrees. Line a 9×13 baking pan with parchment paper.
1. Prepare brownie mix according to the directions on the box spoon into parchment lined pan and bake for 20 minutes. Let cool.  Reduce oven temperature to 325 degrees.
2. Pour peanut butter chips into a glass bowl,  place in microwave on high for 30 seconds, remove stir and return to microwave at 30 second intervals until chips are melted and smooth. Allow chips to cool for a few minutes.
3. In a large mixing bowl beat cream cheese until fluffy, gradually add sweetened condensed milk. Slowly add in melted peanut butter chips. Mix on high until smooth.  Add eggs one at a time, scraping bowl after each.  Add in vanilla, and continue to beat for another 3 minutes or until light and fluffy.
4. Pour cheesecake filling over brownie crust, tap pan on counter to remove any air bubbles and to insure filling is evenly distributed over crust.
5. Place baking pan with brownie crust in a larger pan and pour hot water in larger pan until water comes about halfway up around smaller pan. Place in preheated 325 degree oven for 50 minutes. Remove and allow to cool in water bath. When completely cooled place in refrigerator for 30 minutes.
6. Place chocolate chips, butter, and vegetable oil in sauce pan melt over low heat stirring with rubber spatula the whole time. When chips are melted and ganache is smooth remove from stove top.  Taking hold of parchment paper lift cheesecake out of pan, sit on countertop and pull parchment paper down off the sides of the cheesecake. Pour ganache over the top and smooth out with a spatula.
Cut into squares and enjoy!!
Tip: Cheesecake can be sticky to cut, a serrated knife works best, run knife under hot water, quickly wipe dry, and then make your cut.   Repeat this process for each cut.
This recipe was adapted from the Champion Cheesecakes: recipes for every season cookbook from Ohio Poultry Association and American Dairy Association MidEast
[/print_this]
After a quick scan of instagram this morning I realize my Valentines Day scrooginess is somewhat in the minority.  I am curious to hear are you a V-day Scrooge?  Or do you go all out with cards, candy, flowers, lovey dovey notes?  OK OK I confess I did get Kenny a card….it was a funny card, and he brought me home flowers last night.  I guess I'm not a total scrooge.  So spill the beans what are you doing for your lovelies today?
Signed, Her Scrooginess