I'm so excited to be sharing a review of the book Bread & Wine by author and blogger Shauna Niequist.  Bread & Wine is Shauna's third book following her bestselling books Cold Tangerines, and Bittersweet.  Bread & Wine is the perfect read for those who love food and cherish the community and connection of family and friends around the table.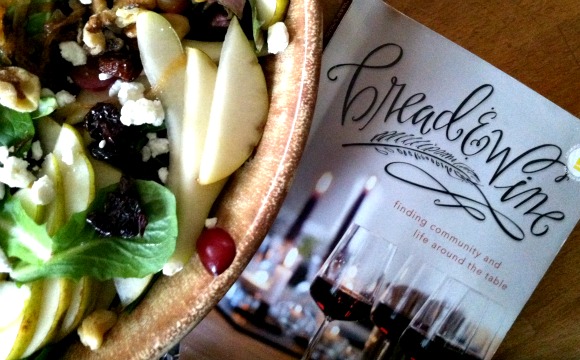 Bread & Wine is a collection of essays about family relationships, friendships and the meals that bring us together.  This book is a celebration of food shared, reminding readers of the joy found in a life around the table.  It's about the ways God teaches and nourishes people as they nourish the people around them.  It's about hunger, both physical and otherwise, and the connections between the two.  Bread & Wine is an honest, vulnerable spiritual memoir that will make you laugh and cry, and hungry for more!!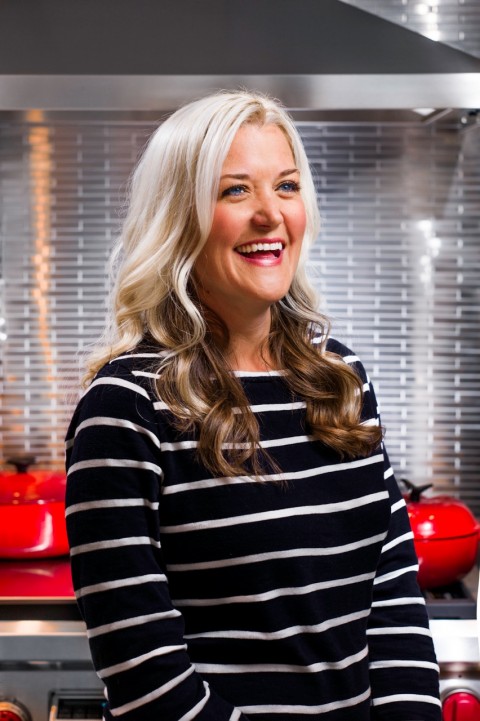 Where do I start.  How about we start five years ago when I attended a women's retreat and Shauna was the speaker.  I had no idea who she was, I just knew I needed a weekend away.  I thought to myself if the speaker stinks I'll just read in my bunk and take lots of naps.  OK let me just say I never opened my book and I got zero extra sleep that weekend.  Shauna was amazing, and I didn't want to miss a second of her sessions where she shared about life and read excerpts from her book Cold Tangerines.  She wove her love for food and nourishing others into nearly every session.  This girl was speakin' my language!  At the end I purchased a box of her book and plopped my butt down next to her and said…."you need to write a book about food, or gathering people around food"…er something like that.  She told me she had a book in the works along those lines, but then she wrote Bittersweet.  Which I loved but it was not the book I was waiting for!  So finally 5 long years later Bread & Wine is here.  Hallelujah!  I have to admit I was a little worried of being let down because I had been looking forward to this book for so long.  Was I let down?  Not in the least!!  Oh my goodness!  I loved every chapter, I hated for it to end.
I started highlighting my favorite parts so I would remember what I wanted to share, but I ended up running a highlighter dry on chapter two.  So then I started folding pages over that one made me laugh or cry or two made my heart feel like it was going to burst straight out of my chest.  OK this is the most highlighted dog earred book on the planet.  What to say?! Where to start?  I decided to share the chapter that I felt unearthed me the most, the one that really gave my gut a twist.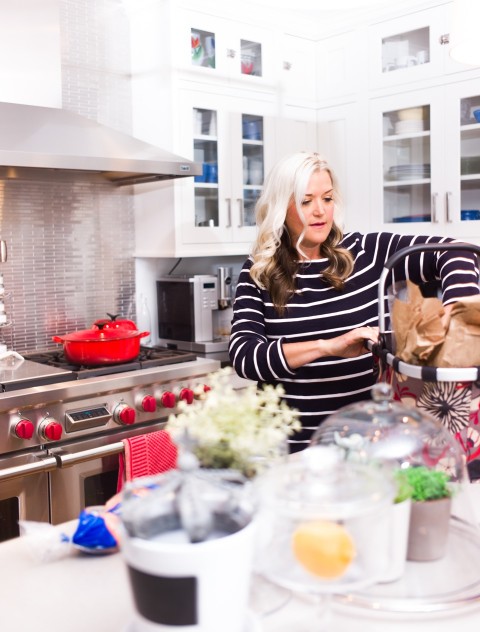 The name of the chapter is Happy New Year.  In this chapter Shauna writes about hosting a New Years Eve party…but it's not on New Years Eve becasue they are always with family on NYE, it's at the end of January.  Anyway because of the party they decided to have the inside of their house painted….which opened a can of worms and by the end  they had a complete kitchen remodel underway.  From the kitchen remodel being wrapped up the day of the party,  to grossly underestimating the time she needed to prepare the food, to guest canceling, and new guest arriving, people coming late, others leaving their spouses at home because of family issues the night read like a disaster.  Here's what Shauna writes about the evening:
The night wasn't even close to what I'd pictured, and the table was a wreck, like musical chairs, with people coming and going and switching seats all evening, but this is the thing:  it was perfect.  It was just as it should have been, and nothing close to what I could have planned.  And that's what makes a good party– when the evening and the people and the conversations and the feeling in the room are allowed to be what ever they need to be for that night. 
Amen.
In this same chapter Shauna shares about a friend who likes to entertain, but she wants everything perfect…so much so that her guests feel manhandled, and manipulated and this infuriated  her, but Shauna figured out that it bothered her so much because it reminded her of herself.  Ouch. Isn't this usually true?  The things that bug us most about our friends and family are the things that if we do some serious self evaluation we would find are exactly who we are!  This is why I picked to share chapter 27.   Being labeled a manhandling host…hit a little to close to home for me too!  I was that friend.  I wanted to have dinner parties, and friends over.  But it had to be my way.  I worried, and obsessed.  Being organized is one thing being manic about every detail is another, and I was never happy with the way things turned out, and worst yet I could sense my guest were uncomfortable.  Yikes.  Over the years I have learned to simmer down.  To let things go.  To let others bring a dish to pass.  To sit and enjoy my guests and let the dishes stack up.  It has been a learning process.  Learning how to read the needs of your dinner guests takes some effort…but it's work that needs to be done if you truly want to serve and love others around your table.
Shauna goes on to say:
In entertaining , as in every area of life, there are experts and rock stars, people who give us complexes and make us afraid, who load us up with expectations and set impossibly high standards so that most of us give up and the rest of us feel terrible about ourselves when we inevitably fall short.
But entertaining isn't a sport or a competition.  It's an act of love, if you let it be that.  You can twist it and turn it into anything you want ~ a way to show off your house, a way to compete with your friends, a way to earn love and approval.  Or you can decide that every time you open your door, it's an act of love, not a performance or a competition or striving.  You an decide that every time people gather around your table, your goal is nourishment not neurotic proving.  You can decide!
Amen again!  I have decided!!!
I want to share a pivotal moment in life for me.  A few years back I hosted a girls night out dinner party, I made all the food, I had special drinks, and appetizers, and table decorations, the house was full of flowers.  It was perfect.  Ha!  Perfect for a magazine.  While the girls where  arriving and munching on appetizers I starting finishing up the dinner I had prepared.  I had made these mushrooms that are amazing…really amazing, can't keep your paws off them amazing.  Well one of my dearest friends kept snitching them.  And I was worried there wouldn't be enough so I snapped at her to stop eating the mushrooms, I might have even whacked her hand with a spoon..ugh.  The mood changed.  The fun was over.  Not really I think everyone still had fun and the food was great, but for me I had hurt and embarrassed my friend and my heart sank.  Who cares if the mushrooms are all eaten!  That's what I made them for right?!  To be eaten!  Sheesh.  There were actually leftovers of those darn mushrooms…serves me right.  I couldn't barely look at them let alone eat them I felt so bad about how I had treated my friend.  So that was my moment.  The moment I needed to have, to learn that entertaining is not about me it's about loving others…and if that means letting them snitch all your mushrooms well then gol darn it so be it!!
That New Years Eve party was shaping up to be an epic production on my part(as was my "girls night out" party) – fancy invitations, lobster and champagne, cool new wallpaper.  I felt it coming, the pressure and the performance.  This could have been a show–brittle smile, jangled nerves, pushing and pulling and pressuring people to act perfectly in my production.  But it wasn't.  Maybe it was the sheer chaos level that brought me back down to table, love, friendship.  Maybe it was years of regrets at the end of a night when I knew the party had been little more than an exercise in control, not true hospitality or soul.
It was a perfectly imperfect night, a sweet and special

 beginning to a new year ....just a few weeks late.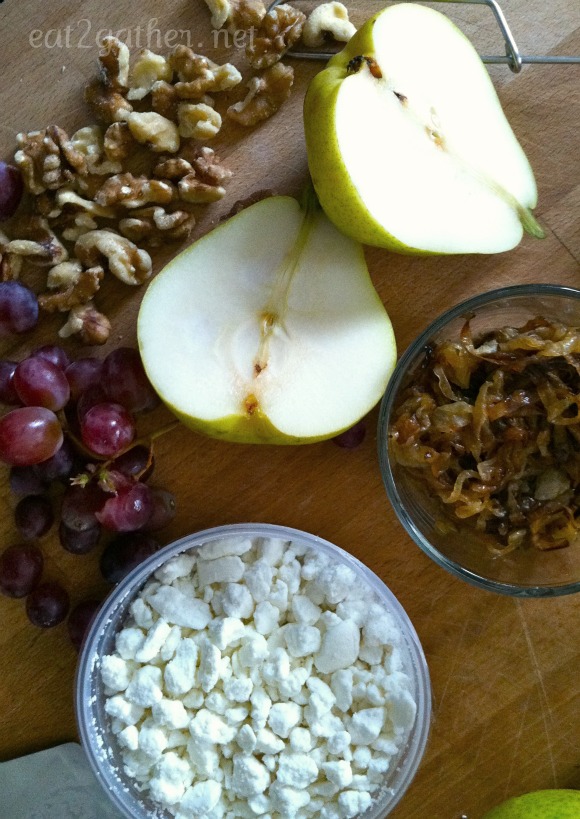 I am a pleaser.  I want everyone to be happy, everyone to be satisfied, everyone to have the very best time that they can have while they are at my home.  Hows the saying go?….you can't be all things to all people…er something like that.  The best that I can do is give thanks for the opportunity to serve and love my friends and family through food, and give the rest over to God.  I also need to learn that everyones has a different style of entertaining, and I need to do what comes natural to me and not try and force my hand at entertaining in a way that I think others want me to…the pleaser in me again.  I need to cook what I know, love the best I know how, and fling my doors wide open to all at every opportunity.  This is joy.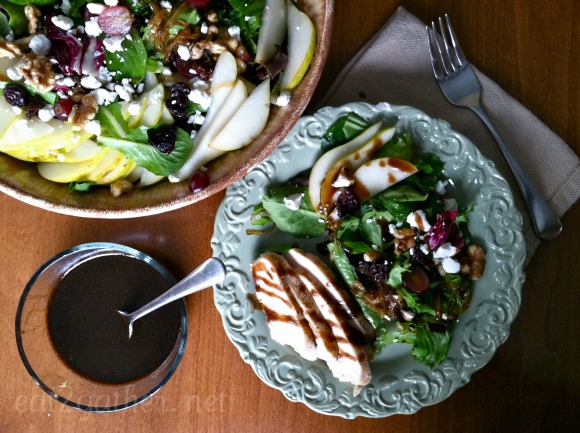 Have I mentioned that Bread & Wine is full of really, really amazing recipes?  I have stacks of cookbooks but rarely do I actually cook out of any of them….usually I will read through a new cook book tag a few pages and never use it.  I was cooking the recipes from Bread and Wine before I was even finished with the book…like standing in the kitchen reading and cooking.  Shaunas book is highlighted dog eared and dripped on!  I have made Annette's Enchiladas three times already, the Gaia cookies once, (they will be made frequently),  Goat Cheese Eggs several times, I have been making Shauna's Mango Curry Chicken for years I'm not sure if it was on her blog or I emailed her for the recipe, it is a show stopper!  The recipe I chose to share here is the Green Well's Michigan Harvest Salad.  Shauna lived in my town for several years and this recipe comes from my favorite restaurant in Grand Rapids, which is saying a lot, because Grand Rapids has quite the food scene, there are more than the average number of extraordinary eateries in this town.  This salad has been on their menu since the beginning.  It has a long list of ingredients, but it is simple and perfect.  I could eat it often….like every day often.  The recipe that was in the chapter that I wrote about is Sea Salt Toffee, but since I am still attempting to shed unwanted pounds I thought it best to steer clear of a recipe that is 100 percent sugar, and that I would for sure not be able to stop eating.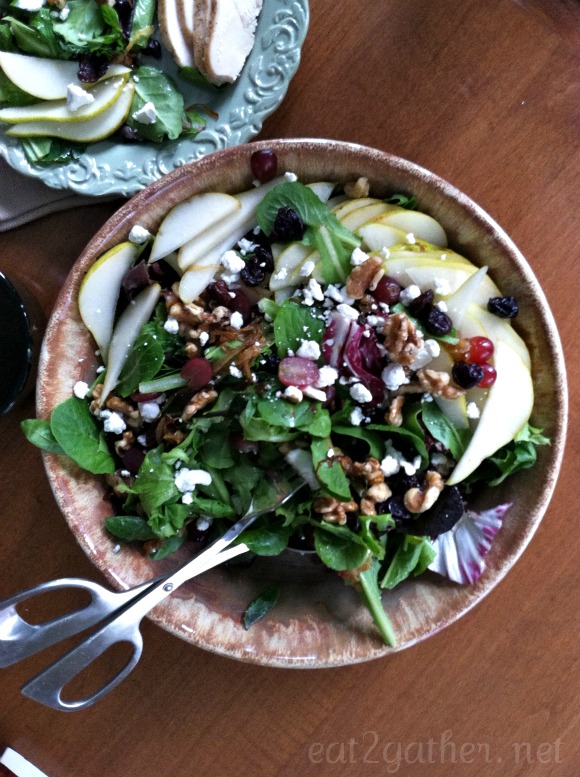 [print_this]
Green Well Harvest Salad
1 pound Mixed Greens
2 Onions, caramalized
2 Pears, cored and sliced thin
2 cups Red Grapes, halved
1 cup dried Cherries
1 cup Walnuts
1 4 ounce container crumbled Goat Cheese
Maple Vinaigrette (the piece de resistance!!)
1 tablespoon Maple Syrup (no substitutes)
1 tablespoon Dijon Mustard
1/4 cup Balsamic Vinegar
1/2 cup Olive Oil
salt and pepper to taste
Begin by caramelizing the onions. Slice them and cook them on medium-low heat in a tablespoon of butter until rich, and dark brown, about 45 minutes. (You can do this step ahead caramelized onions will last up to a week in the refrigerator).
Vinaigrette: spoon Dijon into the bottom of a jelly jar. Add balsamic, and maple syrup, salt, and pepper. Shake well. Add oil, and shake again. Taste and adjust seasoning to taste. Set aside.
Assembly: Toss the greens with half the vinaigrette, then add the rest of the ingredients, the rest of the dressing, and toss again. If you'd like to make it a more substantial main course salad, you can add two cups of cooked chicken breast as well.
[/print_this]
This book spoke to me in a way no book has in a very long time.  I loved it.  Every chapter was a new present waiting to be opened and then at the end was an amazing delicious treat of a recipe that had a story behind it.  The most mouthwaterly scrumptious recipes are the ones with storys behind them…recipes with history.  Because I loved this book so much.
I'm going to give away 5 copies!
To win all you need to do  is answer the following question in the comments:
What recipe do you make that is your goto comfort food recipe?
Is it Aunt Betty's Pumpkin Pie, your grandma's potato salad, your sisters tacos?  What is the history behind these recipes that makes them comforting to you?
That's it.  And because I would more than anything love to spread the word about Bread & Wine to the masses if you want to pin this post on pinterest, share it on your facebook , or tweet about it you can come back and let me know that you did for an added bonus chance at winning.  Just make sure you properly link back to this post when sharing please!
RULES:
One entry per person by answering the above question.
One bonus entry per person by sharing this post on Pinterest, Facebook, or Twitter, Instagram, or if you want to share about this giveaway by posting about it on your blog that would be great too!
Deadline to enter to win a copy of Bread & Wine will be Wednesday, April 17, 2013 11pm EST.
XOX
Sheila
Shauna's Bio
Shauna Niequist is the author of Cold Tangerines and Bittersweet, and Bread & Wine. Shauna grew up in Barrington, Illinois, and then studied English and French Literature at Westmont College in Santa Barbara. She is married to Aaron, who is a pianist and songwriter. Aaron is a worship leader at Willow Creek and is recording a project called A New Liturgy. Aaron & Shauna live outside Chicago with their sons, Henry and Mac. Shauna writes about the beautiful and broken moments of everyday life–friendship, family, faith, food, marriage, love, babies, books, celebration, heartache, and all the other things that shape us, delight us, and reveal to us the heart of God.