Our latest book club read was Unbroken: A World War II Story of Survival, Resilience, and Redemption by Laura Hillenbrand.  Perfect timing for the Memorial Day.  I had heard murmuring of this book for a while, so I was very excited to read it but I must admit I didn't really know what it was about…or even read the whole title apparently, I just downloaded it to my Nook and started reading, then 100 pages into it it was like "ok is this for reals?".    Unbroken is for reals!   It's the unbelievable life story of Louis Zamperini told by Laura Hillenbrand author of Seabiscuit.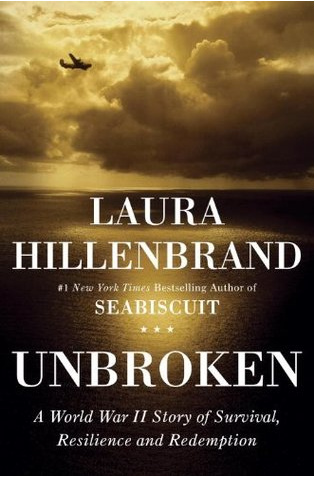 Laura does an amazing job of capturing the life of Louis.  I can not imagine what it must have taken to gather information about this man who experienced and endured so much over a span of many decades. I read a quote from Louis where he stated  he felt Laura knew him better than he knew himself by the time the book was finished.  I believe it.
Here is what GoodReads had to say:
On a May afternoon in 1943, an Army Air Forces bomber crashed into the Pacific Ocean and disappeared, leaving only a spray of debris and a slick of oil, gasoline, and blood.  Then, on the ocean surface, a face appeared.  It was that of a young lieutenant, the plane's bombardier, who was struggling to a life raft and pulling himself aboard.  So began one of the most extraordinary odysseys of the Second World War.
The lieutenant's name was Louis Zamperini.  In boyhood, he'd been a cunning and incorrigible delinquent, breaking into houses, brawling, and fleeing his home to ride the rails.  As a teenager, he had channeled his defiance into running, discovering a prodigious talent that had carried him to the Berlin Olympics and within sight of the four-minute mile.  But when war had come, the athlete had become an airman, embarking on a journey that led to his doomed flight, a tiny raft, and a drift into the unknown.
Ahead of Zamperini lay thousands of miles of open ocean, leaping sharks, a foundering raft, thirst and starvation, enemy aircraft, and, beyond, a trial even greater.  Driven to the limits of endurance, Zamperini would answer desperation with ingenuity; suffering with hope, resolve, and humor; brutality with rebellion.  His fate, whether triumph or tragedy, would be suspended on the fraying wire of his will.
In her long-awaited new book, Laura Hillenbrand writes with the same rich and vivid narrative voice she displayed in Seabiscuit.  Telling an unforgettable story of a man's journey into extremity, Unbroken is a testament to the resilience of the human mind, body, and spirit.
Details of the night:  Miss Kristi was our host.   We had all joked about what she might be feeding us, usually the host tries to tie the theme of the book to the food served, it's not a book club rule or anything…..it's just what the BUCs do.  So since this book was about Mr. Zamperini starving in a POW camp, being lost at sea, his accomplishments of running in the olympics, and his struggles with alcoholism.  What the heck was she going to feed us?  Straight gin and rice balls with rocks? Ha!  Since a good deal of the book was set in Japan Kristi did give a Asian spin to her food…which was amazing!  Recipes will follow soon!   Our book club numbers were light, since Spring is such a busy time it was hard to work around everyones schedules. Did I mention that our host had just moved into a new home so we got a tour of her beautiful new home!  I love the smell of a new house!  She was a super trouper for having us all over so close to moving in!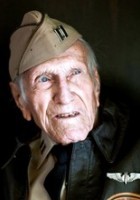 Louis Zamperini Born January 26 1917 died January 25, 2013.
Mini book review: The BUCS gave Unbroken 4 out of 5 thumbs up. (GoodReads gave it 4.45 stars out of 5) It was a page turner for sure!  One of the gals said she didn't really love the book like rest of us.  She got bogged down with all the details, and found some of what happened to Louis hard to believe.  I have to admit, it was a bit overwhelming to think about what one man endured and lived to tell about.  I find it astonishing what our human bodies can withstand.  I also believe that we all have a God given time, and for Louis his time was not up.  He had some things to accomplish yet.  I have one word amazing!  The capacity for forgiveness and redemption that this story portrays is nothing short of miraculous, we all agreed on that!  Unbroken is 496 pages so it is on the longer side, but we would definitely recommend adding this to your Summer Reading list.
A personal side note: My Grandpa and his brothers were all in the service as was my Grandma's brother.  They were in all different areas of the world.  But after reading Louis Zamperini's accounts of World War II it gave me some perspective on the bits and pieces of stories that I  have heard over the years from my Grandpa and great Uncles.  I only wish they were all alive now so I could tell them thank you.  Thank you for going through hell for our freedom.  Don't forget to send up a prayer today or thank someone who you know that has served our country.  Amazing people!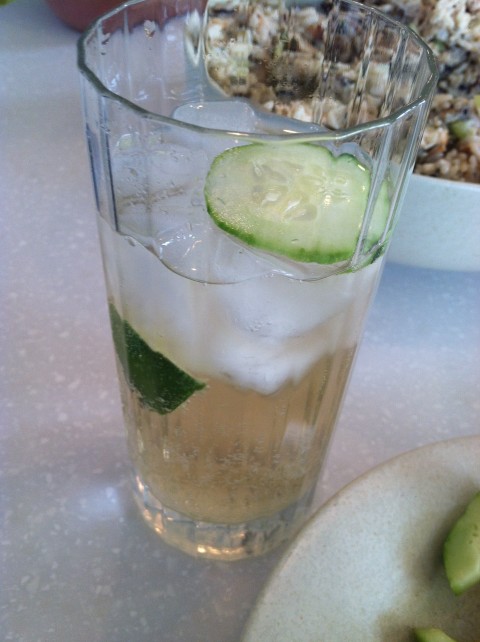 Yummy Cucumber Cocktail!
Overall:
We had a great night.  The discussion was good, there was plenty to talk about, we even pulled up a YouTube of the life changing Billy Graham Sermon that Louis heard and watched it.  Many of the the women said that their husbands or fathers had read the book too and loved it, so there ya go a great book for a Fathers Day gift!
Our next book is Heft by Liz Moore.  Have you read it?
What's on your Summer reading list?
Cheers! Sheila