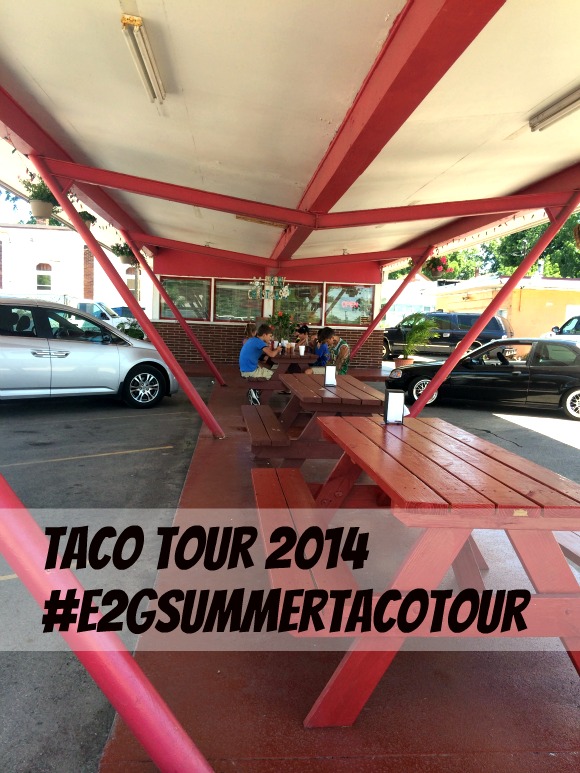 I love friends that get you in trouble.  Those friends are the best kind!  Big D is my "get me in trouble" friend.  She's always got some cockamamy (but fun!) idea.  Like last Spring when she suggested we try to eat at every taco dive in West Michigan.  Of course I said "When can we start?!".
In case you missed the memo:  I LOVE MEXICAN FOOD!!
I Chihuahua it's true!  I honestly don't think I would ever tire of it.  I do have to admit after a few stops I really wanted to order something other than tacos, but I didn't, I stuck to the plan!
What was the plan?  Well the loose plan was to eat at as many taqueria's in Grand Rapids/ West Michigan area as we could find time for over the summer.  We had to order one pork, one chicken, and one steak taco.  I usually added beans and rice, because as Big D told me a Mexican Restaurant is only as good as it's beans, so of course I had to try the beans.  See this girl is trouble, getting me to order beans all over town.
So Ok anyway we made it to quite a few, most were amazing!  West Michigan has it's share of respectable taco dives.  I know you're all just chomping at the bit to know where we ate and what our favorites were, so here it goes!
Disclaimer: I'm not a food critic.  I'm a food eater.  When I write I tell you what I thought of the food I ate, I may leave out criticy sort of details. Sorry.
 
In order from the best to the worst.
1. Tacos El Ranchero – 1240 Burton St SW, Wyoming Mi
The reason I gave this place the number one spot was because of their pork taco.  The flavor was amazing.  It had little bits of pineapple chopped up in it, it wasn't greasy, just a little spicy but not too.  The steak and chicken tacos were equally enjoyable.  Meat was tender and just the right amount.  Corn tortillas were fried to perfection.  Toppings were spot on, just enough onion and cilantro but not too much that it over powered the flavor of the meat.  The sauces, green and red, in their signature squirt bottles were fresh and bright with flavors of  tomatillos, pepper, cilantro and lime.
I will tell you this place is not for the faint of heart, as are most of the taquerias on this list.  It has limited seating.  No alcohol.  The bathrooms are outside in the back.  (I think it used to be a gas station.) I think there might have been a bullet hole in the window next to my head…or maybe it was from a rock, no matter.  HOWEVER the owners were super attentive and nice and although their english was limited it only authenticated our experience.
If this little gem was closer I would be going there often!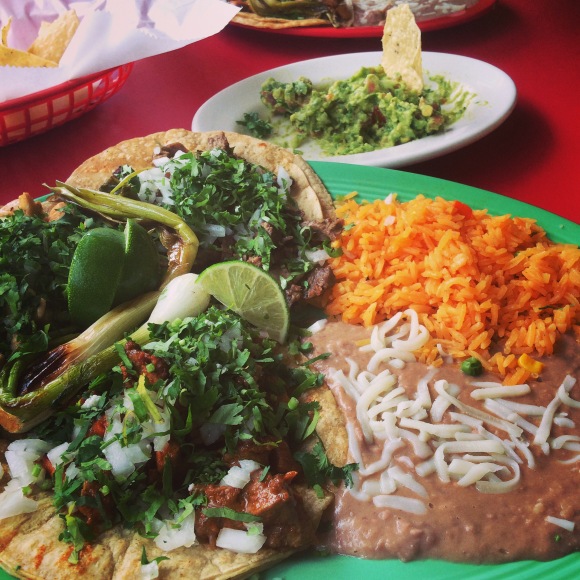 2. La Huasteca Mexican Restaurant – 1811 Plainfield Ave NW, Grand Rapids
We found La Huasteca on Yelp.  It has a nearly 5 star rating.  Yelp is rarely ever wrong, so we thought we had better give this taqueria a try.  This trip was just Big D and I.  We snuck away on one of the last days of summer for a lunch of tacos, guacamole, and of course beans and rice!  My immediate reaction to this place on instagram was ->Steak, Chicken, Spicy Pork tacos.  Steak was super flavorful. (my favorite of the three tacos) All meats were tender, the pork was no spicy, but perfectly seasoned.  Beans and Rice perfect.  Sauces very fresh and spicy!  Guacamole was a 5 star.  This is one of my favorite taco joints so far!
The reason La Huasteca received the second spot in our list was the experience as a whole was spot on there wasn't any one thing we could say bad about this place, and everything we ordered was delicious.  The guacamole was some of the best I've ever had anywhere! And they gave you a plate full, not just a dinky plastic cup with a plop of guac.
Our first clue that this was a really good place to eat was the steady stream of suits coming in to get their take-out for lunch.  I mean non stop.  It was a  busy place, but we received our food in a timely fashion.  If you know Grand Rapids, you know there is an abundance of AMAZING food, so the fact that businessmen were heading in here in droves mid-week was a testament that it's consistently good.  So I need to get back there for sure!!
3. La Taqueria San Jose – 1338 S Division, Grand Rapids
Let me say the top three were all very close, it was hard to decide, you really can't go wrong with any of the top three.  The location of this one might have put it third.  At night it could be scary, but once your get parked,  and inside you will be in taco HEAVEN!!  The top photo is of La Taqueria San Jose, Big D and I took the kids with us to lunch this day and sat outside.
All three tacos (steak, chicken, pork) were amazing here.  Garnishes were perfect.  But it was the sauces that were crazy good.  They offered three sauce not just two.  One was quite hot, but not so much so that you couldn't taste it.   I literally could have drunk them, and truth be told I thought about sneaking a squirt bottle into my purse!  My son ordered the tamales, which he is somewhat of an expert on…only because he has eaten tamales all over town and from friends who make them, and anyway he said it was one of the best he'd ever eaten.
We have not been back, but I know many friends you have ventured out to try this place and they all have loved it.  You should also know that they cater and do a fantastic job at it.  Our church had it catered in one sunday after the service as a treat to everyone, it was amazing.  Taco heaven 😉
4. Tacos El Caporal – 1717 28th St SE, Wyoming
We are actually regulars at this place.  We often head here on Sundays after church for a quick cheap lunch!  Everything we've had here is good.  I love their tortas (sandwiches).  I love that when you walk in you see the grill and a giant pile of green onions and jalapeno grilling.  Lovely!
I don't usually order the tacos here so I was very happy to find that they were just as good as everything else I'd ordered!  The meats perfect flavor, I like their spicy pork taco the best, the garnishes were perfect and they have pretty good sauce too!
It's not always the cleanest, but hey I've never seen la cucarache so that has to mean something right? Big D will only do take out at this place.  So I left her behind this day and just took my boys.
You need to give this place a try.  It's consistent.  Authentic.  And delicious!  If you're not in the mood for a taco try the Hawaiian Torta, it's what I always order.
5. Tacos El Cunado – We visited the Downtown Market location on Ionia, but there is also a location on Burton, and Grandville Avenue (this location gets 5 stars on Yelp!).  I'm not sure if they are all the same owners but I have heard good things from other about the Ionia and Grandville Ave locations.
I have eaten tacos at this taqueria many times.  It has been consistently good.  I love the salsa bar they have around back. They usually have a taco special, I've tried the goat and the shrimp taco.  Both were mucho yummio. (I've been perfecting my Spanish over this course of this taco tour!)  The only downfall for this place is that its slow.  Turtle slow.  Even when it's not busy.  So that sort of annoys me but not enough to stay away.  Dern it!
6. Supermercado Mexico – 1160 Chicago Dr SW, Wyoming
This is actually a grocery store with a taqueria in the front of it.  One waitress, one lady at the grill, the service was slow but the tacos were perfection.  They have a huge butcher counter in the grocery store where you can purchase all sorts of seasoned meats and different cuts, so I'm sure the taqueria has the pick of the daily meats.  I feel like a broken record, we ordered steak, chicken, pork.  They were all delicious, tender, and extremely flavorful.  This was the first time I think I declared the chicken taco my favorite.  They must marinate their chicken in seasonings and lime.  It was really flavorful and not dry at all.
Be sure and stop at the butcher while your there and take home some freshly made tamales!
7. Tacos El Rincon -2055 28th St, Grand Rapids
Not everyone thought this place deserved my 4 1/2 star rating.  I ordered the usual.  The presentation was perfect, sauces were fresh and spicy, I loved the beans, meat on tacos was tender but the pork did not have much flavor ( I like my pork flavorful and spicy).  Service was good, very clean.  The rest of the menu looked very interesting with a spattering of Central American fare.  I would definitely  give this place another go.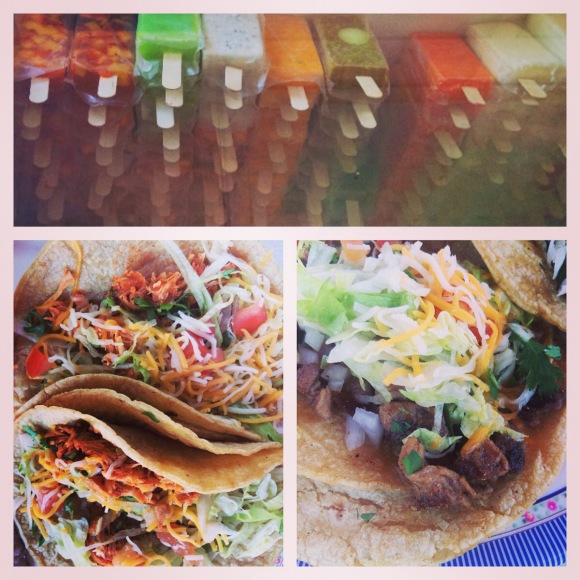 8. El Huarache – 517 Butternut Drive, Holland
El Huarache gets 5 stars on Yelp!  It was very good.  I would say this little place is just as good for dinner as a quick taco lunch.  We have eaten there several times since our first taco stop and they are consistent.  Their enchiladas are good, as are their torta's.  The tacos were pretty darn good too just nothing really stood out to me to bring them up to the top.  They do get points for being clean, and the service is super friendly!
I would say if you are in Holland, and have a hankering for tacos or mexican food you need to stop here.  They also have a paleta bar as well as homemade ice cream that is sooo good.  The coffee paleta with fudge drizzled through is my favorite.  NOM Nom!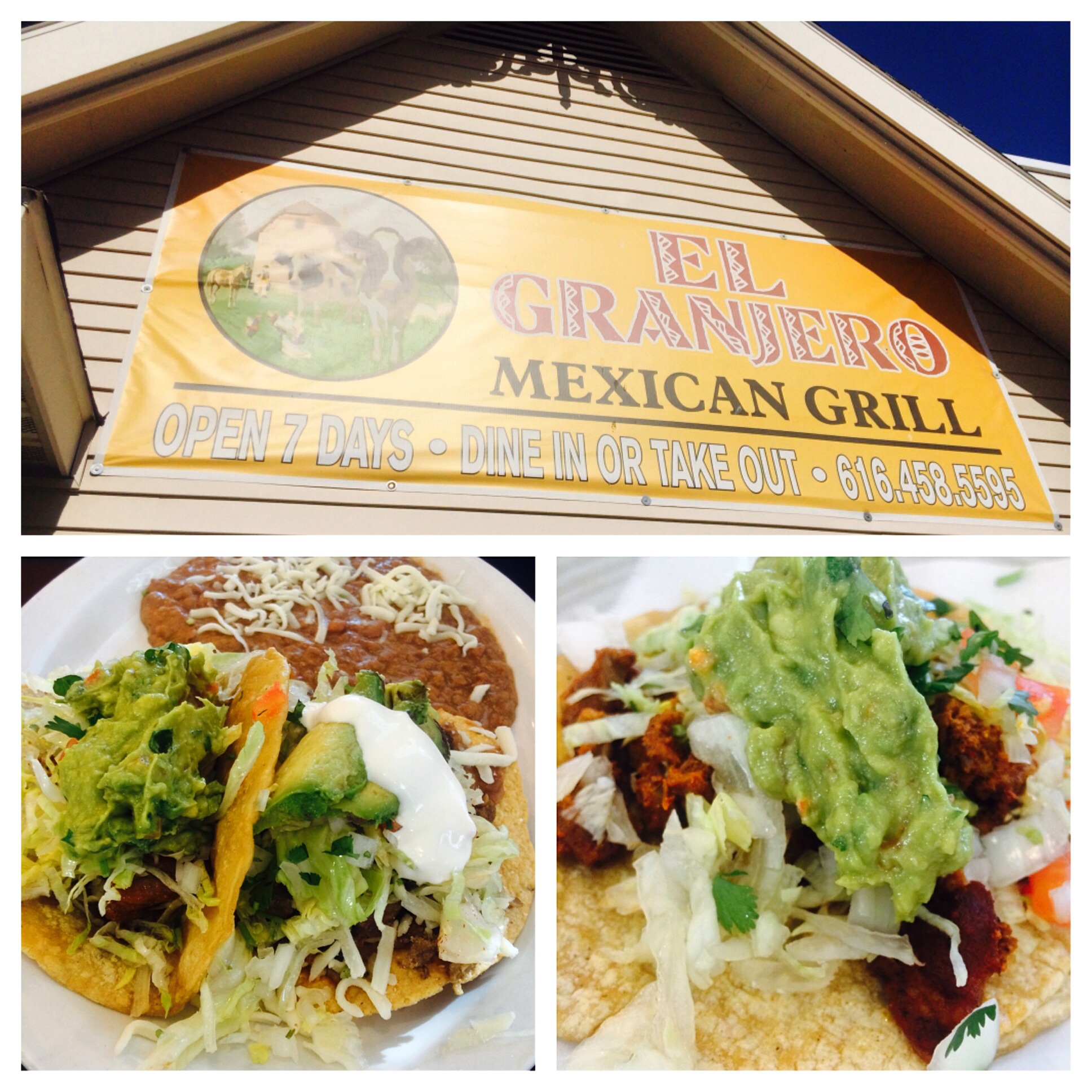 9. El Granjero Mexican Grill – 950 Bridge St NW, Grand Rapids
This was our first top on the #E2gsummertacotour  so maybe because I ate so many tacos after it made this place paled in comparison.  I seemed to like it at the time, and Yelpers give it a consistent 4 1/2.  It just didn't rate high enough in my flavor memory to rank higher. The beans got a thumbs up from D.  The spicy pork was our favorite of the three tacos. It is worth a stop for sure. The service was good, as were my tacos.  I will say they were generous with the avocado when asked for some on my tacos.
I would recommend it if you are in the area.
10. Taco Fiesta – 11972 E Lakewood Blvd, Holland
This taco joint has been here for years, not sure how many but for sure 20.  I only put it on the list because we went there.  I'm sure there are other taquerias that we didn't try that deserve to be on the list.  This place was average at best.  The service was not great, and it wasn't cheap.  Yelpers gave it 3 stars.
Don't waste your time!
Other restaurants we tried that you should know about:
Maggies – 636 Bridge St Nw Maggie is a legend in Grand Rapids.  If you have never been here you must go.  Ken goes here all the time.  I have only been once.  There are no haters of this taqueria, it seems everyone loves Maggies!  It has been voted Grand Rapids best Mexican food many many times.  The only reason it's not on the list is because we didn't make it there.  End of story.
Lindo Mexico-1292 28th St, Wyoming
Lindo is one of our favorites.  It took the place of our beloved Little Mexico (that burned down, reopened, and then closed 🙁 ) It is a regular sit down restaurant with great margaritas!  If you want a real Mexican restaurant that serves giant wet burritos and giant margaritas this is your place!  They also have live music on the weekends.  Very festive and fun!
Cabana Tres Amigos – 1409 60th St SE – Another one of our favorite sit down Mexican restaurants.  The carnitas here is amazing!  Again this is your place for endless chips and salsa, big margaritas, and plate sized wet burritos.  We have never been disappointed here!
El Arriero – 2948 28th St SE, Grand Rapids  El Arriero gets a solid 4 stars on Yelp.  But I wouldn't give it two stars this is the third time we went back and the service was horrible, the food was fair to midland.  Not sure what everyone likes about this place.
Maya Mexican Grill – 1029 Rogers Plaza SW  If I were to rate this on Yelp it would get 1 star.  Tacos blah. Service worse.  It took 45 minutes for tacos.  I still can't believe we waited.  Now I know others that say they have had good food here, as for me I won't go back.
I told you I love me some Mexican food.  There are a few places that I did not visit on this tour but are worth mentioning.  Donkeys Taqueria is on Wealthy in Grand Rapids across from the Winchester, it doesn't have signage or a phone so don't try to call there.  Also the Winchester has a taco truck called What the Truck if you see it parked somewhere, get a taco!  The list goes on and on of Taco joints in West Michigan.  I don't think I could ever eat at them all regardless of my love for Mexican fare.
I'd love to know if you have been to any of these establishments or if you have a favorite that is not on the list.  Lets start a conversion in the comments!!
Thanks for following along on my #e2gsummertacotour adventure.  Thanks to Big D for her instigating!
Peace, Love, and Tacos
Sheila