It's pretty much dips and ice cream around here lately.
That's all I want to eat. Ice Cream.  Homemade ice cream or dip.  I like dips.  All sorts of dips.  Tall dark handsome dips, funny friend dips, dips in the road dips, I also really like dips that are accompanied by chips, crackers, or my all time favorite dip-Purrr is Bugles. (This is not an advertisement in anyway….other than I am advertising that I love Bugles.)  I'm not talking about the band type bugle…please gurr no. I'm talking about the salty cones of goodness, that make me lose my ever loving mind and eat a whole gol-dern bag with dip in one sitting.  For once I am thankful that something doesn't come in a giant sized bag, at least not in my market, if Bugles come in super-sized in your market…..shhhh keep it to yourself, I do not need to know this.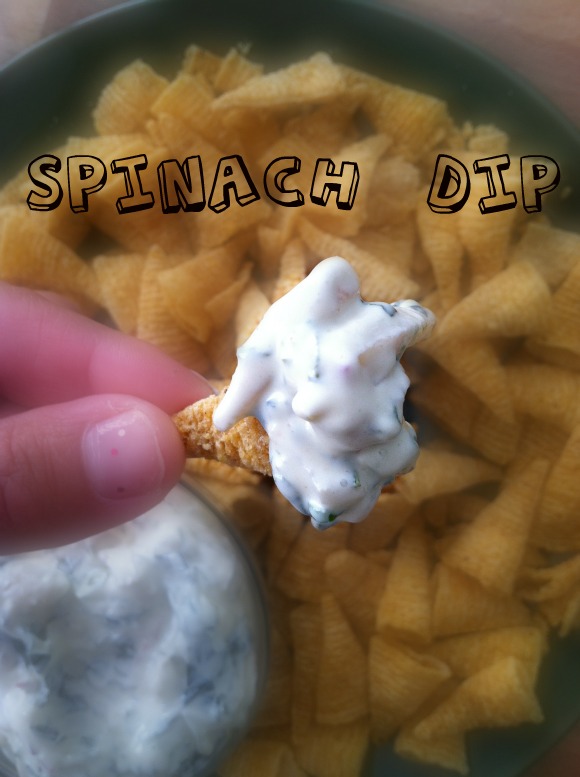 The absolute best dip to dip your bugles into is Spinach Dip.  The funny fact about this combo is this; the girl who introduced me to my husband also introduced me to bugles and spinach dip.  Gotta love a friend like that!  Shelly you dah best.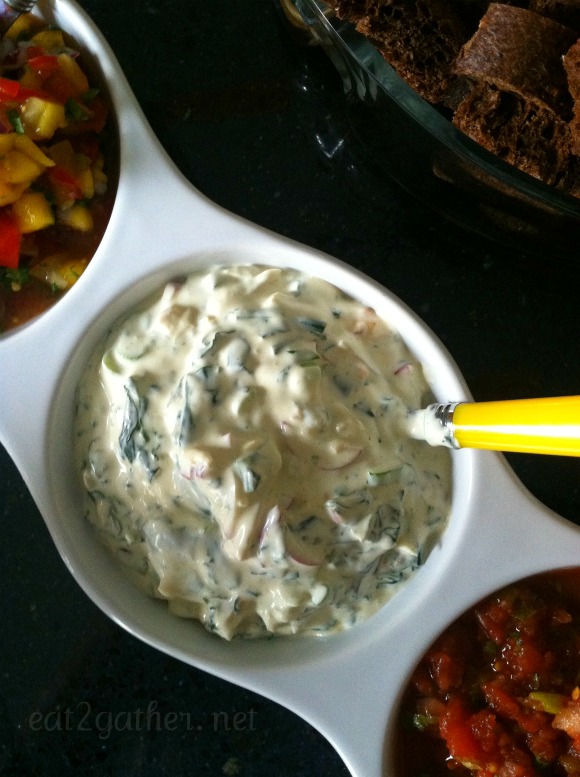 What?
What you say?
It never ever in all your life occurred to you to dip Bugles?!  Reeelly?  Sir-ah-lously?
They are the perfect dippers…what with that little cone shape and all, it's like a cornucopia made for dippin.
Are you hearing me Bugle PR people?  This is your next campaign here…Bugles could be the next Doritos!  I will have my agent contact your agent.
I have this childhood memory, it goes like this, my cousin Josette (yes as in Josette and the Pussy Cats) and I would have a bag of Bugles in hand, we were marching around the house pretending the snacks are truly trumpeting out notes, then we would chomp them down and move on to the next salty trumpet, leaving a trail of crumbs in our wake I am shore. Good times….
So I don't have the recipe for Bugles, but I do have a recipe for Spinach Dip.  It's pretty good, if I do say so myself.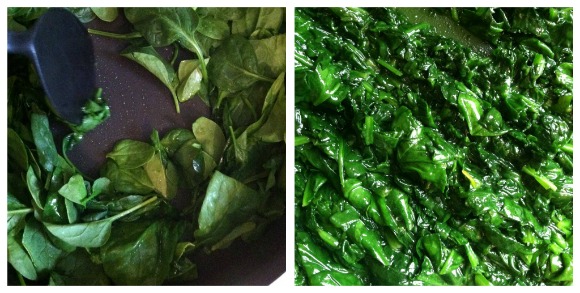 Saute' fresh spinach, drain and cool, give spinach a rough chop.

I love radishes.  They are my secret weapon in this dip.  The radishier the better.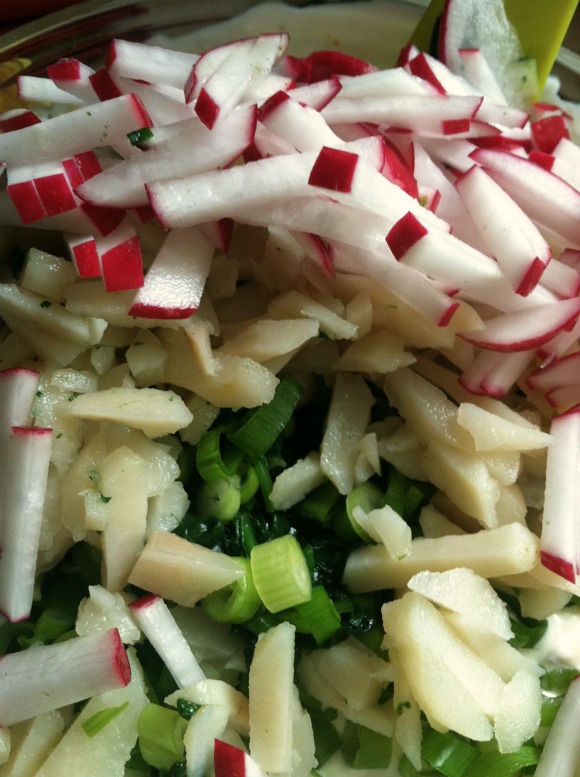 Add everything together in one bowl, mix well, place in your refrig for at least one hour…two is better, but that's a long time to wait.
[print_this]
Spinach Dip
makes 4 cups
6 ounces Fresh Spinach (one small container or bag)
1/2 tablespoon Olive Oil
1 16 ounce container Sour Cream
1 cup Mayonnaise
1 package dry Knorr Vegetable mix
1 can Water Chestnuts, drained and chopped
3 Green Onions, chopped
4 Radishes, cut into small pieces
fresh cracked Pepper to taste
1. In medium sized skillet heat olive oil add spinach to the pan and toss with oil, continue to saute until spinach has wilted remove from heat place spinach in a colander allowing it drip any extra liquid out and cool.
2. Combine sour cream, mayonnaise, Knorr Vegetable mix, chopped water chestnut, radishes, and onions.
3. When spinach is cool add to the mixture, mix well to combine taste and add fresh ground pepper to your liking. Place in an airtight container and store in the refrigerator for 1 hour before serving.
Spinach Dip goes well with an assortment of dippers such as Bugles…squares of Pumpernickel Bread, any and all crackers, carrots, celery, cucumbers, cherry tomatoes.
Enjoy!
[/print_this]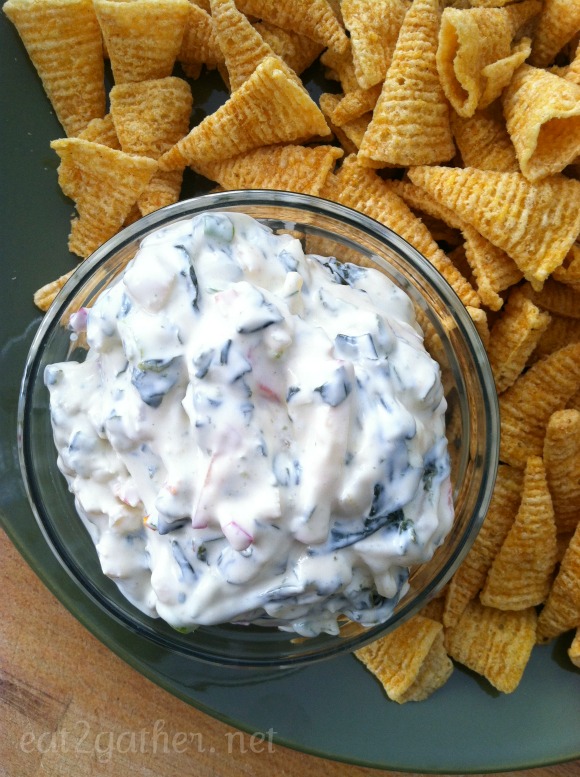 There you have it.  Next recipe coming your way will be you guessed it ice cream!  Have a great weekend!
Link up your favorite dips and dippers below….it's nice to share 😉