Chicken Tortellini Stir Fry ~ healthy!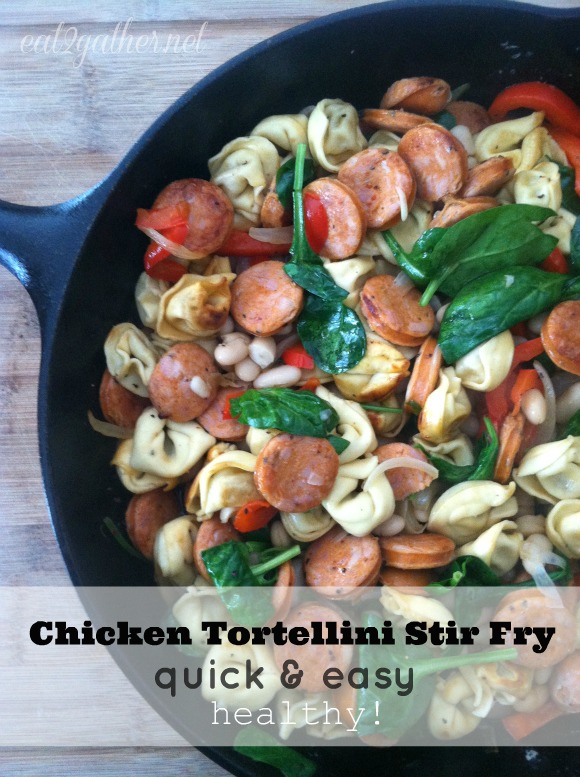 This meal is one I was sure that my family would not eat.  It was too easy and way too healthy for the likes of this brood!  This meal was on the table in 15 minutes flat!  No joke, fer reals.
Ya know I've been trying to eat good stuff.  Fresh food.  No sugar.  Are you sick of me talking about it?  Sorry.  I'll show you a way to creamy cheese this recipe up…have no fear the lover of buttah and cheese is still here!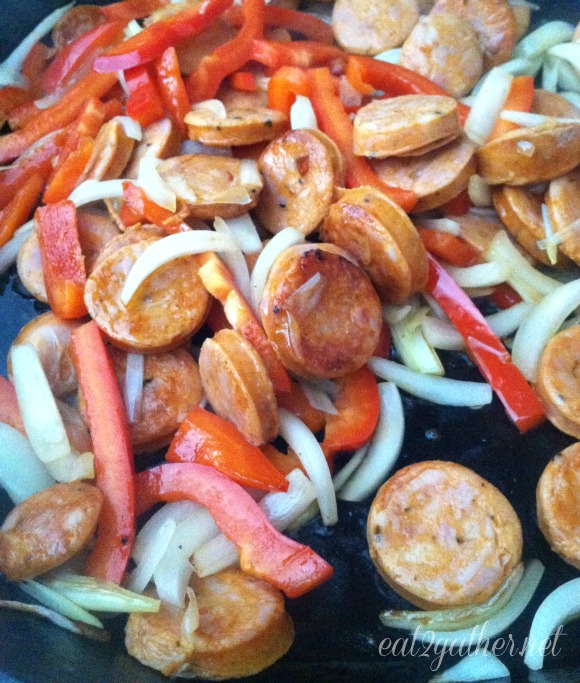 You can use any precooked chicken sausage you like, I chose to use andouille sausage for a smoky spicy flavor.  I cut it in 1/2 inch chunks and fried it in a skillet with a little bit of olive oil.  When the sausage starts to brown add in the peppers and onion, cook until soft.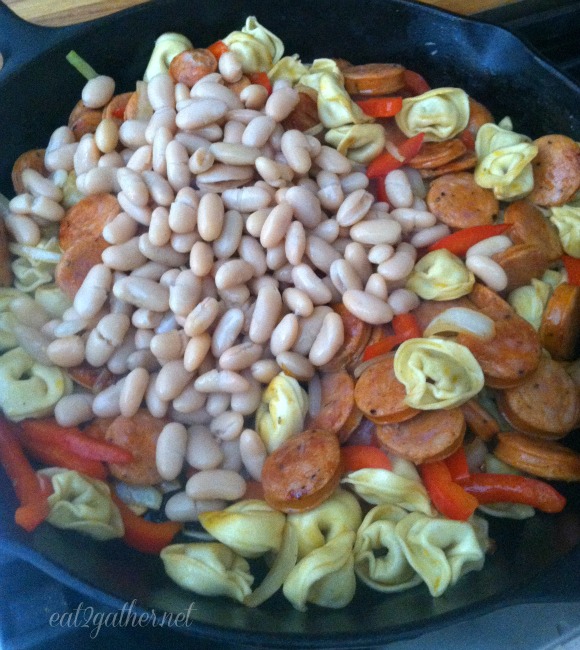 First you will have cooked your frozen tortellini according to the directions on the package, you can do this while you are sautéing the sausage, peppers, and onions. Drain tortellini and add to the pan, allow pasta to brown just slightly.   Now add in beans,  that you drained and rinsed, stir.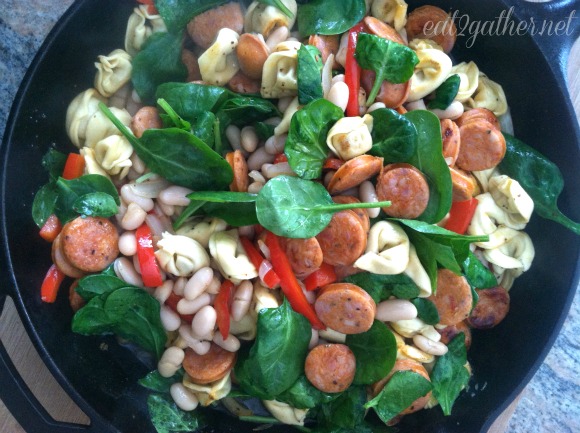 Next add in fresh spinach and chicken broth stir, cover, and cook over low heat for 3 minutes or until beans are heated through and spinach is slightly wilted.
[print_this]
Chicken Tortellini Stir Fry
serves 6
1 pound Chicken Sausage, precooked any flavor (I used andouille.)
9 ounce package frozen Cheese Tortellini
1 Red Bell Pepper, deseeded and sliced
1 small sweet Onion, sliced (approximately 1 cup)
1 can Cannellini Beans, drained and rinsed
2 cups fresh Spinach
1 cup Chicken Broth
Pepper to taste
1. Cook tortellini according to package directions, strain and set aside.
2. Cut red pepper and onions in thin slices, slice chicken sausage into 1/2 slices. Heat frying pan over medium high heat add in sausage and cook until starting to brown, add in peppers and onion cook until soft.
3. Add cooked tortellini to your frying pan, cook until tortellini starts to brown. Keep ingredients moving in pan so they don't burn.
4. Lastly add spinach, beans and chicken broth give it all a good stir, cover and let cook on medium for 3 minutes.
Optional 1: At the end add in 4 ounces of cream cheese and 1 cup of Monterey Jack cheese, add 1 more cup of chicken broth to make this a creamy cheese dish!
Option 2: Leave tortellini out and serve over brown rice.
Enjoy!
[/print_this]
I gave you the option on the print out to cream and cheese it up.  I did not do so thus I have no photos of how amazing this must be.  I came up with this recipe from a recipe Big D found on pinterest.  I just sort of came up with my own version based upon what she told me was in it.  I have not tried the creamy dreamy version, just so you know the goodness of this version lies solely on the word of Big D.  No pressure D.
I also added a second option, which was my sons idea because he was not fond of the tortellini in this dish although his plate was clean.  He suggested I leave out the pasta and serve this over brown rice.  Who is this kid?  Is he trying to take my job er something? Go to school!  Git autta here!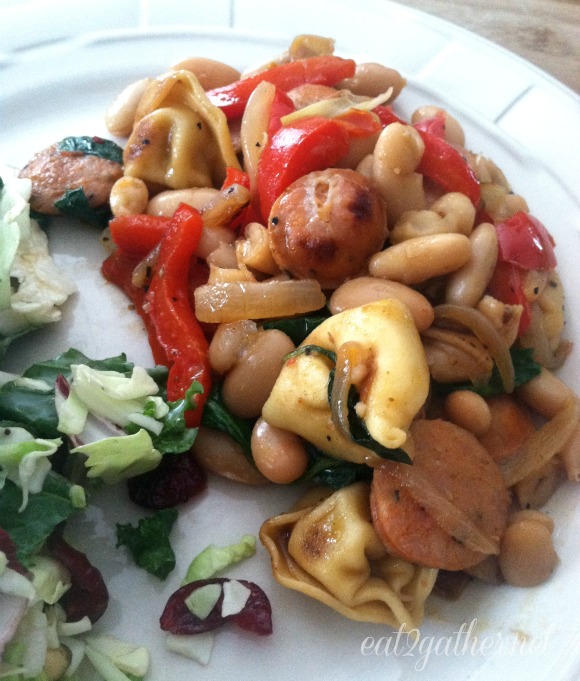 I served it with a bagged super salad I found at Costco it was full of broccoli slaw, kale, brussel sprouts, pumpkin seeds, and cranberries I ditched the poppy seed dressing it came with and drizzled mine with balsamic vinegar, it was good.  No seriously it was really good.
Have you made any changes in your diet lately?
Do tell!   I'd love to hear what you're doing?
Thanks for stopping by!
XOX Sheila