Green Goddess Dressing and grilled vegetables
Green Goddess dressing, made with greek yogurt, is fresh, light and full of crisp flavors. It is so versatile! It can be made and kept on hand to be used with a variety of different recipes.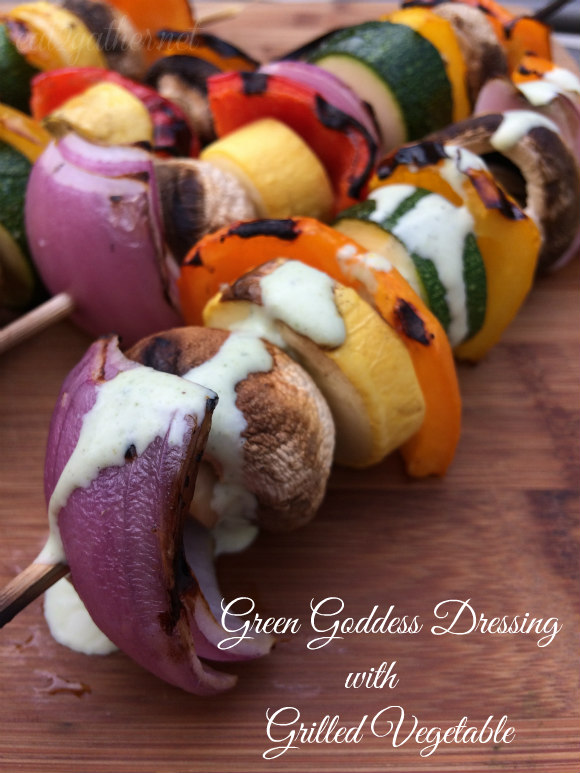 I'm a saucy gal!  I love an abundance of condiments and sauces on any and all foods.  Salad make it a double.  Meat, yes please!  Vegetables, oh of course!  Green Goddess dressing is spectacular drizzled, poured, and puddled on a variety of foods.  I especially love it poured over grilled vegetables, leaving an extra puddle on the side of my plate for dipping.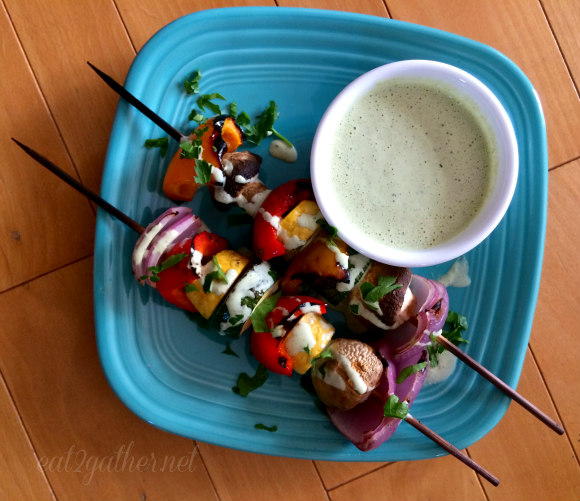 Grilled vegetables can be eaten as a side or on their own, or the grilled vegetables could be stuffed into pita bread and drowned in this lovely dressing.
Where does this name come from? Are goddesses green?  Or is it so fresh and bright, and lovely it's goddess-like?  I'm really not sure.  One this is for sure it makes me want to sing the yummy song.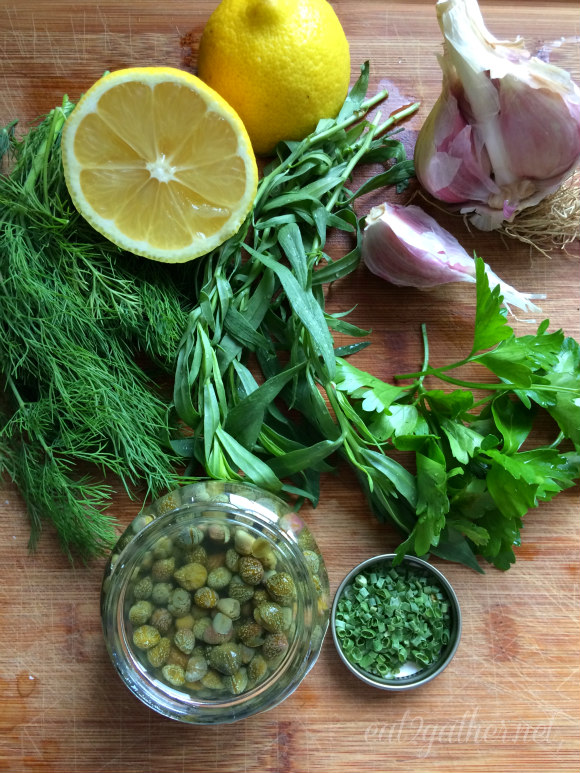 Green goddess dressing is super easy to whip together in your blender.  Honestly aside from the fresh herbs you most likely have all the ingredients in your fridge or pantry.  As for the herbs they can surely be found easy enough at your local farmers market or grocery store!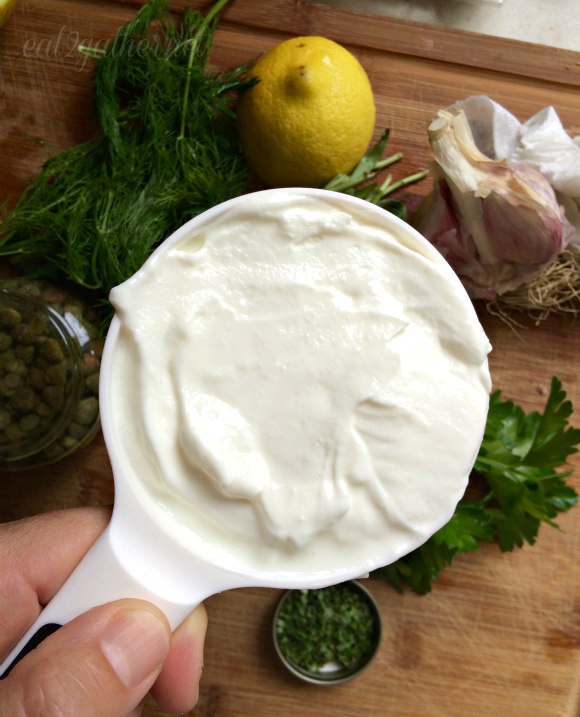 The key ingredient in this particular dressing recipe is the addition of low or zero fat greek yogurt.  Not only does this cut calories (which allows me to double drizzle!) it adds calcium, and packs a protein punch without adding carbs!  I'd say these are definite bonuses for any condiment lover! (Want more information on why protein is so good for you check out this article!!)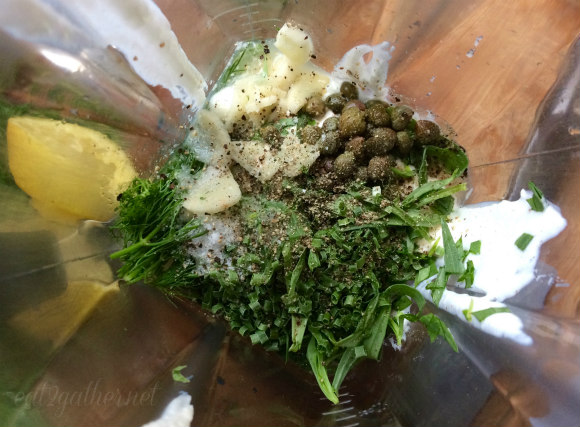 I think I already said this, but it's worth saying again!  Green Goddess Dressing is so easy to make, literally put all your ingredients in your blender, turn it on and do the cha cha cha kitchen dance and that's it.  Give your dressing a taste, add salt and pepper to your taste and there you have it!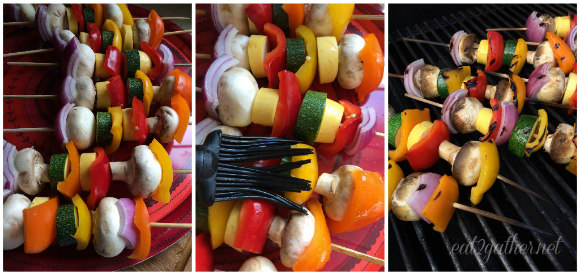 Now lets talk about the grilled vegetable.  So easy! So tasty.  Make them as a side, or for your main course.  The best thing about this recipe is the prep can be done hours, even a day ahead of time if you're entertaining.  This is also a great way to get your kids in the kitchen with you!  Line up the veggie's give them a skewer and let them take part in healthy meal making.  What better way to get kids to eat their vegetables!
Tip: I always make extra grilled vegetable skewers, because the leftovers are amazing reheated, or simply placed on a bed of lettuce with Green Goddess Dressing, or used as pizza toppings, I have even used leftover grilled vegetables in omelets.  The possibilities are endless!
Need more ideas for healthy and delicious entrees for your family visit Milk Means More website!
[print_this]
Green Goddess Dressing with grilled vegetable skewers
Makes 2 cups
Difficulty: Easy
Serve: over grilled vegetables, use as dressing on a fresh garden salad, also great drizzled over meat and grilled vegetables and used as a sauce on pita sandwiches.
1 cup plan low or no fat Greek Yogurt
1 cup Mayonnaise
1/4 cup fresh Tarragon
1/4 cup fresh Parsley Leaves
1 tablespoon Chives (fresh or dried)
1 tablespoon minced, fresh Dill
1 Garlic Clove (approximately 1 1/2 teaspoons minced garlic)
3 tablespoons fresh squeezed Lemon Juice
2 teaspoons Capers with juice
1/2 teaspoon Salt
pepper to taste
Vegetable Skewers for grilling
2 tablespoons Olive Oil
3 Peppers, red, yellow, orange, or green
1 large Red Onion
16 White Button Mushrooms
1 medium Zucchini, cut into 1/2 inch disks
1-2 Summer Squash, cut into 1/2 inch disks
Salt & Pepper
8 wooden skewers soaked in water for at least one hour
Dressing: Add all ingredients to blender and blend on medium-high for 1-2 minutes or until dressing is smooth and all ingredients have been incorporated. Taste, add more salt or pepper to your liking. Pour into a glass container and store in refrigerator for 1 week.
Vegetable Skewers:
1. Clean all vegetables.
2. Cut stems off mushrooms. Cut seeds and white core out of peppers, then cut into 1-2 inch pieces. Cut zucchini and summer squash horizontally into 1/2 inch pieces. Cut the ends off onion, and peel, cut onion in half and then cut each half in half, then quarter each half leaving you with 8 pieces, pull onion apart into sections.
3. Now take wooden skewer that has been soaked in water and start with a piece of pepper alternating vegetables and ending with a piece of pepper. If you plan correctly you should end up with 8 vegetable skewers and maybe a few extra vegetables.
4. Brush with olive oil, sprinkle with salt and pepper.
Turn grill on to medium high heat. Place vegetable skewers on grill shut the lid and wait 5 minutes, lift lid and using tongs flip skewers to the other side, shut lid and grill for another 5 minutes. Remove to a platter and let rest for a few minutes before serving. Drizzle with dressing and server with a small bowl of Green Goddess Dressing for dipping!
Note: Serve grilled vegetable skewers with Green Goddess Dressing on their own, or with grilled steak or beef.
Enjoy!
[/print_this]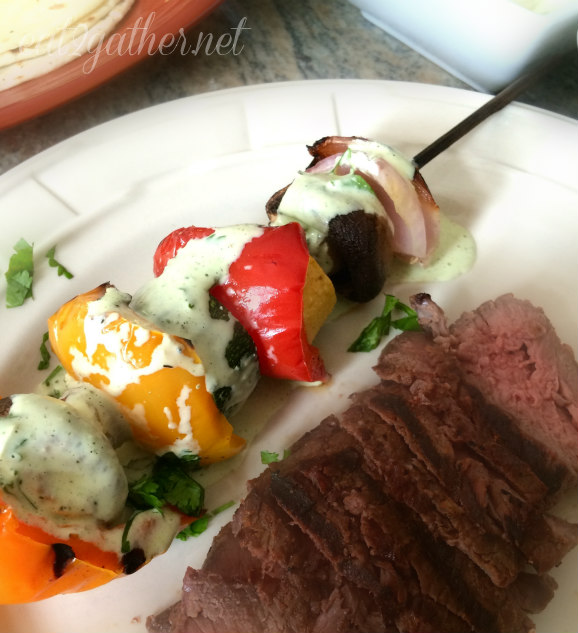 Looking for more easy and healthy protein packed recipes for your family FOLLOW United Dairy Industry of Michigans 
Subscribe to UDIM's YouTube channel for quick videos that demonstrate delicious and nutritious recipes for you and those you love!
Let's gather around the table!
XO, Sheila
Disclaimer:  I am proud to partner with the United Dairy Industry of Michigan to bring you delicious healthy recipes made with cow's milk.  Because of these great partnerships E2g is able to bring you and your family around the table to enjoy great food!  As always all opinion and ideas are 100% my own.