This salad is the perfect salad for celebrating the best of the harvest.  It uses vegetables fresh from the farmers market, roasted  and tossed with orecchietta pasta and basil drizzled with a fresh lemon balsamic vinaigrette.  This pasta salad is versatile and pairs well with any meal, or it can be a meal all on its own!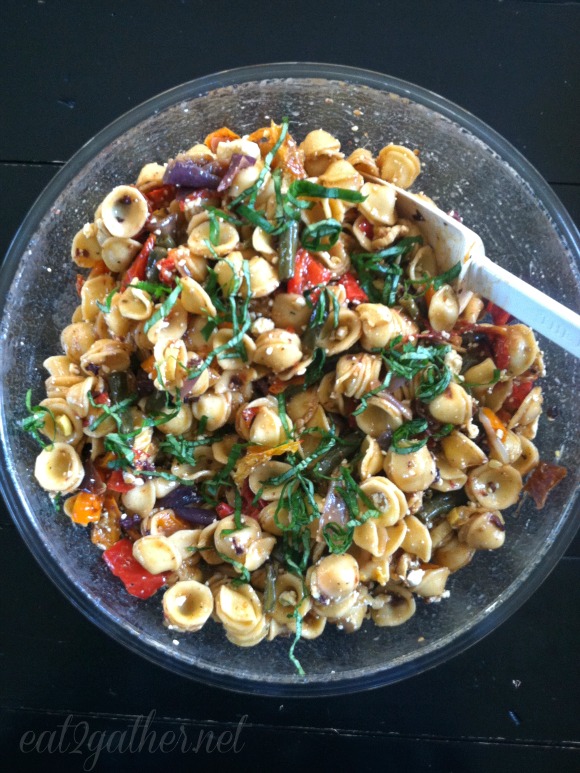 If you live in the midwest you'll know what I mean when I say "ya gotta get while the gettin's good", and right now the gettin' is good at the farmers market, but in another week or so it's going to winding down really fast.  I get this panicked feeling this time of year,  like this is going to be my last good tomato for eight whole months!! So I buy a whole bushel and make myself sick on them!  Or I'm never going to have another peach again!!  Insert high pitched scream. The basil is nearly done…full on panic mode…beans, beans, need to get more beans.  If you happen to run into me at the farmers market I might look like a crazed vegetable addict.  My market basket full to the brim, my kids dragging behind me carrying melons, and pumpkins, and bags and bags of apples in every variety.  I'm a vegi/fruit hoarder.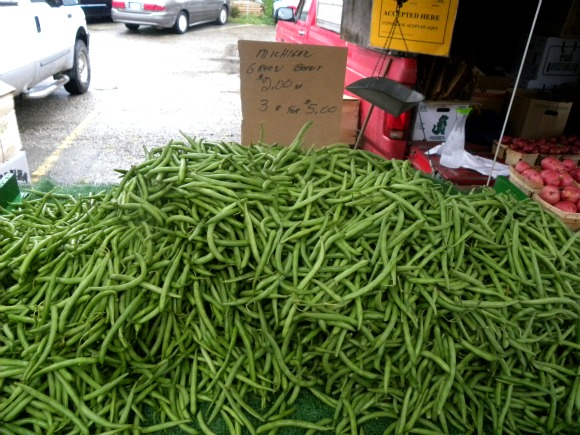 I confess.
I have absolutely no control over my spending at the farmers market.  Oh and it's so hard for me to pass a farmer by…unless they are selling avocados and bananas.  Because you see there is nary a farm in Michigan that grows avocados and bananas, this is not local stuff, they think they're fooling people but they are not fooling this chick.
I was not born yesterday…or the day before for that matter.  I can pass them by with a clear conscience.
So the moral of this story is that I often come home with more than enough, and I have to get creative with how I use it all so nothing goes to waste.  That's what I love about this salad!  You can use any and all vegetables, the odds and ends from your vegetable drawer, it all works in this salad.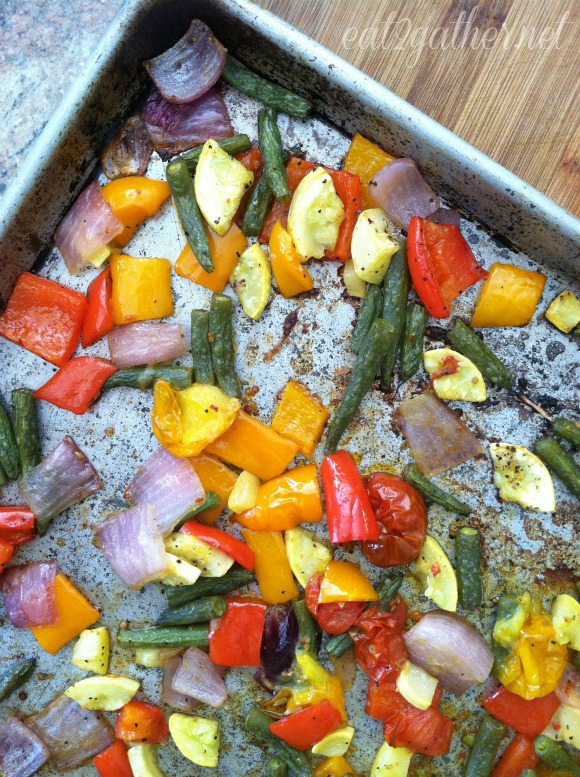 Feel free to make it your own.  Just remember that when you roast the vegetables they shrink down.  Start with about 8 cups or more of fresh vegetables cut into inch sized chunks.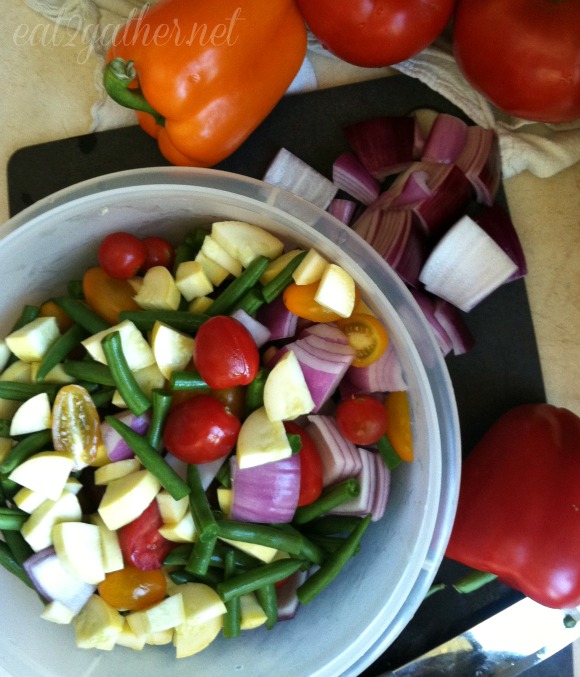 This sounds like a lot, but once you cut up a couple of peppers, and a zucchini, summer squash, onion and so on before you know it you'll have a bowl full of vegetables to roast.  You can use more vegetables if you want don't let me hold you back!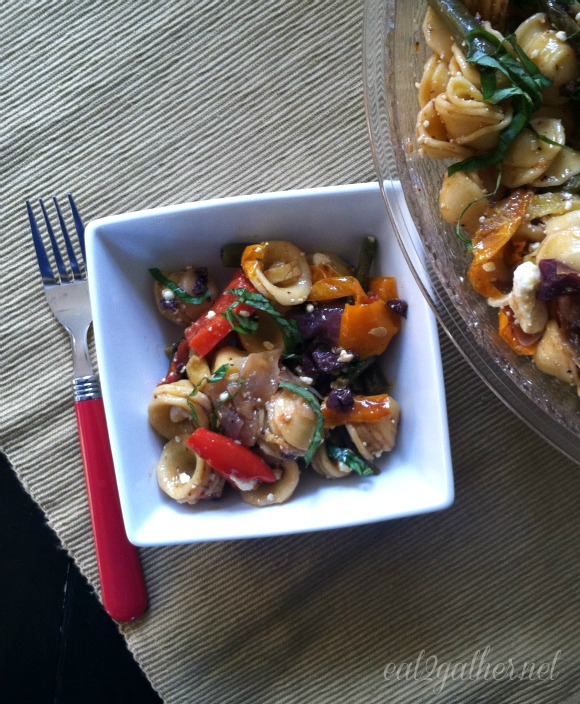 [print_this]
I love the versatility of this salad. You can roast any vegetables you like for this salad. If you decide to change up the vegetables just remember you want to end up with about 3-4 cups of vegetables after roasting. Broccoli works well as does corn, or asparagus. Don't like olives leave them out. The sky is the limit with this salad.
Farm Market Pasta Salad
1 pound Orecchiette Pasta
1 Orange Pepper, seeded and cut into medium chunks
1 Red Bell Pepper, seeded and cut into medium chunks
2 small Summer Squash, cut in half and sliced into 1/2 inch slices
1 Medium Red Onion, cut into bite sized chunks
2 cups Cherry Tomatoes
2 cups Green Beans, snipped and cut into 1 inch pieces
1/4 cup Olive Oil
1 teaspoon Salt
1 teaspoon Pepper
1 cup Feta Cheese
1/2 cup Olives, minced
1/4 cup fresh Basil, roughly chopped
Dressing
1/3 cup Olive Oil
juice of 1 Lemon
1 clove of Garlic, finely minced
1/2 teaspoon Salt
1/4 teaspoon Pepper, more if you prefer
1 heaping teaspoon Dijon Mustard
1 tablespoon Balsamic Vinegar
1 tablespoon Honey
1. Boil Orecchietta pasta until its al dente, drain and allow to cool.
2. Cut up all your vegetables into medium to small chunks, place in a bowl and toss with 1/4 cup olive oil and salt and pepper. Spread vegetables on baking sheets, making sure that they are not crowded. Roast in a 425 degree oven for 30 minutes. Remove and allow to cool.
3. When pasta and roasted vegetables are cool you can mix them together in a large bowl with feta cheese, and olives.
4. Whisk together the for the dressing. Drizzle over pasta salad and stir to coat. When dressing has been incorporated into the salad sprinkle the basil over the top give salad another quick stir and you are good to go!
Enjoy!
[/print_this]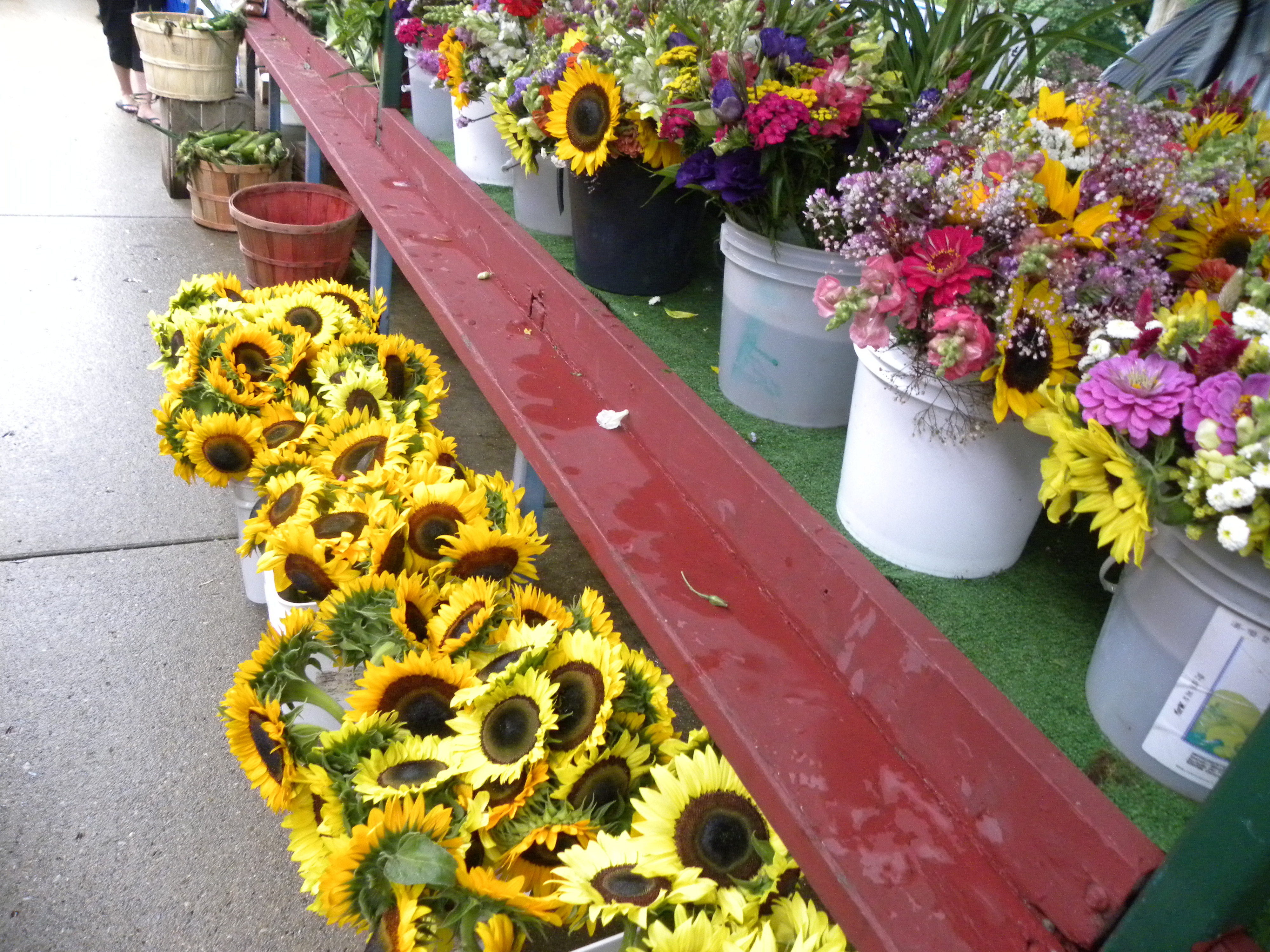 Then there is the situation with the sunflowers and every other flower farmer at the market…I want one of each and all 5 buckets of sunflowers please.  I love flowers, fresh bright flowers.  Kenny are you reading this?  hint hint.
Will you visit your farmers market this weekend?  What can't you resist?
Much Luv! Sheila