Spaghetti Pie is quick, easy, and pleases everyone in my family.  I mean everyone.  It's hard for me to believe that I've never shared this recipe here before.
Spaghetti Pie is one of my go-to quick dinner dilemma meals.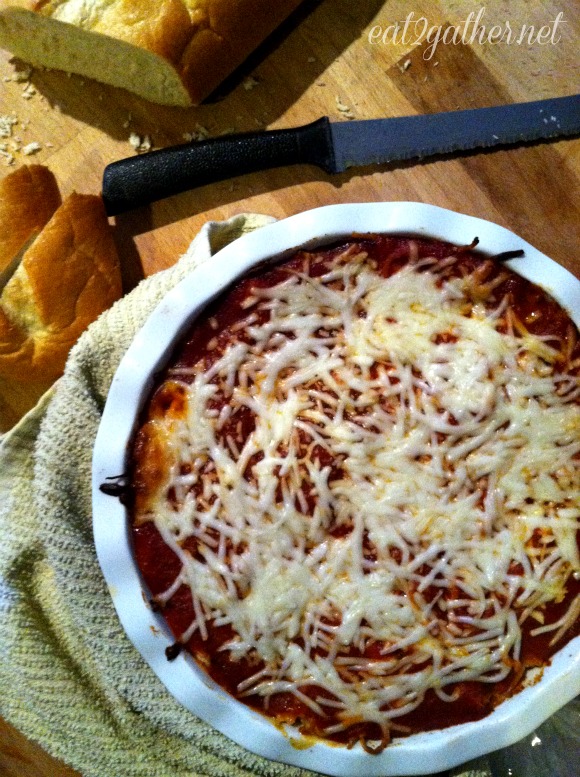 Another thing that makes this meal great is that it can be made the night before.  I often make it with leftovers from spaghetti dinner, as I'm cleaning up dinner I use the left over sauce and noodles to make this meal.  I pop it in the fridge and Voila we have a.) dinner for the next night b.) dinner for another week night c.) dinner to share with another family!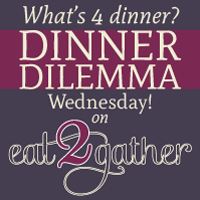 The kiddos went back to school today after having 19 days off!  I'd like to say I'm glad they are back to school (which I am) but now the rat race begins again.  We enjoyed so many family meals together over the break, and not just dinner.  We were able to gather together for breakfast, lunch, and dinner most days!  Now practice will be at night, and games, and so on and so forth and what have you….this leaves family dinners few and far between.  So I will be running to my easy make ahead and last-minute quick meals.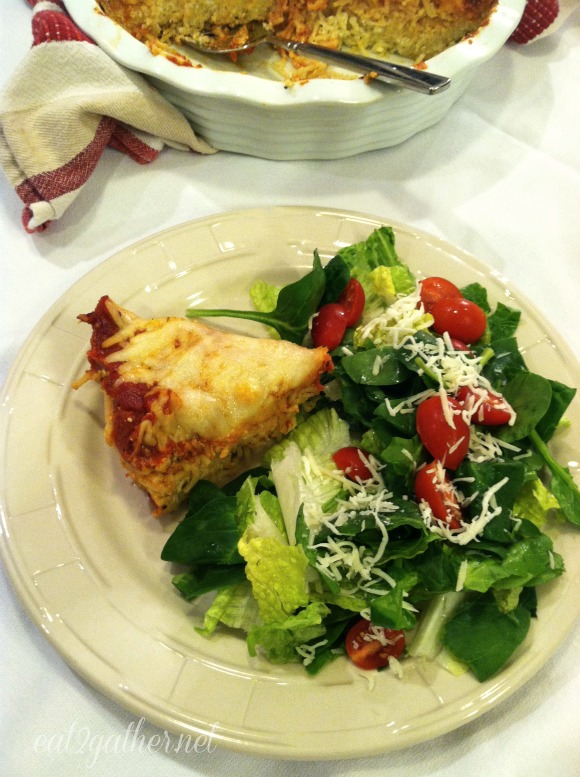 If you are on a low/no carb, sugar-free eating plan (diet is a four letter word) like myself this meal may not be the best.   As you can see I filled my plate with greens and veggies.  Woot.  Woot. Blah.  Three days  without sugar.  Today is my first day that I don't feel like someone is hiding around every corner waiting to attack.  Needless to say I am a teensy weensy bit  addicted.  TO SUGAR!!  I also decided to quit drinking coffee from morning till night.  I'm allowing myself 2 cups. Two freeking cups. A day.
Now that I have shared all that with you I guess I should get around to sharing this easy, cheesy, spaghetti pie recipe. You're gonna love it!

You will need approximately 4-5 cups of cooked spaghetti noodles cut in to smallish pieces.  To that add an egg, ricotta cheese, Parmesan cheese, and spices mix it all together making sure that the cheese coats all the noodles.  This may take a minute.  Spread it in a buttered deep dish pie plate.  (A square baking dish works too! 😉 )  Cover the noodle mixture with sauce, sprinkle with cheese and bake for 30 minutes.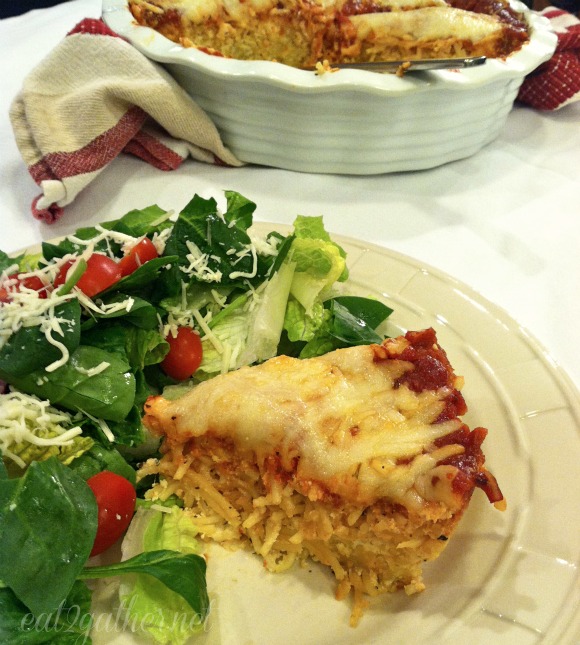 It's that easy!  This time I used spaghetti sauce straight out of the jar.  But if I'm making it from leftover spaghetti sauce it has meat in it.  If you're thinking you usually don't have enough leftovers to make this.  Well then just make sure you do!  Make a bigger batch and make yourself some Spaghetti Pie!
[print_this]
Spaghetti Pie
serves 6
5 cups cooked Spaghetti, cut into smaller pieces
1 15 ounce container Ricotta Cheese
1 Egg
1/2 cup Parmesan Cheese
1 teaspoon Italian Seasoning
1 teaspoon dried Basil
2 cups Spaghetti Sauce, meat sauce, or marinara
1 cup Mozzarella Cheese
1/2 tablespoon Butter, for buttering the pie plate
Preheat oven to 375 degrees.
Using kitchen scissors or a knife cut spaghetti noodles into smaller pieces, this doesn't need to be precise, this just makes it easier to mix. Add in the ricotta, egg, spices, and Parmesan cheese make sure this is combined well. Press noodle mixture into a buttered pie plate, pour spaghetti sauce over noodles, sprinkle with mozzarella cheese. Bake in a 375 degree oven for 30 minutes.
Note: This recipe lends itself well to using up leftovers. If measurements are not exact no worries, if you stick to the basic idea of the above ingredients and measurements it will turn out super every time!
Enjoy!
[/print_this]
Do you have any dinner dilemma questions you would like answered…not that I'm the guru or anything, but I'd like to try to help!  Any specific types of recipes you would like to see in this series….let me know!
Peace, love, and pie ♥
Sheila