Killer Toffee Almond Brownies
If you're not a brownie fan?…..well I really don't know what to say to you.  Other than you have to try these brownies!  They will make a brownie lover out of you for sure!  They are my gal Brenda's signature brownie.   Everyone always loves them.  Even the men folk can't stay away.  The very best thing about these brownies is how easy they are.  Perfect for that last minute picnic or potluck invite you may have this weekend.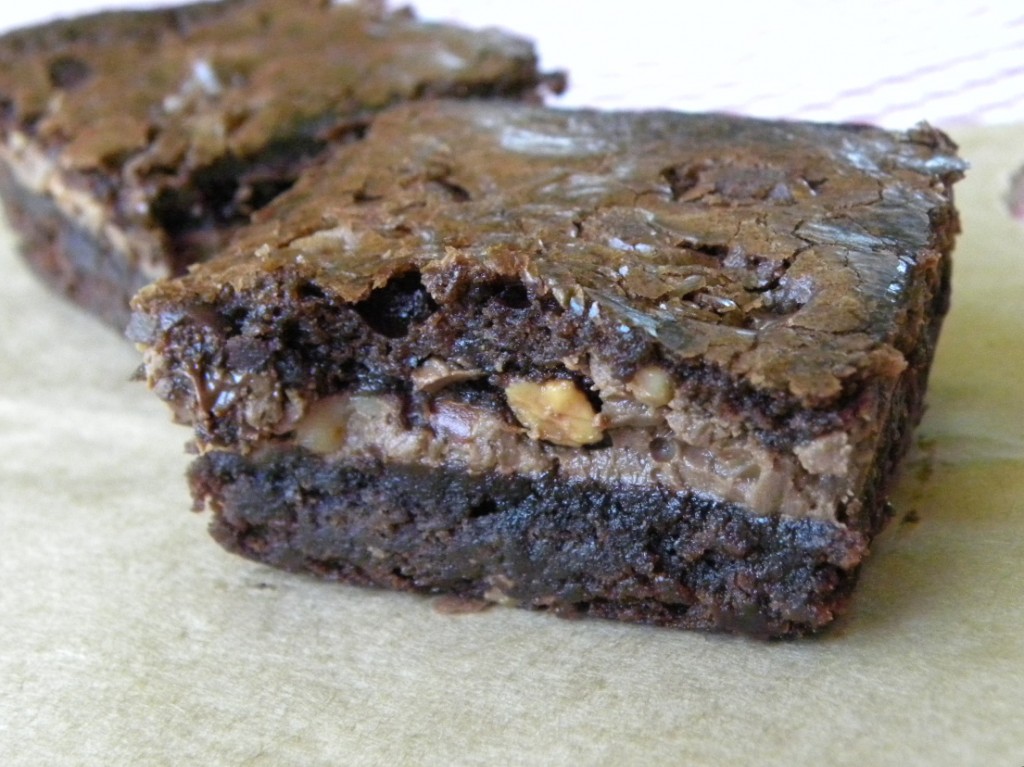 Heavens to Betsy! If these aren't worth killin for not sure what is.
[print_this]
Toffee Almond Brownies
4 large (4.45 ounce) Hershey Symphony Milk Chocolate Bars, almonds and toffee chip
2 boxes Brownie Mix, preferably Ghirardelli triple chocolate brownie mix
2/3 cup Water
2/3 cup Vegatable Oil
2 Eggs, slightly beaten
preheat oven to 350 degrees
1. Add brownie mix, water, oil, and slightly beaten eggs to your mixing bowl.  Mix until combined and there are no signs of dry mix.
2. Prepare 9×13 baking pan by spraying generously with non-stick cooking spray.  Pour half of the batter into the pan.  Lay candy bars over batter.  Pour the remaining batter over the candy bar layer.  Make sure to completely cover candy bars.
3. Place in preheated oven bake for 50 minutes. As soon as middle is firm and edges are pulling away from the sides of the pan they are done.  Remove from oven and let cool completely.  Lay a cutting board on top of brownie pan and invert brownies out onto your cutting board for cutting.  With large sharp knife cut brownies into 2″ squares.
Place on a plate and VOILA! you will be the hit of the picnic.
[/print_this]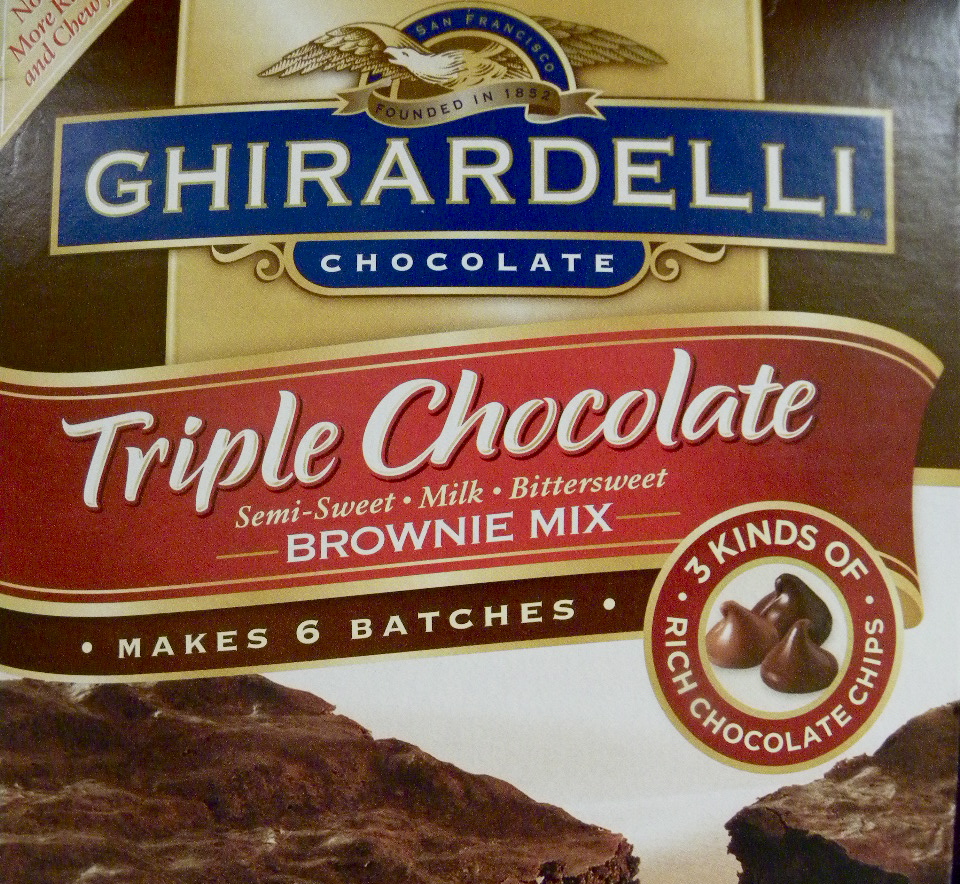 So I start out with this brownie mix.  Any mix will do, if you don't happen to have this one.  I buy the Ghirardelli triple chocolate mix at Costco.  It comes with 6 bags of brownie mix.  It's the best brownie mix ever.  I may never go back to homemade brownies  again.  It's what I classify as a life changer.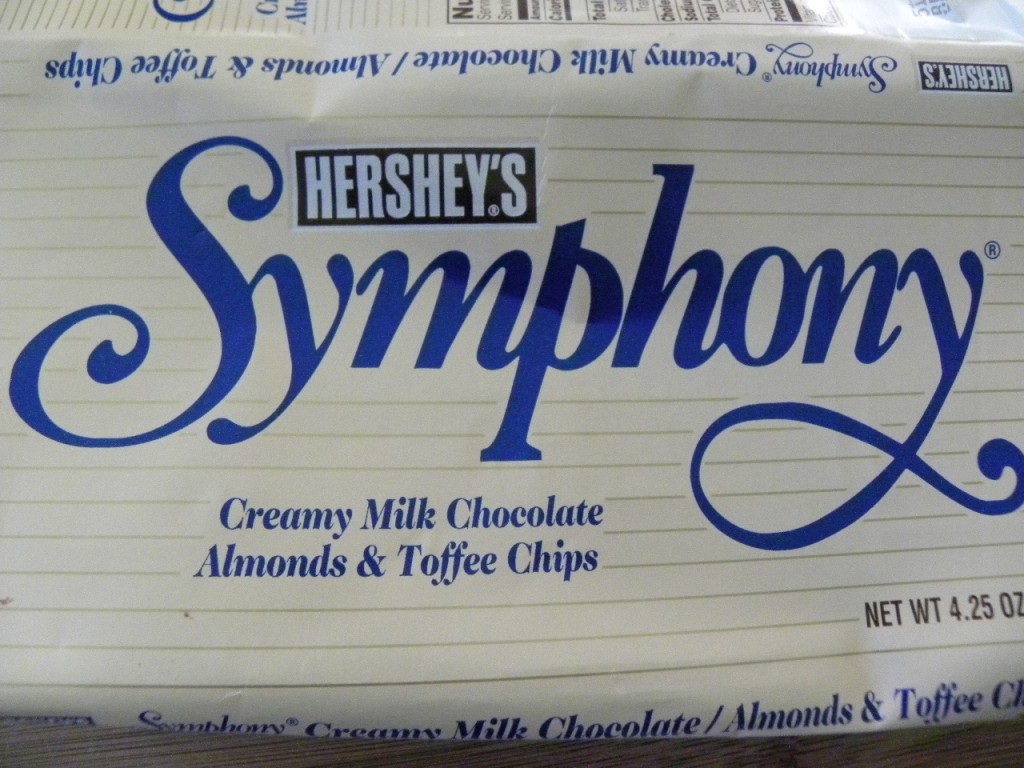 The Hershey Symphony candy bar is what makes these brownies Killer. Four not three or two, you could use five…..but no less than four please and thank you.
I have also used Milk Duds, two large boxes, in place of the Symphony bars.  Brenda said really any candy bar will do….Reeses, Hersheys Cookies and Cream Bar,  Mint, Heath, you name it.  But if I were you I would try them the Killer way first!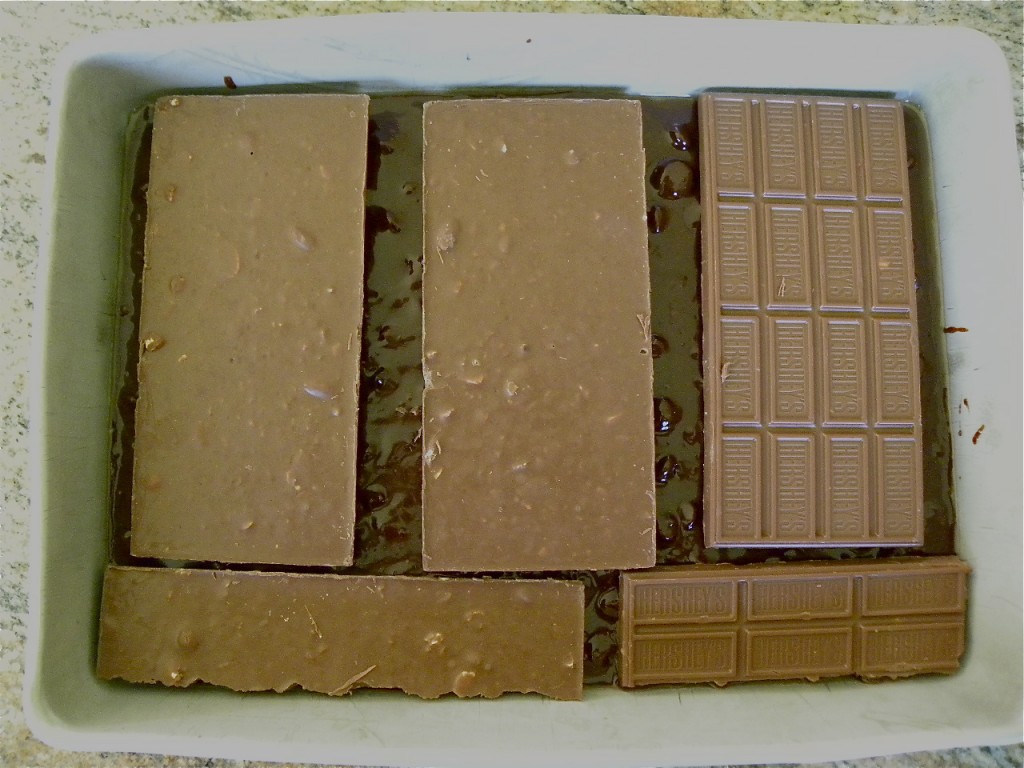 After you mix the brownie mix with water, oil, and eggs, spray your baking pan generously with non-stick cooking spray.  Pour half the patter in the pan….and here's the Killer part….lay the Hershey Symphony Candy Bars over the batter, like so.  Killer!  Deadly!  Danger….danger….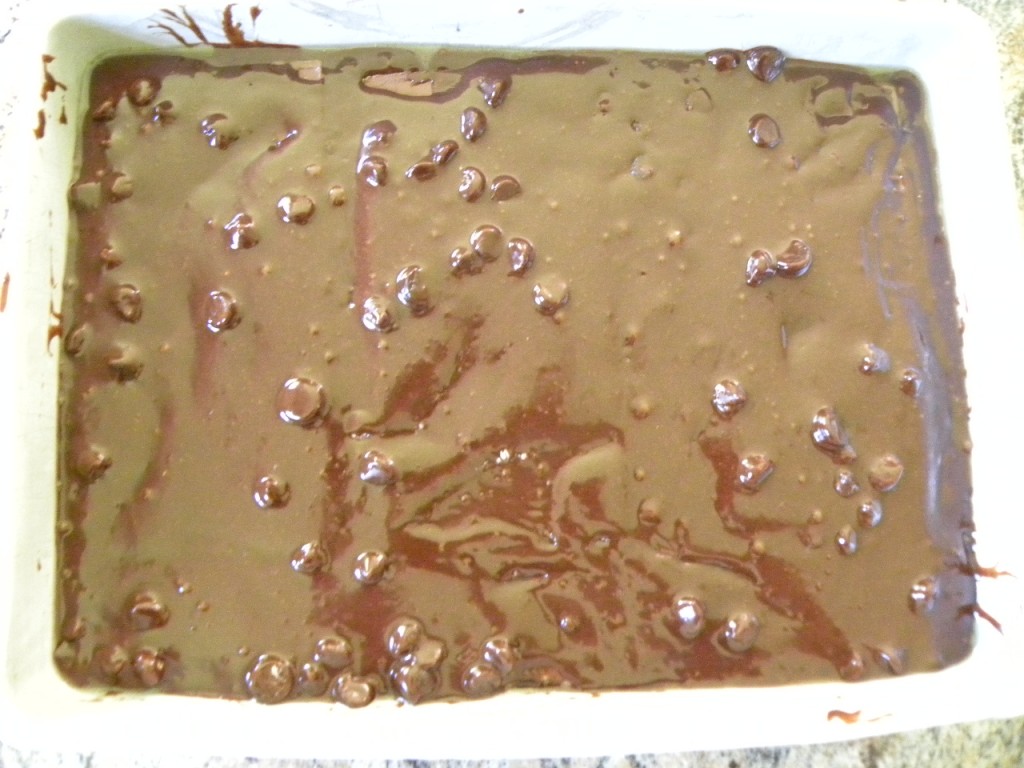 Now cover those babies up with the other half of the brownie batter.  It may seem thin, take your spatula and spread it around, it will be fine, just bake and see.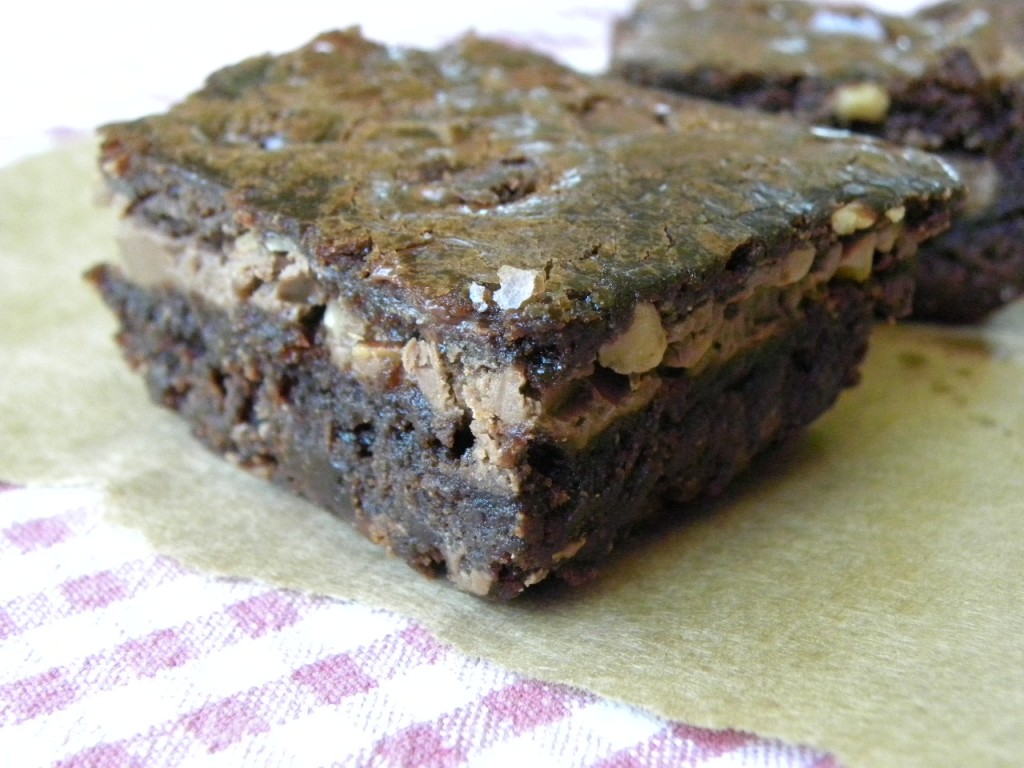 Come to Momma……hokey mokey these are good. If you have had these brownies before…can I get an Amen people…..one more Amen, there we go uhHUh there in the back AMEN! amen…amen…mmhmm yes and another amen.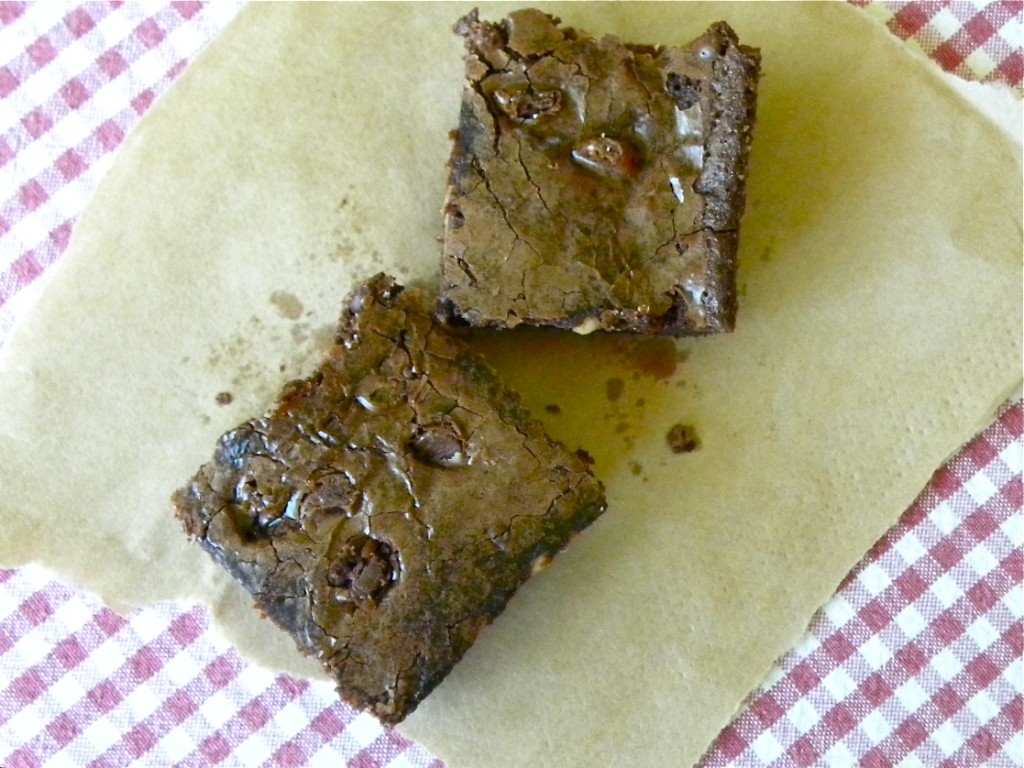 Go on now shoo shoo.  I know you want to make these.  Go NOW!   Make these brownies.  You will never regret it,  they are quite frankly the best brownie you will ever eat.  And to that I say Thank You Brenda.
Have a great weekend and Enjoy!
Sheila