I realize after my last post this one seems a bit contradictory, however, I wanted to share this with you…..
I've got it in my noggin that this year is going to be different.  I'm not sure why.  It just is. I need to take better care of myself.  I'm not one to make resolutions…too much pressure.  I never keep them past New Years Day anyway.  I just know it's time to….
Eat better.
Rest more.
Exercise consistently.  (I did not say constantly….I said consistently, do you need glasses?)
Are you starting out 2013 with a new healthier living plan?
You all know I love to bake, and cook, but mostly I love to bake.  Often my kids come home to warm cookies, pies, and scones for their after school snack.  Eating fresh homemade baked goods is fine for all four of them since they still growing and are extremely active in athletics.  And for some reason they all have, by the grace of God, their fathers self control when it comes to eating unlike their mother that can throw down a dozen cookies with out batting an eye. The rest of my family takes two cookies and their done.
Yesterday when my kiddos came home to this on the counter, they were somewhat perplexed.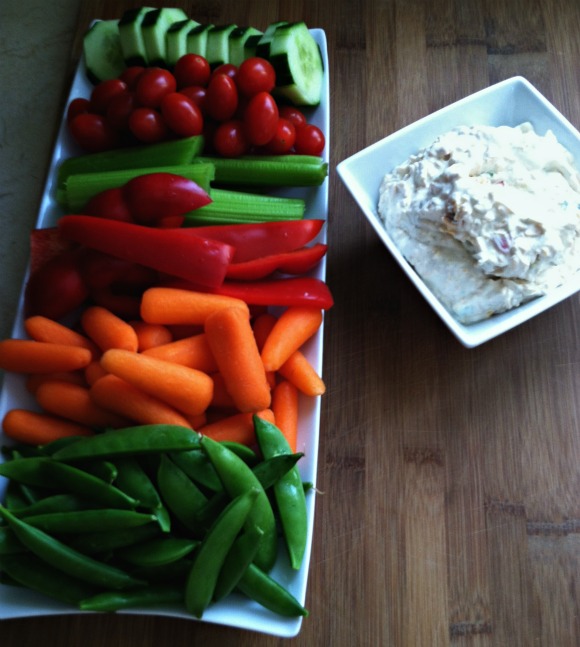 My middle son said, "W-oowah mom what's with the veggie platter?"
"What's with it…IS your mom has got to take this weight off !  That's what's with it!"  I didn't sound hysterically or grouchy at all when I said it.  I wasn't going through scone withdrawal or anything like that.  I was completely cool, calm, and hysterical.  Yes I was.  I was starving!  And I couldn't wait to drop my face into that veggie plate!  I know, I know…. the dip is not exactly diet food.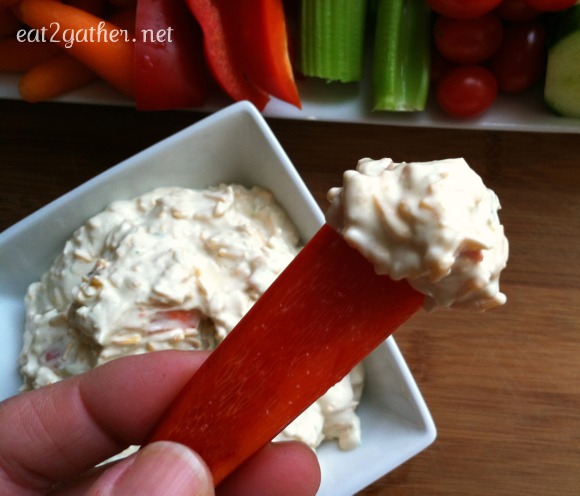 That depends on how you dip.  Do you dip like this?  Mind you, that's dip just for one little bite off the end, not the entire piece of pepper.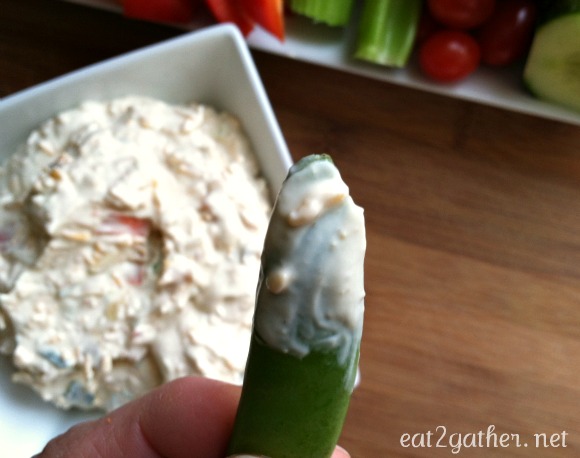 Or like this? The old me dips the first way…but this new me, the one that's trying to drop a few gallons of dip, dips like this these days. (ugh it stinks)
Old habits die hard for me.  I'm not a good dieter.  Until I came into my fourth decade of life I never thought twice about my weight or what I put in my mouth.  I ate it all no holds candy barred.  Then I turned 40.  No big deal.  I will have to add that I am a pretty active person.  I don't sit down much.  Even when I'm blogging I get up continuously.  At 38 I herniated a disc in my neck and had to have disc fusion surgery.  The surgery help my neck pain, and I eventually gained back full normal use of my right arm, but since I have had on going back troubles that have really kept me from doing the exercise I was used to doing before I herniated a disc.  This coupled with my 40th birthday seemed to do something to my metabolism.  It stopped.  Well it seems like it did.  So for the past four years I have ever so gradually gained a total of 20 pounds.  People say to me you look great I can't see that you've gained weight.  Well thanks, but really I have and really it needs to come off before 20 more accumulate on my bosoms.  Which by the way I wouldn't mind keeping there, but I know my bosoms will be the first to go.
I started New Years Day with the My Fitness Pal app, I've had it on my phone for over six months and done nothing with it  but so far after 12 days I have logged every bite and stuck pretty close to my allotted 1200 calories a day.  I'm not going to lie, it's hard.  I feel like I'm starving most days.  But I have found keeping healthy good snacks like fresh veggies at the ready makes this goal easier.
But then I do things like break down and make muffins….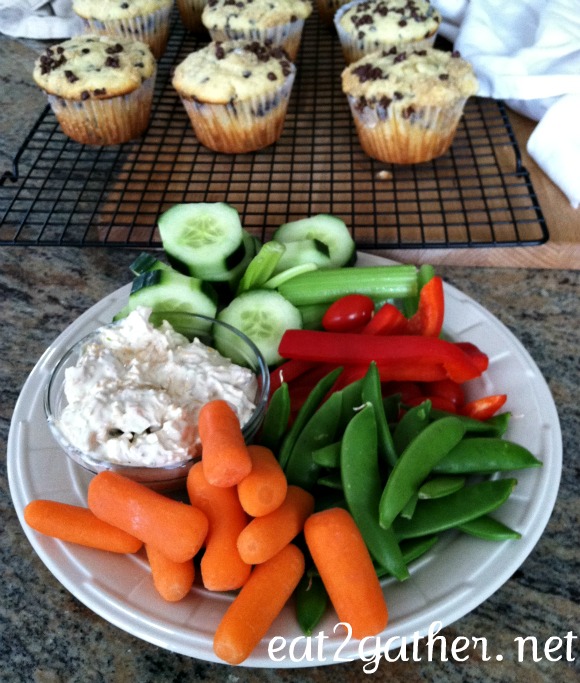 I wish I could tell you I only ate veggies and didn't touch the muffins.  But I caint'.  I ate a muffin. They were jumbo muffins, not normal nice little muffins.  Nope this Dumbo made JUMBO chocolate chip muffins.  I always have liked to challenge myself….ugh.
So anyway lets cut the diet talk and talk dip.  My mom always made this dip.  It is awesome for veggies, or to spread on bagels, wraps, or crackers.  My momma's Veggie Dip is really easy and quite addicting, so be careful if you, like me, are watching your girlish figure!  Veggie Dip is how I get my kiddos to eat raw veggies.  If you are thinking Super Bowl Party this is also a fun healthier choice.  I have used the no fat sour cream for this dip and it tastes just as good!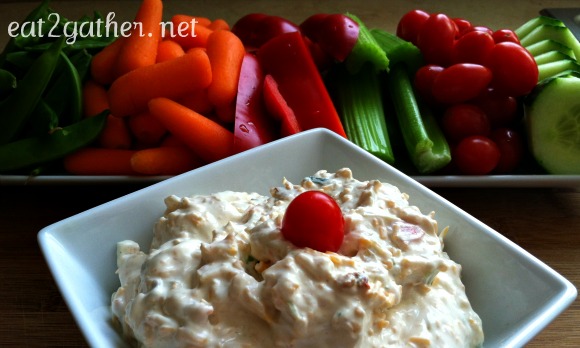 [print_this]
Veggie Dip
1 12 ounce container Sour Cream (no fat and low fat works great)
1 package dry Vegetable Soup Mix (Knorr, Lipton, or Mrs Grass)
1 cup finely grated Sharp Cheddar Cheese
2 tablespoons Buttermilk
1 dash Worcestershire Sauce
Place of of the above ingredients in a bowl, mix, and store in refrigerator 1/2 before serving with fresh veggies.
Note: This also makes a great spread for wraps, tortilla roll-ups, crackers and bagels.
Enjoy!
[/print_this]
Thanks for listening to me babble on about my attempt to take better care of myself.   Don't worry I still will be cooking up mostly the same type of family friendly food, I'm not going to go triathlon on you or anything!  But I am planning from time to time on sharing this journey with you  I hope you don't mind.
If you are on a weight loss journey I think you would love my friend Kim's blog At home with Kim.  She has started a weekly post called Weigh in Wednesdays to help give accountability and encouragement to those of us that are on a weight loss journey.  I hope you check it out!
Much Luv, Sheila