Berry and Nut Salad with Poppy Seed Dressing
The possibilities are endless with salads. Don't be afraid to layer all your favorite ingredients.  Here let me show you!
Truth be told I love salad, and more than anything I appreciate a well put together salad.  But honestly I do not love to make salad.  I don't know why.  It's really not that hard.  Maybe it's because my favorite sort of salads tend to be a bit more complex.  Layered.  Full bodied.  No I'm not talking about wine, I'm talking about salad.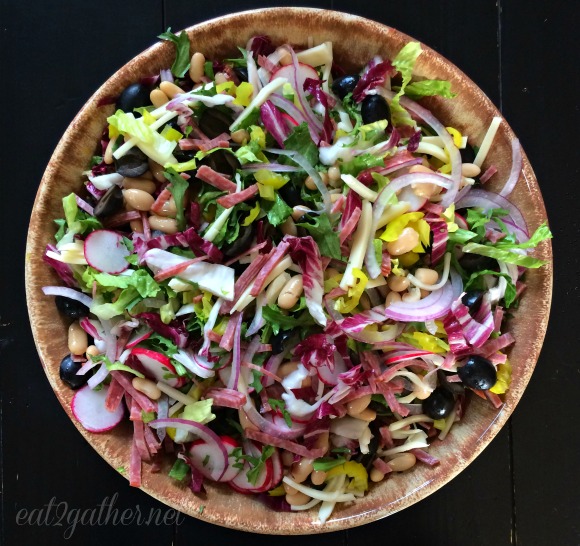 Napa Chopped Salad 
I had a salad epiphany in Germany 25 plus years ago.  I realized that you can put anything on a salad.  Not just cucumbers, tomatoes, red onions, carrot sticks and croutons all drowned in French Dressing with an extra side of Ranch.  Welcome to the salad of the seventies and eighties in midwest rural America.
I had my first Greek Salad in Germany made by lovely Turkish people.  I have dreams about that salad.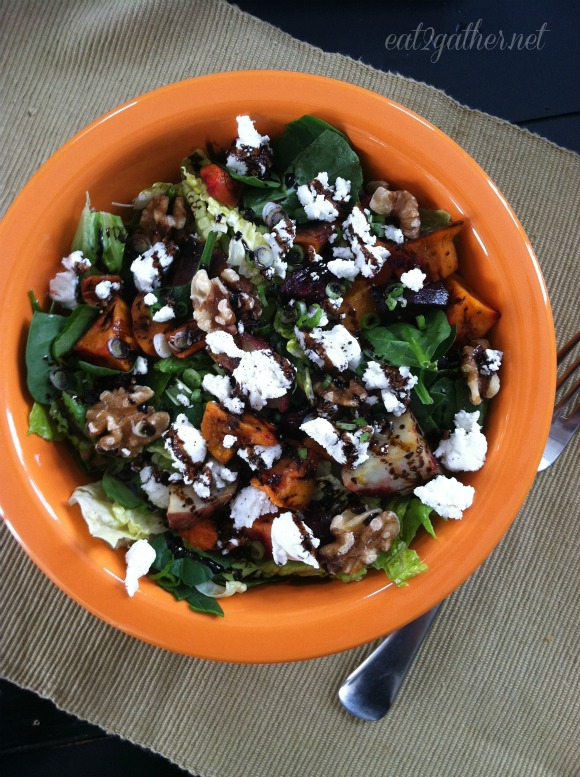 Chèvre Roasted Vegetable Salad
I had my first salad with vinaigrette.  It was life changing.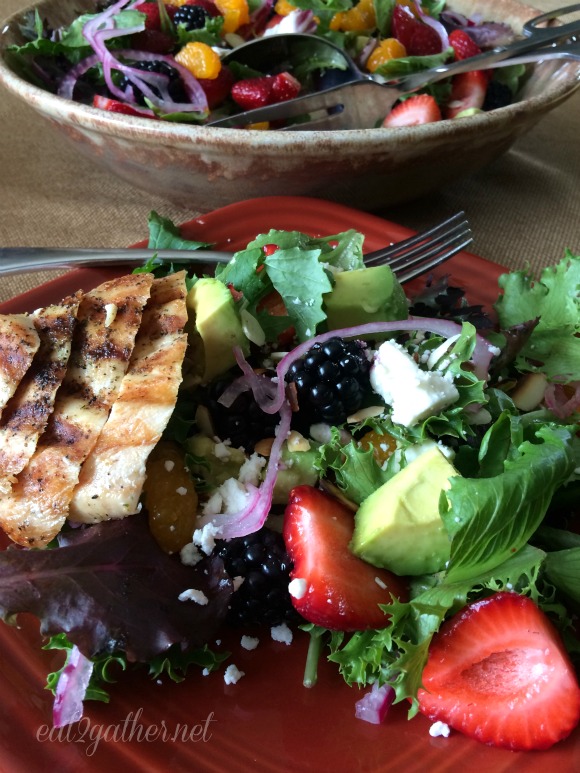 I learned that iceberg lettuce was like really not that good, and there were actually other varieties of lettuce, and greens that could be purchased fresh from a market every Saturday morning in the platz.
Mind blown.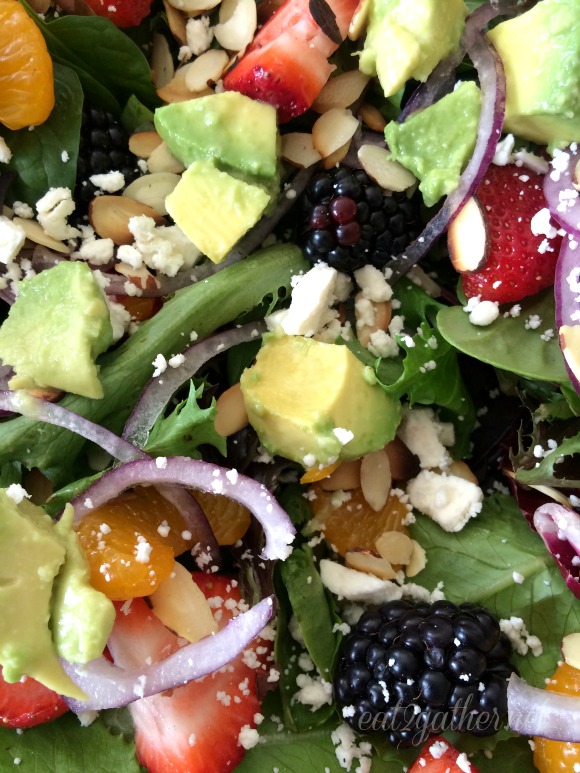 And yes, I learned that anything goes with salad.  The skies the limit.  Now I probs wouldn't put crumbled brownies on greens.
Fruit, nuts, corn, celery, onions any and all varieties, mushrooms, any vegetable, add a grain, roasted vegetables, pickles, olives, cheese – any and all sorts, bread – and not just croutons, protein – meat, fish, shell-fish, beans/legumes.
You get the idea?
I'd rather make a giant….ok gargantuan salad than a single salad, mainly because the for the most part the salads I prefer involve a bit of prep, so as long as I'm making a salad I might as well make him big and enjoy him for a few days…know what I'm sayin'?  (get your mind outta the gutter we are talking about salad here)
I have a secret to making a really good salad, a better than an average tossed.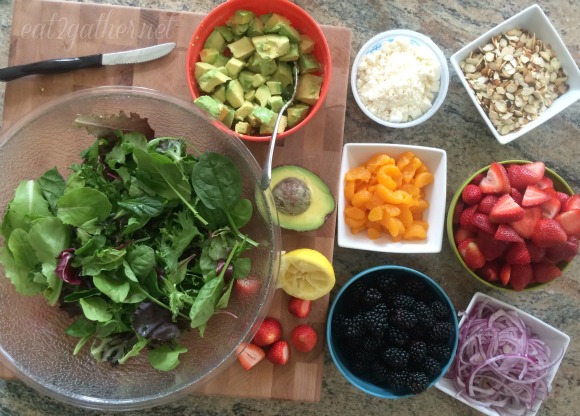 The secret is layering.  Yup, that's it.  Layer.  Don't place greens in a bowl and then dump all the additional ingredients on top.  Layer.
I'm going to demonstrate for you the best practices for salad construction.  Believe me you will never look at a salad the same again!
Are you ready?

Start with greens, then layer your favorite toppings. (I happen to love fruit, nuts, and cheese on salad.)  Another layer of greens, toppings, and one more time!  That's right three layers of greens and toppings.

When you make a salad this way, everyone gets an equal amount of goodies, and no one is standing there trying to dig to the bottom, or mix it up, because it's just perfect right down to the very last bite.
Trust me on this.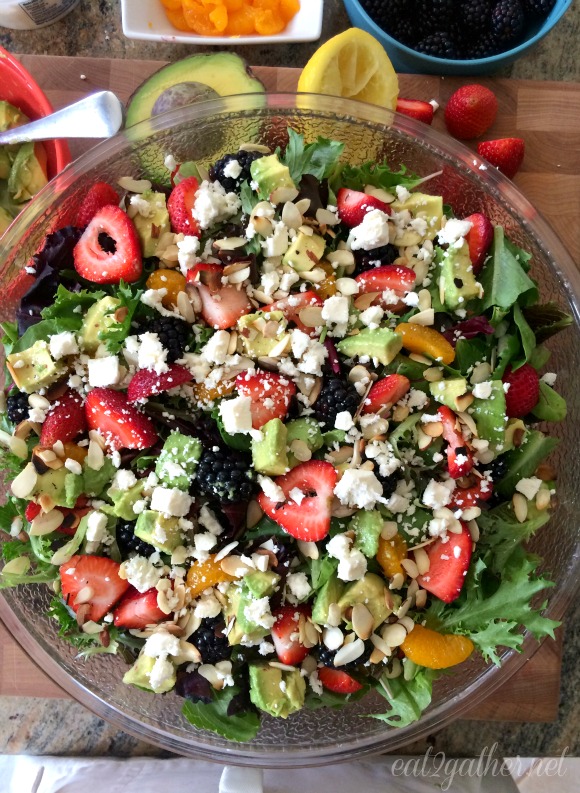 I know people who do not care for a salad with fruit, and would choose any and all sorts of veggies, and other assorted nuts and cheeses, I'm wondering what would you layer in your salad?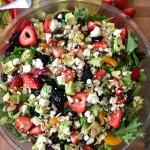 Print Recipe
Berry and Nut Salad with Poppy Seed Dressing
Ingredients
8

ounces

Mixed Greens

washed

2

cups

Black Berries

2

cups

sliced Strawberries

1 - 15

ounce

can Mandarin Oranges

drained

1/2

cup

thinly sliced Red Onion

1

Avocado

cut into chunks and tossed with lemon juice to keep from browning

1

cup

toasted Almonds

or any nut you prefer

1

cup

crumbled Feta Cheese

A bottle of your favorite Poppy Seed Dressing
Instructions
Directions layer ingredients as shown above in a large shallow salad bowl. Greens, berries, oranges, onion, avocado, nuts, cheese, repeat. Layer three times. Serve as a side salad, or as a dinner salad with a protein.
Notes
Add sliced grilled Chicken or Steak, Shrimp would be wonderful too!
Peace, Love, and Salad Greens! Sheila
Looking for a more great salad ideas? Look no further ->->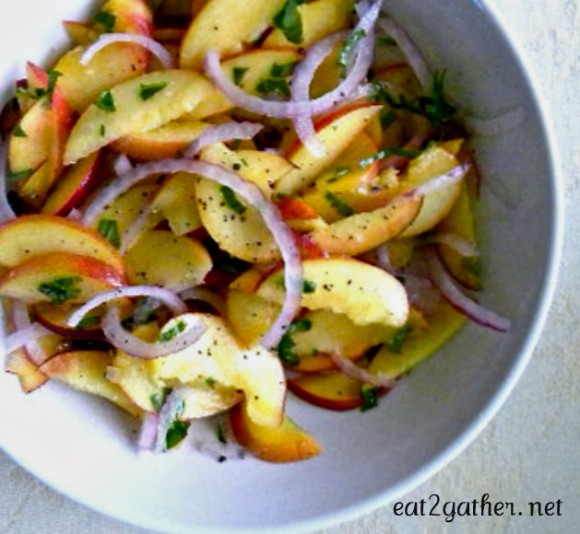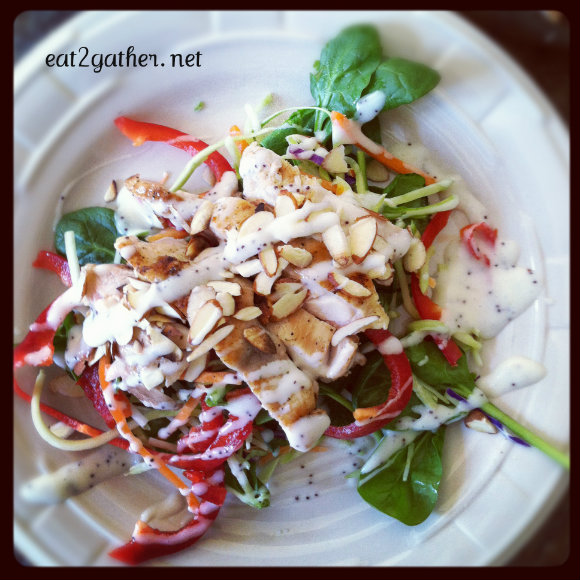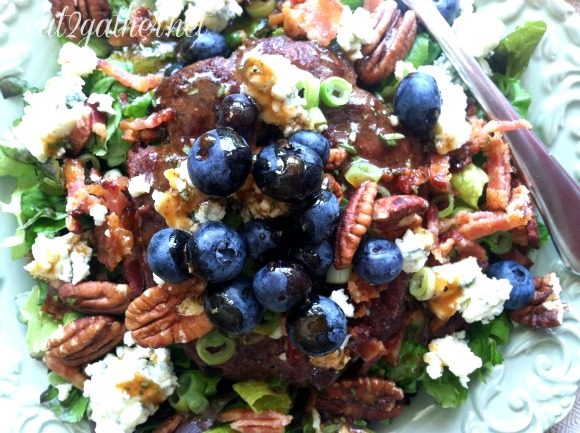 Bacon Blueberry Blue Cheese Burger Salad
FOLLOW my salady Pinterest board!!!
Follow Eat2gather 's board Summer Picnic Food & Salads on Pinterest.