I gave this creamy macaroni and cheese a spicy spin by adding salsa verde to the cheese sauce.   Layer Salsa Verde Mac-n-Cheese with taco meat and sweet corn for a spicy Tex-Mex spin on shepherds pie!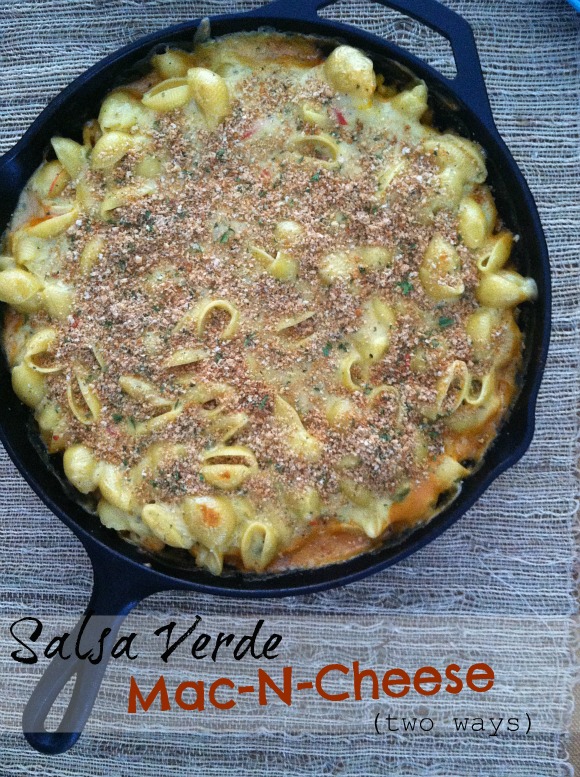 This dish is pure comfort food.  I love cheese.  I love Mexican food.  Cheesy Mexican food, yes please and then some more thank you!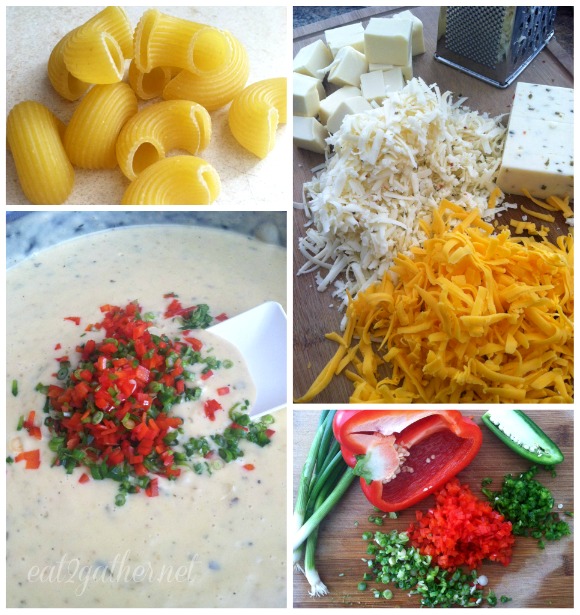 Macaroni and cheese is a piece of Americana.  Simple.  Indulgent.  Versatile.   Although it's simple there are a few rules you must follow for the perfect macaroni and cheese.
1. Use real butter, not oil, or margarine (get oughtahere), and no you can't skip the buttah!
2. The type of macaroni or noodle you choose is important.  The noodle must have a generous pocket for the cheese sauce to flow into.  The noodle also needs to have ridges for the sauce to grab on.  Pockets and ridges are friends of the sauce.  Honestly the Kraft macaroni and cheese noodles are the worst possible noodles for mac-n-cheese.  I prefer large shells, or jumbo ridged elbow macaroni noodles, as seen above.
3. Cheese.  Lots of cheese.  Do not skimp on the cheese.  Use more than one type of cheese for depth of cheese. Depth of cheese is good.  Very. Very. Good.  Cheddar, gouda, Monterey jack, colby jack, colby, goat cheese, cream cheese, blue cheese, Swiss, mozzarella, ricotta, all good mac-n-cheese cheeses.  Did I miss any?
4. Back to the noodles.  DO NOT.  I repeat DO NOT over cook the noodles.  If anything under cook them.  once you add the cheese sauce and bake  they will finish cooking.  Ugh worst thing ever is mushy noodles with cheese sauced.  Where am I….the Ponderosa smorgasbord?
As you can see I got sassy with my sauce and added some onion, and peppers.  Don't be afraid to get creative as long as you follow the four rules above.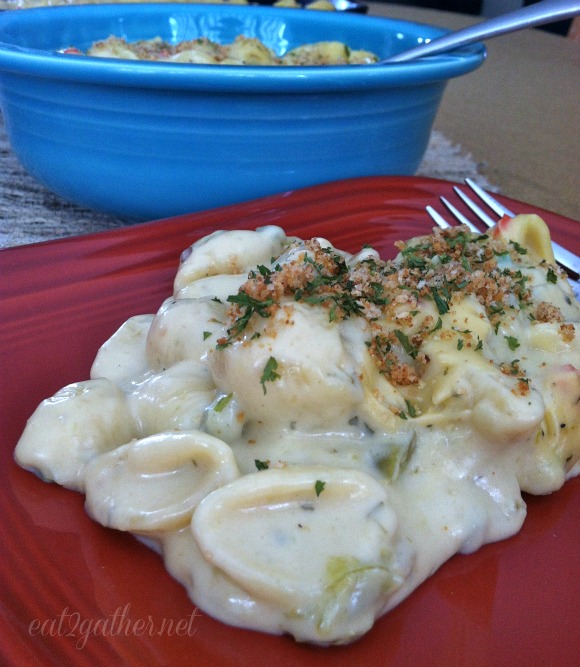 #1 Salsa verde mac-n-cheese puts a  spicy spin on a favorite side dish for dinner or  your next potluck gathering!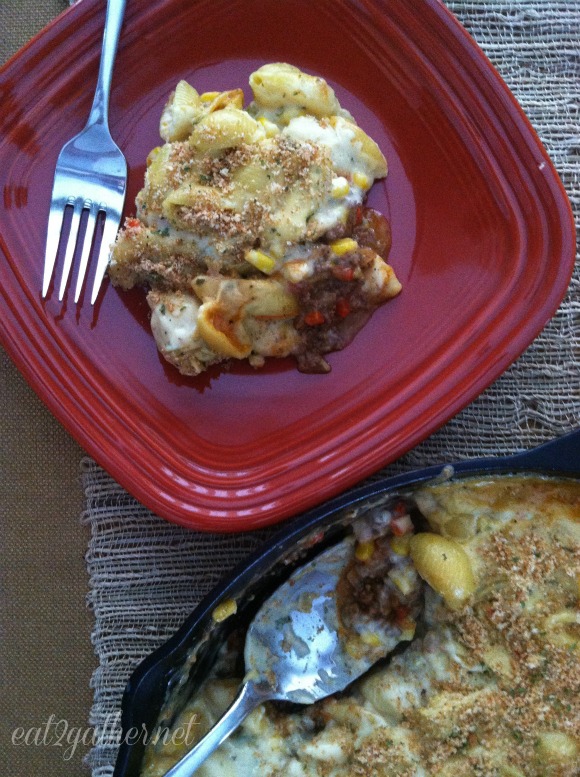 #2 Need a meal not a side dish?  Are you sitting down?  Because this recipe is gonna knock-yo-sock off…possibley even both yo-sock!   Are you ready….here it is.  Taco meat, sweet corn, topped with salsa verde mac-n-cheese, baked until bubbly.  Step aside ordinary macaroni and cheese!  I love shepherds pie, and I love Mexican food…well and macaroni and cheese is also one of my top comfort food picks.  See where I'm going with this?  It's a trifecta people!!
One freakin' scrumptious trifecta.
And that's all I got ta say bout that.
Here's the recipe.  I hope you enjoy and share, this ones definitely worth sharing!!
[print_this]
#1 Salsa Verde Mac-n-Cheese (two ways)
serves 6
1 16 ounce box large Macaroni Shells or jumbo ribbed Elbow Macaroni
4 tablespoons Butter
1/3 cup Flour
1/2 teaspoon Mortons Natures Seasons Salt
1 12 ounce can Evaporated Milk
1 16 ounce jar Salsa Verde (the green salsa)
1 cup Milk
12 ounces Queso Velveeta Cheese or White American Cheese
2 cups shredded Pepper Jack Cheese
2 cups shredded Sharp Cheddar Cheese
1 Jalapeno Pepper, finely diced (approximately 1 tablespoon)
1/4 cup finely diced Red Bell Pepper
1 heaping tablespoon sliced Green Onion (2-3 green onions)
1 1/2 cups Bread Crumbs (panko bread crumbs are best if you have them)
1 tablespoon melted Butter
1 tablespoon chopped Cilantro, for garnish
Preheat oven 400 degrees
1. Boil macaroni in salted water until al dente. I recommend cooking 1 minutes less than box directs. Drain. (You do not want to over cook macaroni noodles.)
2. In a large sauce pan melt 4 tablespoons butter, whisk in flour allow butter and flour to bubble up together for about 30 seconds then whisk in evaporated milk stirring constantly until smooth add in jar of salsa verde and 1 cup milk continue to whisk rapidly until a smooth and creamy consistency.
3. Cut velveeta into cubes add to sauce along with other shredded cheese stir until cheese is melted and completely incorporated and smooth.
4. Fold in peppers and onion and allow to cook 1 minute longer. Remove from heat and add sauce to macaroni. Place in a baking dish.
5. Toss bread crumbs with melted butter sprinkle over mac-n-cheese. Bake in preheated oven for 20 minutes or until bread crumbs are brown and mac-n-cheese is bubbly. Garnish with chopped cilantro.
Enjoy!
#2 Salsa Verde Taco Mac-n-Cheese
serves 6-8
1 recipe Salsa Verde Mac-n-Cheese
1 1/2 pounds Ground Beef
1 cup diced Sweet Onion
1/2 cup diced Red Bell Pepper
2 tablespoons Taco Seasoning (use your favorite)
6 ounce can Tomato Sauce or El Pato Tomato Sauce
2 cups frozen Corn
Preheat oven to 400 degrees.
Brown ground beef in an oven proof skillet. (If you don't have an oven proof skillet transfer to a baking dish before baking.) Spoon off any excess grease. Add onion, and pepper to pan cook until soft. Stir in taco seasoning and tomato sauce, allow to simmer for 5 minutes. Remove from heat, spread corn evenly over top of ground beef and top with salsa verde mac-n-cheese. Sprinkle with bread crumbs. Bake at 400 degrees for 20 minutes until browned and bubbly. Garnish with chopped cilantro.
[/print_this]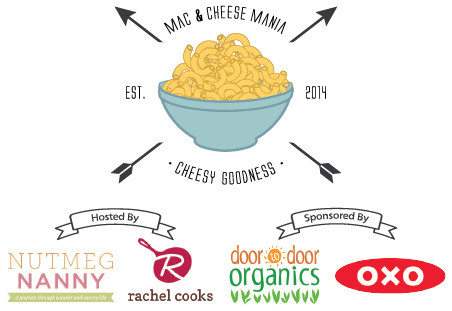 I have some good news!  If you have a blog and you would like to link up your favorite Mac-n-Cheese recipe you can do so by visiting  Rachel Cooks and Nutmeg Nanny food blogs, but you don't have to have a blog  for a chance to share your favorite mac-n-cheese recipe!
There are Prizes!  All who share have a chance to WIN!!  List of prizes is as follows:  Door to Door Organics Gift Cards, OXO Gift Baskets, Zak Designs Prize Pack, a year's supply of Cabot cheese, a Vermont Creamery gift basket, a risotto kit from Marx Foods, Barilla pasta, Anolon Advanced Bronze 4.5 Qt. Tapered Stockpot, Rachael Ray Stoneware Casseroval, Wusthof CLASSIC Studio Block Set, Microplane Graters and Kitchen Tools, a SavorX Starter Block with spices and Le Cordon Bleu by Swissmar oven to table roasters. 
For all the details on how to win this endless list of prizes be sure to visit Nutmeg Nanny and Rachel Cooks!  All giveaways open to US residents over the age of 18 only.  Mac and Cheese Mania is being sponsored by Door to Door Organics and OXO.
I almost forgot to tell you….you DON'T WANT TO MISS Rachels Mac-n-Chees Mania Pinterest Board!  It's full of insanely indulgent cheesy dishes!
NOW LETS DIG IN!