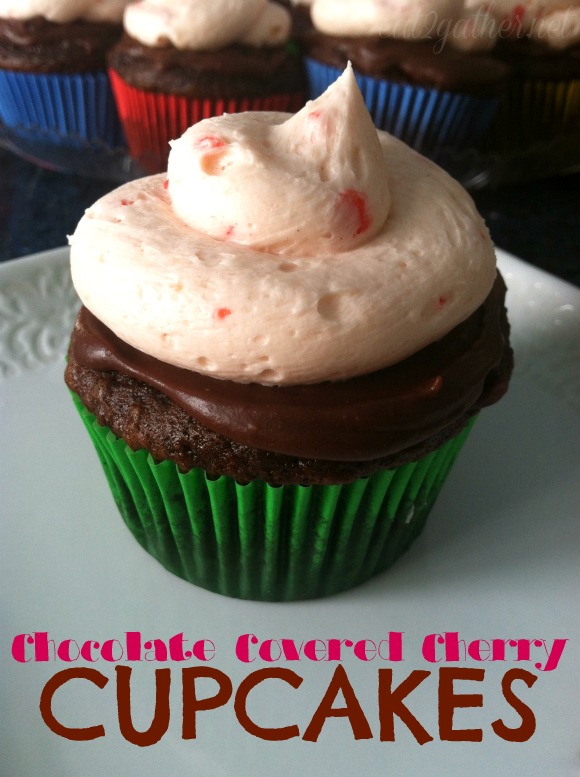 Ummmm…. YUM. OOOO delicious, tastEEEE……nom, nom, nommy!
Everyone who partook of these tasty morsels uttered Yuuummmmm-oooo-deeeelishOUS, what can I say other than these cupcakes are delicious!  And YES yummy.  The next time it's your turn to bring a treat somewhere, these cupcakes are the money.  You will make friends and influence people with these cupcakes.  (Yummy, delicious, tasty, are words that as a food writer I'm suppose to steer clear of….but sometimes one has to default to her native language.)
I have to admit I normally default to a sheet cake for potlucks.   I don't really like to mess with frosting 24 cupcakes.  I rather slather the frosting over the top of one flat cake.  However, I was making them for the teachers and they do work so hard, and love on my kids so well, I really wanted to make them something they could grab and take with them set on their desk and anticipate a bit before they mawed it down.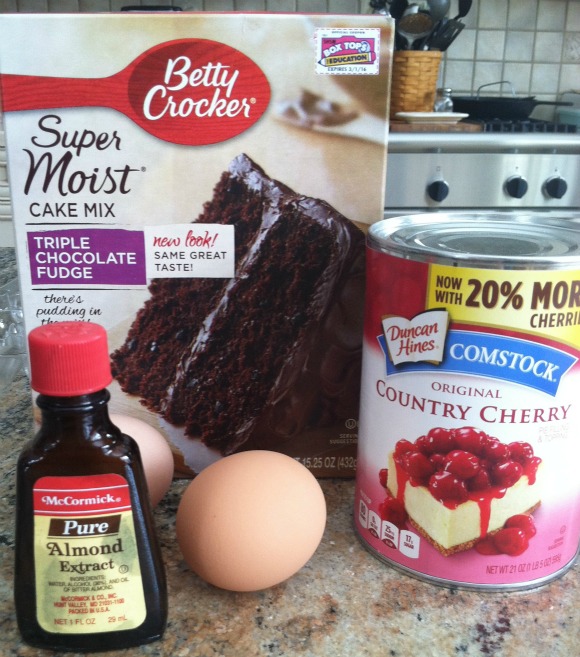 This is what you will need for the cake.  Then of course there's the ganache, and the "Best Frosting I ever Had" goes on top of that.  Normally when making this in sheet cake form I don't add the extra frosting I only make the cake and pour the ganache over it while it's warm.  Ommahgerd it's so dern good.  (oops good is not a good word to use either)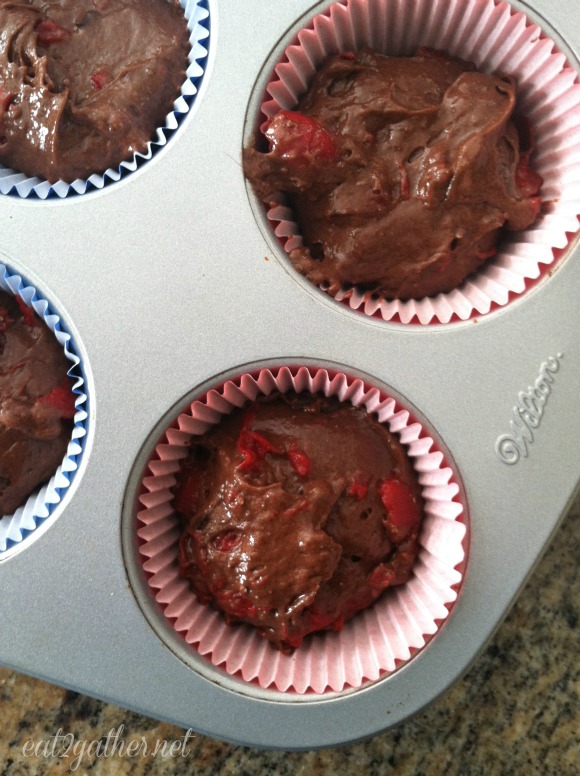 Good.
Good.
Good. Good.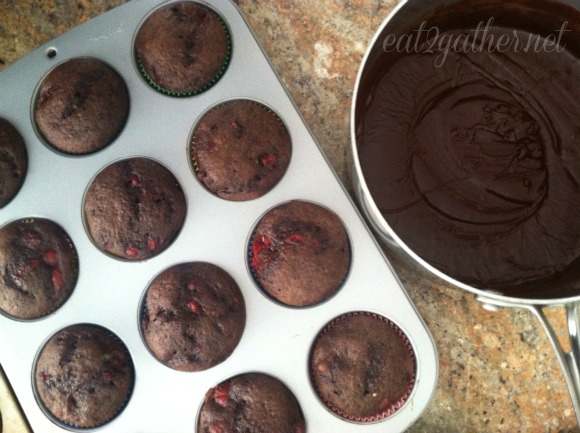 Sorry I am feeling cooped up and very sassy today.  Once again the weather is cold and crappy!  Summer where for art thou……er maybe spring…..spring where for art thou spring, then summer.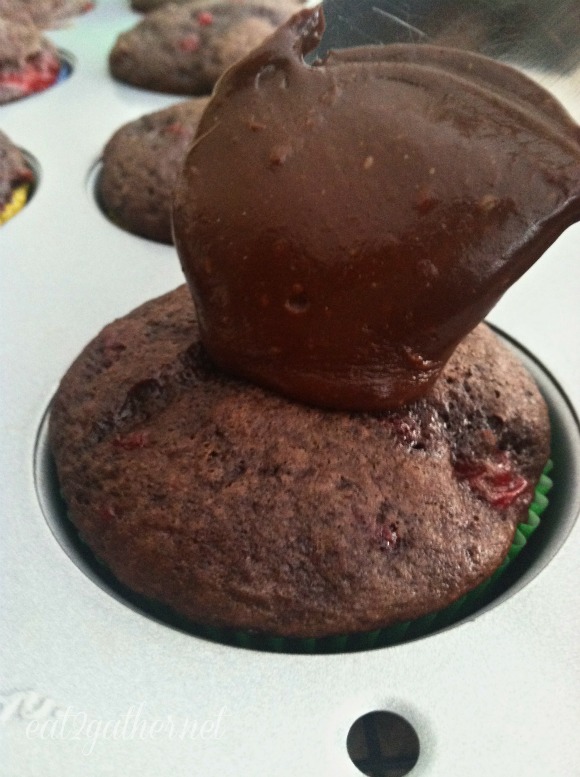 After these babies come out of the oven spoon the, oh so easy to make, chocolate ganache over cupcakes, and then refrain from eating as is.  Allow to cool, for the next dose of yum.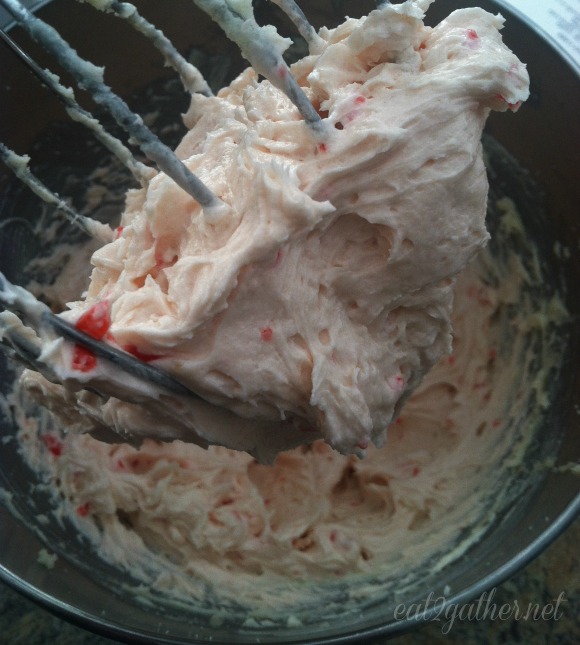 This frosting is curiously, strange,  and freaky…..I found the recipe here.  It has flour in it, but it tastes like whipping cream.  Go figure.  I added chopped maraschino cherries to the recipe to make it pretty in pink and to round out the chocolate covered cherry flavor.  QUIZ : Who starred in the 1986 movie Pretty in Pink? And where is she now?  ( I do not know the answer to the second question I seriously want to know where is she now?)
[print_this]
Chocolate Covered Cherry Cupcakes
24 cupcakes
Cake
1 box Chocolate Fudge Cake Mix
1 21 ounce can Cherry Pie filling
2 Eggs
1 teaspoon Almond Extract
Ganache
1/3 milk
4 tablespoons Butter
3/4 cup Sugar
1 1/2 cups Chocolate Chips
Frosting
1 recipe Best Frosting I Ever Had + 4 Maraschino Cherries chopped finely
Preheat oven to 350 degrees.
Cake: Mix cake mix, cherry pie filling, eggs, and almond extract together until just combined do not over mix. Divide into 24 muffin tins lined with cupcake papers and bake for 18 minutes.
Ganache: While cupcakes are baking make ganache by heating milk, butter, and sugar over medium low heat, heat until sugar has dissolved and butter has melted, Do Not let mixture come to a boil. Remove from heat and add chocolate chips, whisk until smooth. Spoon ganache immediately over warm cupcakes, allow cupcakes to cool completely before frosting with "The Best Frosting".
Frosting: Make The Best Frosting (click on above link for recipe) fold in finely chopped maraschino cherries at the end of recipe. Spoon frosting into a pastry bag, and pipe frosting on to each cup cake, store in refrigerator until ready to eat.
Note:  This cake can be made in a 9×13 cake pan.  Bake for 25-30 minutes pour warm chocolate ganache over cake straight out of the oven, let cool, and serve.
Enjoy!
[/print_this]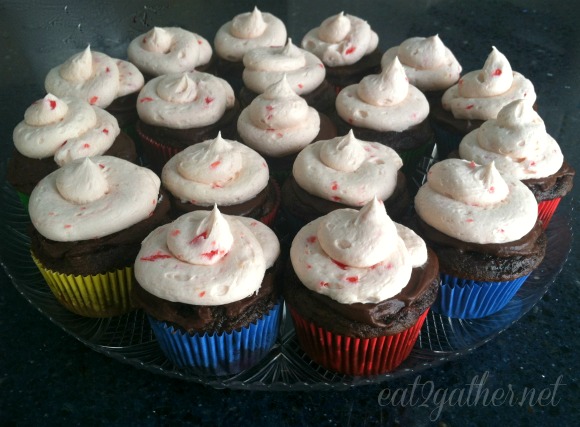 Line these beauties up on a platter and march them off to your next gathering.  Or keep them in the refrigerator and pop them in your kiddos lunches as a special treat!
Hey do you follow me on Facebook?  Well you should!
Check out my 31 Days of Meals 4 Sharing series  for more great meal sharing ideas and recipes go HERE. 
with LOVE, Sheila
Remember, if you ever need a helping hand, you'll find one at the end of your arm … As you grow older you will discover that you have two hands. One for helping yourself, the other for helping others.

 

 Audrey Hepburn