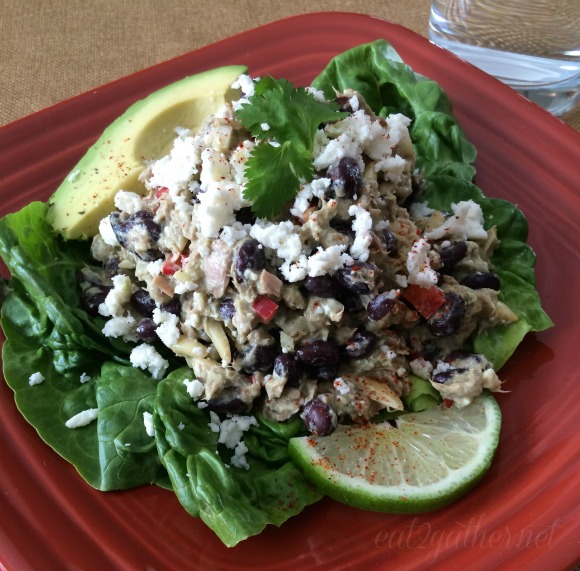 It's March and Spring Break is one month away.  You know what that means?!  I am going to have to don my bathing suit, and shorts.  No more hiding under big sweaters, scarves, and my long down parka.  Ugh!   I started on January 1 logging everything I eat into the My Fitness Pal app, one of the new features (since I used it last) is that it tallies your protein, fat, and carbohydrates.  One thing I know for sure after 2 months of faithfully logging in, is that I am a carboholic.  I do not eat near the protein that I need to.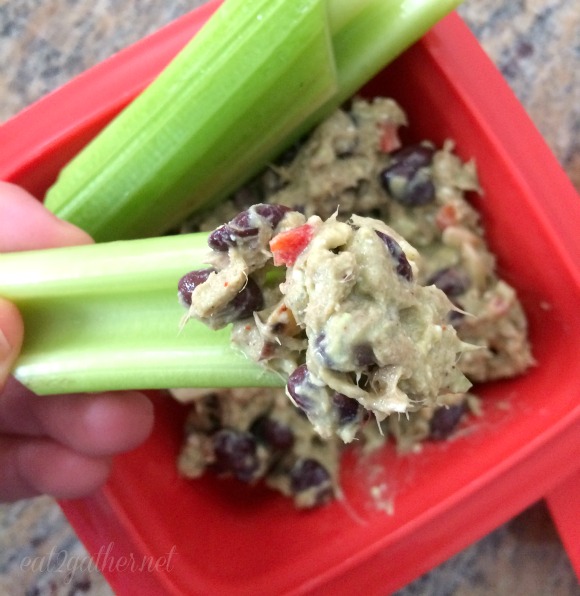 I've been investigating ways that I can get more protein in,  not only at dinner, but also for snacks and my smaller meals.  Dairy is one of the easiest ways for me to add protein to my diet.  I love it and we always have it on hand.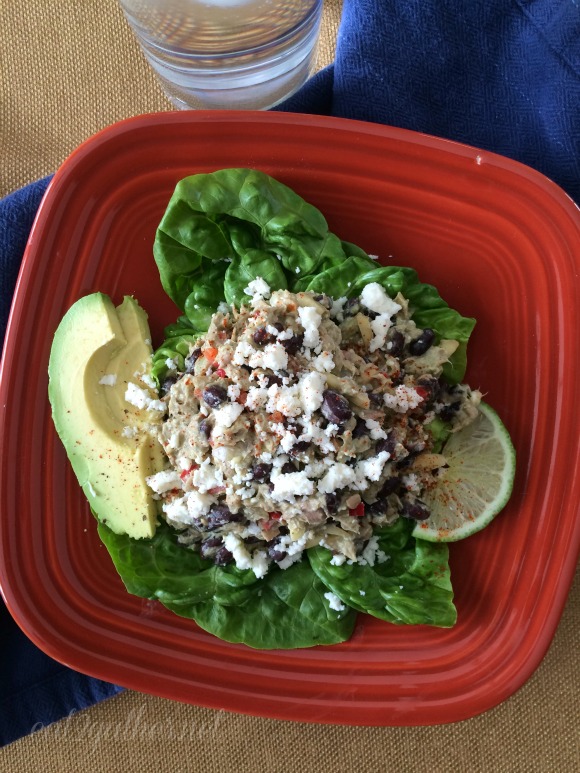 I love tuna salad, so I decided to put a south of the border twist on it, I was able to pack in the protein without pushing up the calorie count.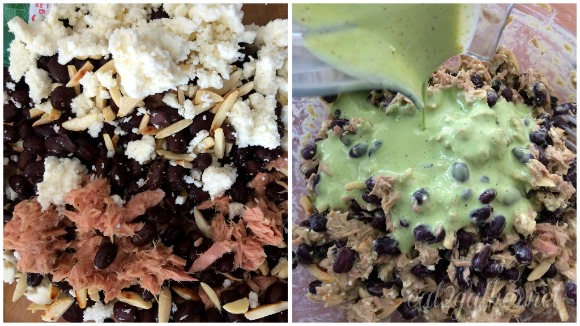 I made a yogurt based dressing with lime, cilantro, and spices, added cheese, beans, and swapped out the celery for red bell pepper.  After plugging the recipe into My Fitness Pal I found out this is only 209 calories a serving and has 17.8 gram of protein! Voila!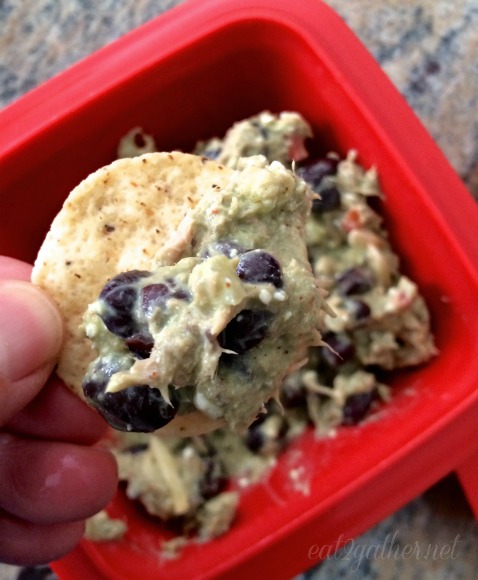 I love using corn chip or celery to eat this salad for a quick snack and added crunch!  The older I get the crunchier I like my foods, raw celery, carrots, snap peas and always corn chips!
[print_this]
Protein Packed Tuna Salad with Cilantro Lime Dressing
Makes 4 3/4 cup servings
Prep time: 15 minutes
2 4 ounce cans water packed Tuna, drained
1 15 ounce can Black Beans, drained and rinsed
1/4 cup toasted slivered Almonds
1/2 cup crumbled Queso Fresco Cheese (feta cheese would work as well)
3 tablespoons minced Onion
3 tablespoons minced Red Bell Pepper
Cilantro Lime Dressing:
3/4 cup plain 0% fat Greek Yogurt
2 tablespoons fresh squeezed Lime juice (or 1/2 lime juiced)
1 teaspoon Honey
1/2 cup Cilantro Leaves
1/2 teaspoon Salt
1/4 teaspoon Chili Powder
scant 1/8 teaspoon Cayenne Pepper
1. Place all the dressing ingredients in a blender and pulse until smooth. Set aside.
2. Add tuna, beans, cheese, and almonds in a bowl and toss together making sure to break up any large chunks of tuna or cheese. Add in pepper and onions.
3. Toss tuna mixture with Cilantro Lime Dressing. Cover and refrigerate for 30 minutes before eating. (if you can wait!)
Serving Suggestions: Over a bed of lettuce with avocado and lime wedge for garnish. This salad can also be served in a wrap with lettuce and avocado.  I like to eat this salad by using celery as an edible spoon, corn chips are also a great spoon alternative!
Enjoy!
[/print_this]
For more healthy protein packed recipes and easy ideas on how to incorporate dairy into your diet you can follow Milk Means More on their website as well as Pinterest, Twitter, and Facebook pages!!
Disclosure:  I am very thankful for the partnership I have with United Dairy Industry of Michigan. Thank you for supporting the brands that make Eat2gather possible!  As always all opinions are 100% my own!