Jazz up your ordinary baked potato with fresh herbs and garlic!  This recipe can easily be made ahead making it a great side dish for summertime cooking.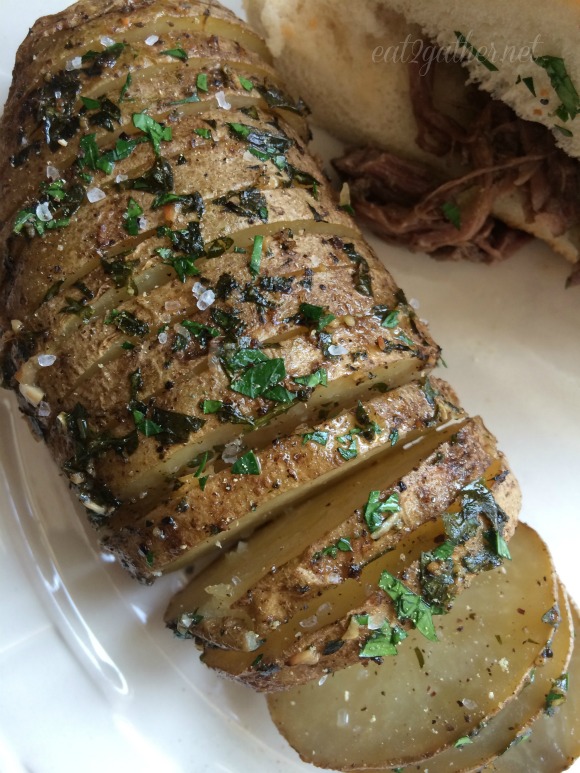 Truth be told I don't make potatoes often enough.  I'm not sure why because I actually love potatoes.  I grew up eating potatoes practically everyday.  That German and Irish blood in me is boiling for some taters!
This recipe is great because it just takes a few minutes of prep and you have a delicious side dish that will please even the pickiest eaters!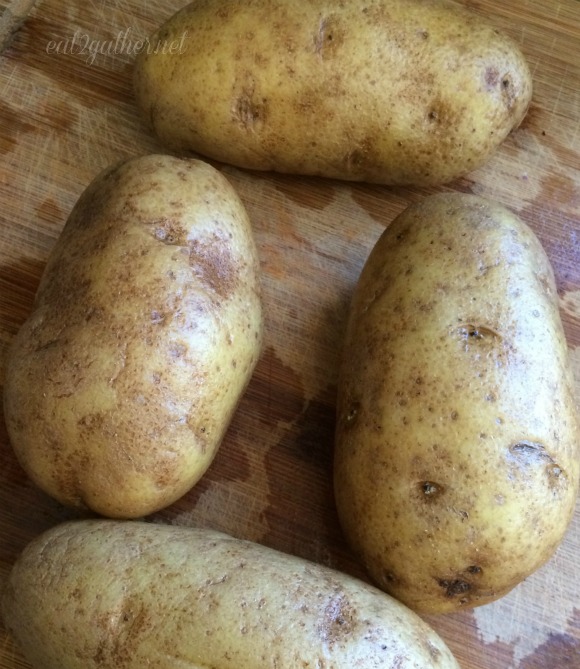 I like a good old-fashioned Idaho potato, medium to large in size, wash them up real good.  Scrub a dub dub four taters in the tub, and who were they for to eat?!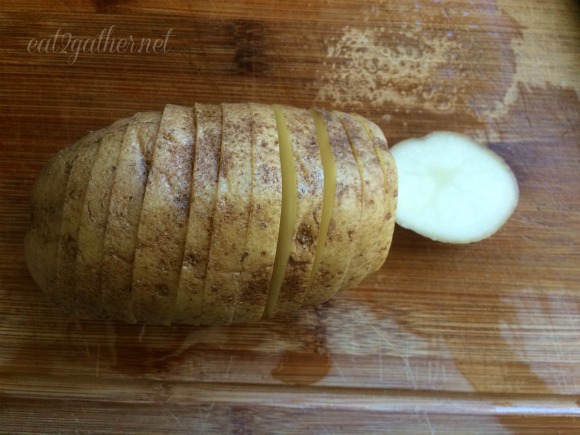 The butcher the baker the candle stick maker!  Serve them up taters all three!
Sorry,  I'm easily distracted by random nursery rhymes popping up in my head.  I love me some Mother Goose.
Back to the potato; slice into thin slices about 3/4 of the way through you want to keep the potato together.  If you can get 10-12 slices that's perfect.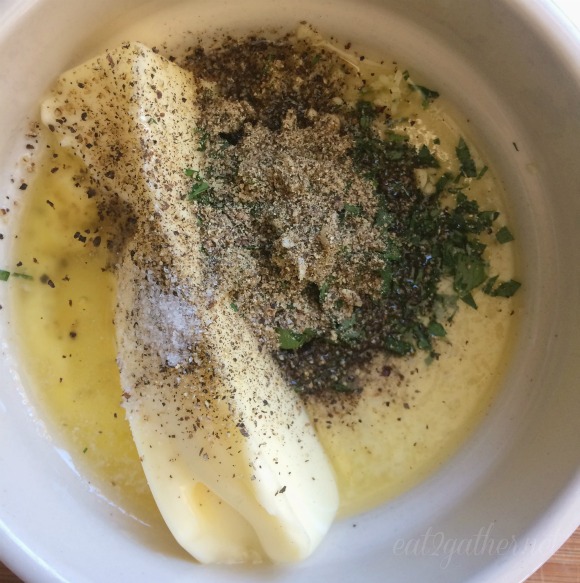 Place softened stick of butter in a small bowl, add pepper, salt, fresh garlic and parsley; mix it all together.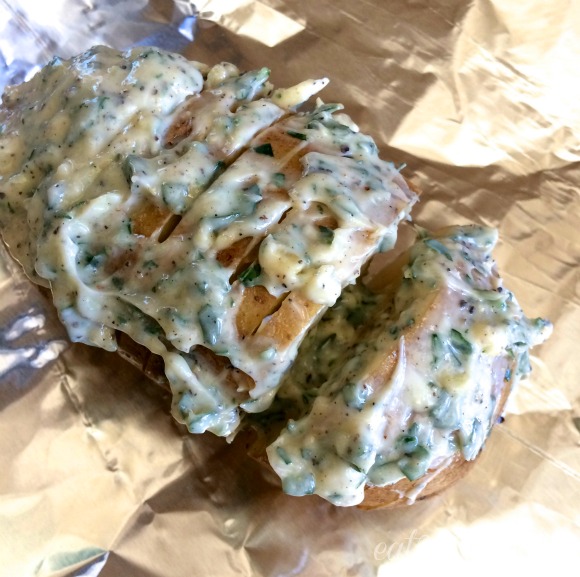 Slather the good stuff on your potato, try to get some down into the sliced parts 😉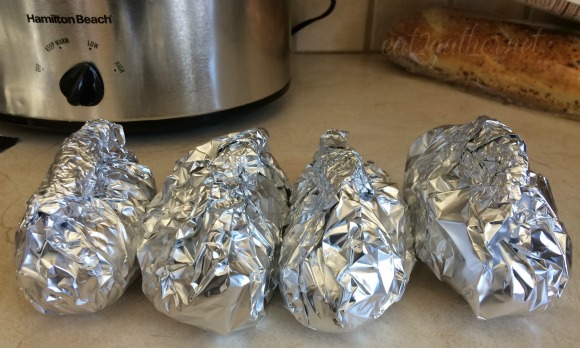 Wrap potatoes up in foil, making sure that the foil is wrapped so that none of the buttery goodness comes running out.  You can make Herb Butter Baked Potatoes a day ahead if you are having a big dinner.  Store them in the refrigerator and then place them on a baking sheet; bake when ready.  We are a family of six but 4 potatoes is perfect for us, no one ever eats a whole potato.
I will say that if there are leftovers they make great breakfast potatoes fried up with a little pepper and onion!  Or you could use them in breakfast burritos….now there's a great idea!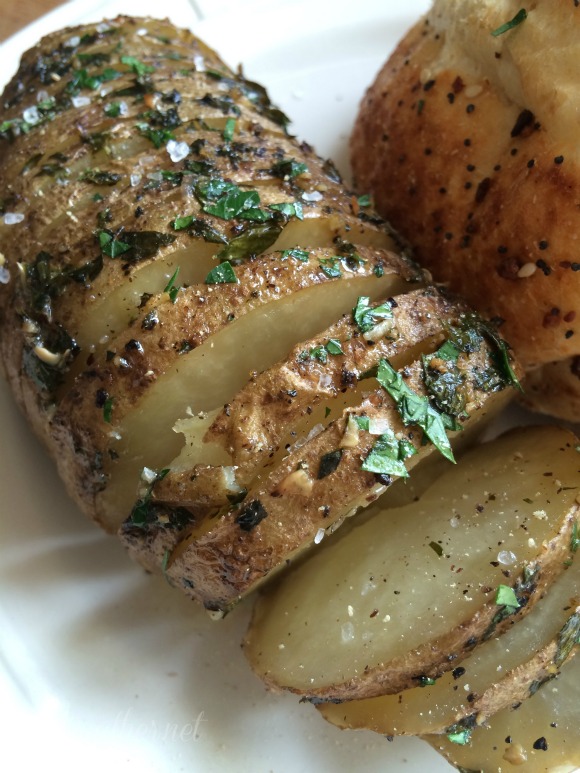 There you have it!  Easy as pie!
Four and twenty black birds baked in a pie.  Oh no!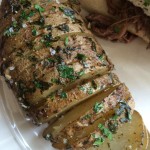 Print Recipe
Herb and Butter Baked Potato
Ingredients
4

medium to large Idaho Potatoes

washed

1

stick Butter

softened

1

teaspoon

Kosher Salt

1/2

teaspoon

fresh cracked Pepper

more if you prefer

2

teaspoons

finely minced Garlic

2

tablespoons

finely chopped fresh Parsley

any variety is fine
Instructions
Preheat oven to 400 degrees.

Wash potatoes, cut off any bruised or damaged spots. Slice potatoes 3/4 of the way through the short way across, 10-12 slices.

Mix butter, salt, pepper, minced garlic, and parsley together in a small bowl.

Place sliced potatoes on a sheet of aluminum foil, spread 1/4 of the butter mixer over potato pushing some down into the cracks. Wrap foil up around potato keeping the crease of the foil at the top so the butter doesn't run out. Repeat with the remaining potatoes.

Place foil wrapped potatoes on a baking sheet bake at 400 degrees for 1 hour.
Notes
Potatoes can be prepared and kept in refrigerator one day ahead of time, place in oven and bake when ready.
DON'T miss a recipe subscribe to my updates.
You can find me on Pinterest, Facebook, and I just started using Yummly.  Do you YUM yet?
AND for more tasty side dishes follow my Satisfying Sides board ->->->
Follow Eat2gather 's board satisfying Sides on Pinterest.