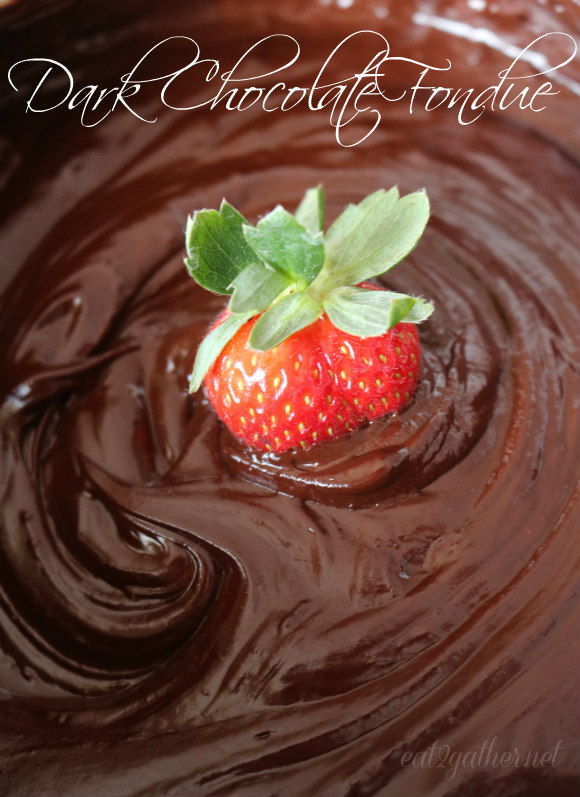 Nothing says love like a pot of melted chocolate!!  I've never been one to make a huge deal out of Valentines Day, but as my kiddos get older I'm looking for any excuse to get them around the table for more than 10 minutes!  Fondue is just the ticket and this Dark Chocolate Fondue is the golden ticket!!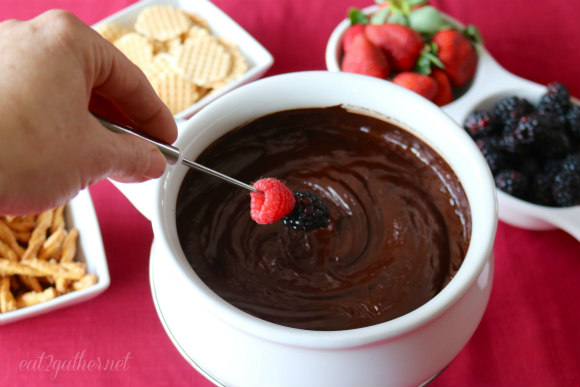 Because February is Lactose Intolerance Awareness Month, I thought I would share a fondue recipe that uses lactose free dairy products, and chocolate.  Add lots of fresh berries for dipping and this indulgence is downright good for you!!  No guilt here!

If you don't have a fondue pot, a small crock pot set on the warm setting will work just fine.  We are using dark chocolate, which has no milk in it, and lactose free whole milk. Chop up your chocolate, warm milk or cream to a low boil, pour over chocolate, stir until smooth, lastly stir in corn syrup.  The corn syrup gives the chocolate a nice sheen and it also adds just a smidgen of sweetness.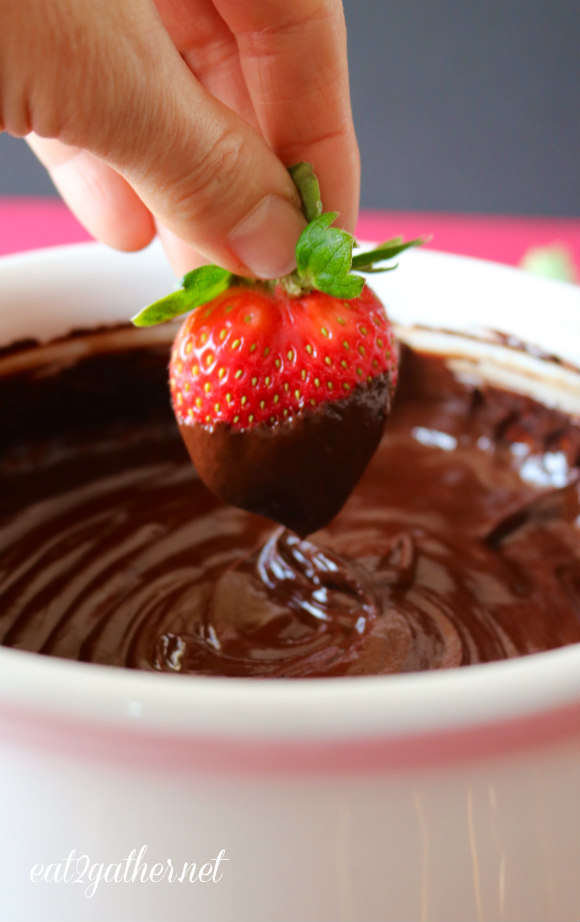 You can pretty much dip what ever you want in this heavenly pot of goodness!  Berries and pretzels happen to be our favorites, but honestly the skies the limit!
[print_this]
Dark Chocolate Fondue a lactose free dessert
Serves 6
Level: easy
Kid friendly: YES!
Prep time: 10 minutes
Cook time: 2 minutes, for heating milk
1 pound Dark Chocolate, between 65-80% cocoa
1 1/2 cups Lactose Free Whole Milk
1 tablespoon Corn Syrup
Dippers: strawberries, raspberries, blackberries, pretzels, sugar cookies, pound cake, potato chips, and anything else you might want to dip in chocolate, i.e. fingers 😉
1. Chop chocolate into small pieces add to fondue pot.
2. Heat milk to a low bowl, remove from heat and pour over chocolate. Stir until chocolate melts and becomes smooth. At this point you can turn electric fondue pot to low, or if you have a ceramic pot add low flame to allow chocolate to stay warm and smooth.
3. Add corn syrup and stir. This gives chocolate a nice sheen and smooths it out.
4. Gather loved ones around and enjoy!!
[/print_this]
How do you celebrate Valentines Day?  Or are you in the "any day is a good day to let your sweetheart know how much you love them" club?  Next time you feel like loving on your someone special I hope you whip up a pot of melty rich chocolate, you won't regret it!
XOX, Sheila
Disclaimer:  I am proud to be an ambassador for the United Dairy Industry of Michigan.  Thank you for helping support Eat2gather by supporting your local dairy farmers!