Hello…how are you?  Is this winter weather getting you down?  Don't get me wrong, the snow is pretty and all, and I am immensely thankful for heat and coats and cupboards full of blankets….but dang is Spring ever going to get here?!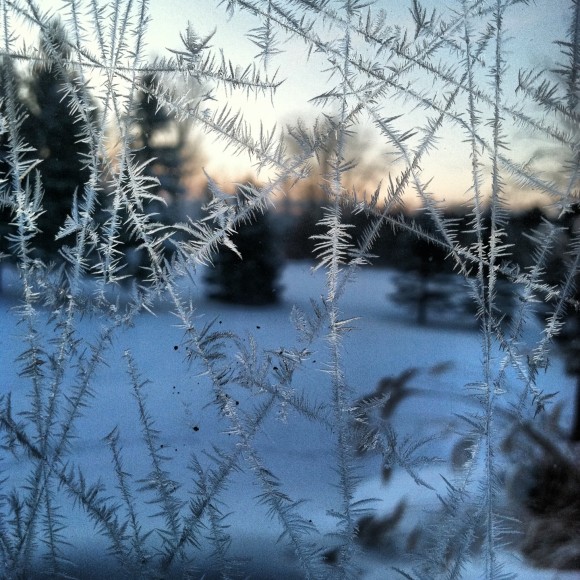 Do you find that it's easier to get dinner on the table during the winter months?  Or is meal time equally challenging in your home no matter what the season?  I definitely lean on my slow cooker more in the fall and winter months.  The smell of dinner cooking all afternoon is comforting, and I love it when the kids come busting in the back door and yell "YUM! what smells so good?".
Pepper steak  is one of my families favorite meals and it's sure to become a favorite at your table too!   It's comfortingly spicy and smells wonderful as it's simmering away in your slow cooker!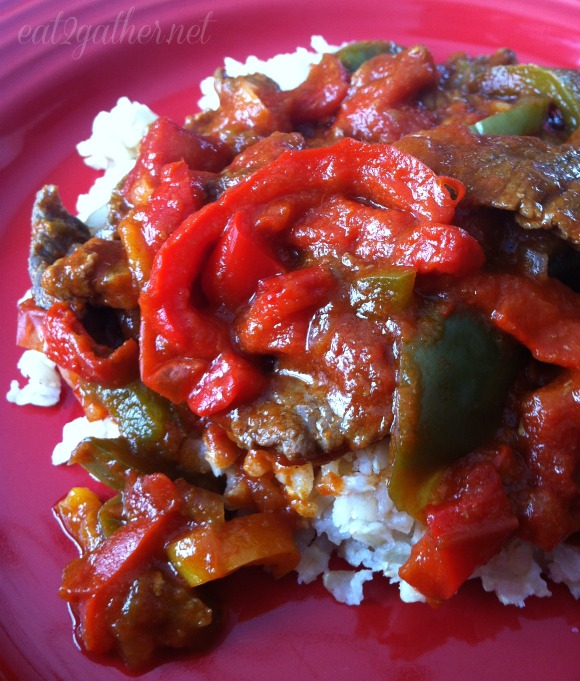 Give yourself 15 minutes (max) to prep ingredients, layer them in your slow cooker, and you are home free until dinner time!  Kick back eat bonbons, take a nap, read a book, catch up on dvr'd episodes of Downton Abby…you've got dinner in the bag..er um pot!
I promise this recipe really is that easy!  Slice round steak across the grain in thin pieces place them in the bottom of your slow cooker, layer slices of onion and peppers over steak, mix a few ingredients together that I'm sure you have in your pantry, pour them on top of pepper and onions, turn temperature to low and let cook for 6 hours!   Just before you're ready to eat cook rice or wide egg noodles to serve pepper steak over.
TIP: It's easier to slice meat in thin strips when it's frozen, you just need a nice sharp knife!  So if you forgot to take the meat out of the freezer…no worries!
Voila! There you have it!  Another dinner dilemma solved 😉
[print_this]
Pepper Steak
serves 6
2 pounds Round Steak, sliced thin across the grain
1 teaspoon salt
1 Red Bell Pepper, cored and sliced
1 Green Pepper, cored and sliced
1 Yellow Pepper, cored and sliced
1 medium Sweet Onion,  peeled and cut into thin slices
2 stalks Celery, chopped
1 6 ounce can Tomato Paste
1 14 ounce can diced Tomatoes
1 tablespoon Sweet Paprika
1/2 teaspoon Red Pepper Flakes
1 tablespoon Sugar
1/2 cup Water
cooked rice or noodles
In a 5-7 quart slow cooker place sliced round steak on the bottom of the dish. Sprinkle with salt. Next layer sliced peppers, onion, and celery over the steak. In a medium bowl mix tomato paste, diced tomatoes, paprika, red pepper flakes, sugar, and water. Pour mixture over the top of peppers and onions in the slow cooker. Cover and cook on high for 4 hours or on low for 6.
Serve over cooked rice or wide egg noodles.
Enjoy!
Note: This meal can also be made on the stove top in a large skillet. First brown round steak in 2 tablespoons butter, when steak is no longer pink and is starting to brown add in peppers, onions, and celery stir around with the steak. Mix up remaining ingredients and pour over the top cover and allow to simmer for 30 minutes. The meat is not quite as tender when cooked this way, but in a pinch this cooking method works just fine!
[/print_this]
For more easy meal ideas be sure to follow my Dinner Dilemma & Meal Ideas… pinterest boards!
Hang loose, Sheila
P.S. sorry I felt the urge to say hang loose so I just went with it, I hope you understand.